How Benjamin Tanner Started a Successful Online Course Helping Medical Professionals Learn Spanish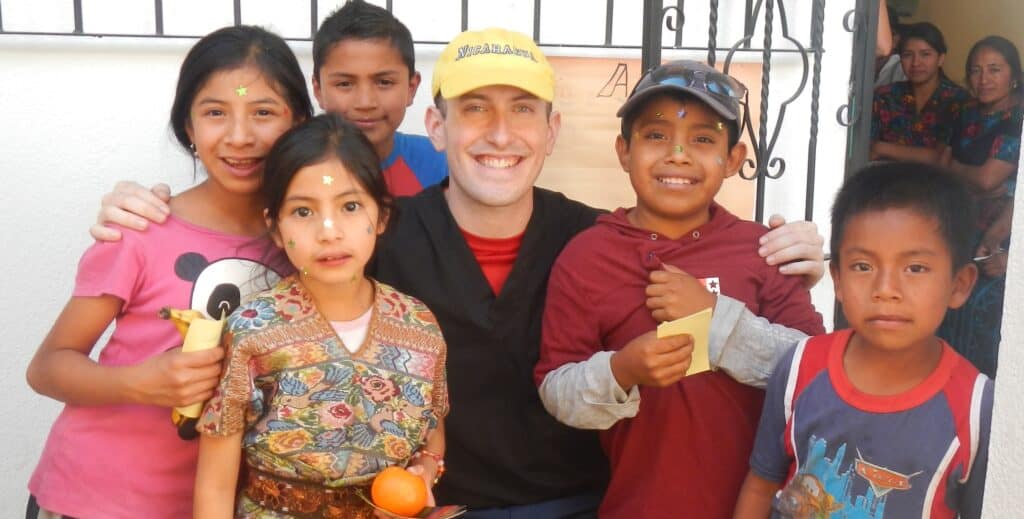 Our content is reader supported, which means when you buy from links you click on, we may earn a commission.
---
Who: Benjamin Tanner
Website: learnmedicalspanish.org
Course Topic: Spanish for medical professionals
Interesting Stats: 450 clients so far
Who are you and what course have you created?
I'm a physician assistant (similar to a doctor), and I've been working in the emergency room since 2014.  I also have some experience working in family practice and urgent care.
I took several Spanish classes in high school and college. Plus I lived in Guatemala for two years when I was younger. So I'm fluent in Spanish.
I work in Las Vegas, so there are a ton of Spanish-speaking patients that come in every day to the hospitals where I work.
After a while, I realized that a lot of the doctors and other clinicians were interested in learning Spanish. But they didn't know how to go about it. Or they thought they were too busy.
Ultimately, I created an online course that teaches emergency room providers the exact words and phrases they need to talk to their Spanish-speaking patients.
It's called Essential Emergency Medicine Spanish.
When I started working on the medical Spanish course for emergency room providers, I also created a medical Spanish website where I blog about related topics.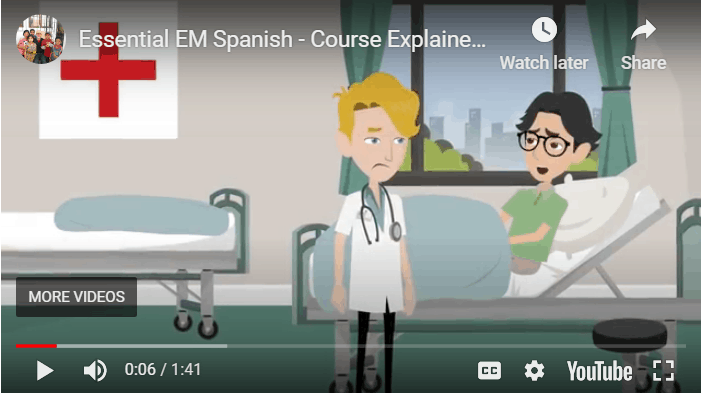 What market does your online course serve?
The market for this course includes emergency medicine clinicians (doctors, physician assistants, and nurse practitioners who work in the emergency room) who are interested in learning Spanish.
That is a somewhat small niche and a narrow subset of medical providers. That makes it both good and bad.
It's good because the course is very targeted to their needs. So when they hear about it they're up and interested.
It's bad because it means there is a somewhat small pool of people to potentially market the course to.
What's the biggest benefit of taking your course?
The main benefit of taking my course is that ER clinicians can efficiently learn the medical Spanish terminology that is most useful for the ER.
Naturally, they could do this on their own, but it would take a lot more time and effort.
Because I've curated the most useful words and phrases and packaged it all together in a course, my students can potentially save a ton of time.
How did you get into the market?
I did a lot of brainstorming about my skills, interests, and experience, and looked for overlap between them.
Since I am fluent in Spanish, and also work in the emergency room as a physician assistant, medical Spanish was one of those areas of overlap between my skills and experience.
Based on my previous discussions with other emergency room providers, I knew a lot of people were interested in learning medical Spanish.
When I started planning out the course, I made a point of running my ideas by a lot of people in my target market to get feedback.  The feedback they gave me confirmed some ideas I had. It also caused me to add some different features that I hadn't previously planned as well.
Why did you decide to create an online course in the first place?
I was a little indecisive about my career path for a while and ended up going through both podiatric medical school (for a few years) as well as PA school.  As a result of all the schooling, I had an unusually large amount of student loan debt, in the hundreds of thousands of dollars.
Because of all this extra debt, shortly after I started working as a PA I also started brainstorming ways I could potentially start a business or create some extra income.
At first, I was thinking more about traditional business opportunities, like opening a franchise.  But after a while, I stumbled into some resources about creating an online business.
Once I started analyzing my options, it quickly became apparent that medical Spanish might be a good niche for me, and that there was potential to create a digital course.
I was hopeful that with some additional income I would more easily be able to pay off my student loans.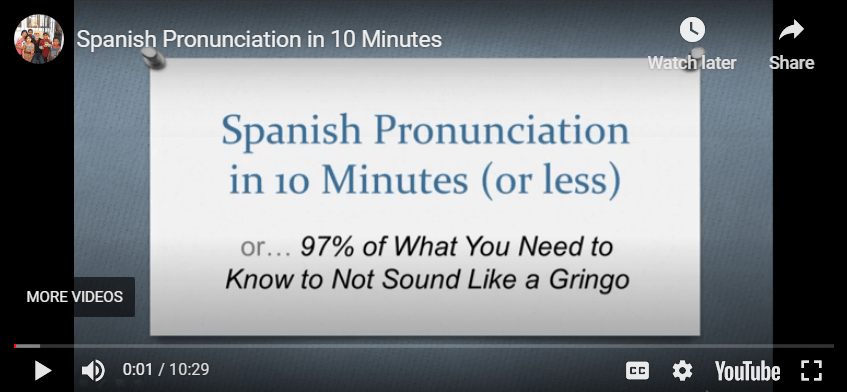 Did you have any moments of doubt before you created/launched it?
After I decided I wanted to create an online course about medical Spanish, it took an extremely long time before my vision actually came to fruition.
One of the main reasons for this is because I was trying to get the course approved for "continuing medical education" credit, something doctors and other clinicians need to be able to keep their medical licenses.
To this end, I contacted several different companies to try and find someone who would give my course "approval" for continuing medical education (Or in other words, "accredit" the course).
Most of the companies I contacted flat-out ignored me, and all the other ones said they weren't interested, except for one.
I was really glad that at least one company was willing to work with me. But having only one option also meant I had to conform to their timetable.
I had to be extremely patient because the people I was working within the company were quite busy, and it would sometimes take weeks or even months before they would have time to discuss the "next steps".
Sometimes during those long delays, I had some misgivings or doubts.
If so what made you turn it around and do it anyway?
Despite these challenges and delays, I reminded myself about the long-term vision and what I thought I could accomplish by creating this course.
I was confident that it would be worth it in the long run if I could ever successfully launch the course.
So while I had to be extremely patient, it was worth it to me to set reminders and follow up periodically until we finally got everything done (after about 2 years).
What's your online course like?
My course uses a combination of video, audio, text PDFs, and a "mobile app" (which is actually a mobile responsive website but functions very similar to an app).
The videos are PowerPoint presentations with voiceover. Basically, they walk the student through the vocabulary they're learning, while also quizzing them and having them repeat the phrases to increase their familiarity.
The audio tracks are very similar to the videos, just an audio version that someone could listen to in their car or at the gym if it's not convenient to watch a video right then.
The PDFs include "cheat sheets" for each major section of the course, which students can use as a handy reference. There is also a course manual, which includes some introductory sections, and helps tie everything together.
The mobile app was added to give the students additional convenience, such as being able to pull up the course content on their phone while they're at work.
Students are quizzed throughout the videos and audio tracks, and able to keep repeating the phrases that they're learning out loud.  There is also a final test after they go through the whole course.
In addition to quizzing the students throughout the videos and audio tracks, there is a larger quiz or test at the end of the course.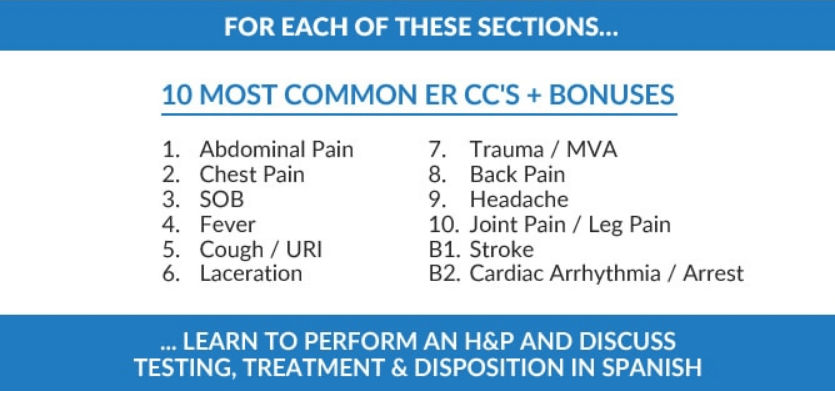 How long did it take you to create your course?
Overall, it took a little over two years from the time I started outlining my ideas for the course until it was finally ready to launch.
In the beginning, I did several mind maps and outlines of what I thought should be included in the course. Then I broke it down into manageable chunks and chipped away at them slowly over time.
I went through a few different versions of how I thought the content should be presented (such as what types of video, audio, or other resources I wanted to use) before settling on the final version.
The final version was a combination of what I thought would be best for the student, as well as what was convenient and "doable" for me.
It was pretty time consuming to get everything recorded and produced.
I had to create a PowerPoint presentation for each video, and then record about 80 videos using screen capture software. Then I had to get those videos edited and mastered.
All of the videos were also converted into an audio track.
I had to write a whole bunch of text for the PDFs, and also get that edited and sort of designed.
I worked with a few different freelancers, including a programmer that helped create the mobile app / mobile website, as well as a voice-over artist that did some of the audio for the app.  There was also a graphic designer and a general VA involved.
In addition, I worked with a Spanish interpreter to review some of the translations for accuracy.
Tell us a little about the process of launching your course and getting your first sale(s).
The course launch hinged on the company that I partnered with–the same one that was able to accredit the course for continuing medical education.
They had a rather large email list, much larger than my own, so we came to an agreement about sending a few marketing emails to their email list, to promote the course.
Thankfully, most of the people in their email list were in my target market, and we were able to have quite a successful course launch as a result—about 40 people signed up on the first day.
The main preparation involved creating the sales page and composing the marketing emails.
I also had to decide what type of discount or another incentive I would use during the launch.
Do you have a lead magnet?
Actually I don't currently have any lead magnet…but I probably should. 🙂 It's been on my to-do list for a while.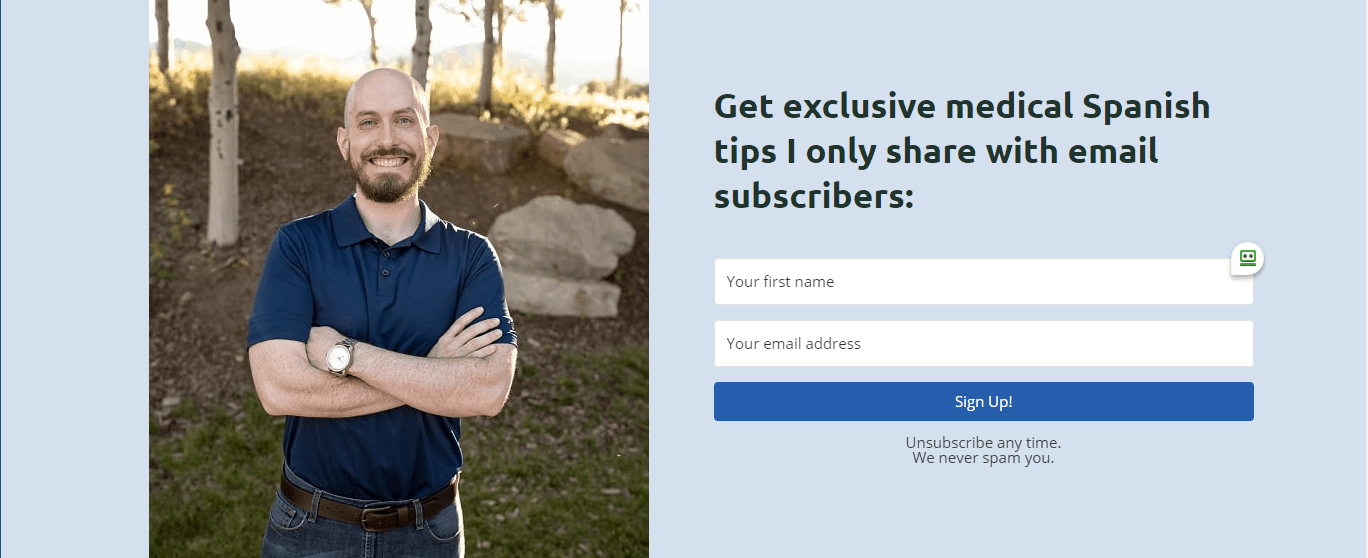 What's the traffic strategy that works best for you?
I run some Google ads, but they're not as effective as the email promotions we've done.
The vast majority of course sales have come through my partner company's email list, along with a couple of print ads I've done in magazines.
What online course platform are you using?
I thought about using Teachable or one of the other popular learning platforms, but after discussing it we decided to host the course on my partner company's website (ceme.org).
They have some software on their website called "Ethos", which handles a lot of the technical issues, such as letting students stream or downloading the course content
Do you like it?
Ethos could be a little smoother. Ultimately adequate for letting users register for the course and access the course content.
It definitely doesn't have as many fancy features as the more popular online course platforms.
Are there any features you wish it had?
There are a lot of features that would be nice to add.  I almost wouldn't know where to start.
There are two main things that would be nice to change about the current course set up–
First, users aren't currently able to adjust the speed for videos.
(If the videos were embedded from YouTube or Vimeo, we could set this up, but currently, the videos are just uploaded to the Ethos system, and it would be a pretty big hassle to get that changed.)
Second, I wish it was easier to control the way the price was displayed on the sales pages.  Basically, when a user first arrives, they only see the highest price level, but there are three different price levels (depending on the student's profession).
Some potential buyers might get turned off by the apparent higher price before they actually read all the details.
What made you decide to use your chosen platform over others?
The main reason I'm using the Ethos platform is because of the partnership I have with CEME.
They already had the Ethos platform. They were interested in using it to host an online course on their site, so we went ahead with that method.
There would be some advantages to hosting the course elsewhere. But with the current setup, I do at least have the advantage of not having to maintain the website myself. I also don't have to process payments or worry about bookkeeping issues, for the most part.
What other tools do you use to run your online course business?
For the screen capture, I used a program called Movavi.  For audio recording, I used a free program called Audacity.
I had a freelancer from Fiverr master all the audio tracks.
On my own medical Spanish website, I use WordPress and various plugins. However, I don't officially host the course on my site. I have a sales page there. It ultimately directs the user to CEME's website for purchase and access to the course.
We also use WordPress for the "mobile app" included as part of the course.
I use ConvertKit for my own email marketing. CEME (my partner company) uses Constant Contact as their email provider.
What books or training programs have you found useful on your journey to a successful business owner that others might find valuable too?
None of the books I read were specifically about creating online courses. I did, however, use a book called Will it Fly, by Pat Flynn, to try and validate my course idea. That mainly involves talking to a lot of people in the target market to gauge interest and get feedback.
I also went through an online training called "Zero to Launch", by Ramit Sethi. It's a more general course on how to create a successful online business. I definitely used some of the principles to help me decide what features to include in my course and to help with the marketing plan.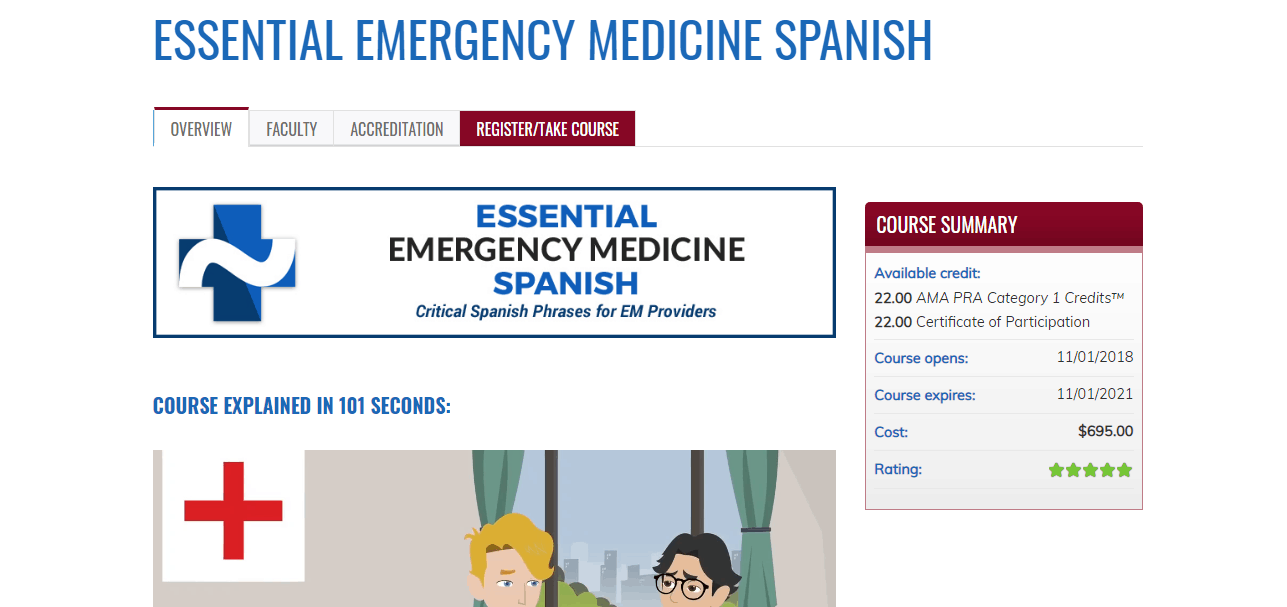 Do you have any big mistakes you've made along the way that you'd be willing to share?
I mentioned earlier that the course is officially hosted on CEME's website (rather than my own), and that payments are processed through their website as well.
While this arrangement has some advantages, it would be nice to have more control over the sales page and the checkout process. Having more control over those components would make it a bit easier to track analytics, split test different sales copy, and try out other options to see what works the best.
So I guess I kind of wish we had come to a different arrangement about how to host and sell the course.
I can't really think of any other "mistakes", at least not anything big or particularly memorable. Like anyone, I've made many little mistakes along the way. Then I learn from them and pivot slightly as needed.
Please share some idea of revenue.
Thanks to having a large and well-targeted email list to promote the course to, we sold it to about 40 people on the very first day (from one email promotion). Those sales probably brought in about $13,000 in gross revenue. I get a share and CEME also gets a share. And that was on day one.
Since then, sales have varied wildly from month to month. Most of the sales happen when we are doing specific promotions.  Over the past two years or so during which the course has been open, approximately 450 people in total have signed up.  That puts the monthly gross revenue in the neighborhood of $10,000. I receive a percentage and CEME keeps a percentage as well.
Please tell us a little about what the money you've earned from your course has done for you.
As a result of the additional income, I've been able to transition from working full-time in the emergency room to working part-time. This has allowed me to spend more time focusing on my online business. It's also freed up more leisure time.
Long-term, I see it as one piece of the puzzle that will allow me to be financially independent and location independent, and only continue working for other people if I feel inclined. - Benjamin Tanner
Click To Tweet
In addition to revenue are there any numbers you would like to share?
I have a YouTube channel associated with my medical Spanish website, but I've hardly added anything to it. I think there are three total videos.
One of those videos has continued to get some views steadily over the last few years.  From that video alone, I pick up one or two YouTube subscribers just about every week. And that's despite having done nothing to work on the channel in the past three years or so.
It goes to show that if you just try different things and then give it some time, you'll see what is working. Then you can potentially do more of it, if you get around to it, haha.
What has creating your course done for you personally?
Creating this course has been by far the most financially successful entrepreneurial venture that I've undertaken.
I did it carefully and methodically. It ended up being a significant success in spite of various challenges and delays. Such as taking more than two years for course approval and figuring out my launch.
Going through this process, and following through on my plan, has given me confidence that I can be successful with other online business plans in the future.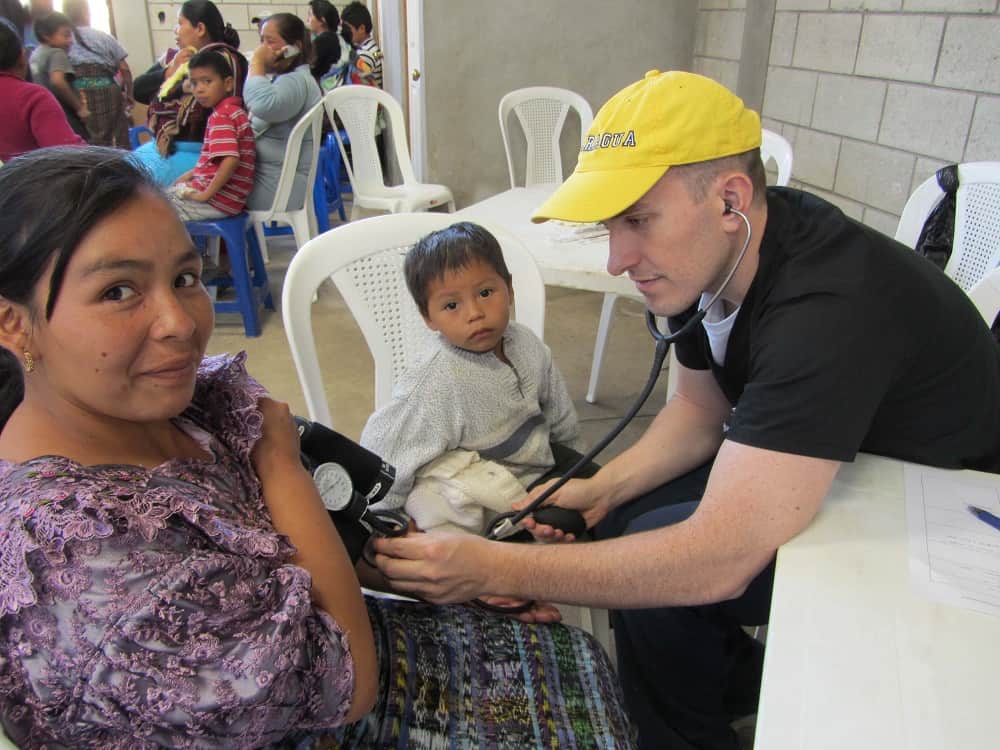 Do you have a story of a transformation from any of your clients?
I've gotten feedback from various students in the course, including how some of them were able to communicate more easily and clearly with Hispanic patients.
I don't have any amazing individual transformation stories. But it's clear that a lot of medical providers and their patients have benefited from what they've learned in the course.
What advice do you have for people just starting out?
My main advice for people starting out would be to carefully craft a plan. Then talk to as many people in your target market as possible to get feedback on your plan.
Look for patterns in the feedback. Don't necessarily change your plan based on what one person says. But if multiple people are saying the same thing, that's probably something you should pay attention to.
Work on your plan a little bit at a time, in bite-size chunks. Keep plugging away. - Benjamin Tanner
Click To Tweet
It might take longer than you expect, but if you're thoughtful and creative and do your market research, you're likely to be successful in the long run.
Learn more about Benjamin Tanner of learnmedicalspanish.org: