How Ashwini Rao Helped Transition Live Project Management Training to an Online Course

Our content is reader supported, which means when you buy from links you click on, we may earn a commission.
---
Who: Ashwini Rao
Website: pmexperto.com
Course Topic: Project management
Interesting Stats: 523 students registered for the first free webinar
Who are you and what course have you created?
I am Ashwini Rao with 26+ years of industry experience, in the field of Project management, Business Analysis, and Quality management. Now I train people at PMExperto.com.
I was working in Information Technology (IT) and Manufacturing companies for 15 years. For the past 12+ years, I have been providing training and consulting services to corporates and individuals to upskill in the domain of project management and business analysis.
With the following certifications and affiliations, I design and deliver courses like PMI – PMP® Certification Exam Preparation Workshop, PMI ACP® – Agile Certified Professional Exam Prep Workshop, Business Analysis Foundation, Requirement Elicitation, Requirement Analysis, and Process Modeling, Introduction to quality standards and frameworks like ISO, CMMI® and Yellow Belt and Green Belt Six Sigma.
PMI PMP® – Project Management Professional
PMI ACP® – Agile Certified Practitioner
Business Relationship Management Professional (BRMP®)
DevOps – Foundation
Six Sigma Champion by Systonomy
Six Sigma Black Belt by Honeywell
I have created a course for PMP aspirants which helps in their exam preparation and help participant clear the exam in their first attempt. It also fulfills one of the requirements to qualify for PMP certification that is 35 contact hours.
What market does your online course serve?
Our course is meant for project management practitioners; specifically for people who want to become PMP certified.
Project management, as a skill, is not confined to one single industry. Hence, existing project managers and aspiring project managers across the globe can benefit from our online PMI-PMP® exam preparation course.
What's the biggest benefit of taking your course?
Among many project management certifications, PMI-PMP® is the most respected certification. It is globally recognized, well appreciated by employers and customers across all industries. It is one of the topmost certifications in the World.
However, the exam is not a cakewalk as all aspects of project management in assessed with many different scenarios. Understanding of Project Management Body of Knowledge (PMBOK®) guide published by PMI is of utmost importance to clear the exam.
By taking this course, the PMP exam aspirant crosses the first hurdle of demystifying the contents of this guide. Secondly, many exam tips and tricks are shared in the course along with the practice question sets, formula cheat sheet, and the like. The course is designed with an aim to help participants clear the exam in the first attempt.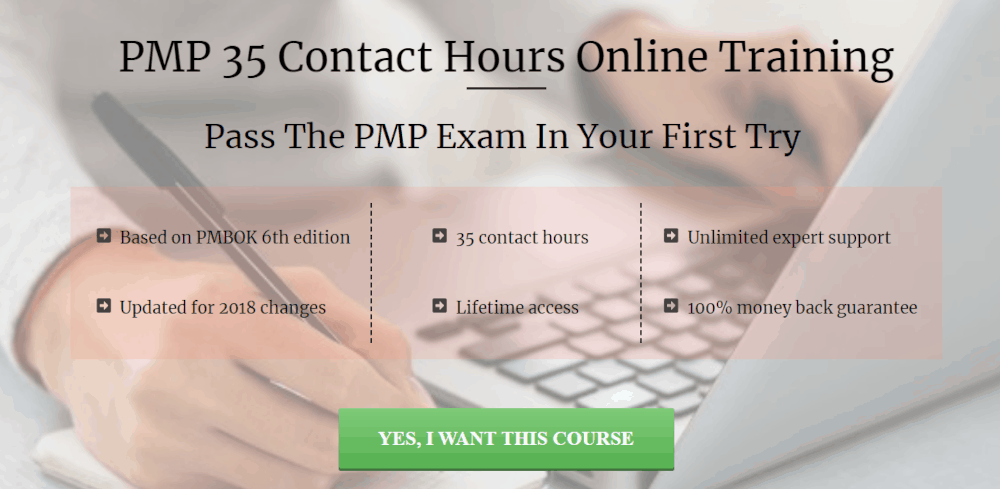 How did you get into the market?
During my tenure of working in industries, I used to interact with a consultant whom we engaged with to improve our project management competency. I was very much impressed with the level of knowledge, both in terms of breadth and depth, that the consultant brought to the table. I was also attracted by the fact that consultants have a clear, well-defined role and opportunity to focus on the list of deliverables. With the encouragement of the same consultant, I took the plunge into the world of freelancing.
I started with workshops. And at such times when classroom training is not possible, the idea came up to provide online courses to PMP aspirants to help them pass the certification exam.
Why did you decide to create an online course in the first place?
I still come from the old school of thought where classroom set-up, face-to-face interactions, instant validation, and feedback are considered as important factors for learning. At the same time, I also believe that change is constant, and hence, in the world of digitization today, the need to adapt led to the creation of an online course. With PMExperto, I created my first online course.
Did you have any moments of doubt before you created/launched it?
From the course content point of view, I never had an iota of doubt. But a bit of struggle was with adjusting to the new technology and ways to present the content. I am used to customizing the presentation style on the fly in the classroom based on the learning style of the audience. So, visualizing a typical class of mixed audiences helped to create an online course.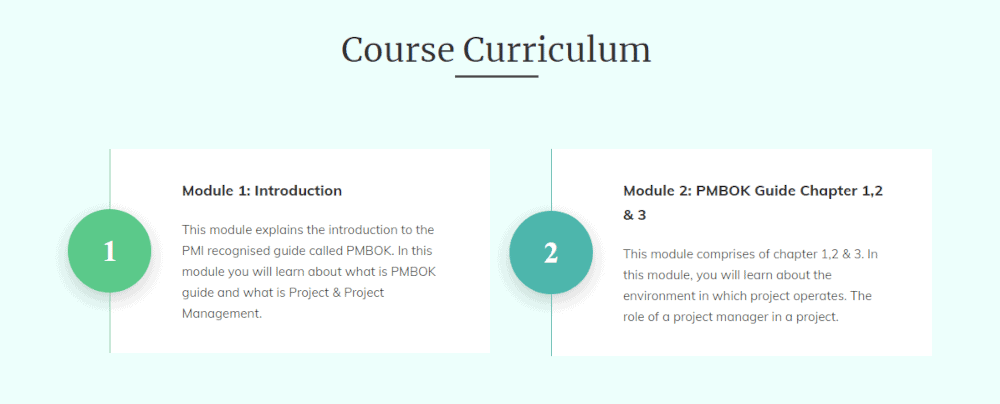 What's your online course like?
The online course is a combination of all these – video, text, and quizzes, cheat sheets for formula, a list of common abbreviations, and the like. Powerpoint slides are used as a basic display of contents. But the audio is not mere content reading from the slides; it is an explanation with many examples from various industries.
How long did it take you to create your course?
The entire effort to go online was approximately 4 weeks and 315 person-hours.
A team of 3 had clearly defined roles. One person was responsible for technical work, one person was responsible for content creation, and another person was responsible for content presentation. The content was developed module by module. Reviews and feedback were given from a few experts during the process. All 3 of us worked in tandem to complete the entire online course.
Tell us a little about the process of launching your course and getting your first sale(s).
We launched our online course and started marketing through a free webinar. The webinar helped us get our first customer for the business and then many more. Today, we also use the free webinar to build trust among our audience and sell our online training courses.
We promote our free webinars extensively on social media channels like Facebook and LinkedIn.
Do you have a lead magnet?
We have two lead magnets. – the webinar and a free demo course.
Part of the course acts as a lead magnet. Some website visitors sign up for the demo course and then we promote our main course using a series of emails.
We have a 6 days email sequence for the subscribers, wherein we send informative messages and promote our course. We give a 67% discount to our email subscribers. Normal visitors see our regular sales page which has a price of $299 but subscribers see it as $99. Some people, who like our offering, buy our course.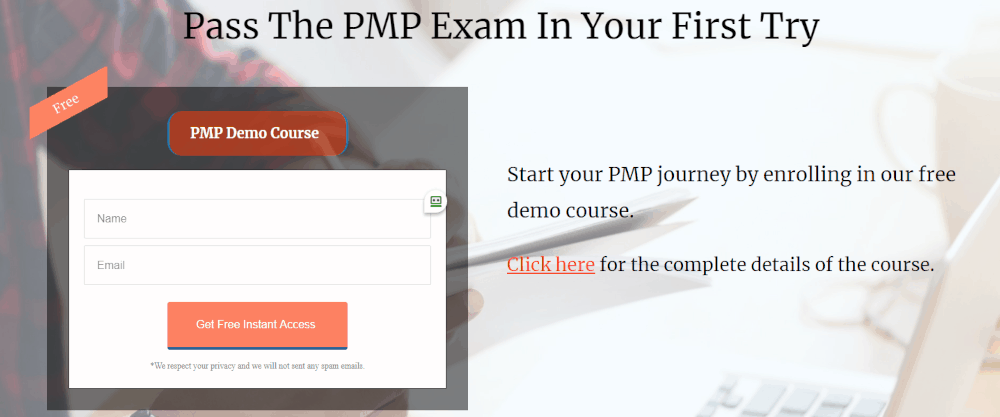 What's the traffic strategy that works best for you?
Our website traffic comes from three areas. Namely paid ads, social media, and organic search.
Organic search is still at a nascent stage. We have written a number of knowledge-based blog posts on PMP certification. People who are looking for PMP search their queries and land to our website. We have optimized our articles to improve organic traffic. The searchers do not immediately become our customers when they visit our site but it gives us brand recall.
What online course platform are you using?
We are using Invanto to develop our online course.
I like it. It has a host of features and it is less expensive than other competing products.
Are there any features you wish it had?
Yes, we wish its video player should have a speed change feature. Most people like to watch videos at different speeds according to their comfort level. The video player has only one playback speed.
What made you decide to use your chosen platform over others?
Here are some features that made me chose Invanto over other course platforms:
It has a complete suite of complementary tools, which can be used to make a complete learning website. These include tools for creating membership plans, online school, shopping Carts, maintaining loyalty points, delivering coupons, managing affiliate relationships.
It provides seamless integration with WordPress and our email marketing system.
There is no limit on the number of courses.
It provides many options to promote our courses like free trials, demo lessons, coupons codes
It does not charge a commission for each sale.
What other tools do you use to run your online course business?
Other tools that we use for our online course are Anymeeting, for conducting our online webinar and Sendfox as our email marketing software to sell our online training course through emails.

What books or training programs have you found useful on your journey to a successful business owner that others might find valuable too?
There is an interesting book from Simon Sinek titled "Start With Why". The best part of this book is 'The Golden Circle', which has three layers of WHY at the core, followed by 'HOW', followed by 'WHAT', and which is very much similar to the biological arrangement of the human brain.
If we have the clarity of WHY we do, know the HOW we can do and maintain consistency of that WHAT we do, that's enough to be successful in any work we do. - Ashwini Rao
Click To Tweet
If I have to summarize in one line, the book says that one should have a clear purpose before starting anything new.
Do you have any big mistakes you've made along the way that you'd be willing to share?
Not a mistake but I have learned a lot about running an online course. I had set a fixed price for the online course and that is not doing well. With time I learned from this and decided to change the pricing and offer discounts from time to time and promote it extensively.
Please share some idea of revenue.
Although I have been conducting training for the last so many years, our online course is quite new. We developed this course this year only and most of the revenue has come after COVID related lockdown. During the current pandemic, people have started moving towards online learning. We are making between $2000-3000 USD from course sales per month.
Please tell us a little about what the money you've earned from your course has done for you.
The money we have earned till now is too little to splurge on anything. The money that we have earned from the course is used for taking care of paid ads, office expenses, and employee salaries. Some of it has gone for subscription software like Invanto.
In addition to revenue are there any numbers you would like to share?
We had 523 students register for our first free webinar. It has allowed me to interact with people all over the globe in one session. They had similar queries as my classroom students but it was fun to answer their queries.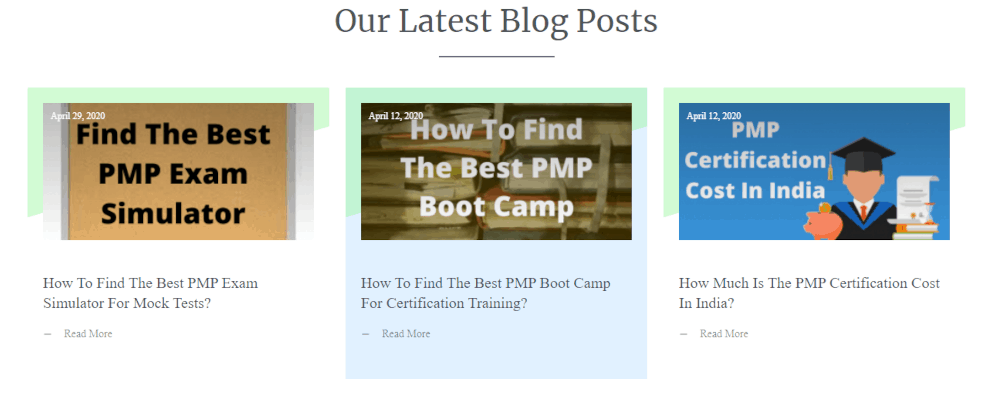 What has creating your course done for you personally?
On a personal level, definitely, my view about classroom vs. online is changing – I now understand a lot can be achieved online too.
I now understand and has experienced the limitations, differences, advantages, and disadvantages of classroom vs. online course. - Ashwini Rao
Click To Tweet
The feeling of learning and experimenting with something 'new and different' exists.
Do you have a story of a transformation from any of your clients?
Many participants have mentioned the kind of success that they have seen through this certification and write/call me to say how the training made a difference in their journey of certification. Many participants share how the course has made a difference for them and helped them to play the role of project manager better.
What advice do you have for people just starting out?
Hang on there! – that one phrase would be my advice😊 This comes from my experience. When I took the plunge from working full time in a corporate, the initial 2 years was the toughest period to sail through. The thought 'Should I get back to full-time work?' crossed my mind always. It took an effort to overcome this thought. But after 2 years, there was no looking back.
I wish I knew how to deal with the uncertainty that comes along with freelancing. I have learned it the hard way.
Learn more about Ashwini Rao of pmexperto.com: