How Alyssa Kuhn Validated Her Arthritis Adventure Blueprint and is Ready to Scale Her Business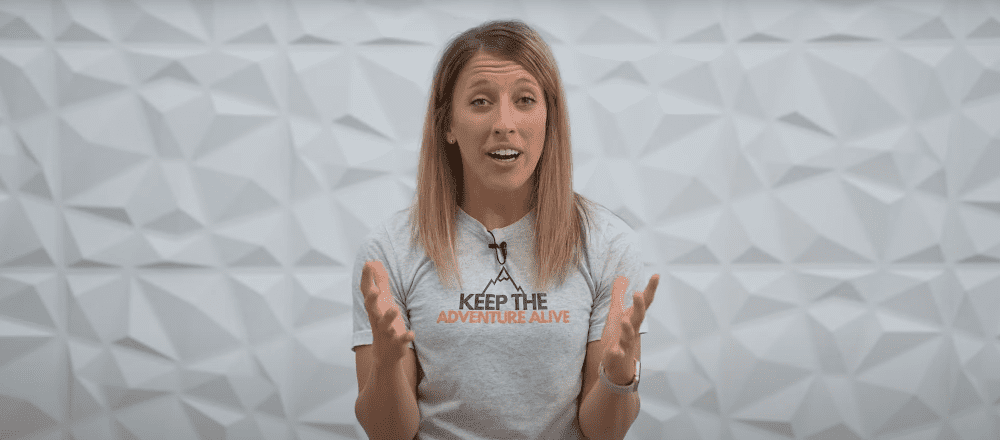 Our content is reader supported, which means when you buy from links you click on, we may earn a commission.
---
Who are you and what course have you created?
I am a doctor of physical therapy and an osteoarthritis specialist. I am the founder of Keep the Adventure Alive which helps people with osteoarthritis go from hopeless to hopeful and realize their adventures are possible.
My course is called the Arthritis Adventure Blueprint. This course takes people through the exact framework that has helped so many with osteoarthritis go from joint pain limiting their lives to hiking, skiing, running, and even simply walking again!
What market does your online course serve?
My course serves those dealing with osteoarthritis and looking to stay active while avoiding surgery. Contrary to popular belief, there are other options when it comes to finding arthritis pain relief besides surgery. Many are told, though, that it's the only way.
No longer do people just have to sit and wait for the "perfect" time for surgery that seems to never come. No longer do people have to spin their wheels trying all kinds of different supplements, creams, oils, massages, and medications. All things that lead to short-term pain relief. Instead, pain relief and movement can become long-term!
What's the biggest benefit of taking your course?
Many people, in the beginning, have very limited hope when they are told they have a condition without a cure. Most of the doors are closed on things like running, being able to play with and support kids/grandkids, being able to go hiking or backpacking because they are told they can never do these things again.
For example, one woman I was working with had difficulty going up and down the stairs and simply walking longer distances because of knee arthritis pain. She would be woken up at night by a burning sensation at least 4 nights per week. She truly thought her love of hiking and backpacking had come to an end.
After going through the framework the Arthritis Adventure Blueprint was founded upon, she was able to not only return to hiking but she was actually able to keep up with her friends. She was on a month streak of sleeping through the night without being awoken by her knee pain. The transformation was amazing.
Through the Arthritis Adventure Blueprint, people first and foremost, learn hope. Then comes all of the other things such as the best exercises, the right foods, and how to manage inflammation.
I take a different approach as I don't see arthritis as a death sentence to everything you love doing. Instead, it is an obstacle that we can overcome with the right plan!
How did you get into the market?
In the early days of my physical therapy career, I was able to work with an amazing group of people, all over 70. This group was vibrant, full of energy, social, and not willing to accept age as a reason to bring them down.
Then I began working in home health where I saw the other side of getting older. People who were dealing with debilitating pain and difficulty with mobility at 40 and 50. Both of these groups had osteoarthritis in different capacities. The group in their 40s and 50s was lacking resources and knowledge about the treatment of arthritis and options that were available.
This set off my mission to help more people truly find the positive side of aging. Arthritis can be a major barrier. Living out in Utah has opened my eyes up to how much adventure is out there in the world. I wanted everyone to be able to live a life they wanted and not be restricted by arthritic joints. I want them to be able to find happiness and joy in their later years. Not just pain, frustration, and surgical complications.
I found a framework that can bring hope and happiness to the later years. One that doesn't accept pain as a "normal thing that happens with getting older". I believe it is absolutely possible to shift the thoughts around arthritis from negative to positive. There is so much negative information out there right now, that if you are diagnosed with osteoarthritis- it appears your life is over! But it doesn't have to be. That's the birth of the Arthritis Adventure Blueprint.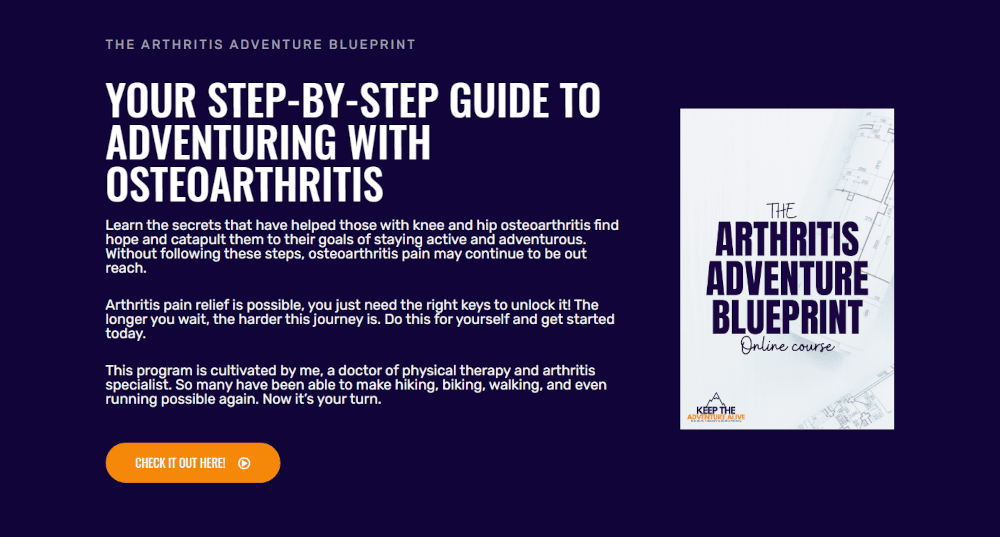 Why did you decide to create an online course in the first place?
I wanted to reach more people. I wanted more people to know there are options and there is hope for a diagnosis of arthritis, especially as osteoarthritis is being diagnosed at younger and younger ages.
Osteoarthritis is so common in our world today and it can be crippling without the right plan and resources. Many people are falling through the cracks so I wanted to shed a positive light on this condition and show people the options that are available.
Did you have any moments of doubt before you created/launched it?
Totally! I have gone through my trial and error stages of finding out exactly what would benefit people the most. But not only what I thought they would benefit from but also what they would be willing to buy. What they would see value in. I know this framework works. I know it can bring results as it has too many people already. The toughest part I think is getting people to see the value in it! Especially since our healthcare system is very much based on insurance covering most services.
If so what made you turn it around and do it anyway?
The messages I constantly get from people on social media and via email keep me going 100%.
For example, one I received recently was: "I was suffering from arthritis pain in my right hip. I was hesitant about moving, so my movement was limited. I've been following your hip exercises and doing yoga stretches. I'm no longer in pain and can run up my stairs again! I went hiking today and was able to climb up a steep hill without any issues and no pain afterward. I so appreciate you, your guided exercises, and your compassion"
These are what I use as validation to know that I am meant to do good in the world and the world needs to see this online course.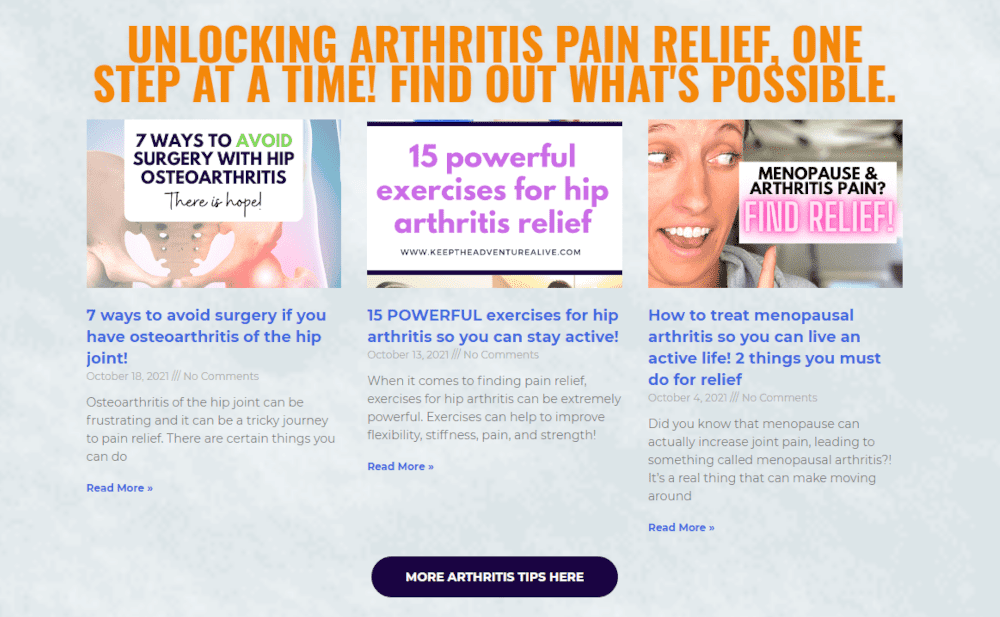 What's your online course like?
4 easy to follow modules including one pre-recorded video of instruction led by me. These include me standing and instructing using an easel. Included also are interactive handouts, guest interviews, and my personal favorite, 10 follow along, arthritis-friendly, exercise videos complete with a workout calendar to keep people on track.
How long did it take you to create your course?
It took about 20 hours to complete. I had the framework already planned out, I just wanted to make sure all the bonuses were desirable. So I surveyed my audience multiple times. I filmed and edited all 14 videos myself, including the 4 instructional and 10 exercise videos.
Tell us a little about the process of launching your course and getting your first sale(s).
I did a launch via webinar to my existing list and I made my first sales that way. This allowed me to do some trial and error before running paid ads to it. I'm also using a pilot group right now to test one of the major objections I was getting which is … "I am bone on bone, I really don't feel like this course will help me, I've tried everything".
This group includes people who currently have bone-on-bone knee arthritis to show the possibilities. I will then gather testimonials. I have also collected video testimonials to put on my sales page from existing clients describing their transformations which has helped with sales.
Do you have a lead magnet?
I do! I have a couple actually. The Ultimate Arthritis Guide gives 5 tips to get started on an arthritis adventure and the online course then offers more guidance on how exactly to tackle arthritis pain. The 5-day Arthritis Friendly Workout Challenge. It includes 5 workout videos that people follow along with that then lead into my online course. It is working great at bringing in leads and I just changed the follow-up email sequence for those too in order to hopefully drive up conversions.
What's the traffic strategy that works best for you?
I've been very consistent on social media, particularly Facebook, Instagram, and Tiktok. I gained many leads from these platforms, primarily Instagram I would say is the most successful right now. I've been able to dial in messaging and use the words that clients are actually using themselves to better relate to them and their journey!
What online course platform are you using?
I use Clickfunnels.
Do you like it?
I do. It can be a little clunky at times but it's very easy to create sales pages and integrates with my email server Activecampaign.
Are there any features you wish it had?
I wish it were a little easier to use, I find some have a hard time with creating a username and password.

What made you decide to use your chosen platform over others?
I really personally like Russell Brunson and the content he shares. You can look around for a course platform until you're blue in the face but they all have their pros and cons. You just have to choose one and I chose Clickfunnels after doing a program of Russells.
What other tools do you use to run your online course business?
I live in Canva pretty much! I also use Activecampaign for my email list, Shipstation for shipping of my upsell, Tailwind to schedule my pins on Pinterest, and Dropbox to store my videos.
What books or training programs have you found useful on your journey to a successful business owner that others might find valuable too?
I found the OneFunnel Away Challenge by Russell Brunson to be helpful. I also find his podcast "Marketing Secrets" and James Wedmore's podcast "Mind your Business" to be beneficial.
Do you have any big mistakes you've made along the way that you'd be willing to share?
Before when I tried to create an online course, I would create something, no one would buy then I would move on to something else. I was creating things that I thought people would want instead of paying attention to what my audience wanted.
Once I was able to shift that mindset and started paying attention to what my audience was actually looking for, that's when I finally began to unlock success but it was after many attempts at trial and error.
I also learned to focus all my time and energy on one product to start and not give up if it doesn't reach the goals I wanted it to right away. I have learned to play the long game. -Alyssa Kuhn
Click To Tweet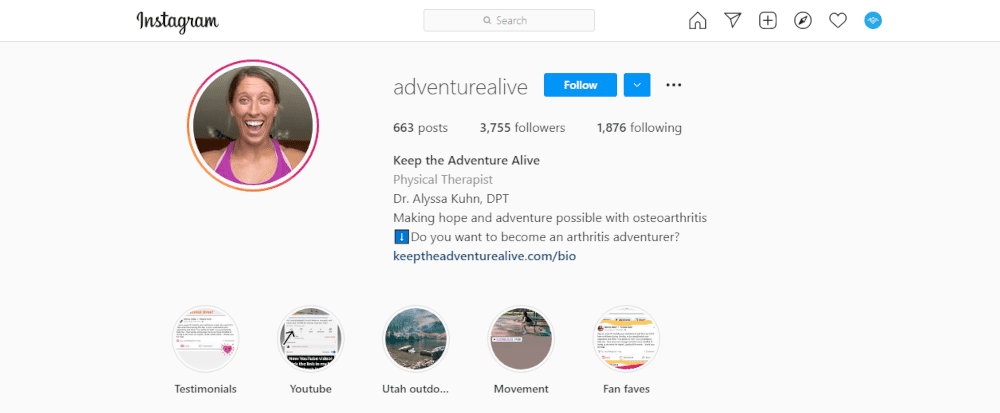 Please share some idea of revenue.
After launching my course to my small email list of around 1,000 people and hosting 2 webinars, I have garnered $1,800 in sales so far. This is without any paid ads. I have been running different experiments and playing around with launch strategies. The last webinar, without any paid ads, I had 15 people join and 3 converted immediately after.
I was searching first for validation that the offer is what people are looking for before I started running paid traffic to it. Now, the kinks are worked out and I am going to begin paid ads.
Please tell us a little about what the money you've earned from your course has done for you.
Since the validation of this offer, I have quit my part-time job to focus solely on the business.
I have confidence that this offer resonates with those in my audience and validated its value. --Alyssa Kuhn
Click To Tweet
I will be able to use this money to put behind paid ads to hopefully continue to grow my revenue.
In addition to revenue are there any numbers you would like to share?
I was able to cross 1k subscribers on Youtube after about 6 months of consistent video posting. This does bring more traffic to my blogs and into my email list. After one year of organic traffic, I have grown my email list to over 1,600. I have been hesitant about paid ads until I had some of the kinks and messaging worked out but now I am on track to expand my audience exponentially with paid traffic.
What has creating your course done for you personally?
It has given me more confidence that I am actually helping people. It's also given me validation that this process works and can work for anyone around the world which is so heartwarming to me. And then it has given me freedom along with the ability to help people more than just in a one-on-one capacity.
Do you have a story of a transformation from any of your clients?
One success story is of a woman who was dealing with knee arthritis pain and problems with her meniscus on her right side. She had tried many different things including physical therapy. One of the surgeons she saw was ready to schedule surgery. She really wanted to avoid it. She became fearful of almost all movement because any time she felt pain, she associated it with more damage inside her knee.
Her life truly became Advil and inactivity. She was in her early 50s. We began the same framework in the Arthritis Adventure Blueprint. She has gained so much confidence and pain relief she returned to hiking, playing pickleball, tennis, and even running! Now, if she feels a twinge of pain she doesn't even think twice about it because now she knows it's not causing more damage. Not only did she find pain relief but her life is no longer dictated by pain. She has her life back.
What advice do you have for people just starting out?
Don't rush to create something until you understand your audience and their desires. Take time to hone in on what your audience really wants. It will make your life so much easier.
Learn more about Alyssa Kuhn of arthritisadventure.com: