Adobe Premiere vs. After Effects: Which Should Be Your Go-To Video Editor?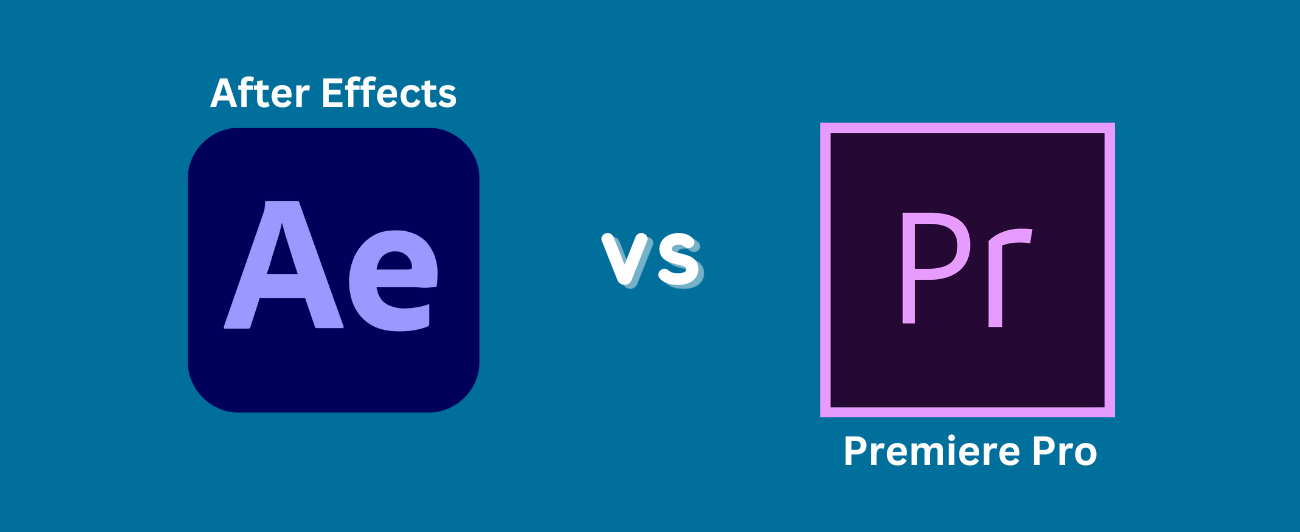 Our content is reader supported, which means when you buy from links you click on, we may earn a commission.
---
A common question for video editors is; 'which video editing software should I use, Adobe Premiere vs. After Effects'?
The answer, unfortunately, is not so simple.
Both Premiere and After Effects have their unique strengths and weaknesses. In this post, we'll discuss the two programs' key differences.
Adobe Premiere
Adobe Premiere is a professional video editing software program and is part of the Adobe Creative Cloud suite of tools. It's also known as Premiere Pro. It allows users to create and edit videos using various features and tools. Premiere is widely used by amateur and professional editors in the film and television industry.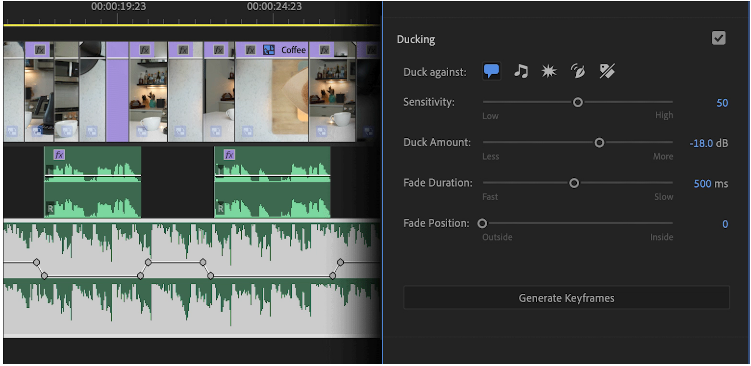 Premiere has a reasonably steep learning curve, but once you get the hang of it, it's a powerful tool that can help you create high-quality videos. In this section, we'll give you a basic overview of some of the essential features of Adobe Premiere.
Features of Adobe Premiere
The Timeline
The Timeline is where you will do most of your work in Adobe Premiere. This is where you add your video and audio clips, trim them down, and arrange them in the order you want them to appear in your finished video. The Timeline consists of several different tracks (Video 1, Video 2, Audio 1, Audio 2, etc.), which allows you to overlay multiple videos and audio clips on top of each other.
Arranging Your Clips in the Timeline
Once you've imported your video and audio clips into Premiere, it's time to start putting them in the Timeline. To do this, drag and drop your clips from the Project panel into the appropriate track in the Timeline. You can rearrange your clips at any time by dragging and dropping them into a new position.
Adding Transitions
Transitions are animations that play between two pieces of footage or two slides in a presentation. They help smooth out abrupt changes between shots and make your video look more polished. In Premiere, there are dozens of different types of transitions that you can add between your clips. To add a transition, drag and drop it onto the edge of two clips in the Timeline.
Applying Effects
Effects are changes you can make to your footage or audio that change its appearance or sound. For example, you might want to make someone's voice sound artificially high-pitched. In Premiere, there are hundreds of different effects that you can apply to your footage or audio. To add an effect, drag and drop it onto the clip you want to apply it to in the Timeline.
Pros of Using Adobe Premiere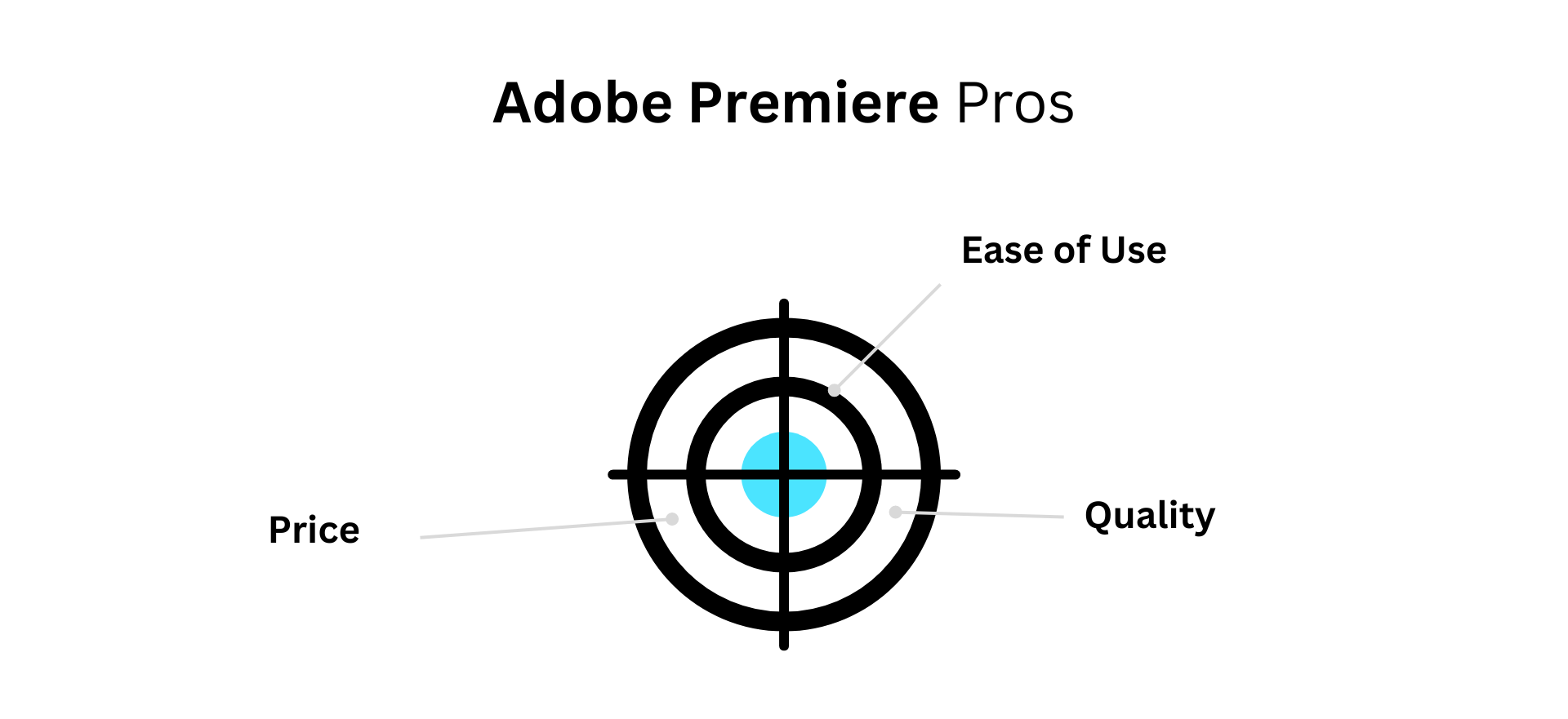 Ease of Use
One of the things that makes Adobe Premiere Pro so popular is its ease of use. Even if you're new to video editing, you'll be able to get up and running with Adobe Premiere Pro in no time. The software is intuitive and user-friendly, with all the features laid out and easy to access.
Quality
Another reason why Adobe Premiere Pro is the best video editing software is its focus on quality. With Adobe Premiere Pro, you can rest assured that your videos will look professional and polished.
Price
While some video editing software programs can be expensive, Adobe Premiere Pro is reasonably priced. You'll get access to all the features and tools you need to create stunning videos for just USD 20.99 per month. And if you're a student or teacher, you can get a discount on Adobe Premiere Pro.
Adobe Creative Cloud
Finally, one last but not least reason Adobe Premiere Pro is the best video editing software is that it's part of Adobe Creative Cloud. This means you can access all of your Adobe Creative Cloud files – including your videos – from any device, anywhere in the world. And with regular updates, you can be sure that you're always using the latest version of Adobe Premiere Pro.
After Effects
Adobe After Effects is used by video and animation professionals, offering the ability to add special effects, motion graphics, and animations to footage. But what sets it apart is its versatile layer system, allowing users to stack and arrange elements on top of each other with different blending modes and opacity settings. This allows for incredibly complex compositions, allowing artists to create unique visual effects.
It also offers robust rotoscoping, tracking, masking, and keying tools, allowing even novice users to edit footage quickly and fix any mistakes. Whether a motion graphics designer or a filmmaker, Adobe After Effects can bring your ideas to life with stunning results.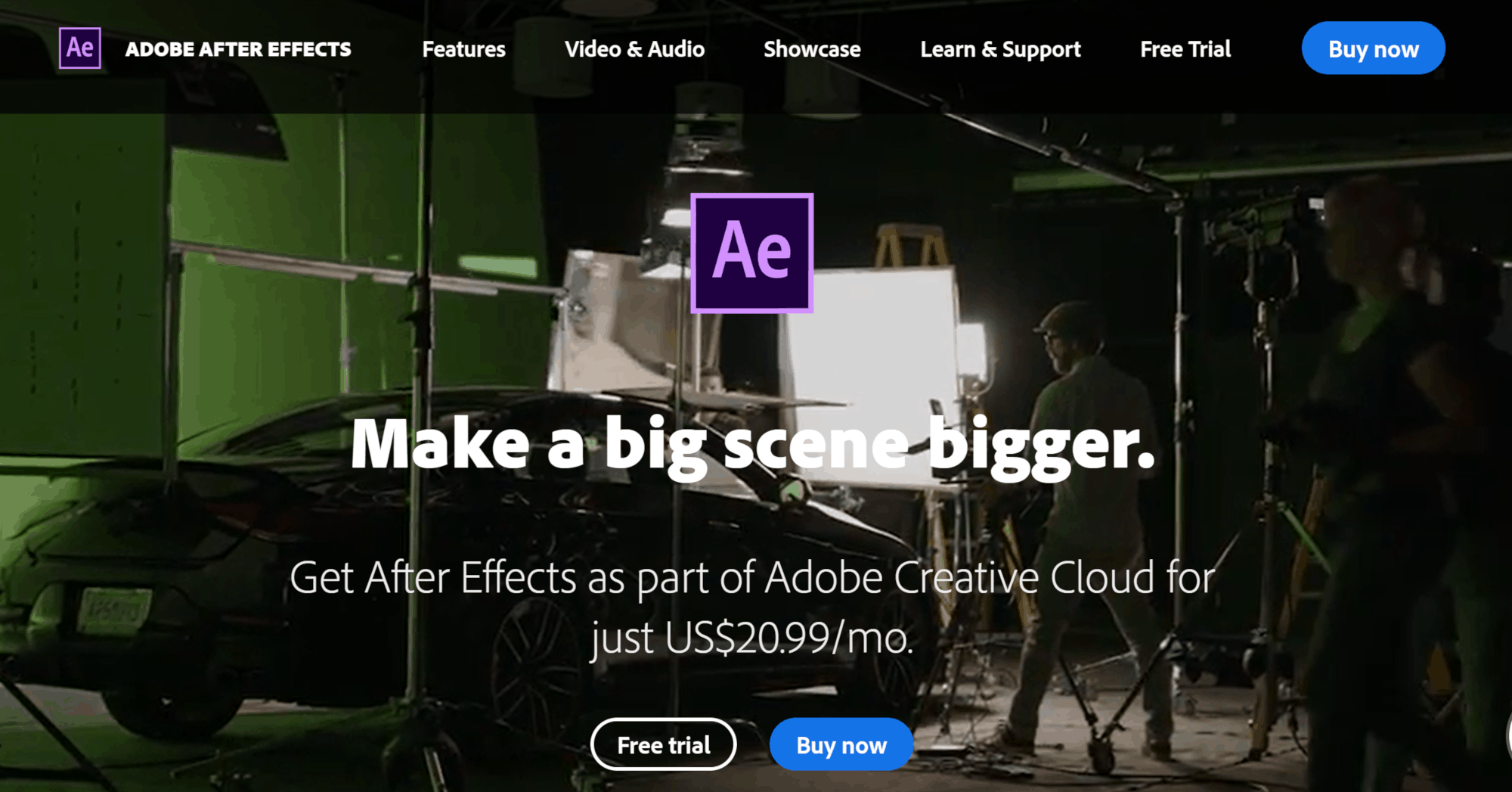 Features of After Effects
The Timeline
The first thing you need to know about After Effects is the timeline. The timeline is where you will create your animations and control your visual effects. The timeline has three main sections: composition, layer, and mask.
Composition is the root element of your project and contains all the other elements.
Layer is where you will create your animations. You can add new layers by clicking the "+" button or by importing video or audio files.
Mask allows you to edit the shape of your layer.
The Toolbar
The toolbar is where you will find all the tools you need to create your animations and effects. Some of the most commonly used tools are the Selection tool (v), Pen tool (p), and Brush tool (b).
Layers Panel
The Layers panel is where you will manage all the elements of your project. You can rearrange layers by dragging and dropping them in the order you want them to appear. You can also change their opacity and blending mode from here.
Effects & Presets Panel
The Effects & Presets panel is where you will find all the built-in effects and presets that come with After Effects. Simply drag and drop an effect onto a layer in the timeline to apply it.
To create a preset, select an effect in the timeline and choose "Save Preset" from the Effect menu. You can then apply this preset to any other layer in your project by dragging and dropping it from the Presets panel onto a layer in the timeline.
Pros of Using After Effects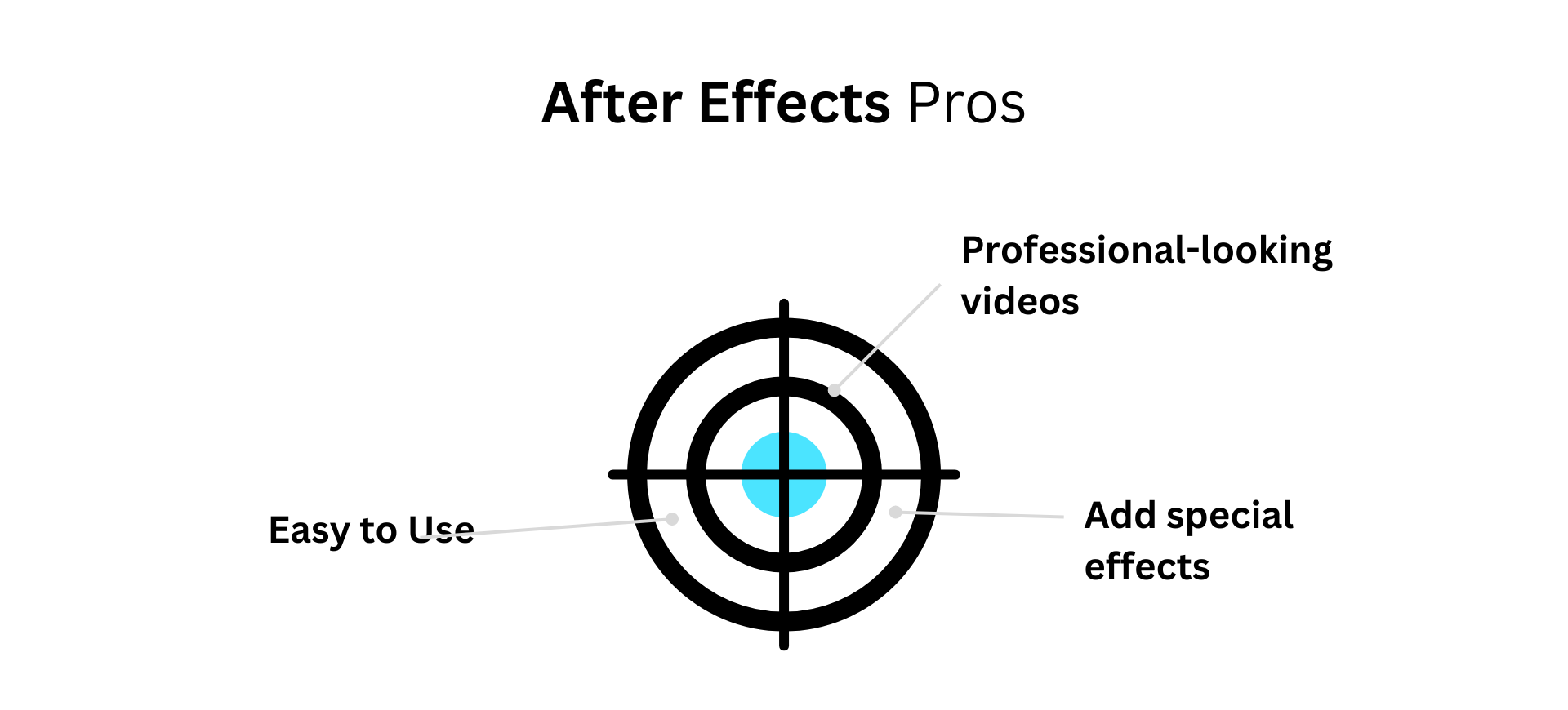 You Can Create Professional-Looking Videos
If you want to create videos that look like they were made by a professional, then After Effects is the program for you. With its wide range of features, you can add special effects, create animation, and do much more to make your videos look amazing.
You Can Add Special Effects
As mentioned above, one of the major pros of using After Effects is that you can add all kinds of special effects to your videos. This includes things like fire, rain, snow, and anything else you can think of. This can really help to make your videos more eye-catching and engaging.
It's Easy to Use
Another great thing about After Effects is that it is quite easy to use, even if you're not tech-savvy. The user interface is fairly straightforward and easy to navigate, and plenty of tutorials are available online if you need help getting started.
Adobe Premiere Vs. After Effects – Key Differences
Here is a rundown of the key differences between the two programs:
Layers
Premiere is a timeline-based program, while After Effects is layer-based. This means that in Premiere, your video clips are arranged on a timeline where you can add transitions, effects, and other types of edits. In After Effects, on the other hand, your video clips are created as separate layers that can be animated independently of each other. It's really your own preference as to which is better.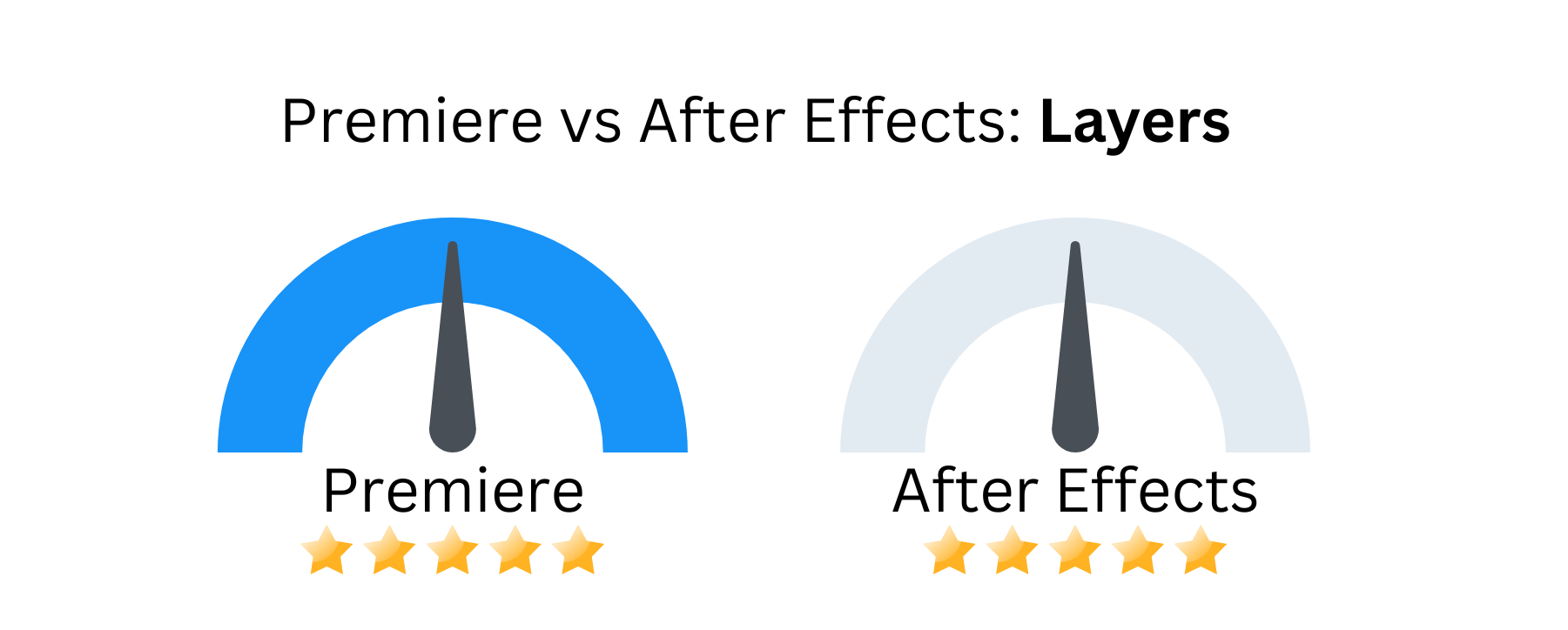 Text Overlays
Both Premiere and After Effects allow you to add text overlays, but they differ in how those overlays are added and formatted. In Premiere, you can directly type your text into the timeline. This makes it quick and easy to add simple text overlays. However, you're limited in terms of what kind of formatting you can do.
In contrast, After Effects uses a separate text layer for each line of text. This gives you much more control over the look of your text overlays but can be time-consuming to set up. We give the text overlays win to After Effects.

Color Correction and Grading
Premiere has built-in tools for color correction and color grading while After Effects does not. If you need to do any sort of color work on your videos, then Premiere is the way to go. This is why we give the color correction and grading win to Premiere.
On the other hand, if you don't need to do any color work, then After Effects may be a better option since it renders faster than Premiere.

Motion Graphics & Visual Effects
Premiere is better suited for working with traditional video footage while After Effects shines when working with motion graphics or visual effects. If you're planning on doing any advanced graphics work in your videos, then After Effects is the program you should use.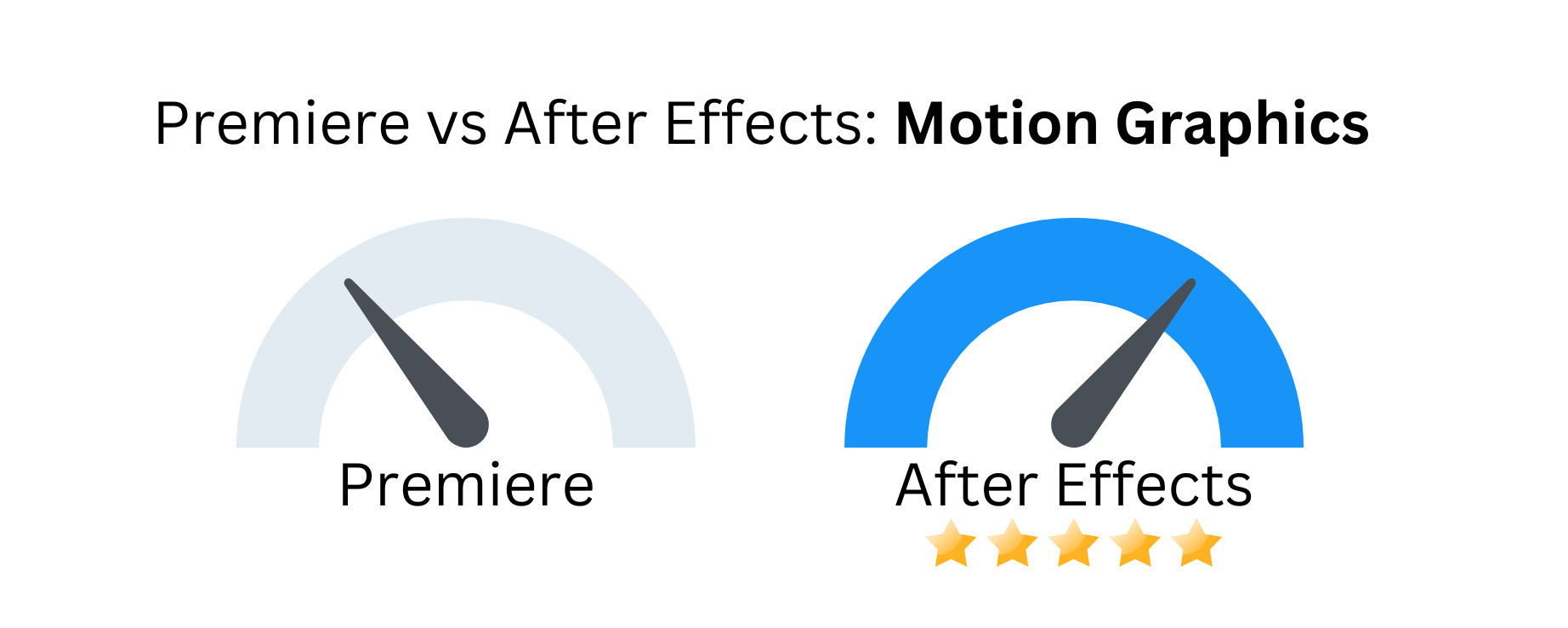 The Bottom Line
So, which video editor should you choose?
The answer largely depends on what you want to do with your videos. Adobe Premiere is the best option if you need a powerful editor to handle complex projects. However, After Effects may be a better choice if you're looking for something more straightforward and user-friendly.
Whichever program you decide to use, spend some time practicing and learning all of its features to create the best videos possible.