[Tool] How Yash Chandra Founded Academy of Mine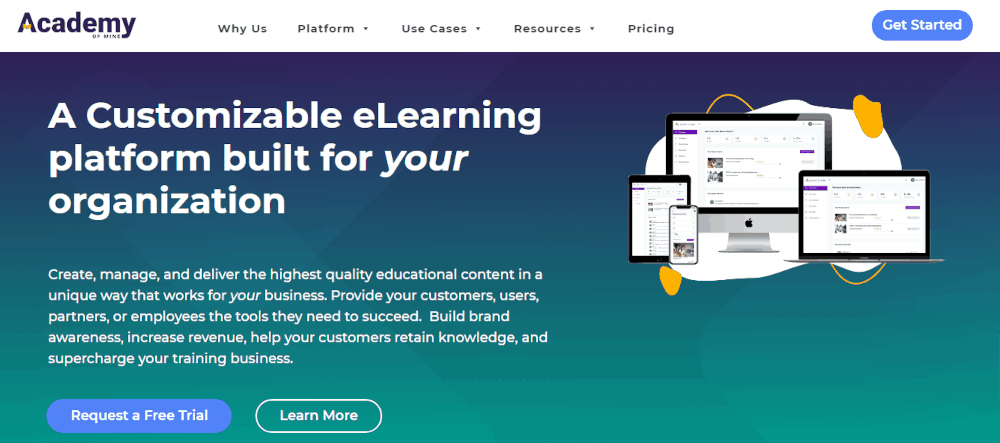 Our content is reader supported, which means when you buy from links you click on, we may earn a commission.
---
Tell us about yourself and the business you started.
I am a Tech Entrepreneur. I had a successful career in Investment Banking Technology for 10+ years but I always wanted to do my own thing. So I quit my job in 2015 to try something different. I love bootstrapping businesses, technology, and education. I am the Founder of an eLearning LMS Platform company called Academy Of Mine. It allows our customers which are usually Businesses (SMBs to Enterprise) to set up their own customizable Training Platform for their Users, Customers, Partners, Employees.
Who is the market for your business?
The platform is best suited for Professional Training & Development, Continuing Education, and Certification based courses. It allows our customers to provide training (On-Demand, Live/Virtual Webinars) to their own customers, users, partners, or employees. Our market includes mostly Smaller to Mid Sized Organizations, some enterprise and academic institutions as well.

What problem does your solution solve?
We make it easy for our customers to provide a Robust Training Program for professional courses. The All-in-One platform not only allows setting up Courses but also a flexible E-Commerce and Integration capability makes it a complete platform allowing our customers to do everything in one single platform and not worry about using various duct-taped solutions.
Why is it better than other solutions?
We have a different philosophy than our competitors. We truly believe that the platform should be unique to each customer and hence our name "Academy Of Mine" as in it is for "me" only. -Yash Chandra
Click To Tweet
Our customization philosophy allows customers to request custom changes on top of the base platform without requiring their own development team which saves them a lot of money but provides a fully customized solution. We also don't charge per User unlike many of our competitors. This reduces the burden on our customers to maintain an exact list of users to ensure they are not billed extra. We charge on a Flat Monthly Active Users concept. Our highly rated customer support is also one of the best in business.
What are the biggest benefits for your customers?
Our customers use the platform to:
Build Brand Awareness for their main product/service
Earn Revenue from their training programs
Train their customers/partners in their main product or service
Save significant Time and Money compared to building an in-house solution.
Where did the idea for the business come from?
I have always loved Education and Technology. The idea of playing with Online Courses and a way to build a Platform was always in my mind even while working at my corporate job. I love to train and teach others and thought of creating a platform to help others do the same. Initially, it was for smaller B2C course creators but we evolved into more of a B2B and Professional Training Platform over the years.

Do you have a lead magnet?
Yes, we have a Free 30 day Trial.
What's the traffic strategy that works best for you?
Most of our traffic comes "inbound" i.e. Customers are finding us on the internet. We have done a lot of work over the years to set up Search Engine Optimization (SEO), Backlinks, and other strategies on social media to help us gain traffic. It has worked out well even though we still have a few more low-hanging fruits in terms of traffic strategy that we need to work on. We could certainly improve on our content marketing a bit more and increase our brand awareness online further.
What tools do you use to run your business?
We are a Software-As-A-Service (SAAS) business and we use a lot of tools to help run the business. Some of the most important tools are Github (for code repository), Stripe (for payment processing), Amazon AWS, DigitalOcean, etc for servers, and many other tools for Project Management, HR, Payroll, etc.

What books or training programs have you found useful on your journey to a successful business owner that others might find valuable too?
Some of the books that I have found most useful are:
Being the Boss by Linda A. Hill and Kent Lineback
Measure what matters, John Doerr
Who, Geoff Smart
Why we sleep, Matthew Walker
The hard thing about hard things
Radical Candor
Lean In
Predictable Revenue / Impossible to Inevitable
Sales Management Simplified
New Sales Simplified
Lean Product Playbook
Are there any numbers you would like to share?
Initially, it is better to start manually and focus on creating content that is of quality. Reach out to your immediate network and go from there.

Do you have a story of a transformation from any of your clients?
We have many clients who have seen a lot of success over the years with us. The best feeling is when we have a client giving us a glowing review and thanking us for helping them achieve their goals and targets. We have written about a few of them on our case studies page.
What advice do you have for people just starting out in business?
Business is a marathon, not a sprint. As long as you are doing something small every day towards your business goal, you should not worry too much about the results. -Yash Chandra
Click To Tweet
Don't give up too quickly and keep going with an eye on your Goals. Don't compare with others. Compare with yourself and as long as you're a little better off than yesterday, you should be good.
Learn more about Yash Chandra of academyofmine.com: