What is Clickfunnels? Discover How This Sales Funnel Builder Can Increase Your Sales

Our content is reader supported, which means when you buy from links you click on, we may earn a commission.
---
You could have an entrepreneurial mind but not have the knowledge or coding skills required to create an online website.
That is where Clickfunnels comes in. You may be here because somebody recommended Clickfunnels to you, or you may have come across this tool when searching for tools every entrepreneur must have. Regardless of how you found your way here, you will walk away with complete knowledge of what Clickfunnels is and how you can use it to market and sell your products.
What is Clickfunnels?
Clickfunnels is an all-in-one sales funnel builder created specifically for entrepreneurs who do not know how to code. If you own a traditional brick-and-mortar store, you may not need to use Clickfunnels. However, to succeed in the digital world, you need to go above and beyond to captivate the online user's attention with your landing page.
When selling in-store, you can use your charm, direct communication, charisma to sell the products. Plus, the customer can actually see and feel the product, making selling the product a lot easier. You can also read the customer's body language and navigate from there to determine which product they like and which product they may actually buy.
However, when selling online, you cannot read the customer's body language, nor can the customer see or touch the product. Thus, you have to go the extra mile and invest a lot in marketing and advertising to promote your product.
You also have to ensure the buyer's journey is as smooth as it possibly can be to ensure customers not only buy your product but also recommend it to their friends. To achieve that, you will have to build captivating landing pages, sales funnels, and the right lead generation that attract potential customers and help you increase conversions.
You used to have to hire a professional web developer to design an attractive website and create sales funnels and landing pages. Now, you can use tools like Clickfunnels to achieve even better results through the use of their funnel templates, and at a lot lower cost.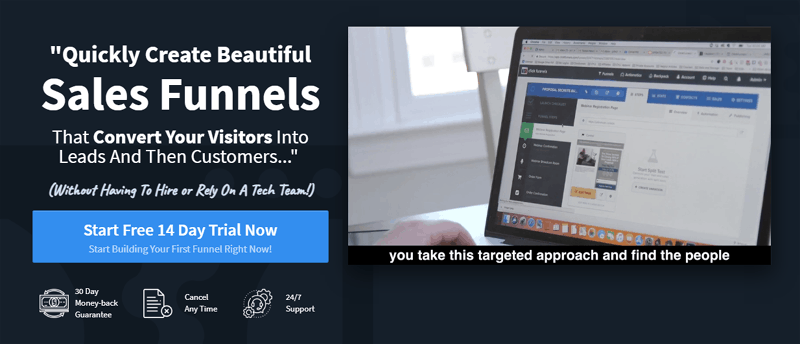 What Exactly is an Online Sales Funnel?
Go back to the comparison we painted of you trying to make a sale in a brick and mortar store vs an online store. We talked about how you need to create a smooth and efficient sales process, target potential customers, and make sure nothing else distracts them as they purchase your product/service.
The above-mentioned process is known as creating a sales funnel. It starts with identifying a prospective lead and attracting them with an advertisement or a marketing graphic to turn a potential lead into a lead and eventually a customer.
To do so, you will carry out a series of steps, usually in a sequence. That sequence is a sales funnel. If we are to put it in simpler terms, you can think of your sales funnel as your buyer's journey. Each journey is unique, and you will need to identify the different types of customers and create a sales funnel that caters to each.
Why Do You Need a Sales Funnel?
There are tons of online retailers and educators on the internet. If you want to make sure your customers don't get side-tracked and you don't end up losing a potential customer, you have to focus on creating the smoothest possible buyer's journey.
Often, ease of use and efficiency become the reason why a potential customer chooses you over your competitor. Clickfunnels funnel builder can help you achieve that and so much more as long as you learn to leverage Clickfunnels features to their full capacity.
All-In-One Marketing and Sales Tool
Clickfunnels allows you to build captivating landing pages, advertisements, and design visually appealing marketing content and campaigns.
With online sales funnels like those available with a Clickfunnels account on your side, you can design stunning sales funnels and landing pages to impress your clients and get the sale for your product or service.
With the help of Clickfunnels, you can take your customers through the online sales process step by step. You can point them to the product that brought them to your website in the first place. That way they don't waste time or end up getting disheartened searching for it. You can walk them through your sales funnel complete with follow-up emails. Finally, you can stay in touch with your customers even after the sale is over.
With Clickfunnels, you don't just create simple sales funnels. You get access to a wide range of sales funnel templates created and shared by the platform's 100,000 paying customers. Here is a list of just a few of the top-performing funnels by Clickfunnels:
Product Launch Funnels.
Lead Magnet Funnels.
Best Selling Book Funnels.
Real Estate Funnels.
Invisible Sales Funnels – Ideal for membership sites.
Even Application Funnels.
Webinar Funnels.
Fishbowl Funnels – to help collect customer information for future correspondences.
There are several other sales funnel types that you can create using Clickfunnels. In fact, you don't even have to start from scratch. There are hundreds of free sales funnel templates available for several funnel types. You can pick one that best suits your brand's voice and identity, create your own sales funnel copy, customize the template to suit your business, and voila, you have a high converting funnel ready to help you grow your business.
Another amazing feature of Clickfunnels is that it is not just a sales funnel designer. In fact, you can create membership sites using the tool and it can double as a basic learning management system making it ideal for online educators wanting to launch digital training products.
Key Features of Clickfunnels
Clickfunnels is a desktop application that helps you create high-converting sales funnels for websites. You can even customize the funnels for desktops and mobile phones. Whether you are a small business, a medium-sized business, or a large enterprise, Clickfunnels offers several features you can benefit from.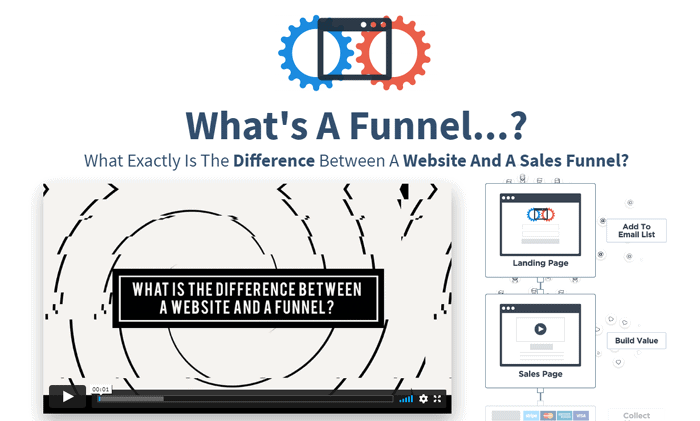 Here is a list of the complete set of features of Clickfunnels:
Webinar Funnels
Webpages
Order Pages
Upsell and Downsell Pages
Membership Sites – Funnels and Landing Pages.
Custom Domains
Customer Support Funnels
Sales Funnels
Auto Webinar Funnels
A/B Split Tests
Opt-In Funnels
Hangout Funnels
Pop-Ups and Sticky Bars
Click-Open Pages
Email Integration Funnels
You can also create advanced sales funnels, but you may need to design those yourself. However, designing a sales funnel template on Clickfunnels is extremely easy. In fact, you can even request some other users create a template for you on priority. If they already have one, they can share it with you, or somebody might offer to make one for you either for free or at a price.
It is worth mentioning that Clickfunnels has some of the highest ratings when it comes to features. The platform offers more features than most other sales and marketing funnel creators do, giving it an edge over competitors. Other sections where it ranks higher than average are customer support and ease of use.
Even though the list of features alone is enough to attract customers, here's a list of advantages to give you an idea of why you should use Clickfunnels to create sales funnels for your online courses.
Pros of Using Clickfunnels
There will be many sites out there claiming to offer what Clickfunnels offers. But not many live up to the promise. Here is a list of benefits that sets Clickfunnels apart from others on the market:
With Clickfunnels, you can create and set up a sales funnel in just a few minutes. In fact, setting up a funnel is a simple three-step process. You choose the type of funnel you want to create, select a template or design your own and edit it, and lastly, you run split tests to check how efficient your funnel is before you launch it.
You don't have to go through lengthy and unnecessarily difficult editing and modification process. All you need is to use the drag and drop sales funnel builder to customize even the most complex templates on the platform.
You don't have to spend hours designing your website and your sales funnels. With ClickFunnels you can simply build on premade templates, change colors, or make modifications and tailor a site to your needs, saving you time and money.
You Get Control Over the Design Process
While we are all for delegation, not everyone can understand or fulfill your vision. No matter how amazing a web designer or developer you hire, they may not be able to create what you want because comprehending your exact requirements may prove challenging. With Clickfunnels, you don't have to let go of creative control and can design your site and landing pages just like you want to, all on your own.
Easier Integration of Email and Payment Systems
Clickfunnels offers you the ability to integrate your web pages with over 16 different tools and resources, allowing you to create an extremely functional and efficient marketing automation process.
Set Up Auto Email and SMS Responders
You cannot work all the time. However, quick responses and a simple acknowledgment go a long way in terms of relationship building. Thus, Clickfunnels allows you to set up auto email and SMS responders. So, every time a customer buys something or signs up for your products or services, they get a welcome email or a "thank you for making a purchase" email or SMS automatically.
A/B Testing for Individual Segments
A lot of tools offer A/B testing for the final product, but Clickfunnels goes the extra mile and allows its users to run split tests for different segments. Doing so helps you create the best and most efficient sales funnel possible. It also allows you to detect which component lacks and which one needs improvement.
You don't want to compromise on your security, and neither does Clickfunnels. Thus, the tool is SSL certified, allowing it to move from HTTP to HTTPS, which is a more secure network.
You Can Use Clickfunnels for Multiple Domains
Do you have more than one website? You don't have to worry about website design or creation for it at all, as Clickfunnels allows you to create stunning landing pages and sales funnels for multiple websites.
You can effortlessly keep track of the performance of your sales funnels using the inbuilt analytics tools Clickfunnels offers. You don't have to use multiple tools or purchase a separate one to measure the performance of your web pages. With the analytics report, you can determine whether your tool is functional and efficient or not and make changes accordingly.
Allows you To Integrate with Popular Payment Systems
You don't have to go through a lengthy integration process for payment systems. Clickfunnels allows you to easily integrate popular payment systems, such as PayPal and Stripe into your websites.
Not many tools offer free trials, but Clickfunnels does. As a new entrepreneur, you may want to try your hand at the product before you commit to it, and that makes perfect sense. That's why Clickfunnels offers its customers a free 14-day trial where they can get to know the tool before they pay for it.
Cons of Using Clickfunnels
There are just a few downsides or disadvantages of Clickfunnels as well.

Many other tools and services don't offer any trial period at all. However, customers often complain that 14 days is not enough to get the hang of the tool, making it quite difficult for them to make a decision on whether they want to become paying users or not.
Clickfunnels pricing is on the higher end of the overall marketing and sales tool spectrum. However, Clickfunnels features offer its customers a lot more features than most other tools do. If you run a price and functionality comparison, the high prices seem justifiable.
There is a Learning Curve
As is the case with most other tools, you will need to spend some time getting acquainted with Clickfunnels before you can use it comfortably. There is a learning curve that may be a little steeper for some more than others, which can be off-putting or disheartening. But, once you get the hang of the product, it is actually quite simple and easy to use.
How Does Clickfunnels Work?
If you want to automate your sales process, Clickfunnels is the tool for you. As mentioned earlier, it is an all-in-one sales and marketing tool that allows you to create web pages, funnels, and more for your online business. However, it is primarily popular for the ease of use and flexibility it offers its users when creating sales funnels to set up a functional sales process.
To create a funnel, you only need to follow three simple steps.
Choose a template of your choice or start designing one. There are a variety of templates that you can get your hands on. But if you don't find one that suits your preference or fits your vision, you can create one of your own.
Edit the template. The second step is to customize the template you choose. Make sure you write unique copy to go with your company's vision. The copy is just as important as the design, so do not ignore it. You can edit the template using the simple drag and drop editor the tool offers.
Run the A/B Test. You can completely skip this step. But if you want to make sure you create a functional web page, run the A/B split test to ensure your funnel can bring in the results you want it to. You don't want to spend hours creating and editing a funnel that will not deliver.
That's it! You are all done. Now all you have to do is publish the funnel and track its performance using the in-built analytics tools that Clickfunnels offers.
Clickfunnels Memberships
Clickfunnels offers three different types of memberships, and each offers a little more than the other.
The basic plan comes at $97 per month and offers 20 funnels, 100 pages, the ability to share pages, set up 3 domains and 3 payment gateways, 1 member login, and customer support.
The platinum plan comes at $297 per month and offers unlimited funnels, follow-up funnels, and webpages, access to 3 users, up to 9 payment gateways and domains, priority support, weekly reports, and Funnelflix.
The Two Comma Club Plan comes at $2,497 per month and offers unlimited funnels, follow-up funnels, access to 1- sub-users, 27 payments gateways and domains, VIP phone support and priority support, weekly reviews, and extra training hours and resources.
Final Word
To conclude our Clickfunnels review, we would like to mention that Clickfunnels is popular for a reason. However, there are Clickfunnels alternatives on the market you may want to take a look at if you're finding Clickfunnels is not quite right for you.
If Clickfunnels sounds interesting to you, sign up for a free, 14-day trial. That way you can take this tool for a test drive and find out if the funnels and marketing help are a good fit for your business needs.