6 Types of Vlog Backgrounds to Make Your Videos Stand Out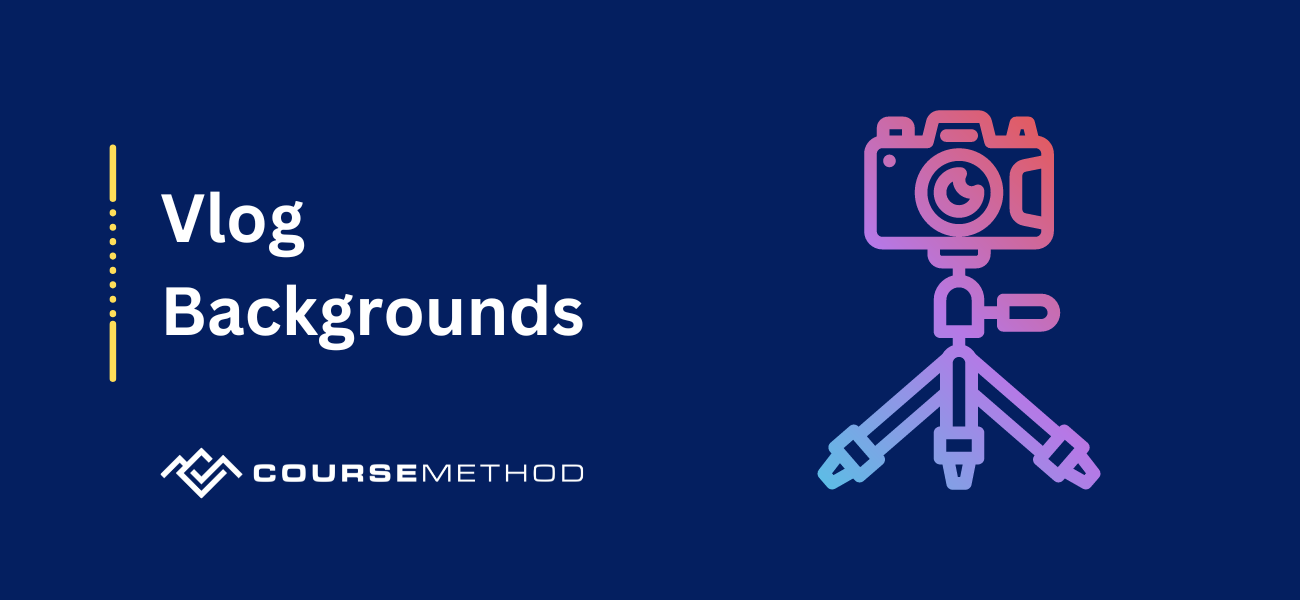 Our content is reader supported, which means when you buy from links you click on, we may earn a commission.
---
An online course creator, by definition, is a virtual teacher or educator who does not use the conventional classroom to teach. Online course creators have existed for years but only became the way of life during COVID times when many learners were forced to attend classes online, and a new stream of making money presented itself.
Despite the gradual end of the pandemic, many creators and learners alike have adopted online learning, and it is safe to say it is here to stay. Vlog backgrounds are an essential part of online course creation.
In this article, we will look at different vlog backgrounds you can choose from to get you started as an online course creator, or for vloggers already in the game, other backgrounds that will improve your content.
Tips For Your Blog Background
The background you choose when vlogging can make or break your career as an educator.
However, the chosen career path has its ups and downs, just like any other. For one, you need to be an expert in the field you have chosen to educate and have lots of resources and references at your fingertips, not to mention tons of research.
That aside, it is one thing to be knowledgeable. It is another to keep your audience's attention.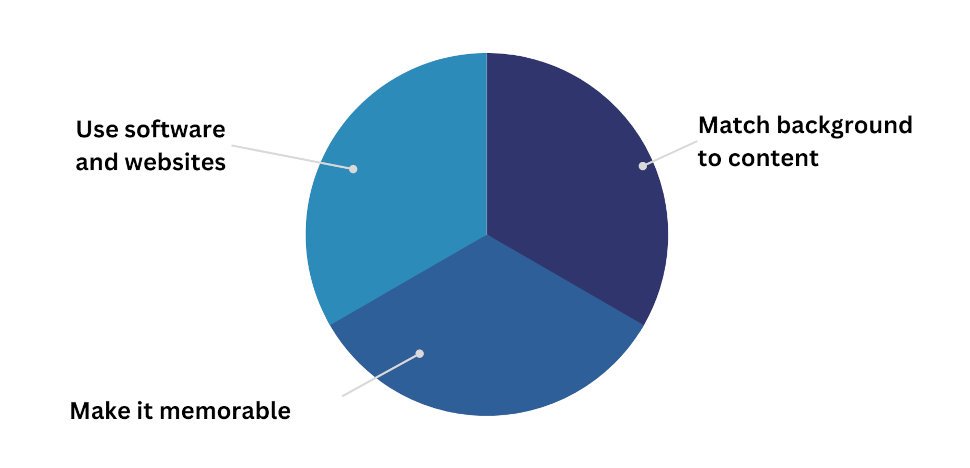 Here are some tips for your blog background:
Match Background to Content
People love a theme. Once your audience sees that you have a consistent theme to everything you put out, they will continue interacting with your work.
Make It Memorable
For brand identity, make your background memorable. You can do this by including animations in your background. We will dive into an animation later.
Use Software and Websites
Vlog backgrounds are easily made using software. There are templates for all types of content; if you feel artsy and creative, you can create your own background from scratch.
Why Is a Professional Background Necessary?
Image is everything; we have heard this phrase quoted so many times, and it truly is important, especially for you, who is on camera talking to large masses of eager learners.
What is a Professional Background?
It is described as an image that speaks out on behalf of the creator and presents a put-together person who took time to idealize, plan, implement and evaluate the content they post.
A professional background is necessary because the type of background chosen tells a story about the person you are, which is crucial. After all, you have people learning from you.
Several studies have discovered that the image you put out directly influences the crowd you pull or the people you influence. Here are some reasons why a professional background is necessary.
It Tells Who You Are
A background image directly illustrates who you are because that is what you have picked to put on camera for your vlog. Your backdrop could be a simple solid image that shows you are a clean and straight-to-the-point person.
It could be a collage with several tiny images of things you love and resonate with you giving your audience a chance to see what you enjoy.
Predicts the Content
Your image in the background leads the way to your content. Other than the title and caption of your vlog, the image acts the same, provided that you match it well, leaving no room for speculation.
Maintains Audience Attention
A professional background will have your audience glued to the screen, listening, learning, and taking notes. The background you choose to showcase will be determined by your content.
When choosing a good background image, ensure you do not distract your audience. You do not want an image that is too in your face that distracts and takes away the important task you are doing.
Having a professional background image means that people believe your content because you have taken the time to create a credible environment for your students. Every aspect of video production is crucial, from the pre-production stage to the post-production part.
Many creators still overlook backgrounds and only incorporate them in the post-production bit when the final video looks bland. When selecting the type of content you want to share, the background should be up there.
Recent studies done in 2022 have shown that 92% of people use their smartphones on the internet. Content creators are encouraged to generate mobile-friendly content because that is what most people use.
Don't Distract
However important vlog backgrounds are, it is important not to distract the viewer from your message. You should keep the background manageable with lots of pictures and colors.
Now that you understand the importance of vlog backgrounds, we can look into the different types, and hopefully, you will resonate with one or two and incorporate them into your next vlog.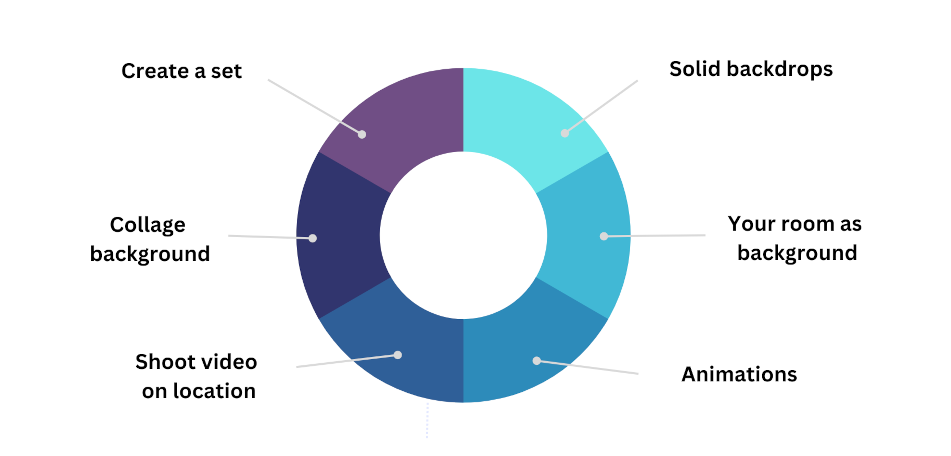 Here are the types of vlog backgrounds.
1. Solid Backdrops
A solid backdrop gives out a clean and professional aesthetic. This backdrop is popular without giving out too much, especially with creators who love the minimalistic approach.
It is the perfect backdrop when you don't want to distract your audience from the message, especially when doing product reviews or interviews.
A solid background is also one of the easiest sources, even from home. All you need is fresh and pressed drapes on a tight budget. You can also use software to turn your current setup into a solid backdrop.
Pros:
Easiest background
Most affordable background
Cons:
It could be dull, especially for an audience attracted to pomp and color.
2. Use Your Room as a YouTube Background
Using your room as the background is one of the most natural ways to portray yourself and the content you put out. It shows that you are comfortable with your audience. Using your room does not limit you to only your room. You can use the kitchen or the living room. Your home is your canvas.
Using your room as a background deletes monotonous videos, and your audience will always look forward to where you place them in each of your videos.
It is important to note that you can use your room as part of the video by styling it depending on the type of content on display.
If you are an online course educator on botany, you can add different flowers to your room to match the content.
Pros:
Easy to set up
Freedom to style the room however you want
Cost-effective because you are not outsourcing
Cons:
You are letting the audience into your personal space, and people who have issues with boundaries will not be comfortable.
3. Using Animations As Your YouTube Background
Using animations is similar to a solid background because an animated background is essentially a solid background with a few added details like symbols, logos, and texts.
An animated background will still give off the minimalistic aesthetic with a bit of flare and attention to detail. You can use websites like:
Pixabay
Videvo
Shutterstock
Mobirise
Pros:
Animations are brandable
Animations can resonate in the audience's minds, making your content memorable.
Cons:
4. Shoot Video on Location
Location is one of the most interactive settings. Using the people around as part of the video is a move many audiences love. However, this type of background is most stressful because of background noises and permits.
Before heading out to vlog, you need the proper permit, especially in public places. Many vloggers quit and would rather have a sit-in video at home regarding obtaining licenses.
For online course creators, shooting on location is crucial.
This type of content will be of practical help to your students. For instance, a creator who teaches cuisine could book a session at a restaurant and interview chefs. Another example is that when teaching farming practices, you could schedule a session at a farm so that your students can see firsthand what agriculture is all about.
Pros:
Highly interactive
The audience gets first-hand experience with how professionals act in their element.
Cons:
A lot of editing is needed
Permits are required
5. Collage Background
A collage background is simple and fun; you can match it to the day's content. You can have different pictures of animals in a collage if you are educated on animals. Here is a vlog backdrop for people who are expressionists.
Collage backgrounds are a good way to keep the conversation lighthearted and cheerful. However, collages can distract, so make sure to keep it minimal. You can create your collage background from Canva.
Pros:
Let you explore your creative side
Easy to construct
Cons:
It could distract the audience when overdone.
6. Create a Set
Building your own set is a popular option for creative and artistic educators. You are encouraged to match the set with the type of content and message.
For example, a creator of mathematics can have black and whiteboards, pens, and desks and, essentially, create a mini classroom as your backdrop.
Educators in knitting can fill the background with their pieces or some of their favorites, including giant woolen balls that could be used as seats and giant knitting needles (harmless, of course) as entryways.
After learning about the different vlog backgrounds, you can see what best suits the message you want to share.
Pros:
Inspires you to think outside the box.
Perfectly matches content
Catches and maintains the audience's attention
Allows you to express yourself perfectly
Cons:
Expensive to outsource set material
It could take up a lot of time when setting up.
Now that you know the importance of a professional background, the types of vlog backgrounds, and their pros and cons, you can choose one or several backgrounds to make your content memorable.