How V. Michael Santoro Built the Brand Velocity Accelerator Program

Our content is reader supported, which means when you buy from links you click on, we may earn a commission.
---
Who: Michael Santoro
Website: brandvelocity.io
Course Topic: Search Engine Optimization
Interesting Stats: Trial based on the training course incentive added 400 people to the list
Who are you and what course have you created?
I'm Michael Santoro, a seasoned SEO expert with over 18 years of experience in business development and digital marketing consulting. As the founder of BrandVelocity.io, I created the innovative 9-step Brand Velocity Accelerator Program. The program enables solopreneurs, entrepreneurs, and startups to establish their personal brand online and affordably rank on Google through content marketing.
The innovative 9-step Brand Velocity Program enables entrepreneurs to establish their personal brand and affordably rank on Google through content marketing.
What market does your online course serve?
The course is designed to help entrepreneurs, solopreneurs and startups affordably build their personal brand online. It helps them to own Google page 1 for their brand. The digital landscape is fiercely competitive and traditional digital services have become expensive. Additionally, Google rewards established brands with good search engine rankings. A solid brand communicates both authority and trust to both Google and potential customers. To date, there are two options available. The first is to take a "do it yourself" course (time-consuming and technical), or the other option is to pay a marketing firm monthly to obtain results (expensive).
What's the biggest benefit of taking your course?
The Brand Velocity Program is an innovative third option. The video course is step-by-step and provides access to affordable and vetted third-party technical resources to build the technical foundation required to successfully build their personal brand online. This is a one-time small investment.
Each module contains two parts. The first explains the business reason why participants need the step. The second part is actionable. Links to vetted resources are provided to implement the technical requirement. They now have a customized personal branding network of over 20 sites linked together for ranking power. When users publish a blog post on their website, it's automatically syndicated, or distributed on the network. These branded sites can simultaneously rank on Google Page 1 for their brand.
The other modules focus on creating content correctly using free tools. How to effectively use the ChatGPT AI tool is also covered, and cut-and-paste prompts are provided. The program demonstrates how a participant can achieve topical authority in their niche.
The course also demonstrates how participants can acquire media third-party validation for their brand, as well as an innovative way to obtain customer testimonials.
Two bonus modules are provided if they wish to elevate to influencer status. How to write a niche-specific book and create an actionable course.
The sales letter provides the course outline and description.
How did you get into the market?
I have an SEO background and work with clients. I met several entrepreneurs who are coaches and consultants. They work alone and can get totally overwhelmed when it came to marketing their business. They didn't have the time to learn what seemed like a new profession. Most were on tight budgets and could not afford to hire a digital marketing firm. So, I talked to them about my concept, and it resonated well.
Why did you decide to create an online course in the first place?
The best approach to helping more entrepreneurs was through an actionable course that also provided technical resources. It had to be actionable from the first module and fast-paced. No one wants to be bogged done with several hours of training that they can't immediately apply.
I knew the market was there, and an online course was the only way I could offer the solution. However, I first had to design an easy-to-understand and actionable solution based on complex SEO techniques. It also had to be sequenced correctly to send Google the proper SEO signal while being transparent to the participants.
Content marketing has changed dramatically, and older techniques no longer work. Participants need to understand the correct methodology and techniques to be successful. I include "how to" training on the ChatGPT AI tool to help them build content correctly.
Did you have any moments of doubt before you created/launched it?
It took six months to design the course and create the structure. This was before I felt confident that I could begin creating the material. Despite my 18 years of SEO and entrepreneurial experience, I had doubts. Digital marketing is continuously changing, and I felt it was impossible to know everything.
I suffered from "scope creep!" This is when you continue to expand the requirements the deeper you get into course development. I had to be conscious of this to remain on task. What helped me was remembering that my target audience was entrepreneurs and not SEO professionals.
When I experienced self-doubt, I watched YouTube videos provided by other SEO and digital marketing professionals, and influencers to ensure I had the foundation correct. These were more speed bumps, and obtaining validation helped me to move forward. Then, when I completed the course, ChatGPT was launched. So, I spent another month learning and testing it. I then aligned it with my content marketing modules and included it as a solution.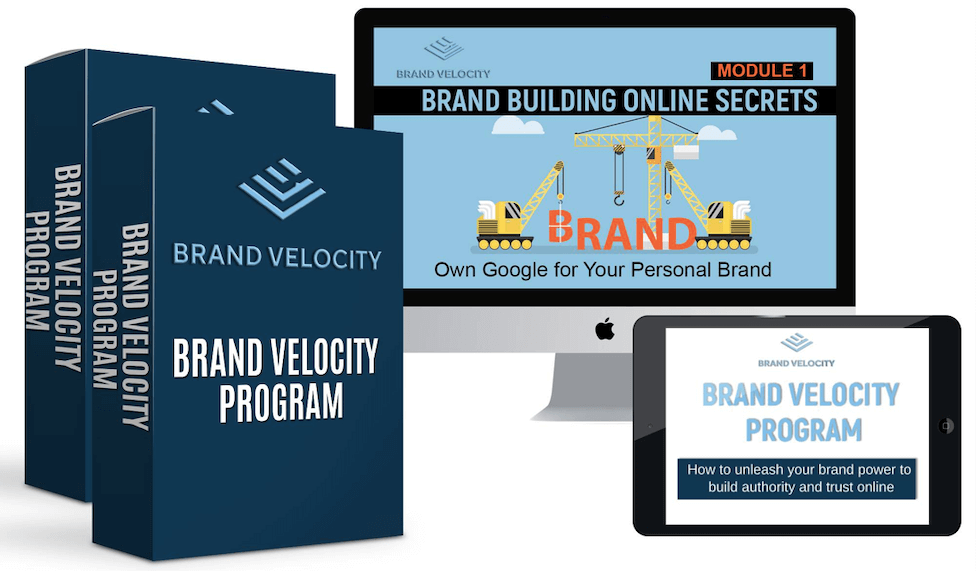 What's your online course like?
The course provides short videos along with a few downloadable PDF checklists and blog post articles. These articles expand on a topic where necessary. I used screenshots and PowerPoint slides to present the step-by-step material. Then I exported the slides as JPEG graphics and used Camtasia to create the videos. I included background music and even used a new AI program to create the voiceovers. While I wrote the scripts, the tool created the audio files which I downloaded as MP3 files.
How long did it take you to create your course?
It took eight months to complete the course. My process was as follows once I talked to my target audience and determined I had a course idea that would attract customers:
I worked backward. I brainstormed the areas necessary for an entrepreneur to build their personal brand online successfully.
I validated the sequence of events with some research and watching branding and SEO videos on YouTube. This took a while because many steps are close to being interchangeable. I wanted to avoid, "it depends" or provide participants with options based on subtle differences that were not impactful. This can cause issues with participants having to decide in an unfamiliar area.
Once I had the sequence, I researched the best free tools to use, as well as affordable third-party resources that could provide the technical work.
I started with creating the "how to" visuals for the free online tools. This included taking simultaneous screenshots and indicating what to do. I used the free screenshot tool Techsmith Capture for this.
I then wrote the video script that described what to do for each screenshot. Each module had two videos. One explained what the tool would help participants to accomplish. The second was the step-by-step screenshot videos.
I followed this process to complete the course material.
Once the material was completed, I build the course on my WordPress site and wrote the sales letter, course description, etc.
Tell us a little about the process of launching your course and getting your first sale(s).
I'm following the program and building the solution to sell the course. I'm already dominating Google Page 1 for my brand name, V. Michael Santoro. I also provided the course to a few entrepreneurs who provided testimonials. I also have established digital service providers who want to become resellers.
My previous online course was used for the software company I cofounded. We successfully launched it to our user base, which helped attract new users to our platform.
Do you have a lead magnet?
I'm providing a free video on the personal branding techniques required to succeed online. It provides the "What's" and "Whys" that Google expects. It's doing okay. However, I'm just publishing a book for entrepreneurs that will be on Amazon. I plan to use it as a lead magnet.
What's the traffic strategy that works best for you? Please tell us how you got started with it and let us know how it's working out.
Content marketing works best as it generates organic traffic from search engines. Content can be repurposed as well for a multichannel marketing approach. For example, create videos from article content. Being an SEO, this is the necessary foundation. I also use it with clients, and they see their traffic and conversions increase.
When potential customers search Google for specific keyword phrases, they are already interested in the topic when they visit your website.
Digital advertising is expensive, and the traffic ends if you stop advertising. Content ranking organically takes time but can produce ongoing targeted traffic. - V. Michael Santoro
Click To Tweet
What online course platform are you using?
I use Thrive Themes, which is a WordPress plugin. Thrive Apprentice is their course creation platform. It integrates with the web page builder and other lead generation modules. I prefer to have the course on my website.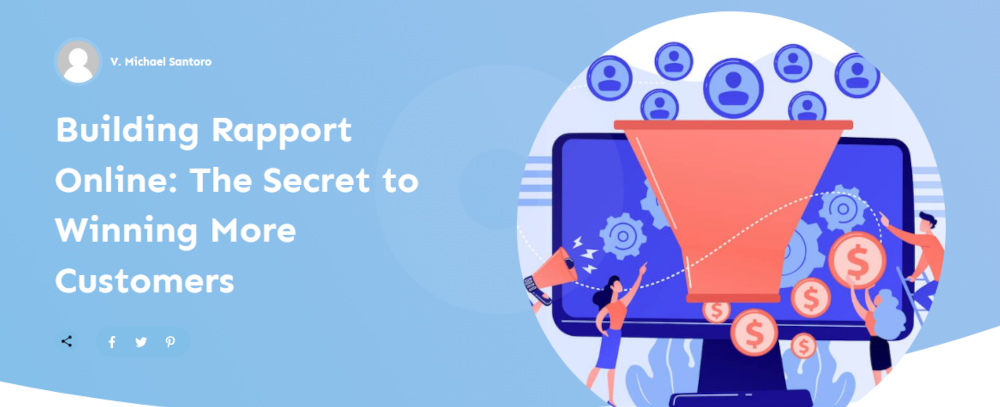 Do you like it?
Yes. It's easy to use and provides excellent training and support. It even provides a feature for creating certificates and API integration for other products.
Are there any features you wish it had?
Not at this time.
What made you decide to use your chosen platform over others?
I prefer to have a course integrated with my WordPress site. It's on my hosting account rather than on a third-party site. With my content marketing and SEO efforts, the overall site gains trust with Google. I have complete control if I decide to sell the site and course. Imagine if the site that hosts your course went out of business. Additionally, sending traffic to a third-party site is not prudent when you need to build trust and authority for your website.
What other tools do you use to run your online course business?
I use MailChimp for email marketing and ThriveCart (not part of Thrive Themes) to process transactions along with PayPal. ThriveCart also has an affiliate module so others can sell my course for a commission. It's also a one-time payment, as opposed to paying monthly. Everything is integrated into my website via APIs.
What books or training programs have you found useful on your journey to a successful business owner that others might find valuable too?
"The Lean Startup" by Eric Ries
The "4-Hour Workweek" by Tim Ferris
"Start with Why: How Great Leaders Inspire Everyone to Take Action" by Simon Sinek
Do you have any big mistakes you've made along the way that you'd be willing to share?
The biggest mistake I made was assuming that what product I wanted to create would be well-received by the target audience. I didn't talk to anyone but rather created it in a vacuum. Little sales. Then when I did talk to my potential audience, I learned what I should have built in the first place which triggered a redo for the course. Also, solve a specific problem for your audience and makes your course actionable.
The second mistake is assuming that most people who sign up for a free lead generation offering will convert into a paying customer. The action number of conversions from free to paid was quite lower that anticipated. The lesson was to be realistic with my expectations.
Please share some idea of revenue.
We used the training program as an incentive for our software company to incentivize free trial signups. The training was on how to use videos for sales outreach. The number of conversions from the free trial to a paid subscription was 200. The paid plan was $25 per month. That was $5,000 in revenue per month. The average user remained between 3 and 8 months. While other marketing efforts were used to gain users, the training course had a major influence on our conversions.
Please tell us a little about what the money you've earned from your course has done for you.
While most of the money was reinvested into the business to improve our product, the money I personally earned allowed me to pay for my daughter's university education.
In addition to revenue are there any numbers you would like to share?
We created a marketing campaign specifically for those who signed up for a trial based on the training course incentive. They were added to a segmented email list. That campaign generated about 400 people added to the list. Because they were interested in video, we provided additional free tips via an autoresponder. We added product recommendations for some of the tips using our affiliate link. This generated additional revenue. However, we focused on trying to get additional software users.

What has creating your course done for you personally?
My latest course, "The Brand Velocity Program," is the most comprehensive training I've ever created. My focus is to help as many entrepreneurs as possible to build their brand online. This is the first step required to build a successful business foundation that attracts potential customers. Because of the challenge, it helped to build my confidence and ability to communicate with others more effectively.
Do you have a story of a transformation from any of your clients?
I have a client that provides Qigong instruction. He had a website and realized he needed to build his personal brand online to grow his business. He felt his online return was low and stagnated. This is a typical scenario for many entrepreneurs and small businesses.
He wanted to learn but didn't want to get bogged down in the technical work. So, I coached him and provided access to technical resources that built his custom digital infrastructure. We then moved onto how to correctly create content including how to use the ChatGPT AI tool to create content and other marketing components. I remember two of his unsolicited statements that he made during this journey. The first was, "No human being can do all this by themselves," and the second was, "This "stuff" (Expletive replaced) really works!"
He now owned Google Page 1 for his brand, had increased his email list and was making additional online sales. He validated my training's content. I used him to Beta test my program and he gave me a great testimonial for my program. It was gratifying to hear the excitement in his voice when he experienced the results from his hard work.
What advice do you have for people just starting out?
When people are just starting out, they need to be hyper-focused on what they're going to provide their target audience. - V. Michael Santoro
Click To Tweet
They need to research their customer avatar and create their first actionable training course based solving real problems. Create the course objectives first and then create the course. Keep it clear and simple. In the beginning, I confused education and training.
Educational content is informational, while training is actionable. This resulted in a "fluff" course when participants were expecting to learn "how" to do something, and I showed them only "what" to do. - V. Michael Santoro
Click To Tweet
The best advice I can give is to, "truly help people first and the money will follow. This approach helps to build the best course you can that is worth purchasing.
Learn more about Michael Santoro of brandvelocity.io: