How Tracy Beavers Created 2 Courses Over 3 Months That Allowed Her to Quit Her 20 Year Corporate Marketing Job

Our content is reader supported, which means when you buy from links you click on, we may earn a commission.
---
Who: Tracy Beavers
Website: tracybeavers.com
Course Topic: Business/entrepreneurship
Interesting Stats: 100 new members to Facebook group every month
Who are you and what course have you created?
I am a business/sales coach with almost 20 years of experience in marketing, sales, and business growth.
What market does your online course serve?
My ideal clients are female entrepreneurs with service-based online businesses: coaches, course creators, entrepreneurs, and consultants.
What's the biggest benefit of taking your course?
I have two courses:
"Business Visibility Made Easy: A Step By Step System To Gain New Clients Without Paid Ads". Here are the details on it:
Attract new clients consistently through Facebook
Engage with your ideal clients in the DMs
Gain confidence on live video
Learn how to book media spots
Get the best strategies for collaborations and networking
Develop a strategy to gain new clients by referral
My second course is "Be A Confident Entrepreneur: Gain Confidence + Grow Your Income". Here are the details for it:
Mindset Reset – confidence for the entrepreneurial rollercoaster
Time management – a schedule that serves YOU
Pricing confidence – set your best price and quote with confidence
Sales confidence – overcome the roadblocks with sales
Networking confidence – connect and follow up for growth
Client confidence – turn your existing clients into a referral source

How did you get into the market?
I have almost 20 years in marketing, sales, and business growth. I became disenchanted with my corporate career and decided to start my own business. Through the growth of my first business, I realized that I was a natural coach. My passion is helping entrepreneurs win.
The ideas for my courses came from having many market research calls with female entrepreneurs in the online space. My "Be A Confident Entrepreneur" course developed through the realization that the common thread for these business owners was a foundational lack of confidence.
My "Business Visibility Made Easy" course developed after my own expensive experience paying for social media ads. I wasted thousands with little return. It was really frustrating. This caused me to pause and think "Okay  Tracy, how have you built 3 successful businesses thus far without paid ads?" I began to note all of my organic growth strategies. Through more market research conversations with small business owners, I realized they wanted to grow without paid ads as well.
Why did you decide to create an online course in the first place?
I love to teach and train. I love to help others have clarity and confidence. And I realized that not everyone can afford private 1:1 coaching. Developing online courses gave me an opportunity to help those that needed something at a lower price point and who wanted to self-study.
Did you have any moments of doubt before you created/launched it?
Heck yes, I did….and anyone that answers "no" to that question is NOT telling the truth. LOL. Everyone, no matter the amount of income and years of experience, has days when they question themselves and their ability. I knew that I had the content and the capability, what caused me doubt was carving out the time to create the courses, understanding all of the tech pieces, and nailing the marketing messaging.
I could have the most amazing course ever created, but if I didn't nail the tech or the marketing, then no one would ever be attracted to it. - Tracy Beavers
Click To Tweet
Add to that the list of growth and audience growth, this online course creation stuff is a LOT of work. It sounds easy, but there are so many moving pieces that it can feel like building a skyscraper.
What's your online course like?
Be a Confident Entrepreneur and Business Visibility Made Easy have several modules. Each module has a video and then a workbook, checklist, and PDF for the student to apply what they learned in the video. My courses are delivered through Kajabi.
How long did it take you to create your course?
I went old school and got out ALL of the office supplies: notepads, pencils, sticky notes, and posterboard. Next, I brain-dumped the content I wanted to teach onto sticky notes so they could be easily organized into modules. I was able to move them around on the poster board to get the roadmap for the course.
Once I had this framework as my outline, I was able to take each main topic and brain dump it into the smaller content I wanted to teach in that module.
Both courses took probably 2-3 months to create as I was weaving in this workaround 1:1 clients, my family, etc.
Tell us a little about the process of launching your course and getting your first sale(s).
Prelaunch, launch, and postlaunch are a LOT of work!
Prelaunch starts a few weeks before the cart opens on launch day.
In order to be ready, I had to start the content creation process very early. I had to think through media spots I could secure in order to promote my launch. I mapped out my weekly live training to cover topics pertaining to the content of the masterclass in the weeks leading up to the launch.
Creating social media posts with CTAs for the masterclass launch, creating emails for my email list to sign up as well as the email sequences each attendee would receive after watching the masterclass.
I have launched several times. I have used the 5 Day Challenge method as well as the Masterclass method.
Postlaunch is all about following up with everyone that attended and getting their questions answered.

Do you have a lead magnet?
Yes, I have several lead magnets that I use to build my email list so that I have an engaged audience for each launch or offer.
Here are the links to those:
What's the traffic strategy that works best for you?
I build my audience through several strategies, all with the end goal of being on my email list. I have lead magnets I use on social media for potential clients to opt-in and be on my list for nurturing.
Then I have a free Facebook group that I invite entrepreneurs to join. I have an average of 100 new members each month in the group. I offer weekly live training and free resources to the members of the group. When I engage with my ideal clients in the DMs, it's fun to invite them to my group because they know they will be able to get support and promote themselves anytime.
What online course platform are you using?
I use Kajabi as my online course platform and I like it.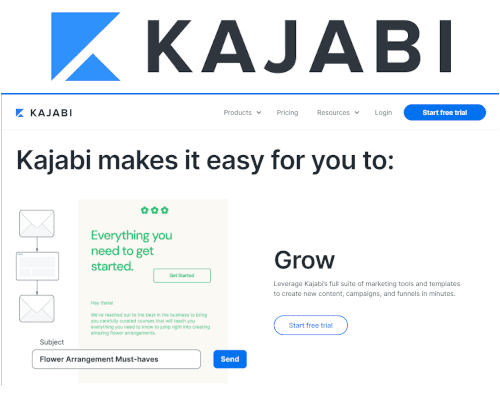 Kajabi is the All-In-One Course Platform
Kajabi is one of the top online course platforms used by successful course creators interviewed on coursemethod.com. Kajabi includes email marketing and other tools that make it easy to run your entire business from their platform.
Price Range: $149 to $399/month
Most Popular Plan: Growth Plan at $199/month
Annual Discount: Yes, take 20% off!
Free Trial: Get a 14-day free trial (credit card required)
*Our content is reader supported, which means when you buy from links you click on, we may earn a commission.
Are there any features you wish it had?
Can't think of any.
What made you decide to use your chosen platform over others?
I wanted an "all-in-one" option because tech is NOT my love language.
What other tools do you use to run your online course business?
Canva, Dubsado, Trello, and Google Drive.

What books or training programs have you found useful on your journey to a successful business owner that others might find valuable too?
I love everything Jen Sincero writes. She has the "Badass" series.
I consume podcasts regarding online business and motivation: Amy Porterfield and Ed Mylett are favorites.
I purchased several of Amy Porterfield's courses and am a member of her Momentum membership.
Do you have any big mistakes you've made along the way that you'd be willing to share?
Oh heck yes! Expensive ones too. The first coach I hired was not only expensive but disappointing. She had a team of community coaches assigned to us rather than giving us her time. I hired a very expensive social media manager that came highly recommended and promised awesome results but ended up not growing my social media at all. My experience with social media ads last summer was an exercise in futility.
My business has evolved so much since the start. With each mistake, I have learned so much.

Please tell us a little about what the money you've earned from your course has done for you.
I was able to leave my full-time job last year. I was able to pay for our son to attend an elite private school for his high school years. We have been able to plan extra travel and excursions without worry. My business has grown by two VAs this past year.
In addition to revenue are there any numbers you would like to share?
I add an average of 100 new members to my free Facebook group every month.
What has creating your course done for you personally?
I have proven to myself that I can accomplish anything I put my mind to. I focus on each step one at a time, doing the next right thing.
Do you have a story of a transformation from any of your clients?
One of my clients hired me to help with her sixth launch. She surpassed all other launches with a total of over $28,000 in revenue. I have another client who also hired me for the first public launch of her membership. She welcomed in 95 new students and now has this as a stream of recurring monthly revenue that's over $2000.
What advice do you have for people just starting out?
Decide what YOU want to do….not what anyone else is going or thinks you need to do. - Tracy Beavers
Click To Tweet
Decide how YOU want to deliver your content….course, coaching, or a combo of both?
Research various options of tech so you can choose the best one for long-term growth and your budget.
Realize that while building an online course sounds easy, it is not. It has a LOT of moving parts and all are important.
Hire a coach immediately. Do your research on them, and ask tons of questions to be sure you will receive what you are wanting from them.
Learn more about Tracy Beavers of tracybeavers.com: