How Tien Chiu Earns Multiple-6-Figures/Year Teaching Weaving Online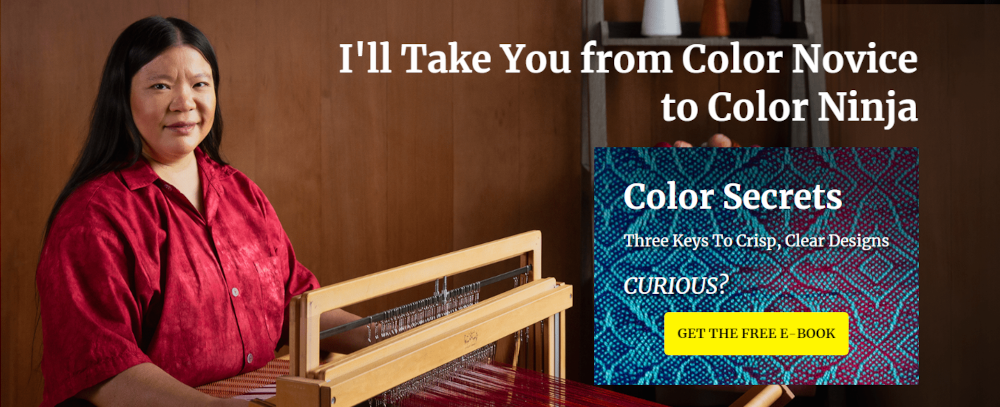 Our content is reader supported, which means when you buy from links you click on, we may earn a commission.
---
Who: Tien Chiu
Website: warpandweave.com
Course Topic: Weaving
Interesting Stats: Taught 15K+ students online
Who are you and what course have you created?
I'm an expert on color in weaving. My work has been exhibited in museums and featured on the cover of Handwoven. I've taught over 15,000 students through online classes.
I've created and taught seven or eight classes about color in weaving. The most recent was Gorgeous Gradients, which I taught live.
What market does your online course serve?
I teach handweavers. Weaving is the craft of making cloth; handweaving is doing that and weaving it on a hand-operated loom. Most of the handweavers I teach are struggling with color. It's a small market, as weaving isn't super popular – Facebook doesn't even have a keyword for weaving because there aren't enough of us for them to bother! I would be surprised if my entire addressable market was maybe half a million weavers in the English-speaking world.
Fortunately, while it's a small community, it's highly networked, so word of mouth is extremely helpful.
My classes address one of the biggest burning issues for weavers – designing and weaving a project in colors they will like. Color in weaving is technical and complicated, and many people think they need to be artists to understand it. As a result, many weavers stick with "safe" color combinations and are afraid to venture out to design their own colors.
What's the biggest benefit of taking your course?
Being able to design beautiful work in colors that you love. And no more color disasters!
How did you get into the market?
This was actually my second business idea. At first, I was trying to create a business around the creative process in craft and struggled for a year because let's face it, no craftsperson wakes up in the morning and says "I want to go down to the studio and work on my creative process." It's a topic that would benefit many creators, but they don't KNOW that and have no urgency around it.
After that, I decided to look at what topics weavers were passionate about and couldn't get information on. Color in weaving is a topic that matters to a LOT of weavers, and which was under-addressed. (The last time a book on color in weaving was published was something like 50 years ago. I'm not kidding. It's a tough subject.) This turned out to be a fabulous idea because as soon as I published my first blog post my subscriber base doubled, going from 500 to 1000. The second blog post brought me to 1500. I knew then that it was going to be a success.
Why did you decide to create an online course in the first place?
I had quit my cushy project management job at Google a year ago, thoroughly disillusioned with high-tech, and was looking for something else to do. Weaving for a living is a nonstarter financially, as is teaching weaving in person. The problem is that it doesn't scale: you might get paid $1500 for a weekend of work, but typically you have to travel to teach, which eats a day on either end, and you can't teach every weekend. It might work if you were living in a place with a low cost of living, but I live in the San Francisco Bay Area – one of the most expensive areas in the world.
However, online classes do scale – and you only need 350 people to pay you $300 for a class to gross over $100,000 in a year. I thought that was manageable, with the right topic. And it was!
Did you have any moments of doubt before you created/launched it?
Of course, I did! In my first class, I wrote as I taught it – which is often recommended, but I wouldn't do it the way I did it again. I had an outline but nothing much written – which resulted in HUGE amounts of pressure to finish everything. And I didn't have experience teaching, nor was I nearly as knowledgeable about color in weaving as I am now.
But I did it because it looked at my best shot for a job I would love, and the alternative was to go back into project management working for someone else, and I would rather have swept streets.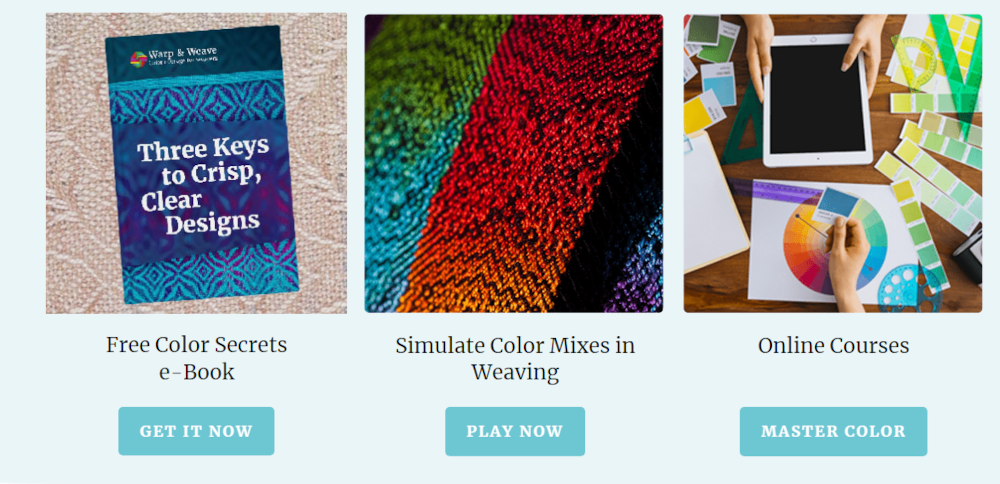 What's your online course like?
My online courses, generally speaking, are a mix of:
Text/image lessons
Interactive online exercises (there's a tool for simulating color in weaving online, so I teach something and then have them use the tool to practice what they just learned)
Video demonstrations of those exercises. The video demonstrations are prerecorded using a screen recorder, and show me working through the online exercises.
Live lecture webinars covering the topic in more depth
Q&A webinars (also live)
A community where people can interact, share their work, and ask and answer each others' questions
The community, in my view, is the "secret sauce" – what makes people really love the class and keep coming back for more.
How long did it take you to create your course?
Usually, about two months for a big class, writing the lessons a week or two before release. I outline the entire class, benefits, and transformations it offers to the student, in detail before I go to sell the class. I write down exactly what they'll know/do/feel after completing each lesson, then outline all the topics that will be covered in each lesson, making sure that each topic relates back to one of the learning goals for the lesson (which in turn have to relate directly back to one of the goals for the class). If the topic doesn't relate to the learning goals for that lesson, I cut it.
This sounds harsh but it helps me make sure that what I'm teaching is succinct and helpful. My early classes tended to throw in the kitchen sink, which is a common error for novice course creators.
People don't want to know everything you know. They want to know what will solve their problem. - Tien Chiu
Click To Tweet
Tell us a little about the process of launching your course and getting your first sale(s).
I built a mailing list of about 3,000 by writing blog posts about color in weaving and promoting them in Facebook groups. I also had a free mini-course.
When I launched, over 300 people bought either the prerecorded class or the live-taught class, which is an *amazing* conversion rate. - Tien Chiu
Click To Tweet
(The typical conversion rate – the percentage of people on your list who buy) is about 1-3%, so in theory, I should have had 30-90 sales. I had over triple that! So I had a very successful first launch, well into five figures.
Do you have a lead magnet?
I do have an e-book as a lead magnet, but the biggest sales driver for me has been free Weave-Alongs - a free 4-week class where 3000-5000 weavers get a full-on, high-quality free course. - Tien Chiu
Click To Tweet
I mean one that I could easily sell for $50-75 or more. This sounds insane on the face of it…except that about 15-20% of them generally buy something afterward, either a recording of the free class or the larger class that I offer at the end. It also means I wind up with a massively larger mailing list after each one. I literally added about 10,000 subscribers over the course of about two years, driven mostly by the Weave-Alongs.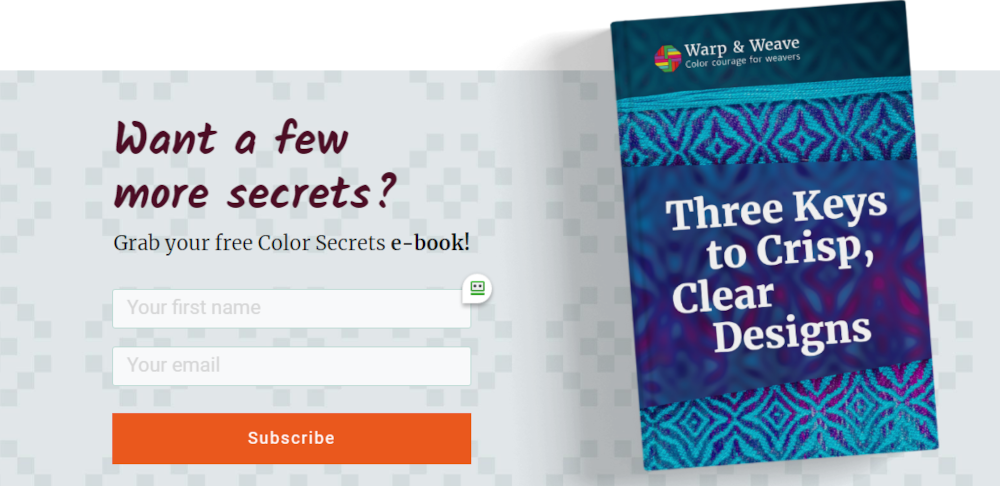 What's the traffic strategy that works best for you?
The Weave-Alongs. I do advertise the Weave-Alongs via a weaving magazine that sells email blasts – which is VERY inexpensive relative to the number of people it brings in. Other than that I don't do advertising, it's all word of mouth.
What online course platform are you using?
Do you like it?
I love it. I think it's one of the best teaching platforms out there.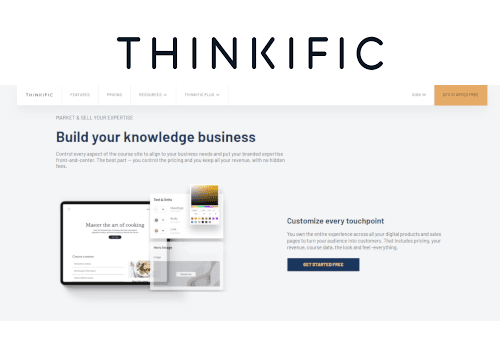 Take a Look at Thinkific!
Thinkific is the most popular online course platform used by successful course creators interviewed on coursemethod.com. It's a complete solution for creating sales pages, uploading all course content, taking payments, and more.
Price Range: Free to $499/month 
Most Popular Plan: Pro Plan at $99/month
Annual Discount: Yes, take 20% off!
Free Trial: Try out Thinkific's core features for free.
*Our content is reader supported, which means when you buy from links you click on, we may earn a commission.
Are there any features you wish it had?
A better community feature. It's developing by leaps and bounds, but not quite up to what I need yet. However, they do have integrations with companies that specialize in communities, e.g. Circle, so it works.
What made you decide to use your chosen platform over others?
I actually switched to Thinkific two weeks before I did my first launch (which was absolutely insane) because they had a killer feature that I wanted. Plus I was on Teachable and was not getting the level of support that I wanted and had been promised. Switching over students after launching my classes would be a nightmare, so I decided to start as I meant to go on and went with Thinkific. I was in it for the long haul.
I know a lot of people like to do online platform startups because they're cheaper, but this is not an area where I would skimp. Because if your course platform disappears overnight (and some startups do), you are in serious trouble. Even if you get a warning, migrating existing students is a real pain, especially if (like me) your students are mostly older and not tech-savvy. I'd MUCH rather go with a company that I know will be around for a long time.
What other tools do you use to run your online course business?
With my (small) team, I track tasks in Monday.com, and use Google Workspace for email and Drive for documents. I use Descript for video editing (BEST. TOOL. EVER.), because it speeds up video editing by at least 3x vs. what it used to take with Camtasia, and produces much better results. I sometimes use HappyScribe for transcripts and caption generation as it's easier to edit transcripts there. And of course Zoom for webinars.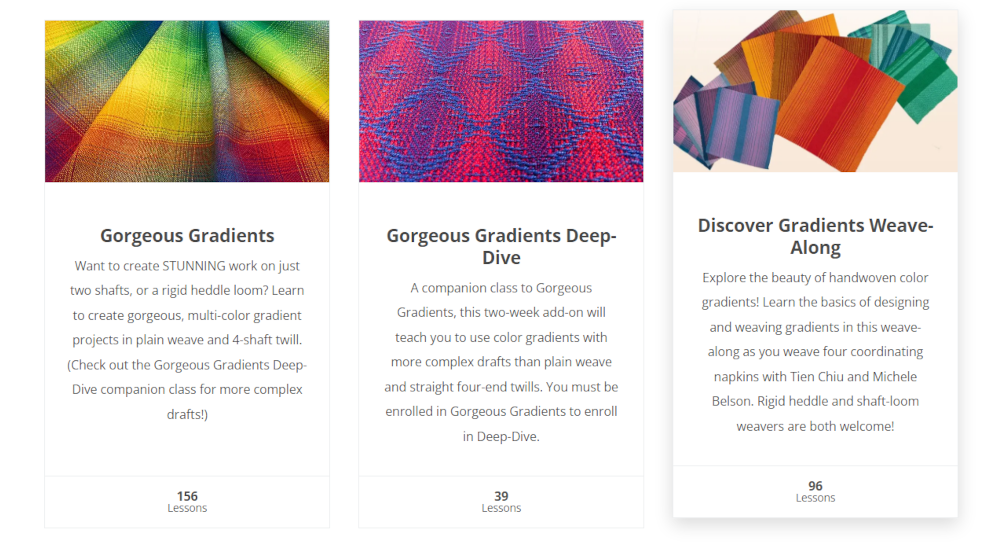 What books or training programs have you found useful on your journey to a successful business owner that others might find valuable too?
Leveraged Learning by Danny Iny is fantastic. I also highly recommend getting a coach who knows course creation AND how to scale your business, once you have enough $$ to make it worthwhile. (Make sure it's someone good, a referral is best – there are a lot of hucksters out there!) I had two of those and it made a HUGE difference in my business.
Seth Godin's The Practice and This is Marketing has been fantastic. It gives you a perfect look at what REALLY constitutes effective marketing. Hint: it's not just selling your class after you create it, it's building marketing right into the product – designing it so that it helps spread word about itself.
Andre and Shawn at tinylittlebusinesses.com have a really excellent take on effective marketing and sales, well worth what they charge.
I've recently become very fond of Category Pirates on substack – they have amazing advice on designing your product and choosing a business to go into. I can't praise them enough – even as a fairly advanced course creator, I've found lots of treasure in their writing. I'm reading The Category Design Toolkit and A Marketer's Guide to Category Design, both of which are relatively inexpensive treasures.
The other valuable thing to do is to join or start a (free) mastermind.
I don't mean the kind where you pay someone $10,000 for six months of group coaching, but a small group of fellow course creators working together and helping each other. Not only is it of immense practical help, but having a group to whom you're accountable, who can give you a different "take" on your business/problems/solutions, and who can support you emotionally is HUGE. Usually, my masterminds last only a year or two as people come in and drop out, but they are super important to me, which is why I keep starting new ones when the old ones peter out.
Do you have any big mistakes you've made along the way that you'd be willing to share?
Being too pushy about sales. I got a lot of advice early on about how to create urgency and use other psychological tactics to get people to buy. Yes, they work, but they undermine trust in the long run, and the vast majority of people who buy will do so after over 90 days on your list. Building trust is key.
I also think it's a bit sleazy to manipulate people's emotions just to get them to buy if the product isn't really for them. I know some marketers claim that if you don't have a 20% refund rate, then you're not selling hard enough. That horrifies me. Seth Godin has a great way of testing whether your marketing is ethical: "If your customer knew everything you knew, would they still want to buy?"
Please share some idea of revenue.
I grossed over $300K in 2021 (net revenue was lower, but still in six figures).
Please tell us a little about what the money you've earned from your course has done for you.
I don't have to work in high-tech (which is worth a LOT to me). I get to run my own business, control my own schedule, work with a small team of dedicated people, and work in a field that I absolutely love. AND I can pay my mortgage!
In addition to revenue are there any numbers you would like to share?
I doubled my mailing list from about 3000 to 6000 subscribers with a single event! This was a month-long free Weave-Along that I did right as the pandemic hit. We offered a free class that was dripped out over 3.5 weeks on how to weave from yarns already in your stash.
Everyone wove a scarf that they designed using yarns they already owned. This wasn't a cheap lead-magnet download, though – this was a full-on class with live Q&As, a weekly live lecture, and a Facebook group/community where students could share their work, ask questions, etc. We could easily have sold it for $75 or so. It was advertised through our mailing list, a few Facebook group posts, and a single email blast from a well-known weaving magazine with about 55,000 subscribers. We thought that we'd get 500 students or so. We got 3,500!!
Near the end of the Weave-Along, we pitched the paid class, which was a much expanded class on the same topic.
We advertised it with a single email blast from the magazine, and to the Weave-Along students. About 12% of the Weave-Along students bought the class! That is an AMAZING conversion rate. Plus others from our mailing list and from the magazine email blast.
We also offered to sell lifetime access to the Weave-Along for $20 after the paid class pitch was done. About two hundred students took us up on the downsell – which was enough to pay the costs of the Weave-Along.
We've since repeated the free Weave-Along concept to sell our classes, getting between 3500 and 5000 students each time. About 15-17% buy something.
I think this has worked well for us because we give away the class in a way that is engaging, creates community, and doesn't work for a "download and run". It's offered over three weeks, so students can't just binge-watch it and leave. With the Q&A sessions (which are recorded for those who can't make it), the live lectures, and our/their posts in the community, they have many chances to engage with us and get to know us as teachers. This means they develop a relationship with us.
Finally, the fact that it was a Weave-Along, where each person made a project and could share that project with others in the group, was important too. People got to share and support each other – it was a COMMUNITY, not just scattered people taking a class. People loved it (especially since the first one was offered just as the pandemic locked everyone into their houses).
Weave-Alongs drove my mailing list from about 3,000 to 13,000 within about two years.
What has creating your course done for you personally?
It's given me freedom and a deep sense of personal satisfaction. I've gone from working on projects I didn't really care about, for a giant company, for the purposes of making some rich people richer, to doing work that I love and that I'm passionate about. That's priceless.
Do you have a story of a transformation from any of your clients?
I get a TON of emails and other testimonials from students. I love it. It's what fuels my energy, because I know I'm making a difference (in my old job I felt I made none).
Here are two:
I'm a LOT more confident in working with color and predicting how things will come out. And that's after 38 years of weaving!!… After that long, you think you've seen it all and that's just not true. Tien has SO much value to share and she delivers it in such a clear way.
Have you ever learned a foreign language well enough to start thinking in that language? Having taken this class, I am now thinking in color. Best class to help my weaving I have ever taken.
What advice do you have for people just starting out?
1. Start marketing and building your email list NOW.
Don't wait until you finish your class. Because it's going to take time to build your audience, and the process of building your audience will also help you identify whether there's demand for the class. As they say, the best time to start is 10 years ago, and the second best time is now.
2. Read widely.
Nobody, and I mean nobody, knows everything they need to know to start. Most likely your weakest point is marketing, so start by reading, or taking classes on, how to market your class.
3. Find a mentor.
I paid for a mentor (and it was not cheap) as soon as I got my first big launch. Because books can give you information, but a mentor (or a paid mastermind) can teach you how to THINK about the business – give you a mental model that keeps you from stumbling around in the dark. (Having said that, find one through word of mouth or a trusted recommender if you can – there are a lot of mediocre snake oil salespeople out there. If you can't find one through a direct referral, make sure your mentor or mastermind has excellent references, and TALK to them first. Don't just ask "Is this person good?" Ask what problems they solved for the person, how they helped solve them, etc. This will give you a much better idea of whether the mentor is a good fit for you.)
4. Be glad you're starting small, because you WILL make mistakes.
Mistakes are a natural (and inevitable) part of learning, and it's best to get them out of the way early. My early emails were pretty high-pressure, and not well-written, because I didn't know how to write good sales emails and I didn't know what resonated with my community. But fortunately, my mailing list was small, so very few people saw those emails. Now, if I make a mistake, it goes out to 13,000 people, so the potential loss of reputation is a lot bigger.
5. This, right now, is the hardest it will EVER be.
Because you have to do everything yourself AND you don't yet know what you're doing. As you grow, you'll be able to hire mentors and assistants, which will boost your competency tremendously and take up much of the workload. You may still work just as hard (I do!), but it won't feel nearly as discouraging and overwhelming.
In other words, "It gets better."
Learn more about Tien Chiu of warpandweave.com: