Tiana Coats and Her Candle Making Academy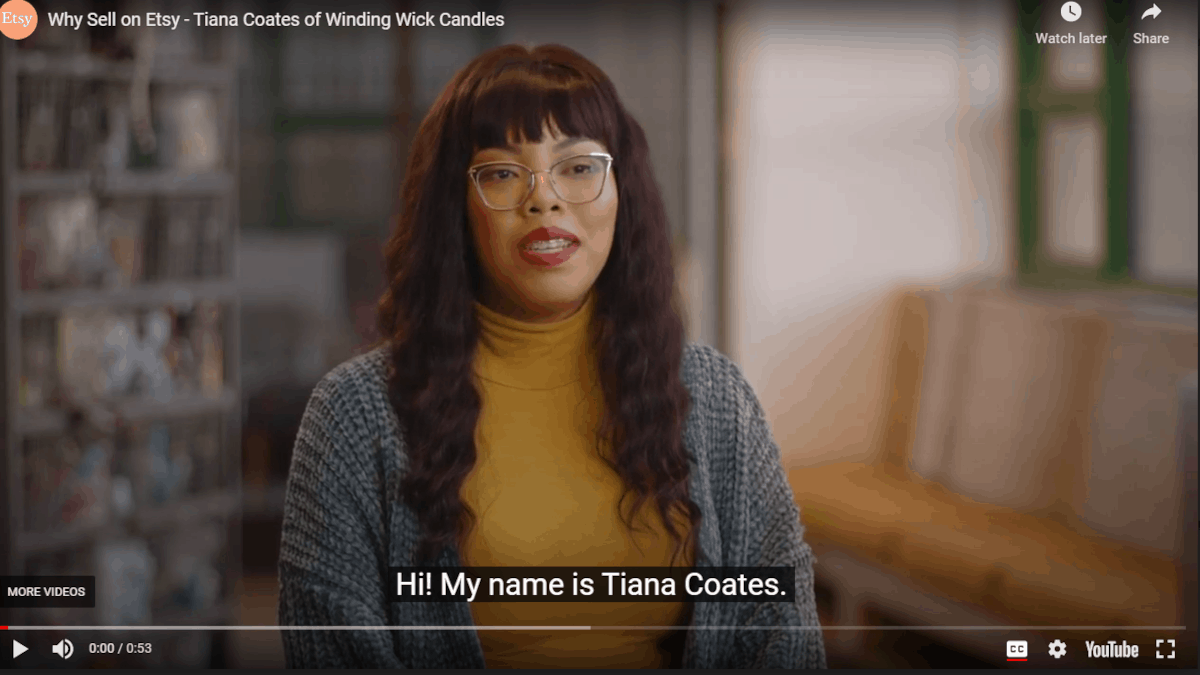 Our content is reader supported, which means when you buy from links you click on, we may earn a commission.
---
Who are you and what course have you created?
I have a handmade candle business and I also run a course called Candle Biz Academy that teaches others how to start their own candle businesses.
What market does your online course serve?
My course is for people who are specifically looking to learn how to make candles and sell them online. There are a ton of different niches within the candle industry and I want to show others how you can brand your products to fit your niche and make something you are proud of.
What's the biggest benefit of taking your course?
The biggest benefit is that you get to learn through my own experiences. I have been making candles since 2015 and I share everything I know so that the students don't have to spend years fumbling through Google searches to get their business going. Making candles is a science and there are so many factors that play a role in creating a unique highly scented candle. This course is a great opportunity to learn from someone with years of experience.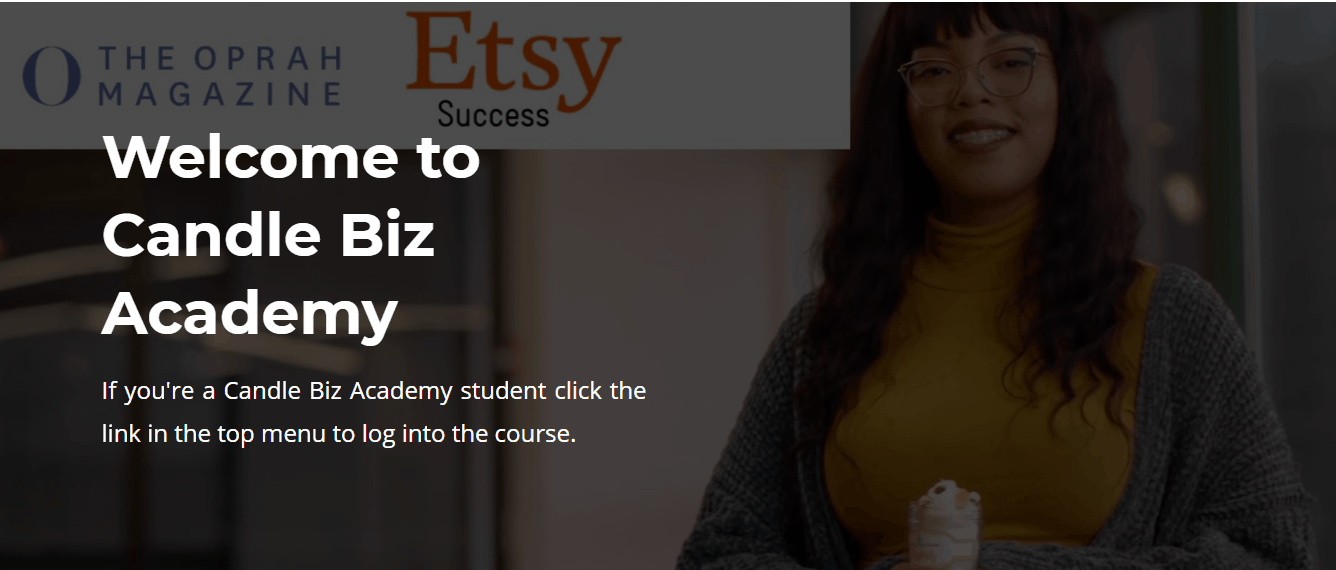 How did you get into the market?
I noticed there was a high demand for people who wanted to learn how to start and run their own candle business. I was getting tons of emails with the same questions. That's when I realized there are a lot of people out there who need more guidance when it comes to creating candles and running an online store. There were many courses that taught how to start a handmade business, but not many geared towards candle makers. This course is designed to teach new and experienced candle makers on how to create a great product on multiple eCommerce sites.
Why did you decide to create an online course in the first place?
I was spending so much time in my inbox daily replying to people who had tons of questions about candles. I had been making candles for so long that I didn't realize there were so many people needing explanations on the different wicks, waxes, and fragrances. Also, I had created a unique brand for myself and I wanted to show others the steps I took to create something unique on the market.
Originally, I thought I would just do a series on YouTube showing everyone how to start their business, but after testing this idea for a bit I realized that this would not work for a few reasons.
People weren't always going to watch every single video I upload. So maybe someone may miss an important step in the series. I also realized that someone could drop into the series and miss all of the previous videos.
The idea of a course was nice because it was more structured and I was able to easily provide other materials to help them along the way. - Tiana Coats
Click To Tweet
I am so glad I decided to go this route because it's easier for the students to follow the course.
The course has also been a great income stream for me. I am able to invest in resources for the students to create an even better learning experience.
Did you have any moments of doubt before you created/launched it?
I had no doubts that I could help others. After learning so much throughout the years from trial and error I was eager to help new candle businesses avoid the mistakes I made. The problem was I had no idea how to create an online course.  There were so many different course platforms to choose from and I was lost on deciding how I would structure and organize everything.
That was when I decided to purchase an online course from someone more experienced. I invested $2,000 in learning how to create an online course. It was money well spent. There were things I learned that I would have never thought of. I learned about proper webinar equipment, how to create an effective sales page, how to do a launch series and so much more. I am so glad I decided to get help right from the beginning.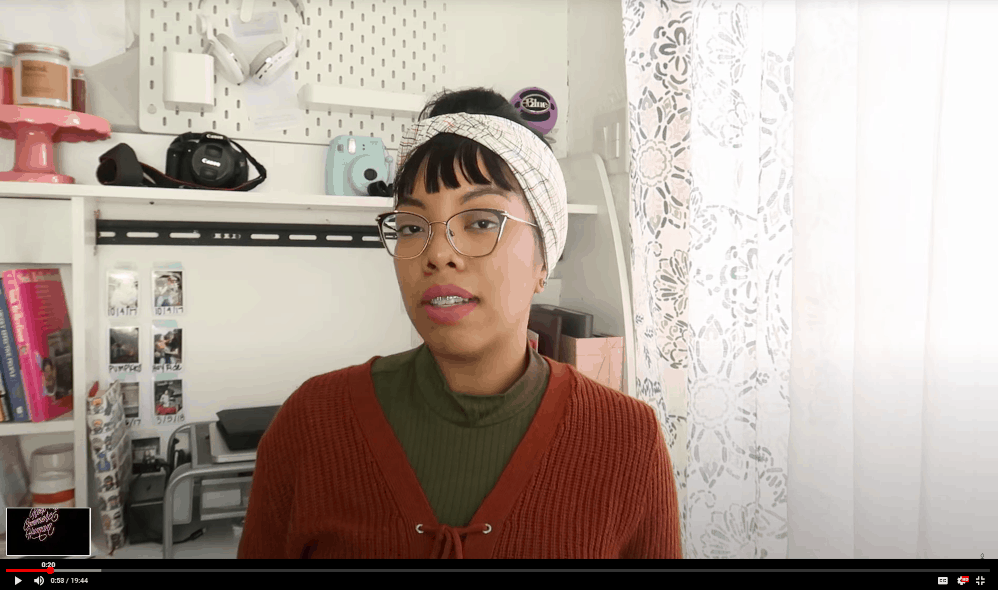 What's your online course like?
The course is mainly video-based with a few documents as well. Each module of the course takes them through the process of starting a candle business. I start by showing them all the elements that go into a candle. Once they get that down then we move into branding, starting an Etsy shop, and eventually, they will be running 3 eCommerce stores and ready to wholesale by the end of the course. They have lifetime access to the material because building a business means you are in it for the long haul. I don't expect anyone to complete this course in less than a year.
It may take years before they are ready to wholesale. I also go in and update the course with my own experiences as my business grows.  I do bi-weekly live meetings with all the students where I prepare a topic to talk about and they can ask any questions they may have. We also have a community so they can ask the other students for help in between calls.
How long did it take you to create your course?
Creating this course was one of the hardest things I have ever done. I started by selling the idea of the course. At first, I hosted a webinar where I talked about what the students would learn from joining and I just had a sales page at the time. I was so surprised to see $10,000 in my stripe account by the end of the pre-sale.
Once I validated my course then I went into creating the videos. I told the first group of students that the content would be dripped out over time. I created a schedule so they knew what to expect and when. Even though I was used to making YouTube videos, it was very hard to manage all the video equipment on my own. I had 2 camera shots and a mic and I had to be aware of the equipment and still teach the lesson. I had to do this all while my son was sleeping. It was very hectic, but I am so proud that I was able to finish the videos and find that my students were gaining value from it.
Tell us a little about the process of launching your course and getting your first sale(s).
I learned that I should not create the course until I validate the idea first. It would be terrible to spend months creating a course and launch it to find out that people weren't interested. Once I got sales from the pre-launch, I knew I had something that people wanted. I am so glad I did it this way because I was able to use the money from the pre-launch and buy equipment and programs to get the course started.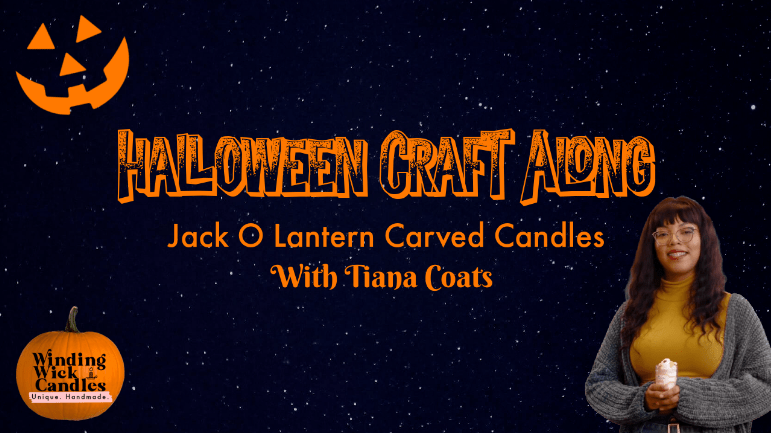 Do you have a lead magnet?
Before I even had the idea for the course I knew I needed to grow my email list. I had no idea what I would do with it, but I just had it going in the background while I figured that out. I created a video on YouTube called How to Start a Candle Business from Home. In the video, I made sure to make it detailed and organized. I actually filmed the video 3 times before I was happy with it.
I created a PDF with additional information and a Mailchimp landing page where people could sign up to get the PDF. In the document, I had ideas on where they could find supplies, what business bank I use, and other useful tips that were almost an extension of the YouTube video. That video has now over 100,000 views on YouTube. Also, my YouTube channel is somewhat of a lead magnet. Many other candle makers watch my videos and I always like to give them some value in each video. In my vlogs, they are seeing behind the scenes of my business and learning something new each time.
What's the traffic strategy that works best for you?
YouTube is what I use to get all of my traffic for the course. I think it is a great way to connect with the audience and I have never had to pay for ads to get sales to my course. People are seeing first hand how I am growing my business so it builds trust. They can go back all the way to my first candle business video and see my growth in action. YouTube is also evergreen so videos I made a year ago are still getting new viewers to my channel.
What online course platform are you using?
I am using Kajabi because everything is all in one. I can have my website, course, community, and send emails all from Kajabi.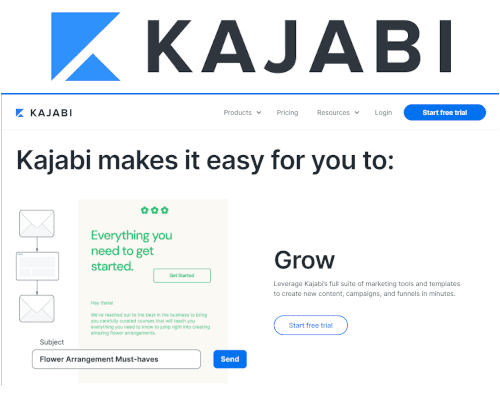 Kajabi is the All-In-One Course Platform
Kajabi is one of the top online course platforms used by successful course creators interviewed on coursemethod.com. Kajabi includes email marketing and other tools that make it easy to run your entire business from their platform.
Price Range: $149 to $399/month
Most Popular Plan: Growth Plan at $199/month
Annual Discount: Yes, take 20% off!
Free Trial: Get a 14-day free trial (credit card required)
*Our content is reader supported, which means when you buy from links you click on, we may earn a commission.
Do you like it?
I like it because it takes the hassle out of setting up all these different systems to make your course run. I can just log into Kajabi and do everything from there. As a one-person show, this is super helpful.
Are there any features you wish it had?
I do like how the community is searchable and you can separate all the posts by topics, but I wish there was a bit more customization that you could do with it.
What made you decide to use your chosen platform over others?
I needed something I could manage by myself. After looking at other options even though Kajabi was more on the expensive side, I decided to invest in that platform so that I could easily manage everything on my own. I didn't have time to set up a ton of different systems to make everything run smoothly.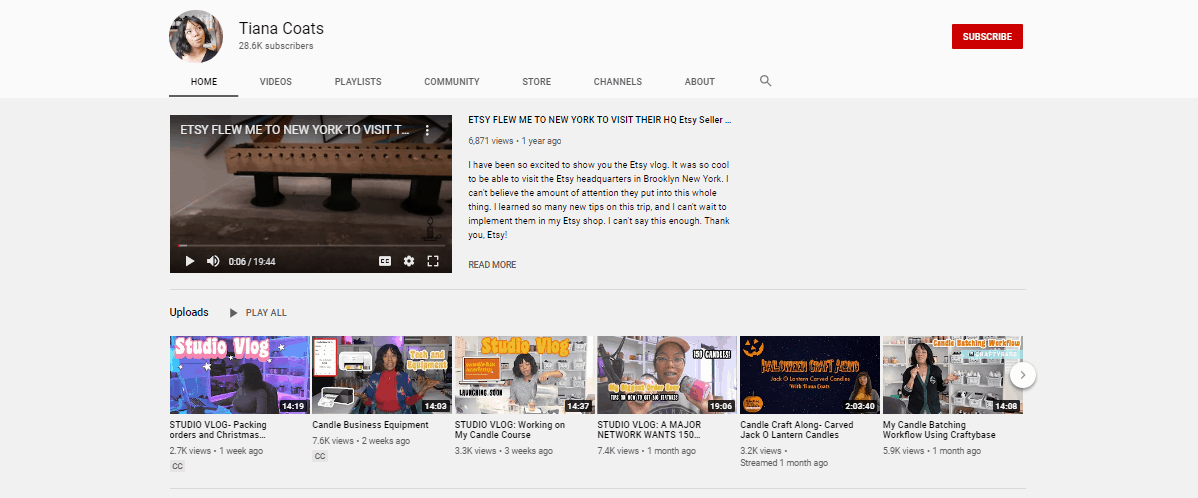 What other tools do you use to run your online course business?
I recently started using an automation tool called Zapier. This really helps me streamline everything further. For example, I can set up a command in Zapier so that if I need to do a payment follow-up with someone it will trigger a "zap" when the payment fails. From there the system will automatically create a reminder for me in Trello and add a "Payment Follow up" tag to the person's account in Kajabi. It is such a great tool and takes a ton of time off of the admin side of running a course. The automation you can set up is endless.
What books or training programs have you found useful on your journey to a successful business owner that others might find valuable too?
One book I read before I started a business was the "Total Money Makeover" by Dave Ramsey. This book opened my eyes to how terrible I was handling my finances. I read this book when I was about 23 and by the time I had the idea for the business years later I had my personal finances set up so I wasn't struggling to get by.
When I decided to quit my part-time job I knew I needed to have my cars paid off and 6 months' worth of income in my account. Once I had all of this in place I was comfortable enough to go full time with my business.
I also read a book called "Miracle Morning" by Hal Elrod that taught me a lot about how affirmations can help you to achieve your goals. No goal is too big. You just need to believe you can do it.
Do you have any big mistakes you've made along the way that you'd be willing to share?
I wish I was better at sending consistent emails. I learned that email lists are very expensive and I currently have a list of over 12,000 people, but I am not using it to its full potential. In the coming year, I am planning on providing even more value through email and this may also help generate more sales for the online course in the process.
Please share some idea of revenue.
When I first launched my course I was so shocked to see my first $1,000 during my hour-long webinar. I left the sales page open for about 3 days and during this time period, I had $10,000 in sales. Coming from a job where I was making $23,000 a year this was unreal to me. I had to break a lot of the learned beliefs I had about making money. I always thought you have to work extreme hours to make money.
Once I was ready for the second launch I left the sales page open a bit longer. I didn't do much promo this time around since it was in February and it was the beginning of the pandemic and honestly I wasn't in the mood to do a huge promotion. People were still already excited about the course so I launched anyway. This time around I had $40,000 in sales in 10 days.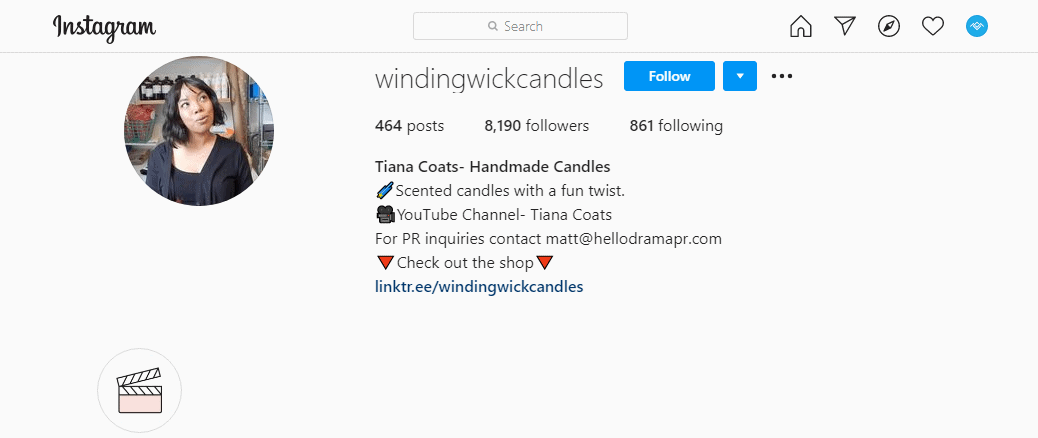 Please tell us a little about what the money you've earned from your course has done for you.
The course has been amazing for me. It helped me leave my part-time job and work on my business full time. I now manage my candle business. The course is great because I can update every year and there isn't much maintenance that I have to do. I show up live every 2 weeks and respond in the community whenever the students post there. I use the money from the course to invest in my candle business and to help provide for my family.
In addition to revenue are there any numbers you would like to share?
I made my first $10,000 for my course business when I only had 7,000 YouTube subscribers. This was possible by giving value. I am always giving tips to the YouTube audience.
YouTube is a bit tricky because you want to give tips, but you don't want to create a disconnect where people only care about tips and not necessarily about you. - Tiana Coats
Click To Tweet
I think it's about creating a balance with the content. That way you can connect with the audience and establish yourself as an authority on the topic. Tell them about the mistakes and the wins. Every once in a while I will create a very informative video. This is where you can attach some kind of lead magnet to an email list.
What has creating your course done for you personally?
Creating the course definitely has given me more confidence as a business owner. It was one of the hardest projects ever for me. I feel like I can do anything with good planning and just believing that I can do it.
Do you have a story of a transformation from any of your clients?
One student, in particular, didn't even know how to make her own candles. I remember she was paying someone else to make the candles for her. Now, she is making her own candles, has an Etsy shop and it providing candles to wholesale clients since she started taking the course. She did this in less than a year's time which is insanely fast.

What advice do you have for people just starting out?
This is something that you will have to work on for a long time. There is no overnight success. It takes years to establish yourself with an audience. There are times where you feel like you are working hard with no return, but you need to show up every day like you are getting paid to do what you do. There is a lot of sacrifices, but eventually, it will pay off.
Learn More about Tiana Coats of windingwickcandles.com: