How Ted Galdi Has Gotten Over 1,000 Sign Ups to His Free Writing Course in the First 3 Months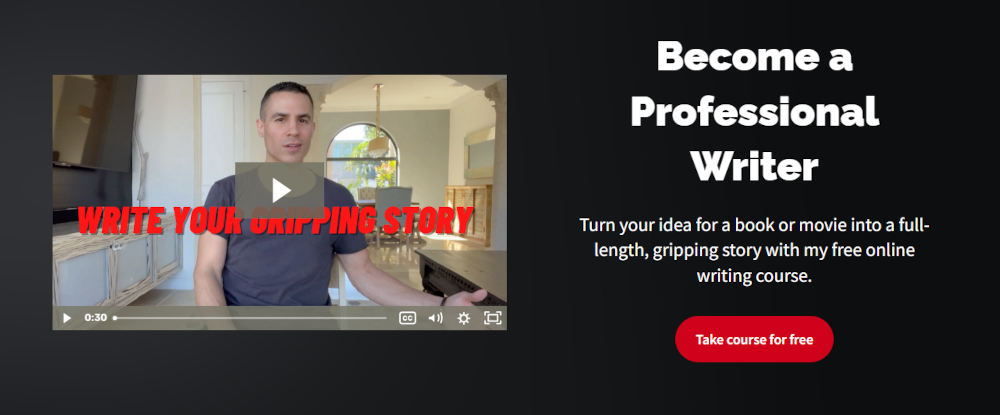 Our content is reader supported, which means when you buy from links you click on, we may earn a commission.
---
Who are you and what course have you created?
I'm a fiction author who created a course platform that teaches writing.
What market does your online course serve?
Writers of books and screenplays.
What's the biggest benefit of taking your course?
At the moment, I offer three courses. They teach techniques that make stories more appealing to audiences. The intended benefit for a student is to secure a writing deal, or self-publish a book and attract a lot of readers.
How did you get into the market?
I've been writing for several years.
My courses feature the sorts of lessons I wish I had access to in one simple place when I was starting out. - Ted Galdi
Click To Tweet
Why did you decide to create an online course in the first place?
A lot of people want to be authors and screenwriters. I figured a good amount of them are actively looking for the information I wanted to teach. Since online courses have been growing in popularity the last few years, I felt they were the right medium to deliver the content.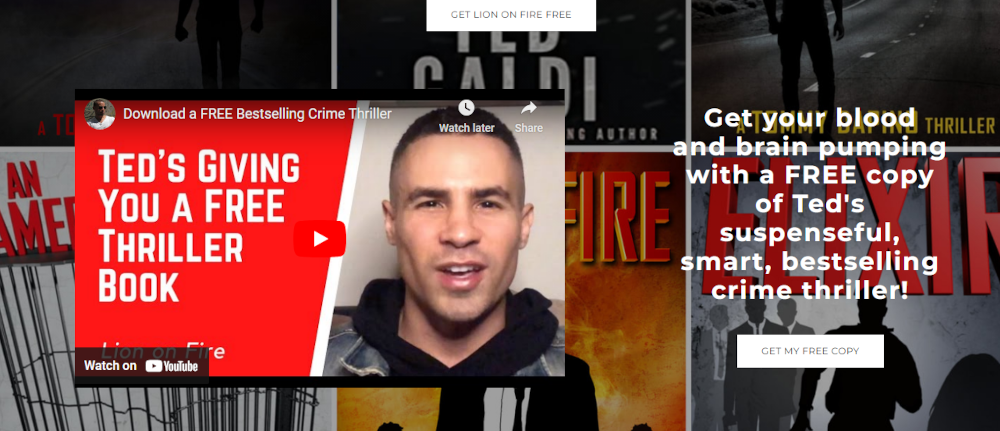 Did you have any moments of doubt before you created/launched it?
Since I've been writing for a while, I had a clear picture of the sort of lessons I wanted to teach. I used the software Thinkific to organize the material and create a website – this made the process easy.
What's your online course like?
My courses are a combination of pre-recorded video lessons and PDF guides. I also offer Word documents that help students outline their stories.
How long did it take you to create your course?
For each course, I spent a few days filming and a few days creating documents. I used a video-editing software called InVideo, which made editing easy. I then uploaded the videos and documents to Thinkific – the software takes it from there, delivering the content to students, managing enrollments, payments, etc.
Tell us a little about the process of launching your course and getting your first sale(s).
I used a strategy of making an intro course free. I integrated the email-marketing system ConvertKit with Thinkific, which lets me create email-automation sequences. After someone signs up for my free course, I eventually tell them about the expert-level paid courses via email. The initial sales came from this setup.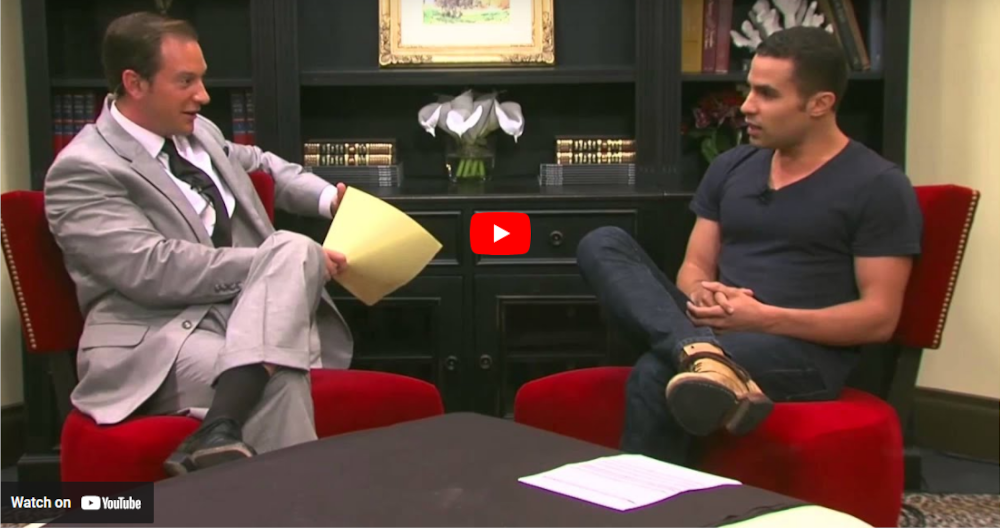 Do you have a lead magnet?
Yes. I have an entire course that's free – it serves as my lead magnet. It's working well.
People are much more likely to take a gamble on a course from a new instructor if it's free. If they like your free course, the odds of them eventually buying a paid one skyrocket. - Ted Galdi
Click To Tweet
What's the traffic strategy that works best for you?
I've been driving traffic to a landing page for my free course via Google and Facebook ads. These ads convert well, however, they're of course not free. I've also been creating educational content on my personal website that draws free SEO traffic.
Building up an SEO presence takes quite a bit of time and my course platform is only three months old. Hopefully, by the end of the year, I'm able to drive a strong amount of traffic with organic search.
What online course platform are you using?
Thinkific and I like it.
Are there any features you wish it had?
So far, it's handled everything well. I really like how it syncs with my email-marketing platform, ConvertKit. I am able to send relevant emails based on actions people have taken – or not taken – with my course content on Thinkific.
What made you decide to use your chosen platform over others?
I am not a computer programmer, so I definitely wanted a robust software that would handle as much of the "tech stuff" as possible. Access to tech support was important as well, in case any issues popped up that I needed fixed quickly. Thinkific offered both. I also like how they don't take a chunk of each sale. I pay them a monthly subscription fee, and a small processing fee on transactions, but there's no revenue share – course creators get to keep all of that.
What other tools do you use to run your online course business?
ConvertKit for email marketing. InVideo for video editing.
What books or training programs have you found useful on your journey to a successful business owner that others might find valuable too?
Thinkific has a lot of free content on course creation and marketing, taught by people in the industry. YouTube of course is another great free source for this kind of information.
Do you have any big mistakes you've made along the way that you'd be willing to share?
I don't have a big mistake to talk about, but do have a tip…something I didn't do, which would've helped.
I have a pretty large audience of readers (from my fiction books). However, when I created my first online writing course, I didn't have an audience of writers. I had to build this group from the ground up.
Before you launch your first course, I'd recommend trying to build an audience. This way, when you do get the course out there, you'll already have a lot of people waiting for it, who'll sign up on day one.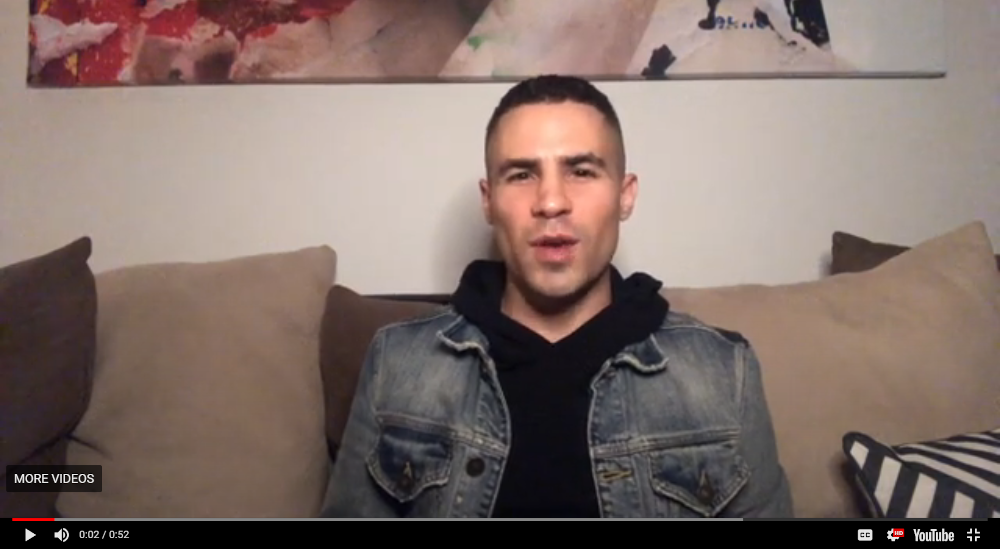 Please share some idea of revenue.
My two paid courses have only been out for a short amount of time, one of them not even a week. Though I have sold courses and revenue is coming in, most of my traction so far has been with my free intro course (which has been up for three months). As more people go through my email sequence and learn about the paid classes, hopefully revenue goes up.
Please tell us a little about what the money you've earned from your course has done for you.
I'm still very new to this. Any money that's come in, I reinvested back into the business to buy ads.
In addition to revenue are there any numbers you would like to share?
Over 1,000 people have taken the free intro course over three months. Since I was new to this, I didn't want to throw a lot of money into ads right away. I just wanted to get some traction and see what was working. Now that I have a good sense of this, I'm hoping subscriber numbers go up a lot more over the next three months, as the marketing presence expands.
What has creating your course done for you personally?
It's been good to hear from students who took a course and learned a lot.
Do you have a story of a transformation from any of your clients?
Students have contacted me about writing projects they were working on, which they've transformed for the better after taking a course. Pretty cool.
What advice do you have for people just starting out?
I recommend the "free intro course" strategy. It gets people in the door and gives them a chance to see you teaching and decide if they like your material. If they do, the chances of them buying a paid course go up a ton.
It's also a good idea to build an audience in your target market before you launch your first course. - Ted Galdi
Click To Tweet
Social media is ideal for this, as is free content on your website.
Learn more about Ted Galdi of tedgaldi.com: