Suren Aloyan Created PopUp to Empower Teachers and Learners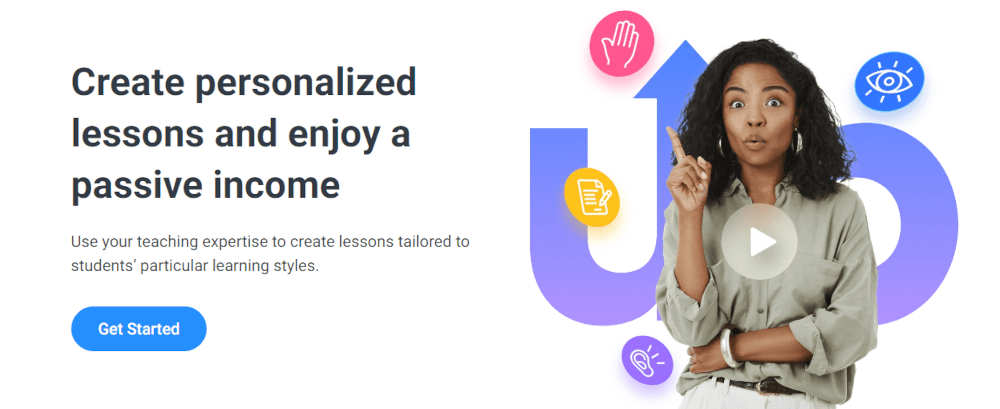 Our content is reader supported, which means when you buy from links you click on, we may earn a commission.
---
Who: Suren Aloyan
Website: popupschool.com
Course Topic: EdTech Platform
Interesting Stats: 35-member staff 
Tell us about yourself and the business you started …
For over 12 years, I've been involved in the K-12 EdTech sector as co-founder and CEO of the newly launched U.S-based PopUp EduTech Inc. We run a personalized e-learning EdTech platform. The platform identifies teaching and learning styles to offer the best match for the most impactful, scalable learning.
I'm also the Founding President of Dasaran Ed-Tech Company, an Armenia-based SaaS company providing innovative K-12 education solutions and hosting 1.2 million users (⅓ of the country's population). Among many awards and accolades, the UNDP recognized Dasaran in 2016 as one of the 5 best innovative enterprises in the world in its Accelerate 2030 initiative.
As an EdTech and social entrepreneur, in 2021 I was selected by the World Economic Forum as one of its Young Global Leaders "shaping the future."
Who is the market for your business?
Our PopUp School market is threefold: teachers, learners, and parents.
We are mindful of the national and global teacher attrition rates and that a recent Rand Corporation survey found nearly 1 in 4 teachers likely to leave their jobs by the end of this academic year. Teachers feel they are no longer fully able to impact students' wide spectrum of learning styles.
So, to fill the void, PopUp offers Teachers and content/course builders the flexibility to work from home and earn an income by joining our subscription-free platform (for teachers it's free–students pay a monthly fee).  PopUp provides a scaling, automated Lesson Builder with robust and adaptive digital toolsets to design engaging lessons using various types of media and an integrated Quiz Builder so teachers can design lessons for greater learner engagement.  We then categorize the completed and PopUp-review-board-approved lessons into various Teaching and Learning Styles, upload and make them available to student subscribers.
PopUp reinforces impactful, dynamic learning for our subscribers who, for a $34.99 monthly subscription, have unlimited access to our library of categorized lessons. We expedite learners' constructive time spent on our platform; subscribers don't have to randomly select courses online or search endlessly for that perfect lesson. Instead, our student/learner subscribers take a quick assessment test and receive a list of recommended courses best matched with their learning styles.
Finally, parents make an impactful investment in their child's future academic achievements by subscribing them to a library of categorized lessons with unlimited access to lessons.
In reaching our market, PopUp facilitates highly effective teaching methods which in turn empowers all students and learners.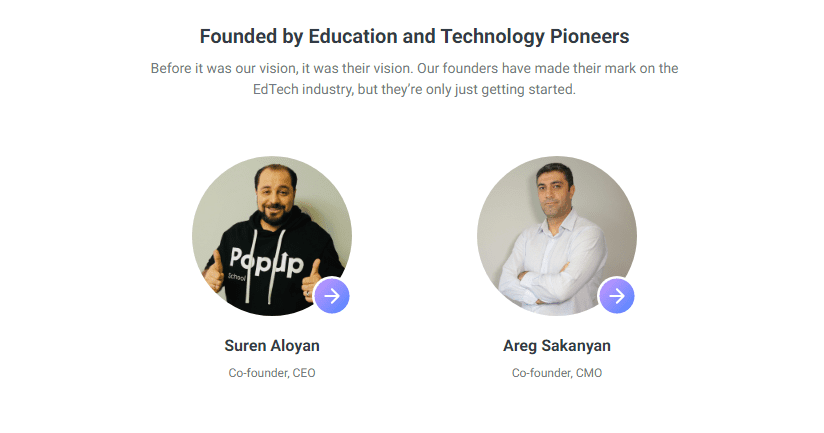 What problem does your solution solve?
PopUp solves the problem of teachers' disillusionment that they can no longer fully impact their students' wide spectrum of learning styles. We provide teachers an alternative option to share their pedagogy knowledge and subject expertise by focusing on designing lessons that fit learning styles.
The platform's algorithms match the lessons that are built to the learning styles of student subscribers. Teachers are rewarded with steady income streams and flexible, work-from-home options. Students become more engaged in their learning journey. This complements their classroom/school academics and ultimately become empowered learners.

Why is it better than other solutions?
PopUp is not a traditional e-learning platform that follows a "one style fits all" approach. We focus on various learning styles and student preferences. We respect and support personalized learning with lesson plans that fulfill a students' individualized needs and learning styles.
The PopUp platform personalizes content and as an adaptive e-learning environment. It helps not only improve online learning quality but expedites student learning and enhances what they learn during in-person classrooms. If a lesson is delivered in your learning style, you are able to grasp and retain the information so much better.
What are the biggest benefits for your customers?
PopUp reinforces impactful, dynamic learning that expedites the learners' constructive time spent on our platform. Our subscribers don't randomly select courses online or search endlessly for that perfect lesson. Instead, following a short assessment test, they are matched with a list of recommended courses. These courses best suit their learning styles.
Where did the idea for the business come from?
My team and I have held meetings with over 35,000 teachers. From these meetings, we find out perspectives and insights on how they teach and what most empowers their learners. To better understand 21st-century digital education, we conducted in-depth research on education's best practices. This was over 12 countries with advanced education systems (including Israel, Poland, Germany, Finland, Singapore, and South Korea, among others).
What we learned is that, first and foremost, we all have our own unique learning styles. And that teachers reach and impact students best when they deliver new information in their learning styles. When lessons are built and designed to reach one, or a combination of learning styles, the magic of learning is indisputable.
With my team of veteran SaaS, pedagogy, American education systems, and EdTech experts who provide invaluable perspectives and insight on teaching, learning, and 21st-century digital education, we integrated our research and expertise to build and design PopUp School's proprietary and robust platform to facilitate and deliver highly productive teaching and individualized digital learning experiences. With that, we are elevating teaching and learning to the next level.
Do you have a lead magnet?
Lesson builders can join PopUp School for FREE by registering here. Then they can start building lessons and earning incomes.

What's the traffic strategy that works best for you?
Our current strategy is to invite teachers to join our platform. We want them to learn more about learning styles and see how we have addressed their greatest issues. We explain that our mission and ideology are based around relieving them of the pain of working hard in education only to receive little pay. With PopUp School, teachers work and make a lesson only once. That lesson gives them indefinite passive income every day after that.
It's the right time for teachers to join, make lessons, and jump on this income-boosting opportunity. It's also a great opportunity to join early as a PopUp Partner or Ambassador.
What tools do you use to run your business?
For our engineering needs, we use Jira. We find Slack to be best for interdepartmental communications. For marketing purposes, we use ManyChat, Mailchimp, and Lemlist.
What books or training programs have you found useful on your journey to a successful business owner that others might find valuable too?
Personally, I enjoy reading the biographies of successful people. I also enjoy reading about psychology. Recently, I've been reading The Power of Positive Thinking by Norman Vincent Peale, Making Learning Whole by David Perkins, and How Brands Grow by Byron Sharp.
Are there any numbers you would like to share?
In two weeks following PopUp EduTech launch in early December 2021, we had commitments from 300 teachers interested in building lessons on our platform. This was due to the teacher orientation process–27 lessons were under a review process and 15 lessons were finalized.
Our 35-member staff was involved in reaching out to their network to get teachers and online lesson builders to join our platform. We used social media and media relations to reach teachers. In less than a month, we garnered nearly 400 LinkedIn followers, reached over 30,000 via Facebook, and had over 2,000 post engagements.
eSchool News included my quote in their "63 predictions about edtech, equity, and learning in 2022" which helped increase our brand awareness.
We use various social and email marketing strategies. This helps us reach and invite teachers to learn about our mission and gain teachers' trust. In addition, we understand and identify with their pain points, the inner workings of the education systems, and the challenges parents, students, and teachers face. We offer teachers the means to solve these challenges by providing opportunities to grow. Also, they increase their impact via our platform. It empowers them to offer proper education to everyone by targeting learning styles.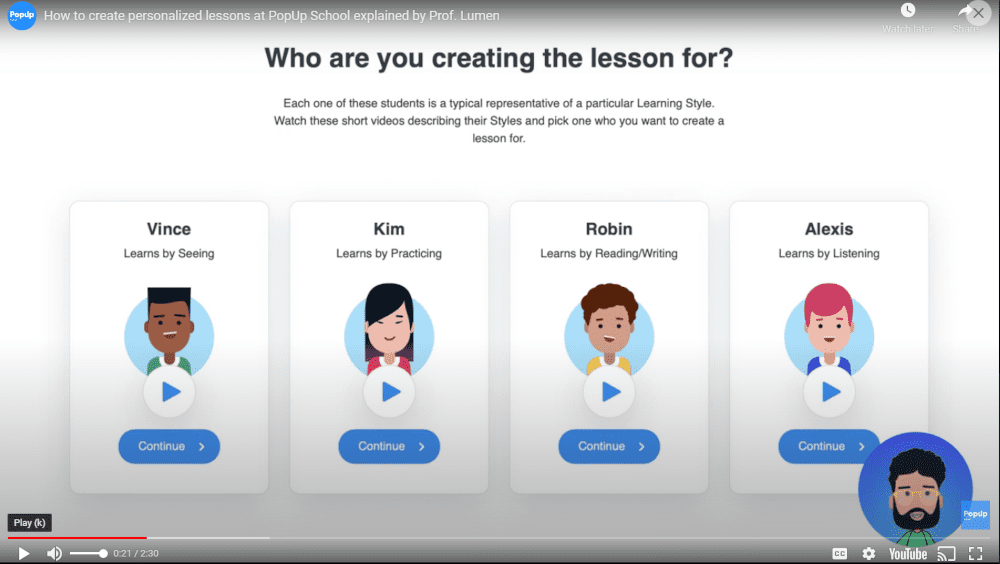 Do you have a story of a transformation from any of your clients?
In 2016, our team decided to dive deep into learning about child development. We wanted to gain the knowledge to fully understand how students learn and what kinds of crises they face as they grow. Every apparent crisis that a child goes through presents the best chance for them to learn.
We created training samples for different aged students. The goal was to help them understand how knowledge taught in school can be transferred into skills.
We believe that the power of education is not how much you can remember, but how you can apply that knowledge in your life. - Suren Aloyan
Click To Tweet
We hosted 100-150 students per day and noticed significant differences in the way they thought about education. The most valuable thing we noticed was that students' mindsets began to change from "I have to study because my parents told me to, or because I have an exam," to "I need to educate myself in order to become successful and find my path in the future."
Parents told us their children had completely changed their approach to education. They found their own motivation to study and understand why they need education for their careers and future success.
What advice do you have for people just starting out in business?
Before launching a business, choose an industry you're either familiar with or that needs new and unique solutions to fill a gap. - Suren Aloyan
Click To Tweet
Do all the necessary research and talk to as many experts in the industry to get their insight and advice.
Then design a business plan and model that fills the gaps of what's missing. Provide a solution that integrates proprietary technology tools that enable your end-users a robust journey. One that they'll be sure to promote to their network. In empowering your target audience, you empower your brand awareness. Also:
Have a strong belief, with no doubts, in what you want to do.
Have determination and perseverance.
Do not be afraid to make mistakes – that's when you really learn.
Surround yourself with people who are your role models.
Learn more about Suren Aloyan of popupschool.com: