How Stacey Stewart's Inexpensive Courses Bring in 5-Figures Each and Every Month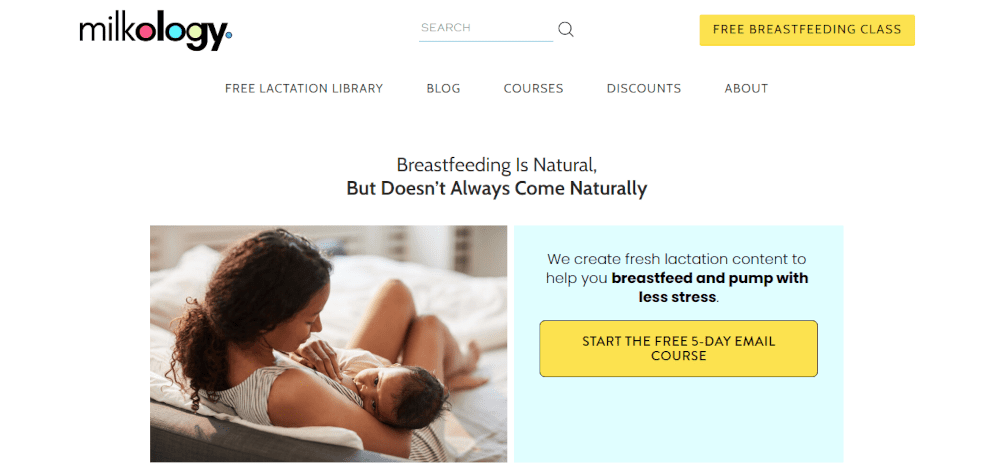 Our content is reader supported, which means when you buy from links you click on, we may earn a commission.
---
Who: Stacey Stewart
Website: milkology.org
Course Topic: Breastfeeding
Interesting Stats: 500-1,000 New Students/Month
Who are you and what course have you created?
I'm a mom of 3 kids (including a set of twins!) and live in Charleston, SC.  To help other mothers, I became a Certified Lactation Educator and founded Milkology, a lactation education service.
I created The Ultimate Breastfeeding Class, an online and on-demand breastfeeding preparation class for expecting and new moms.
What market does your online course serve?
The Ultimate Breastfeeding Class is an all-in-one breastfeeding course for pregnant and new moms.  It's 90 minutes, online, on-demand, and contains 13 easy-to-watch lessons.  It explores everything from the benefits of breastfeeding to how to get a good latch to how to navigate the stressful first month at home with a baby.  It essentially covers the whats, whys, and hows of breastfeeding.
What's the biggest benefit of taking your course?
Breastfeeding is natural, but also naturally challenging.  It's not always easy and can be one of the most nerve-wracking parts of early motherhood.
Research shows that one of the best indicators of breastfeeding success is prenatal preparation – taking a  breastfeeding class and learning about breastfeeding.
Many women end up trying to piece together information themselves from a variety of places. With The Ultimate Breastfeeding Class, they don't have to do that.  They don't have to sift through information themselves or wonder if what they're learning is bogus or outdated.  They can sit down and watch the lessons and know that, when they finish, they'll know how to successfully breastfeed their baby.
Bonus?  They can do it in their pajamas!  And binge-watch the lessons on their own schedule.  They get lifetime access to the class so they can revisit as often as they wish (even with future pregnancies).  Oh, and their partner or support person can learn with them too!

How did you get into the market?
In 2016 when my twins were babies, I started a lactation cookie mix business (lactation cookies contain a trio of "galactagogues" – a fancy word for foods that promote lactation)
It was exciting because I was a new entrepreneur and started to see the orders roll in.
But I got a big, quick reality check.  A lot of women were absolutely terrified they weren't making enough breast milk for their babies.  They were coming to me one after the other looking for my cookies to save their milk supply.
Now, lactation cookies can definitely increase your output a bit, but in no way can a cookie, or ANY supplement, help a low milk supply except by adding more breastfeeding and pumping sessions (& fixing the root of the problem if there is one).
I was troubled and felt like I wasn't giving moms what they actually needed, which was proper information and support. I had an epiphany… Why couldn't I create some sort of online resource to help everyone?! I immediately set out on a new path … and I dreamed up Milkology.  I went back to school and became a Certified Lactation Educator (CLE) and brought the brand to life in 2017.
Why did you decide to create an online course in the first place?
There are often challenges in the first few days and weeks (and months!) of breastfeeding. I believe new mothers deserve more education, support, and resources going into such a complicated experience. (especially when they're usually overwhelmed and sleep-deprived at the same time)
I'm a teacher at heart and have a Master's degree in Teaching (MAT) degree.  I knew that an online course would be a perfect fit for the problem.
The only other resource out there at the time was overly expensive and approaching $100. I wanted to create an affordable, quality alternative. - Stacey Stewart
Click To Tweet
I spotted a niche that needed filling and knew in my heart that Milkology could help a lot of women.
Did you have any moments of doubt before you created/launched it?
I didn't struggle to put the information together because I went to grad school for teaching and had a lot of resources at my disposal for how to synthesize information and present it.  What I struggled with a bit was learning the technical aspects of how to edit videos, which course platform to use, and how to actually market the course.  Essentially I knew how to teach, but not how to sell!
If so what made you turn it around and do it anyway?
I pushed through because I believed in the mission of the course so much.  It had the potential to transform women's postpartum experiences and that helped me launch with more confidence.  I truly believed (and still do) in my product.
What's your online course like?
The class is videos with a voiceover with slides and video clips.  It contains 3 bonuses:
The Ultimate Breastfeeding Troubleshooting Guide (Explanations and resolutions to the most common issues you might come across so you feel equipped to handle any breastfeeding challenge like a champ)
Ultimate Class Notes (An outline of everything in the videos so you don't have to take notes yourself. Perfect to print out and keep for quick reference by your bedside) and …
The eBook 'The Little Black Book of Breastfeeding Secrets' (Over 50 insider tips and tricks to make breastfeeding easier. You'll feel like a lactation consultant is dishin' all her breastfeeding secrets to you).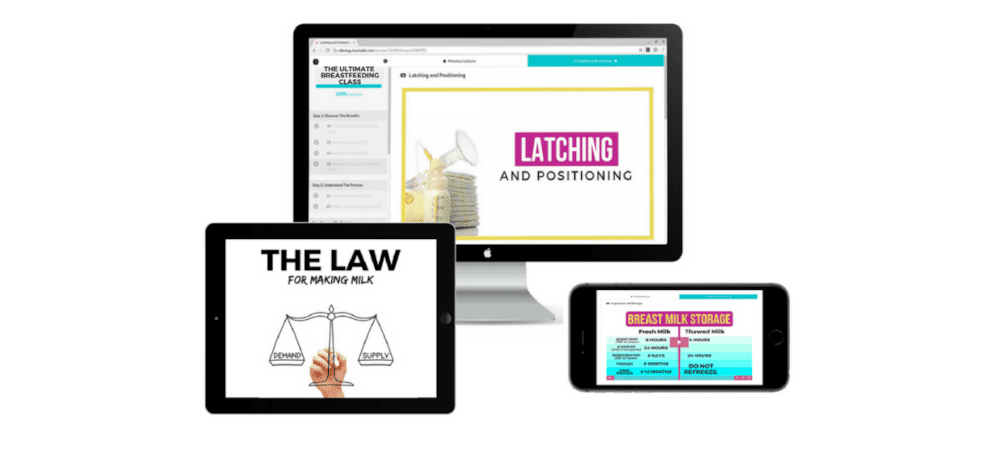 How long did it take you to create your course?
It took about 10 months to create the class.  I was working part-time at another job at the time and my twins were 1 year old so I didn't have much time to devote to creating it on a day-to-day basis.  Any spare time I had at home I spent on creating my online course.  I ended up recording the voiceovers for the lessons in my closet! (because I learned the clothes provide the perfect backdrop for quality audio).  I knew nothing about video editing but Googled everything I could and taught myself along the way.
Tell us a little about the process of launching your course and getting your first sale(s).
I had a small email list that I started before I launched the course.  I collected email addresses from various Facebook groups I was a part of when people said they were interested in learning about breastfeeding.  Then, I launched my list and made my first few sales!
The problem was, I didn't know where to go from there.  How would I get more sales?  How would I continually grow my list?  After creating the course, I then had to learn how to grow and market online.  And that was a whole other beast.  But I love it and love learning so I dove in!
Do you have a lead magnet?
Yes!  I have a free 5-day email course that I have as a lead magnet called Secrets To Success.
It works great because I teach women for over 5 days about the "secrets to breastfeeding success."  Of course, the best secret to success is to take a breastfeeding class.  (that is the 5th-day secret)  I mention that and then sell The Ultimate Breastfeeding class at a discount over the next several days of emails.  The strategy works great.
What's the traffic strategy that works best for you?
I use a combination strategy for traffic and like to diversify.  I get some traffic from SEO (Google) and spend a lot of time writing high-quality articles that will rank on Google.  This gets traffic to my blog.  My blog has a bunch of tripwires and opt-ins and ways I sell on it that translate into sales on a daily basis.
I also have a strong affiliate program for my class.  This allows me to get a lot of cold traffic to my sales page from my affiliates doing what they do best… promoting my class!

What online course platform are you using?
I use Teachable as my course platform.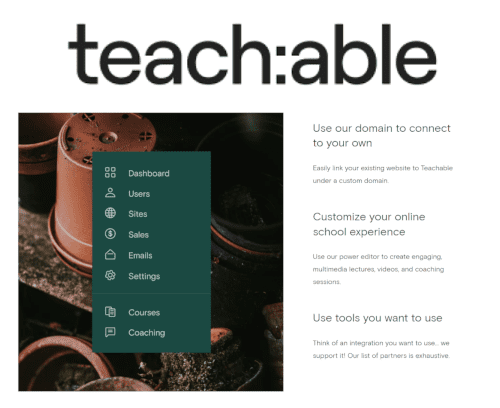 Check Out Teachable
Teachable is one of the top online course platforms used by successful course creators interviewed on coursemethod.com. It is easy to set up and build your site pages, and the course area looks great. 
Price Range: $0 (+ transaction fees) to $299/month
Most Popular Plan: Pro Plan at $119/month
Annual Discount: Yes, take 17% off!
Free Trial: Try out Teachable's core features for free
*Our content is reader supported, which means when you buy from links you click on, we may earn a commission.
Do you like it?
I love Teachable!  I love the fact that they're always adding new features and I feel like they really listen to their course creators and what they would like to see added.
Are there any features you wish it had?
Honestly, no.  They have so many features that I haven't even tapped into some that I want to dive into eventually!  (like coaching)
What made you decide to use your chosen platform over others?
I chose Teachable because I knew they were the biggest company at the time that offered course hosting and I love all-in-one resources.
What other tools do you use to run your online course business?
I use Squarespace to host my main website and Convertbox to help with lead generation.  I make videos for YouTube and use the video editor WeVideo.  And I'm going to launch a Milkology podcast soon and will use Buzzsprout for podcast hosting.  I use Leadpages to host opt-in pages and tripwire sales pages.  I use a combination of Mailchimp and Flodesk for email marketing.
What books or training programs have you found useful on your journey to a successful business owner that others might find valuable too?
I found learning SEO (search engine optimization) to be a highly effective strategy for bringing in daily leads for my classes.  Mike Futia with Stupid Simple SEO has helped with that.  I also found that learning copywriting is a huge component of selling more classes.  Creating an effective sales page is a game-changer for sales.
Do you have any big mistakes you've made along the way that you'd be willing to share?
Yes!  When I first started I tried to create my sales page myself without any knowledge of how to write copy that sells.  I invested in a book that helps me SO much!  It's called Love-Based Copywriting and that helped me create a better sales page.  Since then I've invested in many more copywriting books and love to learn how to write words that sell.
Please share some idea of revenue.
My first launch was about $120 from my email list. (back in 2017).  Since then I've invested countless hours of learning how to generate revenue online and now consistently generate 5-figures in revenue every month.
Please tell us a little about what the money you've earned from your course has done for you.
I was able to quit my job!  My husband and I recently moved from our teeny 1,300 square foot house into a 2,800 square foot house on 1.5 acres and have it paid off already!  I also was able to temporarily "retire" my husband (who is a school teacher) during the 2020/2021 school year so he could stay home during the pandemic and homeschool our kids and we could all be safe together at home.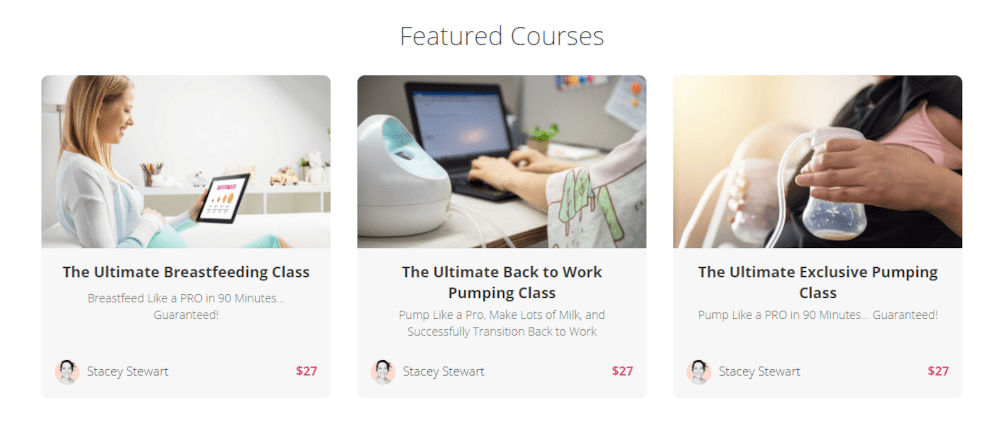 In addition to revenue are there any numbers you would like to share?
I have about 500-1,000 new students each month!
What has creating your course done for you personally?
Milkology has been one of the best things in my life.
It's made me feel like I'm really making a difference in the world for both mothers and babies. It's also allowed me to live my life with more freedom than I ever thought possible. - Stacey Stewart
Click To Tweet
Do you have a story of a transformation from any of your clients?
Seeing testimonials like this makes my day…
Here is one I got last week, "I am so happy I found this breastfeeding class. I had attempted breastfeeding and pumping with my daughter but it failed miserably. Now I am pregnant with twins and feel way more confident understanding some information I did not before and realizing I could have been successful the first time with the knowledge I now have of breastfeeding!"
I have over 5,000 reviews that I collect in Google Forms after people go through the class.  After reading them, they make me feel so warm and fuzzy inside.  I plan on updating the course in the next year and will synthesize all those reviews (because they contain tons of helpful feedback) to help me create an even better class for future students.
What advice do you have for people just starting out?
For people just starting out:  don't be afraid if things don't work out right away.  Keep learning. Keep tinkering. When you find something that works, do more of that and press on.
The good thing about being a solopreneur or having a teeny business is that you are nimble! You can change up your tactics overnight. Big companies can't do that, but you can! 🙂 - Stacey Stewart
Click To Tweet
Learn more about Stacey Stewart of milkology.org: