Squeeze Page vs Landing Page: Discover the Differences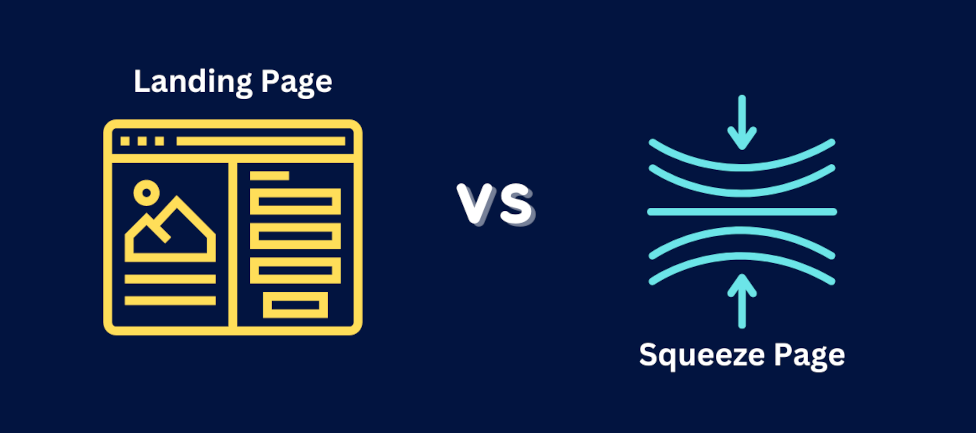 Our content is reader supported, which means when you buy from links you click on, we may earn a commission.
---
When marketing your online courses, you may have heard people throwing around the terms squeeze page vs. landing page. Learning about the differences is worth it since a simple landing page can help you convert 23% of visitors into leads.
But what do these terms mean? And, more importantly, are landing pages truly different from squeeze pages?
By the end of this article, you will know how to create high-quality squeeze pages and landing pages that will help you increase conversions and revenue for your business.
What Is a Squeeze Page?
Squeeze pages work as standalone web pages created to capture leads. Your squeeze page works to convert visitors into email list subscribers. It makes them enter their email addresses in exchange for an incentive or offer.
You might offer a free ebook, video course, or anything else that will entice visitors to provide their contact information.
What Is a Landing Page?
Visitors "land" on landing pages when they click a link from an external source, like a pay-per-click ad, another website, or an email blast. Recent statistics show that you can expect an average conversion rate of 9.7% on these pages.
The purpose of a landing page is to provide relevant information in exchange for an action. Some landing pages thank visitors, while others will encourage a sale or lead.
The Purpose of Both Landing Page and Squeeze Page
Focus on using squeeze pages for lead generation purposes. When optimizing for leads, less is more. If you use a traditional landing page to drive your lead generation efforts, conversions may go down compared to a simplified squeeze page.
A/B test this inside your specific business to prove or disprove this idea. Your business may include a target market that requires more information to become a new lead on your list.
If you find that you can successfully provide additional information when collecting leads, then one purpose for landing pages is lead generation. Landing pages have many other purposes, though.
After collecting leads, you might want to test your "thank you" page variations. You could use landing pages to encourage new subscribers to join your Facebook group or to become YouTube subscribers. Or, the "thank you" page can invite each new lead to look at your sales page.
Your sales page operates as a landing page. It will have much more information than a squeeze page. You'll need to include the features and benefits of your course. Visitors will want to see a story that helps them understand how your course can solve their problem, and a landing page is a place to address this.
How Are Squeeze Pages and Landing Pages Different?
While these two types of pages seem similar, there are differences. Let's review what distinguishes a squeeze page from a landing page.
Squeeze Pages Are a Type of Landing Page
A squeeze page is simply a specialized type of landing page. A squeeze page's purpose is to capture lead information from visitors you direct to the page from various sources, such as social media ads and blog posts.
Squeeze Pages Use Fewer Design Elements
The squeeze page does not provide visitors with product information or other content that could distract them from their goal. Instead, squeeze pages are straightforward in terms of their layout.
They don't have navigation bars or links to other pages. Squeeze page designs might range from one long page with all vital elements to several shorter pages that use an anchor link to jump from one section to the next.
You can often tell a squeeze page from a traditional landing page by its minimalistic look. If unsure, pay attention to the call to action (CTA). If the CTA is anything other than asking visitors to submit an email address to become a lead, you're probably looking at a landing page.
Squeeze Pages Are Concise
Squeeze pages don't typically contain much content or extra elements such as images, videos, and social media buttons. The squeeze page focuses on the CTA that visitors should take to become new prospects.
To format a squeeze page, you should focus on creating a layout that makes it easy to scan and understand. Keep your squeeze pages concise, well-organized, and visually appealing. You can use headlines, bullet points, and short paragraphs to make the squeeze page easy to follow.
More complexity might appear on landing pages. For example, a "thank you" page strategy may move beyond the simple thanking process and turn into a full-blown sales page. You can include multiple headlines, video content, and copy on the sales page, encouraging visitors to purchase a course.
Information Captured
The information captured by squeeze pages usually includes a person's email address and name so you can add them to your email list. However, the information you capture on squeeze pages will vary depending on your goals. You may decide to also ask for information such as the following:
Phone numbers
Physical addresses
Income information
Demographics
Topic interests
The information gathered from a traditional landing page can include multiple items. For instance, you may ask visitors to fill out a form with detailed questions about their purchase or opinion.
Or you might use a quiz funnel. In this case, you may encourage your visitor to move through multiple landing pages. As they do, they will answer questions that help you formulate their quiz results.
On a shopping cart landing page, information captured may include billing information, such as a credit card number, shipping address, and gift information. Or, you can ask for product customization details, such as size or style preferences.
How Do You Make a Good Squeeze or Landing Page?
Now that you know the main differences between landing and squeeze pages, it's time to learn how to use them inside your business. Deciding when to use a squeeze page or landing page will depend on the following factors.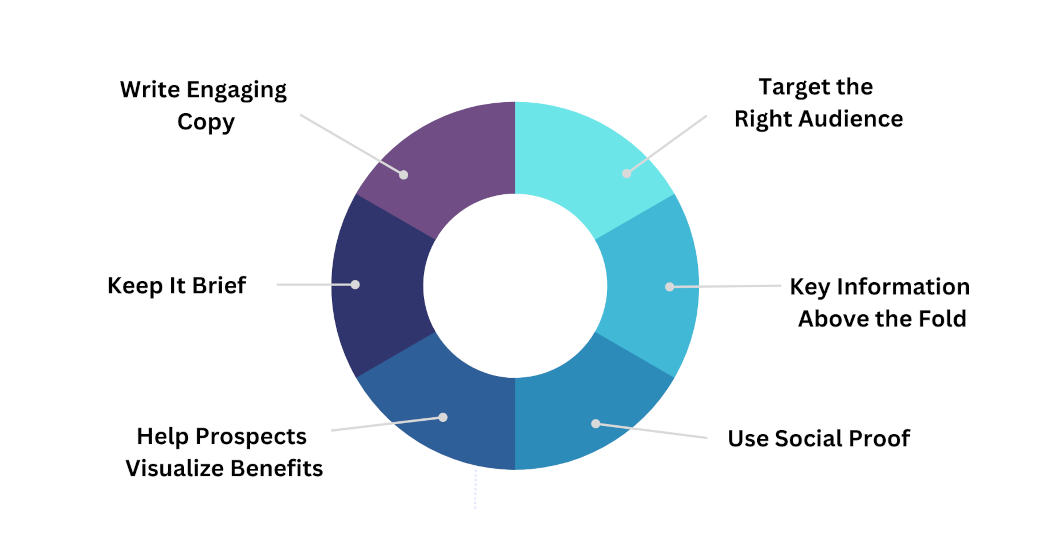 Target the Right Audience
To use a squeeze page, you will target a group of people who still need to join your email list. You might target the people on your social media platforms, visitors to your blog, or people you target on Facebook or Google paid ads.
For a landing page, you will target people further down the funnel. For those who know more about your courses, point them to purchasing on a landing page. You can also use it for remarketing someone after they've already purchased from you.
Does the above advice mean you can never use a squeeze page with the people already sitting on your email subscriber list? No, you might send your email subscribers to a squeeze page that allows them to get on a segment of your extensive list.
An example is asking subscribers to join a subset of your list to receive more detailed information on a topic.
Critical Information Above the Fold
Whether you want to use a squeeze page or a landing page, focus on properly using the space above the fold. The above-the-fold area includes all page elements visitors can see before scrolling down. Placing all the critical information and messages here is crucial since it immediately grabs the reader's attention.
For squeeze pages, include your CTA above the fold. Include headlines, bullet points, and visuals that motivate people to join your email list. On a landing page, emphasize the essential information about your product at the top of the page.
Use Social Proof
Adding social proof on squeeze and landing pages is essential to helping you increase conversions. People are more likely to commit if they know that others have tried and enjoyed your course. Include customer reviews, ratings, and testimonials to give visitors more peace of mind.
Other social proof can include showing how many people have already signed up for your list. Or, you might mention organizations that invited you to speak. If you've written for any publications or top industry blogs, include this information to help highlight your expertise.
Help Prospects Visualize the Benefits
Keep the benefits in mind when you create landing pages and squeeze pages. Show prospects how your course can help them reach their goals. Use visuals, headlines, and copy emphasizing what they will get from joining your email list or buying from you.
For example, you might highlight how much time they will save by signing up for your time management course or how much they can save in your budgeting course.
Go deep with the benefits. If your course helps parents improve communication with their teens, don't just talk about the obvious benefit of an improved relationship. Talk about the experiences the improved relationship will bring into their lives.
Keep It Brief
Brevity is critical with these page types. Keep all elements on the page concise and to the point so visitors can quickly read and understand what they need to do next.
It will help prospects and customers stay engaged with your message. Avoid using too many words or images, as this could cause confusion and overwhelm them.
Write Engaging Copy
No matter what page type you create, write powerful copy that grabs attention and encourages people to take action. Focus on creating a story that immerses the reader in your course material or lead magnet benefits and makes them want to click your CTA button.
Your copywriting should focus on the reader and use second-person pronouns like "you" or "your." It will help them better identify with your message and make it more likely that they become excited to move forward with you.
Final Thoughts
If you were wondering whether to direct traffic to a squeeze or landing page, this guide should point you in the right direction. To sum it up, a squeeze page is generally more concise and focused and is perfect for giveaway opportunities, while a landing page is more detailed and encourages action.