Why Shanna Lee Created TheSoulFrequency.com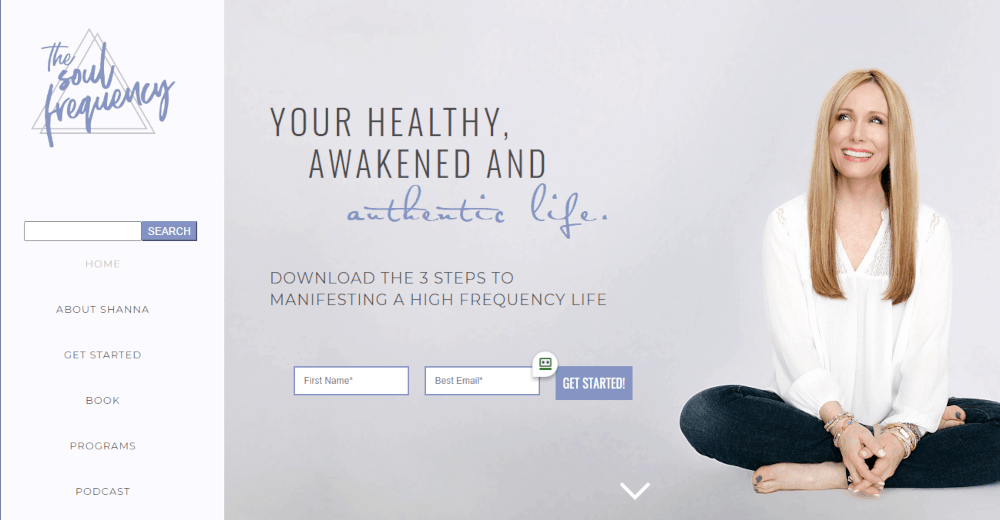 Our content is reader supported, which means when you buy from links you click on, we may earn a commission.
---
Who: Shanna Lee
Website: thesoulfrequency.com
Course Topic: Mindset
Interesting Stats: Created online course in 3 months
Who are you and what course have you created?
I am an intuitive healer and celebrity manifestation coach,  #1 Best Selling author of The Soul Frequency: Your Healthy, Awakened and Authentic Life, and the founder of TheSoulFrequency.com and The Soul Frequency Show podcast, leading the conversation on raising your energy frequency and creating a life founded on truth and alignment. I am also a speaker, businesswoman, and consultant to executives of Fortune 500 companies, celebrities, influencers, and fashion industry experts.
After spending two decades in sales, marketing, and business development, I chose to leave my former career and use the intuitive gift of insight to lead purpose-driven individuals and support the development of their core mission from the ground up.
The program I created is called The Soul Frequency Experience.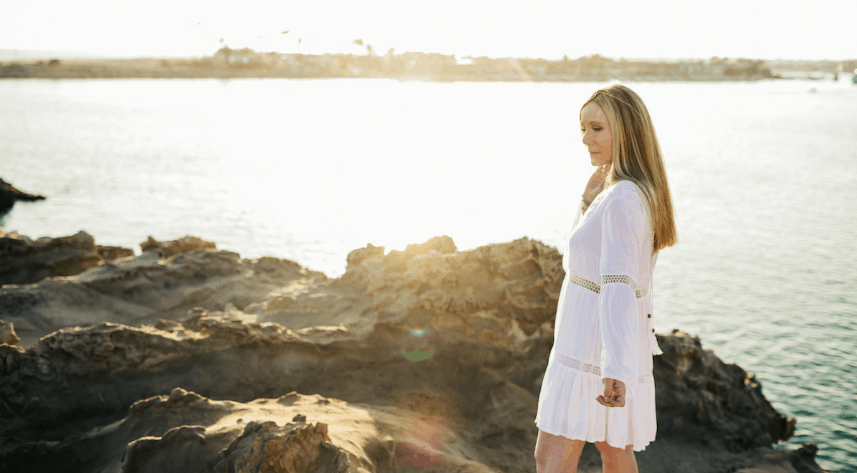 What market does your online course serve?
This program is for creatives, founders, achievers, spiritual seekers, and purpose-driven soul sisters – ready to unlock the next level of expansion.
The Soul Frequency Experience is a program to help you access your intuition and higher guidance, align with your purpose, and create a fulfilling life.
You will learn how to:
      Increase your intuitive insights and feel empowered to follow them.
      Feel lighter and embody new energy that others will notice.
      Clear negative emotions, so they don't keep you stuck.
      Powerfully connect to your purpose.
      Feel seen, heard, and understood by a sacred circle of like-minded souls.
      Identify subconscious beliefs and learn how to reprogram them.
      Feel more confident and abundant.
      Magnetically attract the things you desire.
What's the biggest benefit of taking your course?
It will give you the tools to transform all areas of your life, gain the confidence and skills to access your soul's highest alignment and create your fulfilling life.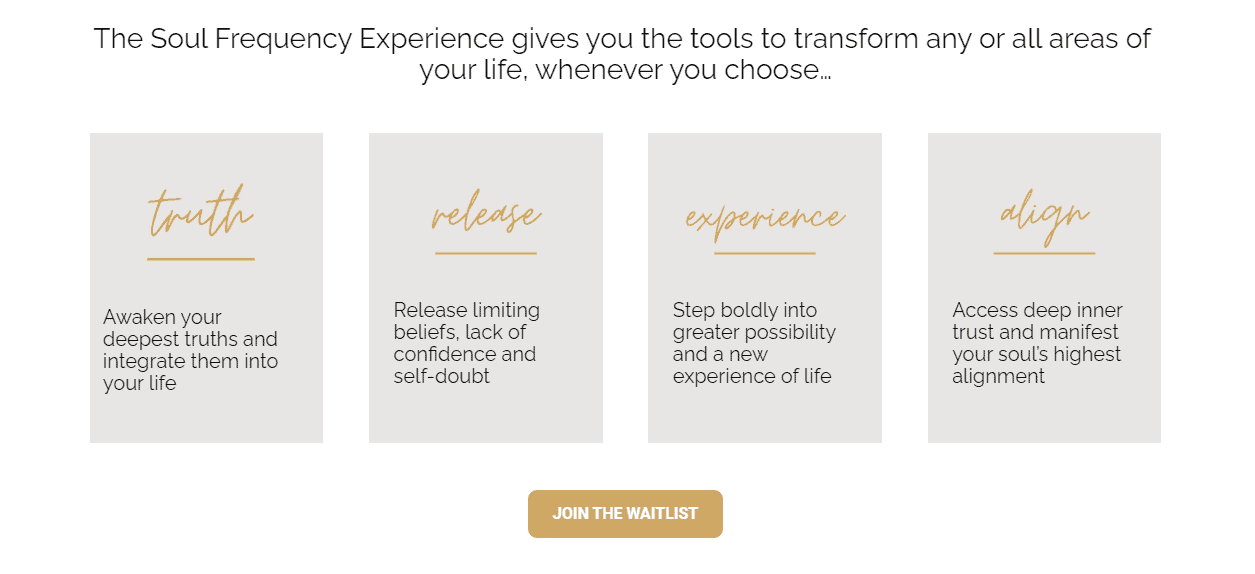 How did you get into the market?
I was born as a sensitive child. Sensitive meaning, I saw and experienced other dimensions.
It seems weird to write; I am not sure I have entirely wrapped my head around it, but my heart understands it. I had not talked much about it to many people until I decided to write a book for everyone to see, so I guess the cat's out of the bag: this was my reality. My parents graciously tolerated what they did not understand, and the only person who really got it was my rose-quartz-crystal-wearing and deeply spiritual maternal grandmother, Dorothy.
I don't blame my parents for not understanding, because I imagine it was inconvenient to come home after a long day at work and head over to sit down on the couch, only to have their small child yell "STOP!" because they were about to sit on one of her two-spirit friends. Our household was the making for a modern-day sitcom.
Eventually, my deep desire to fit in and be "normal" clouded over my connection to spirit, and the childlike curiosity and openness that I was born with gave way to looking around for validation.
So, I built a successful career in business and consulting for the real estate sector. I focused much of my professional life on sales and marketing until I woke up one day and realized I was living someone else's life. I had amassed things and achieved goals seeking fulfillment which seemed to elude me. It caused me to question the origins of fulfillment and define the importance of it beyond the societal definition of success. This inner contemplation leads me on a journey of self-discovery that has been nothing short of a wild and glorious ride. Through my own spiritual awakening, I was shown the steps we all move through in the alchemy of soulful transformation and I am honored to train and transform the lives of business leaders, celebrities, and fashion industry experts who want to create fulfilling lives.
Why did you decide to create an online course in the first place?
The Soul Frequency Experience program provides a safe and loving space to integrate the steps we move through during deep personal transformation. I wrote about the four steps in my book, The Soul Frequency, and shared my own personal journey along with spiritual tools to support others on their path of inner alchemy.  It is wonderful to learn about the tools through reading them and for those that want to fully embody and integrate them, The Soul Frequency Experience is my heartfelt offering to come together, live in a sacred circle, and transmute the old while expanding what is possible in their lives.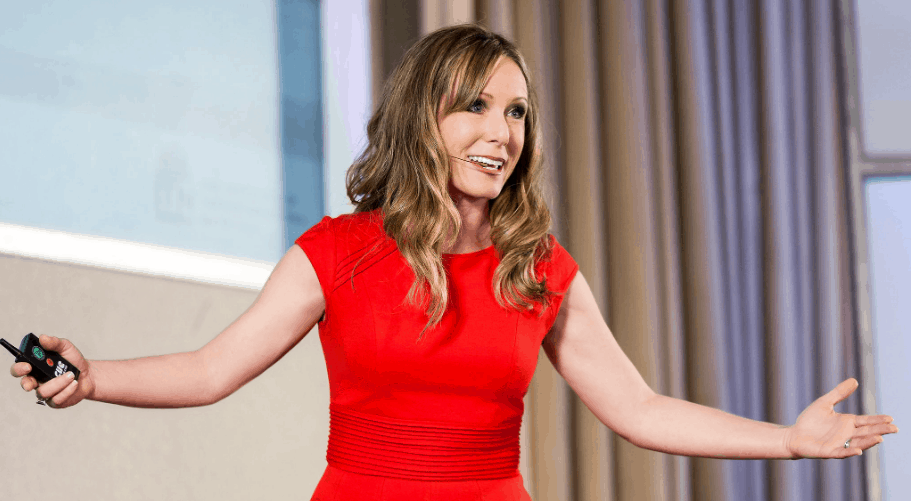 Did you have any moments of doubt before you created/launched it?
Building a course for the first time can be a sharp learning curve and feel like a mountain to climb.
I initially launched the course to my audience only and kept all of the tech very simple. I wanted to ensure the experience was valuable before I invested in creating a larger structure. - Shanna Lee
Click To Tweet
The first few groups of participants shared wonderful feedback and each time I hosted it, I improved the experience.  During the initial launch, I remember thinking to myself, "what did I get myself into?" There were so many wonderful lessons, challenges to overcome and there was so much growth in the early days.
If so what made you turn it around and do it anyway?
When you feel the call, it's hard to run from it!  I have constantly stretched myself and what I thought to be possible throughout building courses. I knew this information was important and I needed to put aside my considerations and allow the work to be the focus.  Sharing valuable information changes lives.  Who am I to stand in the way of that?
What's your online course like?
The Soul Frequency Experience is six -week, online sacred circle program. There is a total of 6 live sacred circle calls over the six-week experience. We come together in a small group setting for energetic clearings and coaching. Each person interacts on the calls receiving guidance.  All calls are recorded and yet, being live on the calls is something you wouldn't want to miss! During the week, between the live calls, participants have access to the online portal to review the weekly material and create your journal entries.  Each video takes you deeper into the process of inner contemplation to unlock a profound connection with your purpose and yourself.
How long did it take you to create your course?
It took 3 months.
Tell us a little about the process of launching your course and getting your first sale(s).
I shared it with my audience and it attracted several people very quickly.  It was a wonderful feeling!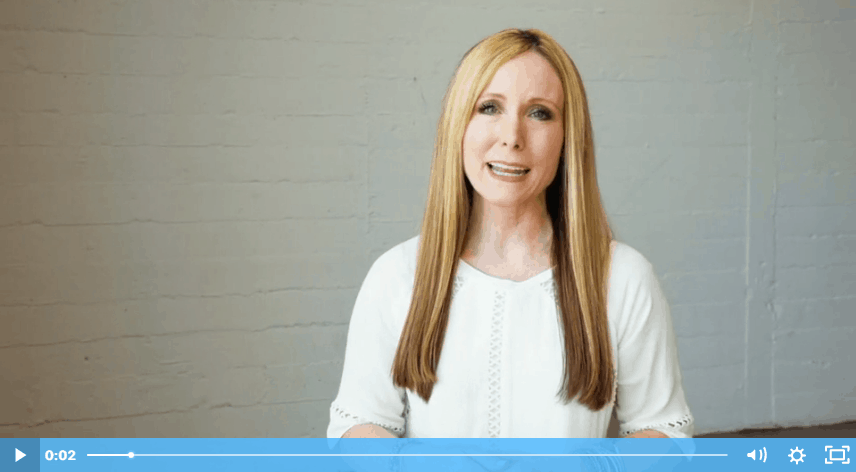 Do you have a lead magnet?
The lead magnet is the Infinite You Summit I have organized.  I invited a collective of stellar transformational leaders such as Rock Thomas, Christy Whitman, Natalie Ledwell, Marisa Peer, and many others to share their stories of trials and triumphs. The intention of this project is to have meaningful and impactful conversations exploring what happens when you want to give up and don't. Instead, you march out of your comfort zone, learn the strength of your soul, and reinvent your life.
What books or training programs have you found useful on your journey to a successful business owner that others might find valuable too?
I love the book, The Alchemist.  It is a powerful story of self-discovery and finding the courage to follow your own heart.  Also, one of the most impactful books on my journey was The Top Five Regrets of The Dying.  This book is the story of a hospice nurse who spent her days caring for people at the end of their lives.  There were some common regrets that people shared with her as they looked back on their lives.  This book came into my life and taught me to start REALLY living.  No regrets!
Do you have any big mistakes you've made along the way that you'd be willing to share?
I've made hundreds if not thousands of mistakes!  I make them daily and feel grateful that they are my teachers.  I'm always passionate about growth and mistakes are always a portal to more expansion.
What has creating your course done for you personally?
It has brought more beautiful souls into my life.  It has connected me with people around the world and I am grateful for the divine connections.  Also, there is a sense of accomplishment with any project.  As you navigate the new learning, it feels amazing to know you focused on an outcome and manifested it.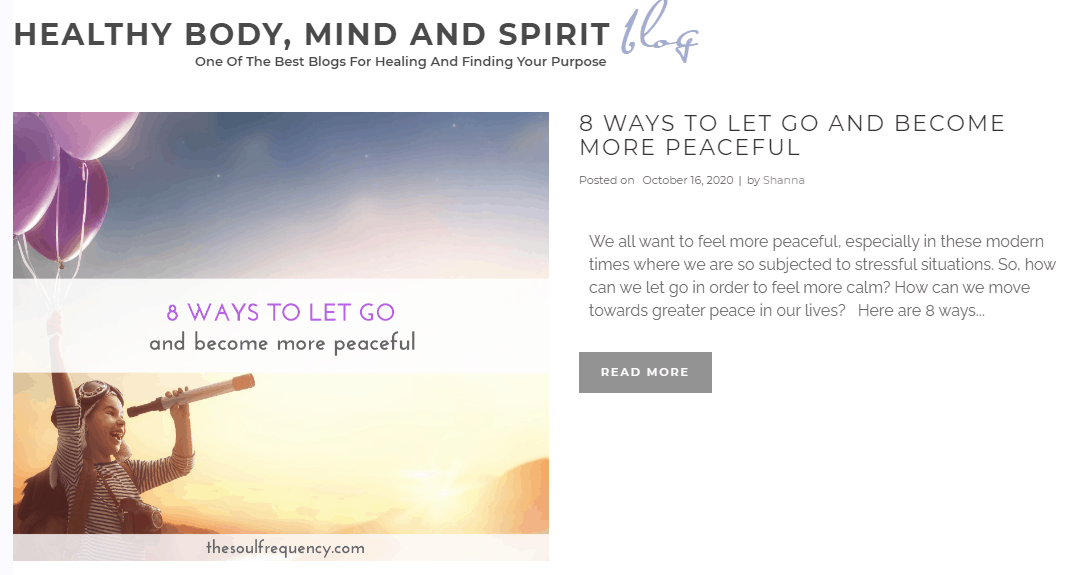 Do you have a story of a transformation from any of your clients?
I can share the story of Chris from Washington. She was an artist from a very young age but felt like she needed to choose a more serious "male" profession. For 30 years of her career, she worked in the US federal government contracting industry in a very large company focused on selling information technology and consulting services to the federal government.
Having built a multi-million dollar company handling government orders, Chris was still searching for more ways to express herself. She was the last person to believe art could make a career as "real" as information security. Yet, in 2019, Chris sold her successful $90 million business to become a full-time artist.
When I began working with Chris, like most people, she had many beliefs that were not based on truth and had created many patterns around these beliefs that were causing her pain and discomfort while preventing her from having the things she desired in life.  If there is pain; physical, emotional, or otherwise, there are beliefs that are out of alignment with the individual's core truth.  For sustained transformation, this must be identified and addressed first.
For Chris to create this new chapter in her life in health, business, and relationship, she had to get outside of the patterns and align to a new energetic frequency where these possibilities not only existed but were probable.  A new frequency equals a new perception of self and life and it naturally inspires tangible changes.  This allowed her to attract a loving relationship, continue to get healthier and create a new perception of herself as a full-time artist.  It also dramatically changed her artistic process and the style of art she creates.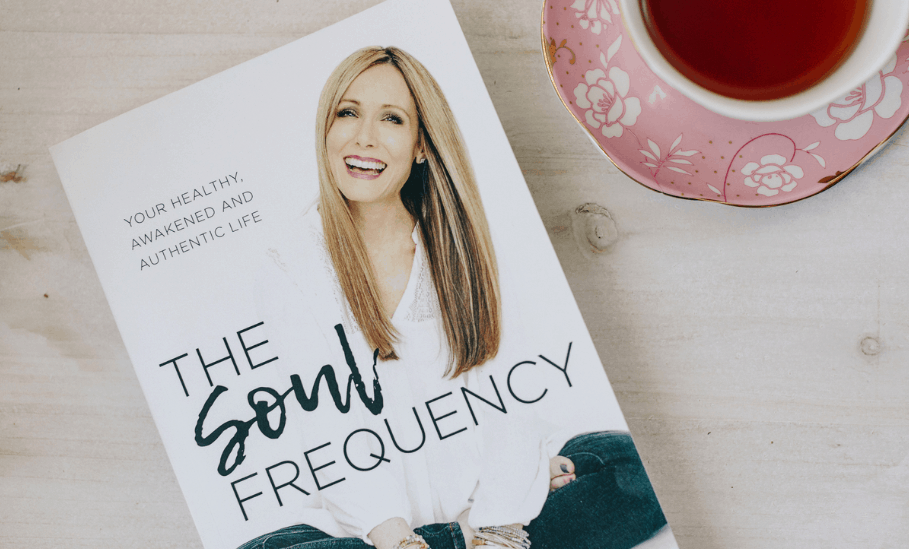 What advice do you have for people just starting out?
Connect with people! Look in your sphere and start reaching out - get people excited about what you are doing. -Shanna Lee
Click To Tweet
Bring your whole self to everything you do.  Be meticulous with your word.  Show up for people.  Work with people that you genuinely care about.  Hire amazing and brilliant people that are good at things that are not your strong suit. Think about systems and processes that support your desired growth – they will be the key to scaling someday. Count your wins. Have fun!
Learn More about Shanna Lee of TheSoulFrequency.com: