How Sarah Wayte Honed in on Her Home Page Copy Course and Released It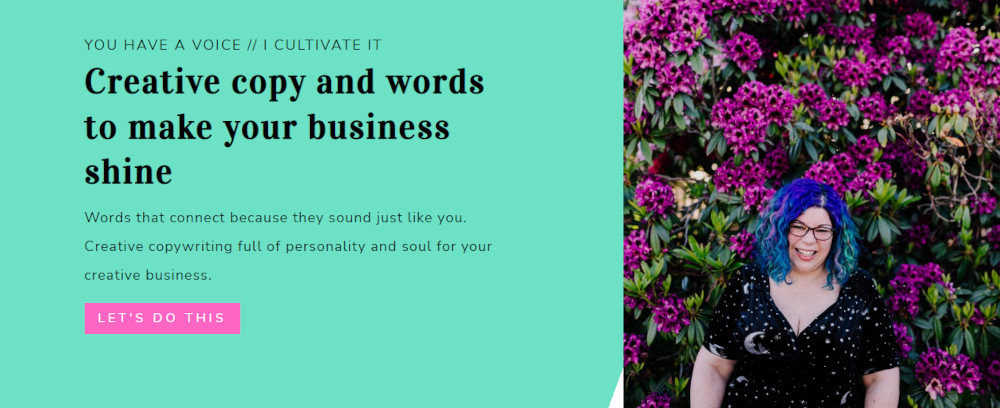 Our content is reader supported, which means when you buy from links you click on, we may earn a commission.
---
Who: Sarah Wayte
Website: sarahwayte.com
Course Topic: Copywriting
Interesting Stats: Increased list by over 100 in a month
Who are you and what course have you created?
I'm a creative copywriter and brand photographer based in BC, Canada. I write personality-driven copy and capture natural and relaxed brand photographs for creative businesses with a strong personal brand. Most of my clients are pretty feisty and independent female business owners too (much like me!).
I created my first copywriting course over the last 12 months. It was created for people who appreciate and know they need good copy but aren't ready (or don't have the means) to work one-to-one with a copywriter yet. It's the Home Page Copy Kit and it's all about helping business owners to write effective and impactful copy that's full of their unique personalities for their home page.
What market does your online course serve?
My course is designed for small businesses and creative business owners, predominantly offering a service. My clients are usually photographers, wedding suppliers, coaches, and other course creators. I've also worked with small business makers (quilters, candle makers, etc) as well as pet sitters and, once, an all-female construction company!
Basically, anyone who appreciates the importance of good copy but struggles to know where to start. Anyone who needs a guide to help them through the process.
What's the biggest benefit of taking your course?
Finishing up with a home page that converts more visitors and draws them into your customer journey. That way you get more inquiries and, ultimately, more bookings for your offers!
How did you get into the market?
As with most things in my life, I kind of fell into it! I've run a business since 2012 but, back then, I was a wedding and portrait photographer. I did that part-time while working as a paramedic. But I've been a writer for as long as I can remember.
In 2017 I decided to do a part-time bachelor's degree in Creative Writing and English Language. When we moved to Canada in 2019 from the UK, I decided to ditch being a paramedic. Instead, I went full-time running a copywriting and photography business. The copywriting side of my business very quickly became the main source of income.
I decided to work in this specific niche of creative businesses because it was what I already knew. - Sarah Wayte
Click To Tweet
I had a lot of experience from my wedding photography days. Plus, I just never really had a head for technical writing! I didn't really realize it was "copywriting" until I got talking to another copywriter (who also gave me my first client!) and realized what this profession really was all about.

Why did you decide to create an online course in the first place?
I'd been wanting to offer something at a lower price point for some time. I knew I couldn't offer a one-to-one service without seriously affecting my income. I initially thought about producing a much larger course that encompasses writing copy for your entire website. Instead, I decided to work in reverse and build up to that. The Home Page Copy Kit idea came about when I realized I already had a ton of content relating to home pages. That's when I knew I could offer a solid course on the topic.
Did you have any moments of doubt before you created/launched it?
Oh, it has been a series of doubts one after the other! Really for the whole of the last 12 months putting this course together. Putting the course together was actually the easier part of the whole experience. I had strong ideas about what I wanted the course to include. I spent some time listing it all out and coming up with an outline. I'm fortunate to have a sibling who has a background in training so she was able to guide me on that side of things.
Where I really struggled was in figuring out how to launch the course. Even as a copywriter, I found it hard to figure out just what I needed to plan out and what copy I needed to write. And it was way more than I could ever have imagined. There were many times I doubted my abilities. I often wondered if I was good enough if people would even want a course I had created.
If so what made you turn it around and do it anyway?
Can I say sheer stubbornness?! Hahahah. I mean, that's usually my way.
Seriously, though, I knew I had a good product and I knew it was achievable. I also had the support of a fantastic mentor and some wonderful business-owning friends who understood how I struggled. I was able to lean on them a lot, and ask tons of questions. They offered me their opinions, allowed me to rant at them, and show them what I was doing. I could get encouragement as I pushed forward.
And, honestly, I just got to a point where I'd put so much time into it that I didn't want to let it be one more thing that I never finished. I was recently diagnosed with ADHD and this is definitely something I have a lot of experience with. So yes, maybe we're back to me being plain old stubborn again, aren't we?!
What's your online course like?
I had high hopes for putting out this super slick and sexy course on a professional-looking platform with videos, exercises, workbooks, and everything else. What actually transpired is something far more low-tech. It's a series of Google Docs and videos now hosted on a private page on my website until I can finish it and make it fancier. The videos are presentations that I designed and recorded in Canva. I avoided putting my face in it this time so I could read a script (my own confidence issues!). Then there's an accompanying workbook and various sheets and questions for people to work through.
How long did it take you to create your course?
To date, it's taken me around 11 months to create my course. It's not entirely finished yet. I've got another 4 sections to complete and some bonus worksheets to write up before I can happily say it's all done. But now it's out there and people are buying it. I definitely have to get it done! Accountability is something that really helps me to get work done. I probably should have thought about doing this much sooner.
So, my process really hasn't been anything fancy. I first brainstormed all the things I thought a person would need to know to write their home page copy and, from that, formulated an outline for the course. Then I ambitiously laid out a bunch of workbooks I was going to create but, as I started writing the scripts for the videos, it naturally became a lot more concise. I realized I didn't want it to be a huge elaborate thing because it was important to me that it would also appeal to neurodiverse people like me. In this case, short, bite-size content is definitely better!
I used Canva to create my slides. I'm a huge fan of Canva and use it for all areas of my business and marketing. I pay for the pro version and it's really one of the best things I spend money on. Then I have hidden pages on my website to host the videos. I have WooCommerce installed on my WordPress website to sell the product. Eventually, I want to install an LMS too. That way people will have their own personal-access version of the course.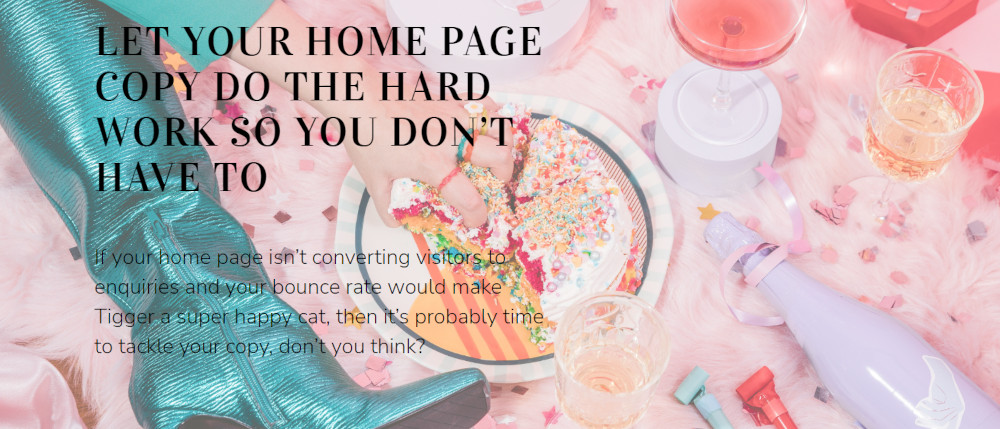 Tell us a little about the process of launching your course and getting your first sale(s).
Ah launching!
I think the first thing I want to mention here is that I couldn't bear the idea of the word "launch". Hands up, full disclosure, I'm a full-on word nerd. Because of that, I probably look a little more deeply into the meaning of words than most. The word "launch" just felt really rather aggressive to me though. It felt like I was thrusting my course into the world, or catapulting it, throwing it out there… all words that just felt… pushy!
Very early on I re-thought how I talked about putting my course out into the world. I preferred phrases like "releasing" and "putting it out into the wild". Those felt much more in line with my introverted personality. It became much easier to talk about it when I thought of it in those terms.
I knew releasing a product was more involved than just putting it out there and waiting to see what would happen. But I got completely overwhelmed by all the information I found about launching (there's so much of it everywhere) and, in true ADHD style, I shut down and totally froze.
It took me a while to figure out I needed to work on building my audience but doing this as an introvert is very challenging for me. I did all the very "passive" actions quickly – having a lead magnet which I had on my website to try and build my mailing list, posting regularly on social media, and putting out blog posts. But my audience numbers barely shifted. It was recommended to me that I should collaborate with other business owners with similar audiences but I really struggled with this.
I'm not naturally good at approaching people to get to know them, much less than start asking if they'd be interested in sharing my things with their audience! It's something I'm still learning how to do (SLOWLY). But I have grown my list a little and I worked really hard on putting out emails that my list would enjoy and engage with.
Ultimately, I totally over-thought the whole process leading up to the release of my product.
How many socials to put out? When? What to say? What platforms to use? How many emails? How long should my sales page be? Should I hold a live event? All the questions! Then it hit me one day… this is a relatively small-ticket item. I really didn't need to overthink it so much! Suddenly, something freed up in me and I wrote my sales sequence and sales page one afternoon and I was off. I've definitely learned a lot for future "launches", that's for sure!
In the end, I did a 2-ish week run-up to open cart with some socials (a mix of static images, carousel posts, and even a few reels) pushing people to a waiting list. And I then sent out an email the week before letting people know it was coming before I opened the cart the following week. It went well. I made my first sale less than 12 hours after it went out!
Do you have a lead magnet?
Yes, my lead magnet is a pared-down version of the course. It's called The Home Page Starter Pack and it lightly runs through the sections every home page needs to make it work for your business. I've had some really great feedback on it and a lot of people have used it to make significant changes to their home page. I get a steady number of sign-ups to it each month but low numbers right now.
What's the traffic strategy that works best for you?
Ha! I'm not sure there's really a "strategy" going on here in all honesty. I get the majority of my traffic through social media (I use Facebook, Instagram, and LinkedIn consistently), SEO/blogging, and word of mouth/referrals from previous clients. I'm starting to learn about how useful collaborations with other business owners can be though, as well as PR, so I'm making an effort to really start putting my business and courses out there.
What online course platform are you using?
The honest answer is, I'm not!
I did look at the various platforms and I've got a lot of experience with many of them as a user but I had actually decided I wanted to install Lifter LMS onto my website and use that as my course platform. I'd been recommended it by a website designer I know and it looks relatively simple to work with.
But, in the end, I ran out of time to install it, set it up, and make it look good so, right now, I've gone with the very low-tech option of Google Docs and videos embedded on a hidden page of my website. My main priority is to deliver the content right now. Once it's all complete, then I can focus on prettying it up!
What other tools do you use to run your online course business?
Let's see. I use…
…Dubsado as a CRM which allows me to automate a lot of the early parts of booking clients – the contract, invoicing, onboarding and so on.
…Canva for designing social posts and all my assets, including my business cards.
…Zoom for all my meetings. I much prefer video chat over a phone call.
…SocialBee for scheduling all my social media posts. It's really grown since I first got it and I can even schedule stories and reels now!
…ClickUp for project management, synced with Google Calendar to keep me on track.
…QuickBooks for invoicing and tracking my finances.
…Noota for transcriptions.
…Hippo Video for hosting my videos to embed on my website. They also include Closed Captions!
What books or training programs have you found useful on your journey to a successful business owner that others might find valuable too?
One of the most useful books I read, which really got me to start properly addressing my finances with my business was Profit First by Mike Michalowicz.
Most of the training programs I've used have been more skills-specific rather than running a business but one of the best things I ever did for my business was signed up for The Marketing Fix which is an online membership run by Melissa Love. It's the best community space and so supportive.

Do you have any big mistakes you've made along the way that you'd be willing to share?
The biggest mistake I made was overthinking everything and freezing as a result. - Sarah Wayte
Click To Tweet
Don't get me wrong, I now know how much work is involved in putting together a course and launching it and it's not a quick and easy process. BUT, that being said, it didn't have to be nearly as complicated as I made it either. As an example, I was stressed and became so overwhelmed when I was researching how to write an email sequence to sell my course that I still hadn't written a word after 6 hours. I then suddenly realized that the email sequence didn't have to be that complicated, particularly as my course is considered a "low ticket" item. I didn't need to be writing tomes or lengthy sequences. Once I unlocked that realization in my brain, I rattled out a sequence in around an hour!
Please share some idea of revenue.
It's very early days. My course was only released on January 16th and after 10 days I sold 6 copies. It's on beta release for C$75 right now until the end of January, when I'll be increasing it to C$150. So yeah, so far I've taken C$450.
Please tell us a little about what the money you've earned from your course has done for you.
So right now it hasn't made any significant difference at all but I will say this… the morning I woke up to see I'd made a sale while I'd slept was the absolute BEST feeling. I've been wanting to introduce "passive income" products into my offerings for a long time now.
I know, of course, that's a bit of a misnomer because it's really not passive at all, given the amount of work that goes into producing a course. But finally reaching a point where I put something out that I've created and now have people buying it with not very huge amounts of input from me at this point shows me I can create more and the feelings and anticipated freedom that is going to give me is an incredible value.
In addition to revenue are there any numbers you would like to share?
Building my email list has definitely been an integral part of the work that needed to be done before I started selling my course. My email list is not big by any stretch of the imagination. I've got around 160 subscribers give or take right now. But at the start of 2022, I had 50.
I spent time revamping my dusty old lead magnet that was the perfect lead for my course but I needed to update it, make the content more relevant and do a better sign-up page for it. Then I got to work really pushing it wherever I could. Signing up for my lead magnet became my main call to action in all my marketing.
I linked up with some other really wonderful business owners, who happily shared my freebie with their lists, and doing that helped me increase my list by over 100 in just over a month. - Sarah Wayte
Click To Tweet
Given it'd been at 50 subscribers for the last couple of years, I was incredibly happy with that!
What has creating your course done for you personally?
I definitely do feel more confident after getting my course out there, especially now I'm starting to get feedback from people telling me that it's really useful and helping them write their copy! It's also spurred me on and motivated me to create more courses going forward. I'm hoping the next one won't take me quite so long to do!
Do you have a story of a transformation from any of your clients?
I haven't had anything like that from the course yet since the course is still being completed and it's very early days. But I did get a wonderful piece of testimonial for my lead magnet which is a high-level look at what the course covers which I'd love to share. She said:
"I put off redesigning my homepage for months even though I knew it was awful. Every time I looked at it, I just felt so stuck and overwhelmed. I didn't even know where to start. Luckily, I met Sarah! Her Home Page Copy Starter Pack was exactly what I needed to take action and update my homepage. I'm no professional designer, but it's 1000x better thanks to Sarah's help!
Sarah's guide made it so easy to get started. I just walked through each of the sections on her list and checked them off as I went. Her tips really helped lead me through writing the copy so that it didn't feel like a chore. Months of delay probably would have turned into years with an ugly homepage. Ick! So, so grateful for this resource!! "
Receiving that feedback and being able to see the before and after of her home page was so rewarding and put the biggest smile on my face. It helped me to realize I was doing something right, that I do know my stuff and I can teach it successfully in ways that others can understand and follow (and ACTION more importantly!).
What advice do you have for people just starting out?
My advice for people just starting out is always the same thing. There are thousands upon thousands (if not more) of resources out there all teaching you different ways to do different things in your business and it can be incredibly overwhelming. Also, the urge to do what everyone else is doing because you think that's what you SHOULD be doing is great when you're just starting out.
My advice is to listen to your instincts—try not to collect all the shiny advice because it will lead you to become stuck and not know which way to turn. Instead, go with the resources and advice that resonate with you. What feels right to you? If you were buying from someone like you, what would YOU want to see?
I firmly believe there's no right or wrong way to run a business, there's only your way and what FEELS right to you. - Sarah Wayte
Click To Tweet
Get used to relying on that gut feeling and you'll go far!
I really do wish I'd known that before starting my business. I spent so much time asking everyone what they thought and what they thought I should do that my message was so mixed up and garbled even I didn't know what I was selling half the time!
Learn more about Sarah Wayte of sarahwayte.com: