When Sarah Becker Realized Her Clients Needed a Money Mastery Course and How it Turned Out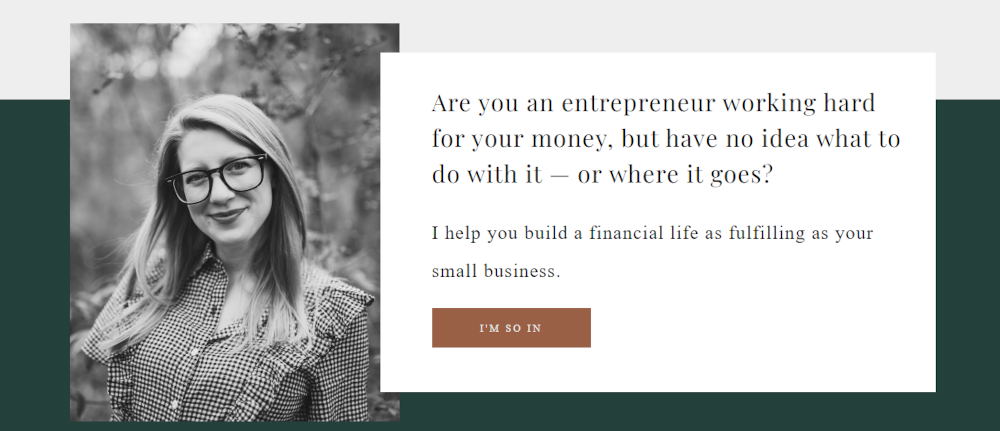 Our content is reader supported, which means when you buy from links you click on, we may earn a commission.
---
Who: Sarah Becker
Website: beckertalksmoney.com
Course Topic: Finance
Interesting Stats: First-course launch brought in $15k 
Who are you and what course have you created?
I'm a financial educator for solopreneurs and online course creators. You can learn more about my signature course Master Your Money.
I also have a mini-course for small business owners just starting their businesses.
What market does your online course serve?
My market is fellow female entrepreneurs and course creators.
What's the biggest benefit of taking your course?
After taking my signature course, Master Your Money, you'll:
Have clear financial goals, and a plan to meet them.
Know how to run your finances, month-to-month and year-to-year.
Have a personalized budget for fluctuating income.
Understand tax categorization, brackets, and write-offs.
Get an actionable plan for retirement savings.
Go from financial confusion to clarity.
and from overwhelmed to in control.
How did you get into the market?
After ten years as a wedding photographer, real estate investor, and small business owner, I kept hearing the same story from my biz besties over and over again. While outwardly successful in their businesses, they were utterly failing in their financial goals (if they even had financial goals).
Sound familiar?
I started asking every businesswoman I knew about their money. I learned that less than 2% of the creative entrepreneurs in my network were happy with the state of their finances. That's when I started my career as a financial educator.
Why did you decide to create an online course in the first place?
Honestly, because all my clients suggested it! I knew I wanted to do a course at some point – I was thinking maybe year two or three of business, after really getting to know my ideal client through one-on-one work. Turns out, I ended up launching a course in MONTH three – not year three! I realized the needs of my clients were already subjects I was an expert in, and that all my clients were asking the same questions. I needed a way to educate them that could be scaled. The answer was the Master Your Money course!
Did you have any moments of doubt before you created/launched it?
Considering I created and launched the course so early on in my business, I definitely doubted that I had enough reach or audience to make it a success. I had around 200 Instagram followers, and that was it! My goal was to sell five tickets to my course – and after a week of the open cart, I had sold over 10x that!
If so what made you turn it around and do it anyway?
I decided that even if I helped five people, it would be worth it. Lowering my expectations for sales on my first launch, let me really have fun with it and authentically engage with my audience not stressing over if they would buy or not – just truly getting to know them, their needs, and how (and if) I could meet them.
What's your online course like?
My online course is very video-heavy! I used Canva to create presentations and Loom to film my voiceovers – with my face included, too! I think that really helped my students connect with me. There's also a good bit of text, homework prompts, and PDF guidebooks!
How long did it take you to create your course?
I created my course outline over a few weeks, guided by the questions I'm asked most often by my one-on-one clients. I build out the first module of five before opening the cart, and then after my launch, I took a five-day "workcation", cleared my calendar, and build out the remaining four modules.
Tell us a little about the process of launching your course and getting your first sale(s).
My launch was very casual – I launched on Instagram and via email! My first sales came in right away and I literally screamed! Starting with that momentum kept me going for the entire week. I showed up on Instagram every day (by posting twice a day, and in stories) and sent three emails total in that week.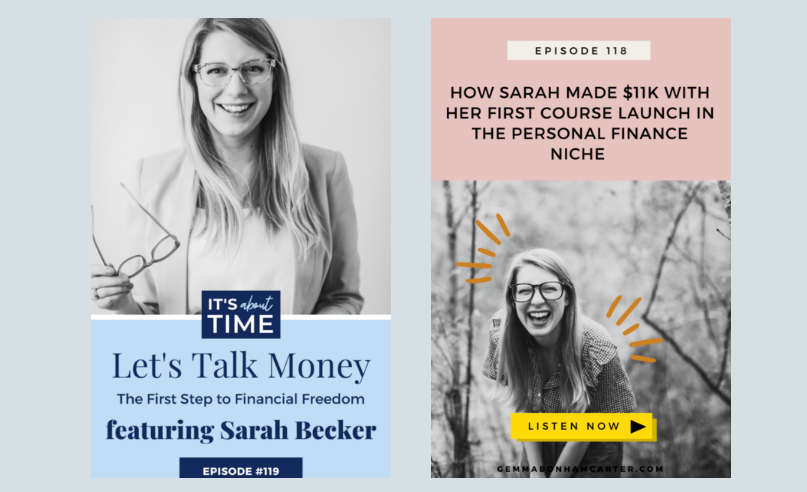 Do you have a lead magnet?
I didn't have a lead magnet for my first launch (oops!), but I've built out several in anticipation of my second launch. My most popular lead magnets are my annual budget spreadsheet and money routine checklist.
What's the traffic strategy that works best for you?
My current traffic strategy is Instagram – and it's really fun! However, I don't want to have all my eggs in one basket. I'm also building up my email list and getting started on Pinterest.
What online course platform are you using?
I used Thrivecart Learn and I can't say enough good things about it. It was intuitive, linked up perfectly with my Thrivecart checkout page, and was a one-time fee – no monthly subscription charges over here!
Are there any features you wish it had?
No, it's incredibly well thought out.
What made you decide to use your chosen platform over others?
I chose Thrivecart because of its simplicity and its one-time fee – the value is unreal.
What other tools do you use to run your online course business?
I use the following tools:
Canva – Design
Google Calendar + Keep – Organization
Loom – Videos
Mailerlite – Emails
Showit – Website

What books or training programs have you found useful on your journey to a successful business owner that others might find valuable too?
I took Gemma Bonham-Carter's Course Creator School and it was extremely helpful to organize my ideas into a course and get a marketing plan.
Do you have any big mistakes you've made along the way that you'd be willing to share?
I really went for it on my first launch even though I knew it wasn't perfect. - Sarah Becker
Click To Tweet
Now that I'm gearing up for my second launch, I'm struggling with wanting it to be perfect this time. However, I truly believe that perfectionism is the biggest enemy of entrepreneurship. It's not going to be perfect! Showing up 100% wholeheartedly is more important, so that's what I'm trying to focus on.
Please share some idea of revenue.
Even though my goal was just five students at $297 each for a total of $1500, I blew that out of the water and ended up with 55 students and over $15k in revenue! - Sarah Becker
Click To Tweet
I also offered an upsell of a one-hour consultation call with me for 50% off. Over half of my students purchased this!
Please tell us a little about what the money you've earned from your course has done for you.
My first-course launch brought in $15k and happened right before I took the summer off – amazing timing! It also helped me achieve my dream of living in two places. With my online business, I'm able to spend half the year in New England and half the year in New Orleans.
What has creating your course done for you personally?
The success of Master Your Money helped prove the concept of this idea – that female entrepreneurs absolutely need financial education and guidance! That is so exciting to me as I am so passionate about this business.

Do you have a story of a transformation from any of your clients?
Yes! I received so many amazing testimonials (see below) that made every hard part of course creation worth it!
What advice do you have for people just starting out?
Just go for it! Be okay with B+, you don't need to be A+++ to make it happen. Just get started and tweak as you go!
Learn more about Sarah Becker of beckertalksmoney.com: