How Samuel Devyver Helped Build His Workplace Training Company to Over 5,000 Customers and Double Revenue in 2022

Our content is reader supported, which means when you buy from links you click on, we may earn a commission.
---
Who: Samuel Devyver
Website: easyllama.com
Course Topic: HR Training
Interesting Stats: Over 25 employees
Who are you and what digital training company have you created?
EasyLlama was founded in 2019 by Samuel and Michaël Devyver to equip companies with engaging workplace training that promotes a safe, inclusive, and equitable work environment for all.
With the gravity and seriousness of the topics we teach, our goal was to create a brand with which learners would feel comfortable and at ease. A mascot that would be a friendly guide through tough topics, thought-provoking questions, and sometimes sad materials. From these objectives, our Llama emerged – an intelligent and gentle animal known for building great relationships with humans. Llamas are natural protectors, teachers, and guides, making them the perfect mentor to accompany learners through the training modules.
What market does your digital training serve?
EasyLlama's clients come from many fields, including offices, healthcare, restaurants, retail, manufacturing, construction, and more. Some states mandate specific training requirements, so we partner with various company sizes. Our Starter plans begin at just five training licenses, moving up to our Enterprise-level plan for companies with more than 10,000 employees, which includes personalized onboarding, advanced training customization, custom integrations with existing LMS and HRIS platforms, and much more.
What's the biggest benefit of taking your online courses?
The most significant benefit of EasyLlama training is the level of production of our engaging, best-in-class courses. With other outdated compliance training programs, you'll get unrealistic scenarios, stale content, and boring learning modules that leave learners disinterested and unengaged. EasyLlama is shaking up the status quo with courses featuring Hollywood-produced videos, expert-researched, up-to-date content, and engaging knowledge checks that boost retention and promote a positive workplace culture.
How did you get into the market?
We founded EasyLlama in 2019 in light of the critical workplace issues that surfaced during the #MeToo movement because we believe nobody deserves to be a victim of harassment or discrimination, especially in their place of work.
Why did you decide to create a digital training company?
We wanted to create courses that are high-quality, fun, and different than the cheesy and outdated training that we have seen in the industry while at the same time having an impact on the behavior of our clients' workforces.
Did you have any moments of doubt before you launched your training company?
Before officially launching EasyLlama, we created a landing page and Google ads. So from day one, we realized that people were interested in new, innovative solutions for compliance training. However, when we launched, we didn't have a massive library of training, so we had to catch up to our competitors who had an extensive library, and that's where we sometimes felt we weren't good enough.
We didn't have doubts that there would be a market for EasyLlama because we knew we could compete by providing mobile-first training with micro-learning options, and we knew that no one was doing it the same way as we have. We've spent a lot of time creating new courses, and that's where it got exciting. Knowing that we could offer a better training solution made us overcome doubts and move forward.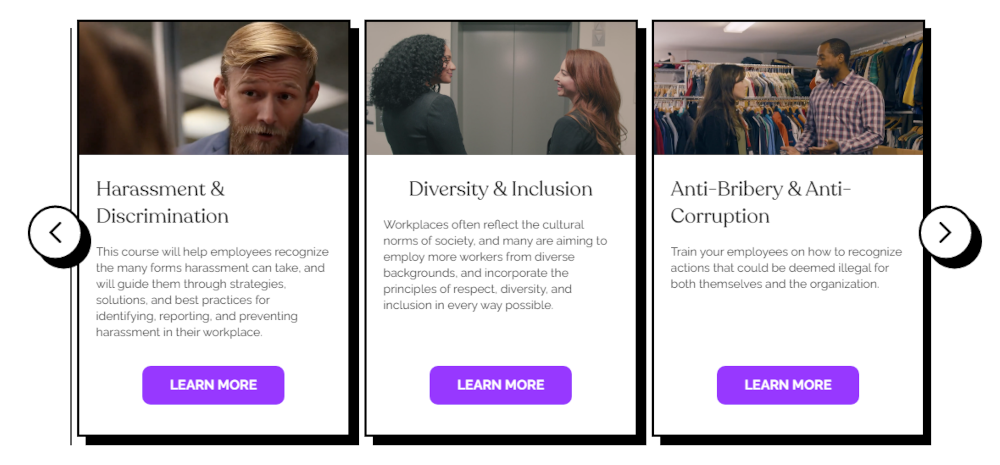 What are your online courses like?
EasyLlama courses include a variety of interactive elements, including real-life video scenarios, coupled with a multitude of different interactive games, quizzes, and knowledge checks. Our Hollywood-produced videos and course content are crafted on scenarios that we could see in the real world to help employees resonate with the material presented and promote appropriate workplace behavior.
Users can easily navigate our courses with authentic audio narration and captioning, which assist employees with comprehending content and improve inclusivity and accessibility. EasyLlama courses are available in 100 languages, so the needs of overgrowing diverse workforces are supported. Course length ranges from 30-120 minutes, depending on the material covered and compliance requirements.
How long does it take you or your team to create a new course?
Our content team works diligently to create new courses regularly (approximately 33 courses per year), along with frequent updates to existing courses. New for 2023, we'll also be releasing five-minute mini-courses on topics important for nurturing positive workplace cultures. We employ HR, diversity, and compliance experts to handcraft all courses from start to finish, using software designed and maintained by CTO Michaël Devyver.
Tell us a little about the process of launching your first course and getting your first enrollment(s).
We built our software, so we don't depend on an outside LMS and the tool to build courses. That allowed us to be more creative; we knew that we needed to build it ourselves to be different. The look and feel of the other vendors were all the same because they were all using the same tools to build their courses. We cater to smaller businesses and enterprise clients with a self-serve option to buy licenses, which allows us to start very quickly. We got our first contracts enrolled with an essential LMS to assign each training to their employees themselves since we didn't have as large of a customer support team at the time.
Do you have a lead magnet?
We provide a free preview of our courses to potential clients, allowing them to experience our engaging content for themselves. Our sales team is excellent at showing clients any dashboard features they are interested in during the sales and onboarding process, whether integrations with existing HRIS and LMS tools, automated email and text reminders, segmentation by location, custom compliance certificates, and much more. We also provide free educational materials like ebooks and guide to provide valuable information to potential customers.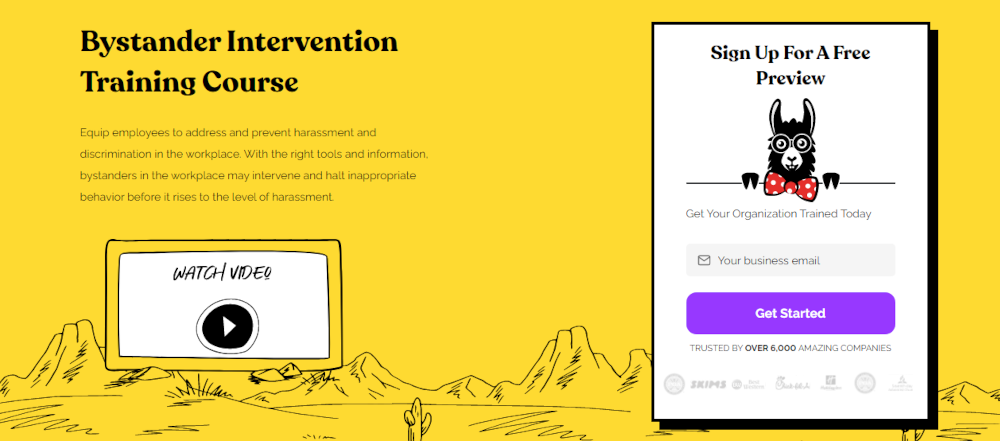 What's the traffic strategy that works best for you?
We started by relying heavily on Google Ads traffic. This allowed us to capture existing interest in the marketplace. However, we are currently branching out to different channels, including building a sophisticated SEO strategy to continue capturing organic traffic and utilizing other paid social channels to diversify our lead generation machine.
What online course platform are you using?
Our online course platform was custom designed by our CTO, Michaël Devyver.
Do you like it?
The platform has grown over the past several years with continuous upgrades and aesthetic improvements. We especially enjoy the flexibility of having our software, the ease of adapting it to ever-changing needs, and the competitive advantage it provides over competitors that use a standard LMS.
Are there any features you wish it had?
Our clients have rated our dashboard and platform five stars on several platforms, including G2 and SHRM. While we continue to upgrade, we have seen great satisfaction with it overall.
If clients request features, it goes on our product roadmap for development. The flexibility of owning our software allows us to ship features quickly. - Samuel Devyver
Click To Tweet
What made you decide to use your chosen platform over others?
We created our training platform to maintain the most significant level of control and customization for our clients.
What other tools do you use to run your digital training business?
We engage several tools to run our business. The content team uses Asana, Boords, Google Drive, and our custom course platform to design and update courses. Our digital advertising tools include LinkedIn Advertising, Google Ads, and marketing tools like Hubspot. And our whole team stays organized and in frequent communication using Slack, Notion, Asana, and Figma. Our employees also use our integration partners at Gusto to manage their payroll, insurance, and other benefits.

What books or training programs have you found useful on your journey to a successful business owner that others might find valuable too?
We don't come from the training/HR compliance industry. That allowed us to have fresh eyes and make a big difference. We mostly looked at existing solutions in the market to differentiate ourselves. We (Sam and Michaël) were also accepted to the Y Combinator, an exclusive 3-month technology startup accelerator program, and their education was beneficial. They also provide several resources and videos for the public to access.
Do you have any big mistakes you've made along the way that you'd be willing to share?
We started with a "pay as you go" option without subscriptions, especially with regular compliance training; we wish we had started in a subscription model from the beginning.
Also, as an entrepreneur, it can be easy to try to say yes to everyone to make connections and please everyone. But by creating more strict answers and standards, you can expand your growth and be in control of your destiny. - Samuel…
Click To Tweet
Please share some idea of revenue for your digital training company.
We currently have 5,000 customers ranging from small businesses to enterprise-level, and we are proud to have doubled our revenue from 2021 to 2022. Fortunately, we are growing fast, with profits of over 30%. We're also self-funded, making it a point to invest nearly all our profits into growing the company.

Please tell us a little about what the money you've earned from running your digital training company has done for you.
We are proud to have grown the company to over 25 employees in just a few short years – and we plan to double that number in the next year. We've continued to reinvest the money we've made in the company. We pay ourselves a salary that allows us to live, but we are most excited to reinvest in the business now. It's a considerable achievement to reinvest in our company culture. One of our proudest achievements in 2022 was hosting an in-person company retreat with our employees working remotely across the country. EasyLlama is exceeding our objectives and meeting big and fast goals, but we are still at the beginning.
In addition to revenue are there any numbers you would like to share?
We're very fortunate to have built a proprietary platform that created a solution for which there was an apparent demand in the market. This demand, coupled with a strong marketing strategy, allowed us to increase the number of marketing-qualified leads by 77% QOQ. This strategy and synergy between marketing and sales allow us to continue to have record-breaking revenue growth, MOM.

What has creating your digital training business done for you personally?
Personally, it has provided a sense of accomplishment and confidence. Building a startup is very hard because you never know if you will make it to the next day, especially in the beginning. We believe that you aren't successful until your clients tell you so, and our goal is to have both a happy team and happy clients. We are proud to say that our customer satisfaction score is over 90%, and we feel very accomplished to have built a product that the market finds valuable and a company everyone likes.
What advice do you have for people just starting out?
I would remind people that just starting a company takes time. Many founders are trying to find a new product, but I recommend trying to find a niche and do it better.
The Y Combinator program says, "Find a 10x," meaning that you can find a product or service that you can make ten times better than the competitors. - Samuel Devyver
Click To Tweet
You have to understand the market and identify something that people will appreciate. The market is enormous because compliance training is required for many states and industries.
Learn more about Samuel Devyver of easyllama.com: