How Ryann Dowdy of Uncensored Consulting Helps Entrepreneurs Make More Sales Through Her Online Training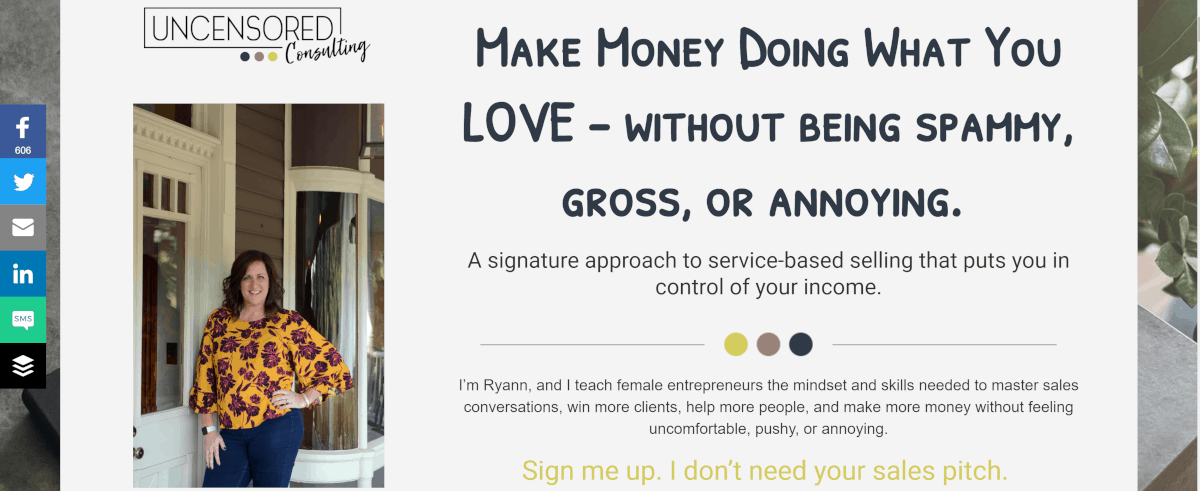 Our content is reader supported, which means when you buy from links you click on, we may earn a commission.
---
Who: Ryann Dowdy
Website: uncensoredconsulting.com
Course Topic: Sales training
Interesting Stats: 1500 subscribers to Facebook group in 9 months
Who are you and what course have you created?
I am a Sales Coach and my online coaching program is the Uncensored Sales Program. It's a hybrid program with group coaching, accountability, and coursework.

What market does your online course serve?
I work with new, female B2B Service Providers. Essentially, I help women make money doing what they love by mastering their sales conversations and their sales mindset.
My clients are copywriters, digital marketers, web developers, graphic designers and so on. They have amazing skills to share with the world – but they've never had to sell a day in their lives. It's totally foreign to them. Most people don't realize that entrepreneurship is a sales job.
What's the biggest benefit of taking your course?
#1 – knowing the step by step process to take to get new clients. And without being sleazy, spammy, or annoying.
How did you get into the market?
I spent 15 years in the Corporate world – in sales! From individual contributor to trainer + coach, to Channel Sales Manager, and finally Director of Sales – I've been selling my entire career.
What I didn't realize, as I blindly climbed the Corporate ladder – is that most people HATE sales. The very thought of it stresses them out.
I set out to change that.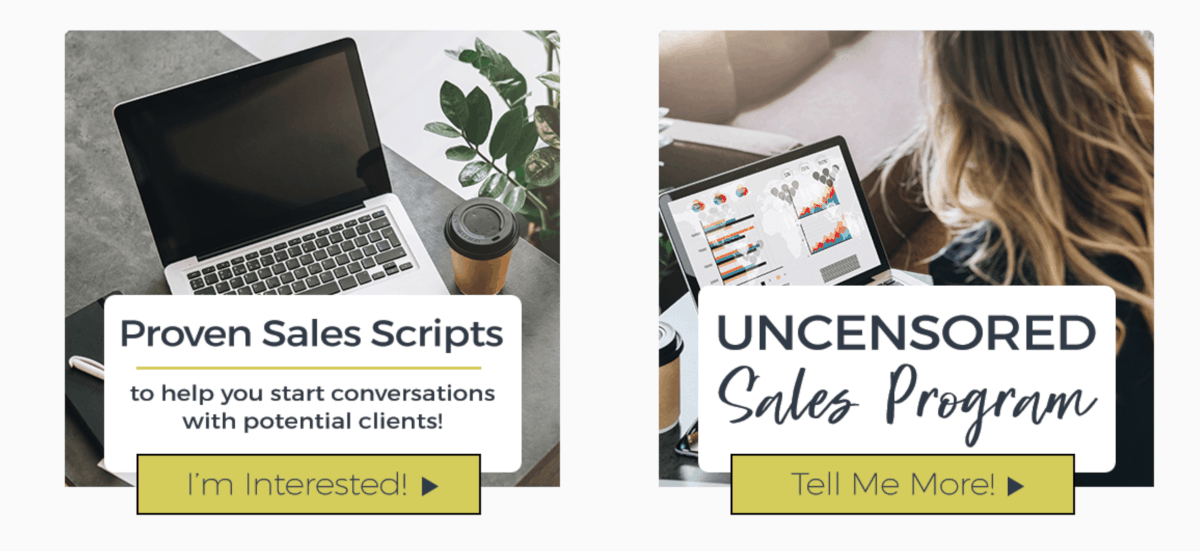 Why did you decide to create an online course in the first place?
I went back to work after my first son was born to my "dream job." About 4 months in, I realized that something wasn't right. I realized that I didn't want to do this forever.
But, as the breadwinner in my family – and having ONLY worked for someone else – I had no idea what my options were.
I networked extensively, chatted with people about the work that they did, how they got into, etc. and realized the sales problem.
There are SUPER, super talented women EVERYWHERE – doing amazing things. But they were struggling. Their businesses were barely scraping by. All because they have ZERO sales skills. I was not okay with that.
Did you have any moments of doubt before you created/launched it?
No. I had tested, tested, and tested some more. There is always the fear that people won't buy. But I knew that the program was SO needed and that my 15 years of research and education were second to none to what people were going to find in the online space.
If so what made you turn it around and do it anyway?
As I was building my audience and networking – I just kept seeing the gap. Sales training is NOT a thing in online entrepreneurship.
What's your online course like?
Right now – it's all audio-based.
It's getting an update in 2020 – it will have slides and workbooks.
I do a ton of live training + coaching, too. I think the human to human element is pretty important. -Ryann Dowdy
Click To Tweet
How long did it take you to create your course?
I taught it live 2x. That way I was able to get feedback from my audience. It helped me figure out what I didn't like and what gaps existed.
Once I did that – it was super easy for me to sit down and record.
I was able to use specific examples and address the questions head-on.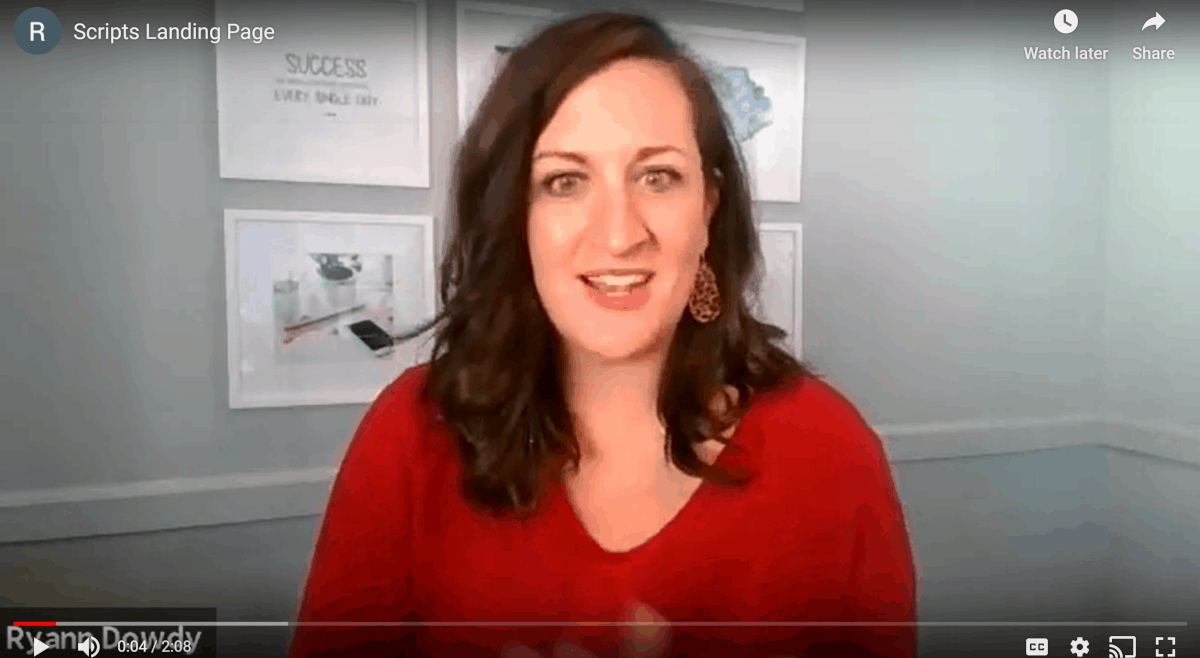 Tell us a little about the process of launching your course and getting your first sale(s).
As a sales coach, I sold it first.
I am a big believer in pre-selling your course:
To know if your audience even wants/needs it.
To avoid wasting time creating something that doesn't/won't sell.
THEN – teach it live. Get feedback. Interact with your people.
Then – record it!
Do you have a lead magnet?
I did early on in my adventure.
However, I quickly realized that my free Facebook group had more free training and resources than any PDF would/could. Now, I just invite people to my free group. That's how they get into my world, binge my content, and decide whether or not to buy.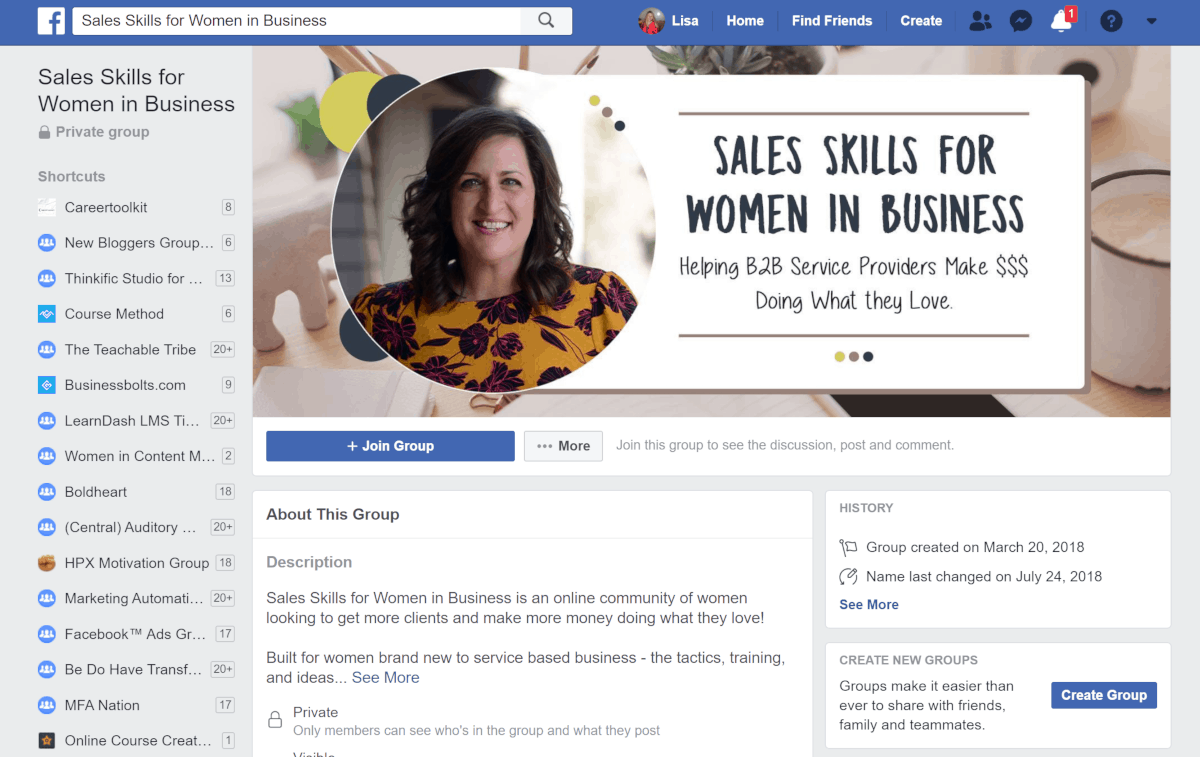 What's the traffic strategy that works best for you?
I've used 90% organic strategies to grow my business and program.
We network. A lot. In Facebook groups. On Instagram. On LinkedIn. In-person. Getting on stages. Providing a TON of value for free. Leverage our personal Facebook profiles. -Ryann Dowdy
Click To Tweet
We are just now adding advertising.
I use the Live Launch Method, taught by Kelly Roach, to launch my program.
In between 5 day launches, we do shorter workshops to convert.
I also have a Social Sales rep that connects with the people in our audience and pulls them into our sales events.
What online course platform are you using?
Kajabi is where we're headed! It's new for us, but so far so good and it seems to have everything we need in an online course platform!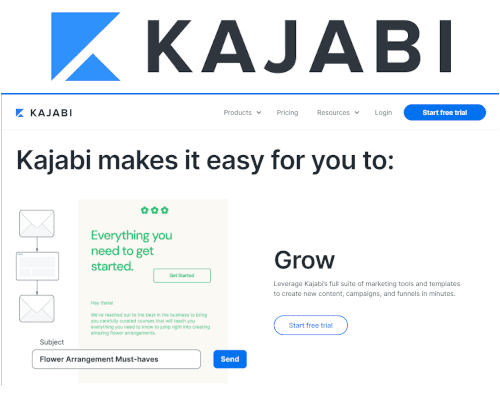 Kajabi is the All-In-One Course Platform
Kajabi is one of the top online course platforms used by successful course creators interviewed on coursemethod.com. Kajabi includes email marketing and other tools that make it easy to run your entire business from their platform.
Price Range: $149 to $399/month
Most Popular Plan: Growth Plan at $199/month
Annual Discount: Yes, take 20% off!
Free Trial: Get a 14-day free trial (credit card required)
*Our content is reader supported, which means when you buy from links you click on, we may earn a commission.
What made you decide to use your chosen platform over others?
Customer service. Simplicity. Hands down!
What other tools do you use to run your online course business?
Our community lives on Slack – which is a pivot away from a Facebook Group. After getting locked out of Facebook a few times for "security reasons" I realized that I didn't want my Community to live on a platform that …. one that makes up their own rules.
We have robust Slack Channels that allow us to build a community and connect with our students. That's a recent switch – but we're loving it!
What books or training programs have you found useful on your journey to a successful business owner that others might find valuable too?
Kelly Roach's Unstoppable Entrepreneur – hands down! I'm in her Legacy Leader's program, too.
Otherwise, I am an AVID consumer of content. Primarily sales and marketing-driven.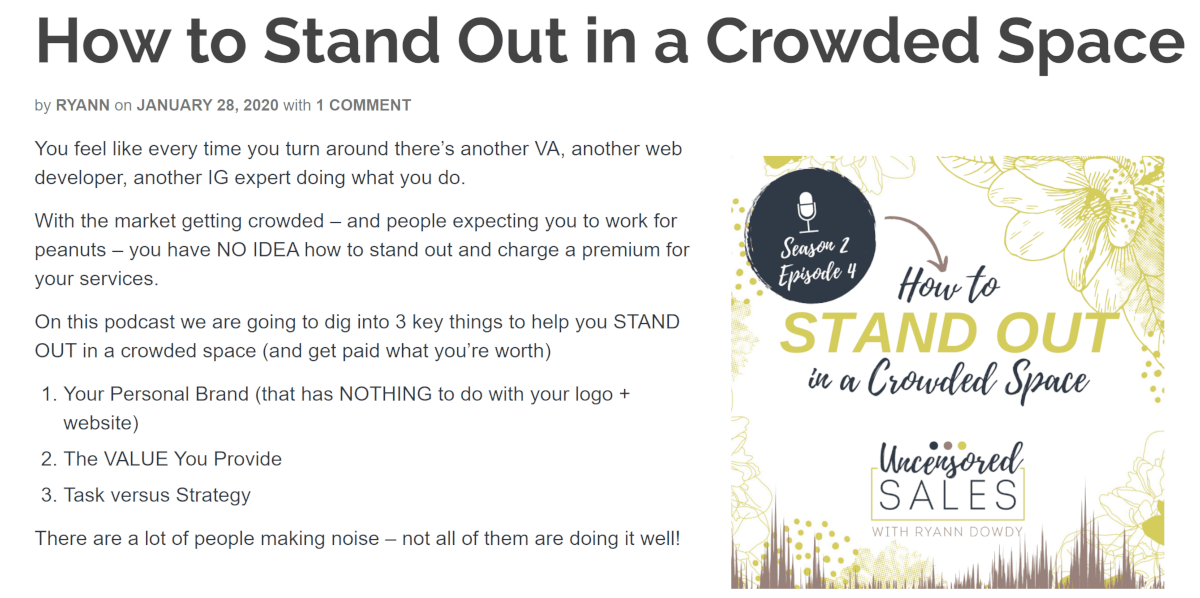 Do you have any big mistakes you've made along the way that you'd be willing to share?
Oh, man. Sure! We've made tons of mistakes.
I think the earliest mistake I made was assuming I knew who my audience was and what their problems were. Until I really drilled down into my audience and understanding their problems – from THEIR point of view, I really struggled to get clients!
Please share some idea of revenue.
My first launch – ONE sale – $997.
Second launch – 6 sales.
Third launch – 10 sales.
4th launch – 20 sales.
And so on.
We now generate around $25-30k in monthly revenue.
Please tell us a little about what the money you've earned from your course has done for you.
I was able to quit my full-time director-level role. I still work a lot – but because I love it, not because I have to.
We're paying down debt faster than I thought possible. We're talking about building our dream home in 2022. And travel – lots of travel! Definitely, things that could've taken us decades if I had stayed in my "safe" corporate world.

In addition to revenue are there any numbers you would like to share?
I grew my Facebook group organically from 246 to 1500 people – organically in about 9 months. That was a HUGE game changer in getting students into my program. You can't grow a business without an audience.
What has creating your course done for you personally?
I feel like I've FINALLY found my purpose. I always had a good job. A high paying job. With cool companies. But never really LOVED it. I was never really "on fire" for the work that I did. I see it as such a blessing that I get to show up every day and serve the women in my Community. It's life-changing, for sure!
Do you have a story of a transformation from any of your clients?
This is from one of my students:
My first mega #ringthebell – I just sent $12,000 in invoices to customers for Feb! That is up from $5k on Jan 1st!!! Working Ryann's program HARD for the last 45 days has resulted in a 140% growth in just 45 days!
Smaller wins – hiring 2 new VA's and 2 new copywriters, and increasing our hourly monthly billable from 90 to 150+!!!!
This was SO much fun to get – because this girl has been BUSTING her butt since she joined the program in July. She made a major pivot in her business right before Christmas – and she's CRUSHING it! So fun!

What advice do you have for people just starting out?
Talk to ALL the people you can find who might be interested in what you do. Talking to people is how you get clients/students, etc. You cannot sell if you don't have an audience.
Be CRYSTAL clear on the problem that your ideal client has – in their words!
I see so many new business owners hiding behind their computer screens and building courses before they have a tested offer or audience.
Learn more about Ryann Dowdy of UncensoredConsulting.com: