How Ryan Snaadt Created a Course to Help Videographers and Add Revenue as He Continues Shooting Videos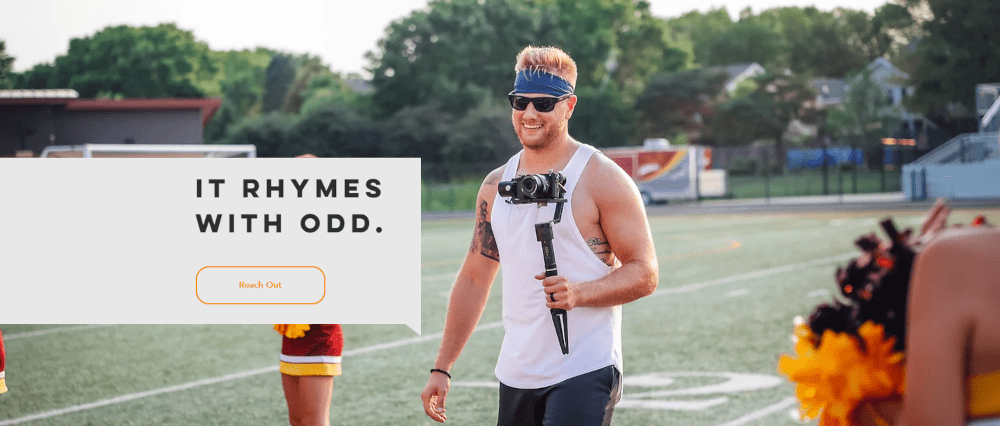 Our content is reader supported, which means when you buy from links you click on, we may earn a commission.
---
Who are you and what course have you created?
I am a Des Moines Iowa-based videographer. Over the last 6 years, I started a freelance video production business in my dorm room with a $500 camera and have grown a six-figure business shooting videos as a part-time job. I created a course called Solo Video Pro to help others do the same and understand the business side of freelance video production. The course helps with sales, marketing, mindset, and other aspects of running a business.
What market does your online course serve?
Solo Video Pro tailors lessons to beginner and intermediate videographers. This market continues to grow with the increase in demand for video creation at every level and industry. Brands, businesses, schools, and the list goes on.
This course helps ambitious video shooters put a plan together for their business and understand how to solicit and land projects that pay, turning their passion into a paycheck.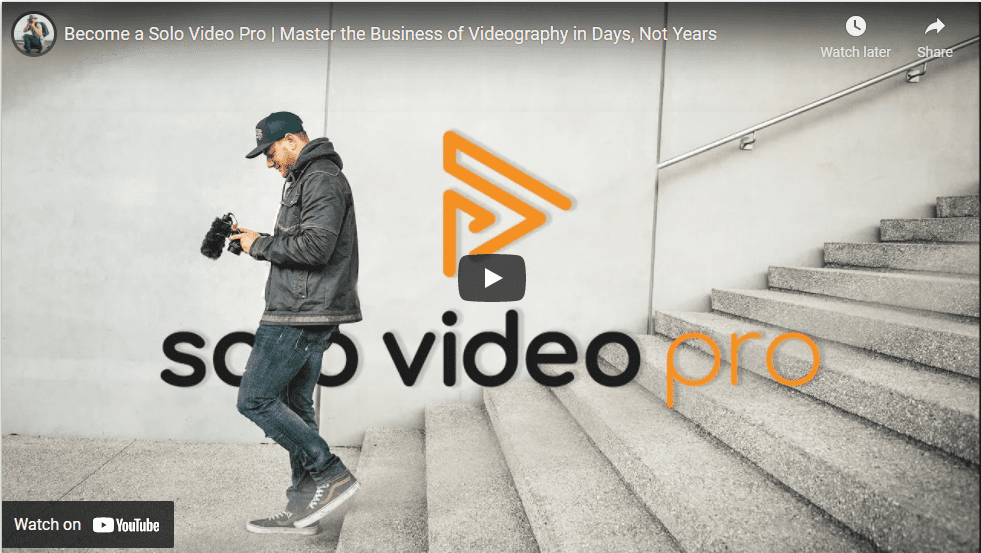 What's the biggest benefit of taking your course?
The biggest benefit of joining Solo Video Pro is the detailed sales training and email/cold-call templates. These copy and paste templates get people started with reaching out to prospects and booking jobs – giving students an immediate return on their investment in the program.
I have also included many bonuses including discounts on software and camera gear, as well as exclusive interviews with other successful video professionals in weddings, corporate, and other industries to share their stories and encourage students to chase their dreams.
How did you get into the market?
I saw other courses in this industry focused on the technical aspects of filmmaking (lighting, camera settings, etc) and wanted to create a business resource that people could actually use to make an income.

Why did you decide to create an online course in the first place?
I wanted to share what I had learned over years of failures with people like my younger self just getting started in the industry.
Did you have any moments of doubt before you created/launched it? If so what made you turn it around and do it anyway?
I had to reshoot some lessons as they were not concise enough. My sales did not increase for many months after I started marketing it via social media and my email list.
What's your online course like?
All of the lessons are videos with some screen share and interviews. I find that is the best way to learn.
How long did it take you to create your course?
It took me about 6 weeks to script all of the lessons, shoot, and edit the initial lessons to get the course live. I started with 24 lessons the program now has over 100 lessons in it.
Tell us a little about the process of launching your course and getting your first sale(s).
I did a soft launch to my email list but was reluctant to share it heavily since I felt like an imposter. I was not confident in myself.
After adding more lessons and a ton of free bonuses, I felt better about sharing it with everyone as I knew it was worth the value. - Ryan Snaadt
Click To Tweet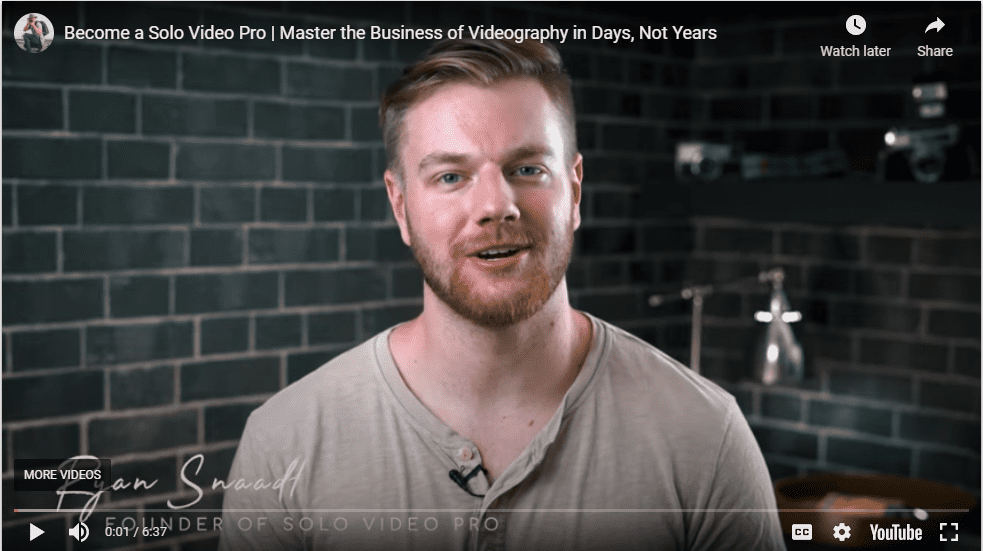 Do you have a lead magnet?
I use a strategically built sales funnel which leads most viewers to my free one-hour training on 9 steps to building a videography business that creates a full-time income. Here is the link.
The webinar collects leads and I follow up with them via an email drip campaign. I also offer many free opt-in downloads including email sales templates and guides to businesses.
What's the traffic strategy that works best for you?
I focus most of my marketing efforts via YouTube and my Facebook Group. The FB group has over 90,000 members in it which is a great source for new customers. YouTube is my main focus however since people use YouTube to find videos to answer their questions. I create related videos about starting a business in this industry and attract ideal students that way.
What online course platform are you using?
Thinkific and I like it.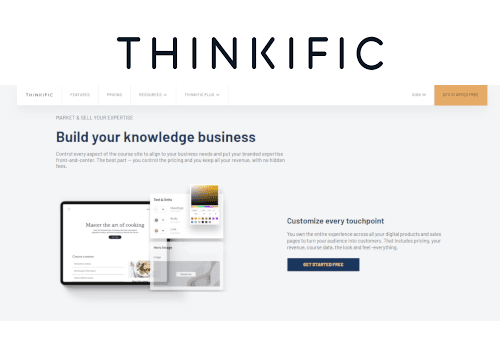 Take a Look at Thinkific!
Thinkific is the most popular online course platform used by successful course creators interviewed on coursemethod.com. It's a complete solution for creating sales pages, uploading all course content, taking payments, and more.
Price Range: Free to $499/month 
Most Popular Plan: Pro Plan at $99/month
Annual Discount: Yes, take 20% off!
Free Trial: Try out Thinkific's core features for free.
*Our content is reader supported, which means when you buy from links you click on, we may earn a commission.
Are there any features you wish it had?
Kajabi's all-in-one approach is nice however I wish I had a better website design to build out a blog. I still use other software to get the best of both worlds.
What made you decide to use your chosen platform over others?
Simplicity and price. Once I picked one I stuck with it.
What other tools do you use to run your online course business?
Mailchimp, Adobe Creative Cloud, Stripe, PayPal, Wix, Quickbooks, and Webinar Jam.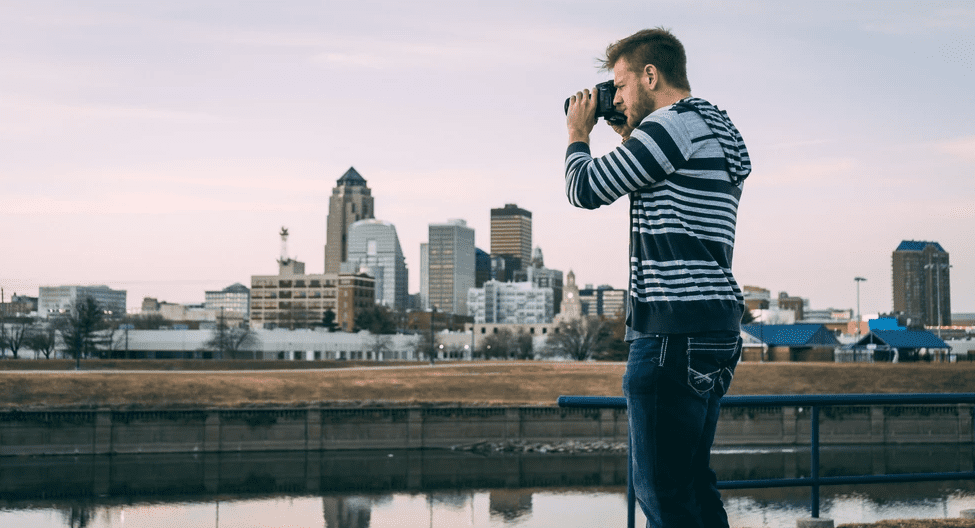 What books or training programs have you found useful on your journey to a successful business owner that others might find valuable too?
Course Creator Pro was a good resource to see other successful course creators in my industry doing millions a year in revenue.
Do you have any big mistakes you've made along the way that you'd be willing to share?
Just start and figure it out along the way. it won't be perfect in the beginning so you have to just keep putting things out.
Please share some idea of revenue.
The first year I did about $10,000 in revenue.
Please tell us a little about what the money you've earned from your course has done for you.
I was able to increase revenue for my business during slower months in video production and level out my cash flow. I also got many collateral benefits including being asked to speak, interviewed on podcasts, and other business opportunities that have come up including helping a client launch their own course and shoot all of the lessons for them.
In addition to revenue are there any numbers you would like to share?
I grew my YouTube Channel to 12,000 subscribers by ranking 3 key videos in my niche and currently run the largest Facebook group for freelance videographers in the world called 'The Freelance Videographer Community' where I can build an audience and trust outside of my own channels and help more people.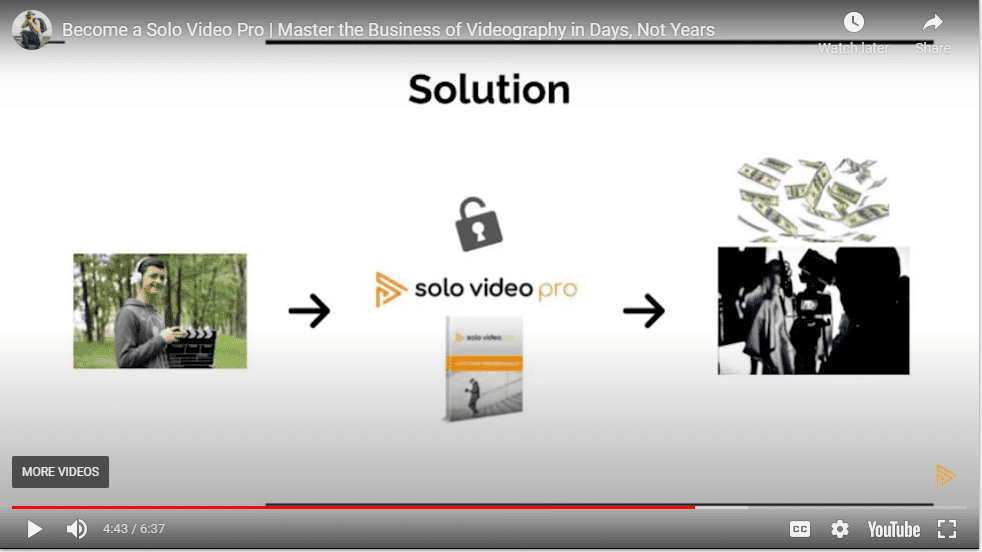 What has creating your course done for you personally?
Validated my marketing understanding of online sales and proven to me that this industry will continue to grow.
Do you have a story of a transformation from any of your clients?
Yes, I have dozens of stories from students that have joined my program. You can see some of them on my site.
What advice do you have for people just starting out?
Be clear on the transformation that you are teaching students to go through. Make sure you are qualified to teach it and make it really easy to follow. - Ryan Snaad
Click To Tweet
Learn more about Ryan Snaadt of solovideopro.com: