How Ringo Li Created an SEO Course and Earns Around $2K a Month in Sales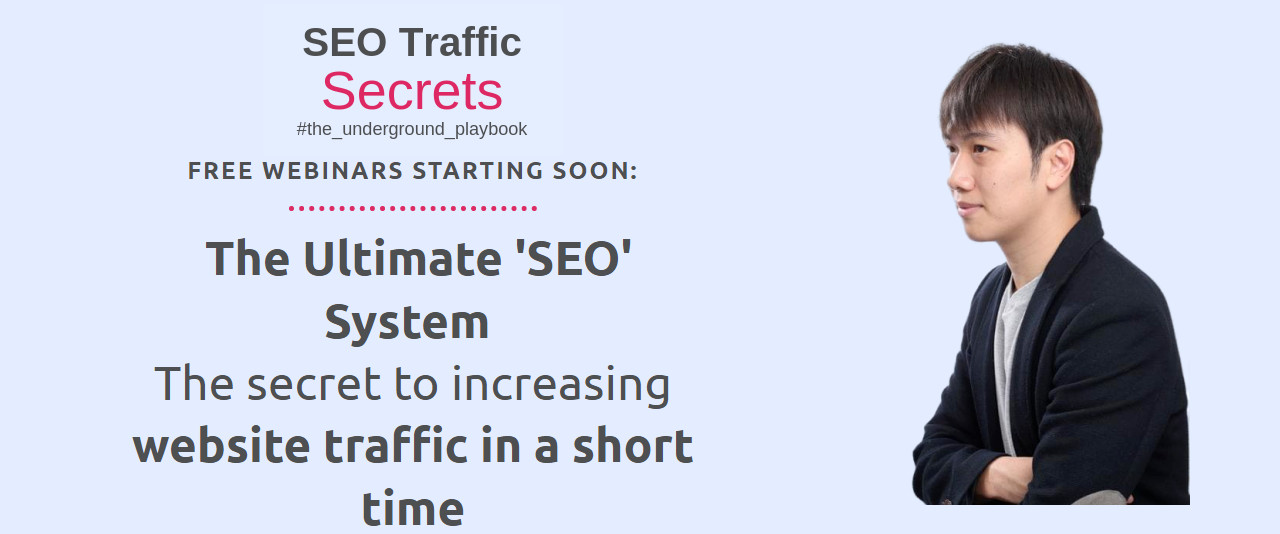 Our content is reader supported, which means when you buy from links you click on, we may earn a commission.
---
Who are you and what course have you created?
Hi, I'm Ringo Li. I'm a digital marketing consultant and SEO specialist, and I've created an SEO course to help small business owners and entrepreneurs learn the basics of SEO and digital marketing. My course is designed to give you the knowledge and skills to help your business succeed online. My SEO course covers topics such as keyword research, SEO copywriting, link building, and SEO analytics. You'll learn the fundamentals of SEO and advanced strategies that will help you maximize your website's visibility and ranking on search engine results pages.
What market does your online course serve?
My online course focuses on the field of search engine optimization (SEO). It serves a wide range of professionals and entrepreneurs who want to understand the basics of SEO and how to use it to improve their website's visibility and organic search rankings. My course covers keyword research, on-page optimization, off-page optimization, link building, content marketing, and more. Additionally, it offers practical advice on how to measure and track SEO performance, and how to apply SEO principles to increase web traffic and conversions. Through my course, learners can gain the necessary knowledge and skills to become SEO experts, helping them to grow their businesses and increase their online presence.
What's the biggest benefit of taking your course?
The biggest benefit of taking my SEO course is learning how to maximize the visibility of your website in search engine results. SEO is a powerful method that can be used to increase traffic to your website and allow your content to be seen by more people. With my course, you will learn about the basics of SEO and how to implement it on your website, as well as advanced strategies for optimizing your website for search engine rankings. You'll also learn how to track your SEO progress and measure the success of your efforts. By the end of the course, you'll be an SEO expert and be able to use SEO to make your website stand out from the competition.
How did you get into the market?
I first got into the market after taking an SEO course. The course gave me an understanding of the basics of SEO and how to optimize content. It was through this course that I realized the potential of the market and how I could use my knowledge to make money.
I decided to focus on SEO and use my newfound knowledge to help businesses reach their target audiences. After doing some research, I decided to create my own SEO consulting business, offering services such as keyword research, on-page optimization, off-page optimization, and content creation. Since then, I have been able to help many businesses grow their presence online. And then I created my SEO course also.
Why did you decide to create an online course in the first place?
I decided to create an online course in SEO because I wanted to share my knowledge and experience in the field with others. I've been working in the SEO industry for over 10 years, and I have a lot of insider knowledge that I wanted to pass on to people who were interested in learning more about SEO. I also saw the need for a course like this as I noticed many people struggling to keep up with the ever-changing SEO landscape. With my course, I can provide students with the tools they need to make effective SEO decisions and grow their businesses.
Did you have any moments of doubt before you created/launched it?
When I first decided to create my SEO course, I had a few moments of doubt. I was overwhelmed by the amount of work it involved, and I second-guessed my ability to put it together. But I was determined to ensure my course was comprehensive and of the highest quality, so I pushed through. I spent countless hours researching and studying SEO, and I spent time talking with other experts in the field to get their feedback. I also invested in quality resources and tools to help me create the perfect course.
Finally, I realized I was capable of creating an amazing course and that I had the necessary skills and knowledge to make it happen. I was inspired and motivated to create something that would genuinely help others. I knew that if I put in the work and effort, I could create an SEO course that would be beneficial for my students. So, I pressed forward and developed the course I had envisioned.
What's your online course like?
My SEO course is a comprehensive and interesting way to learn how to optimize your website for search engine visibility. It is an online course that consists of a mix of videos, text, and quizzes. The video content consists of both live-action lectures and PowerPoint slides. The lectures are designed to provide an in-depth overview of SEO principles and best practices. Additionally, the PowerPoint slides offer more specific information about each topic as well as visuals to help illustrate the concepts. The text content provides more detailed explanations of the topics covered in the videos. Finally, the quizzes are used to test your knowledge and help you track your progress throughout the course.
How long did it take you to create your course?
It took me about two months to create my SEO course. Initially, I did a lot of research to understand the fundamentals of SEO, such as keyword research, link building, and content optimization. After that, I created an outline of what I wanted the course to cover and then wrote the course material. I divided the course into various modules and created content for each module. I then added exercises, quizzes, and other interactive elements to the course. Finally, I tested the course to make sure it was working correctly. Overall, it was a lot of work, but it was worth it!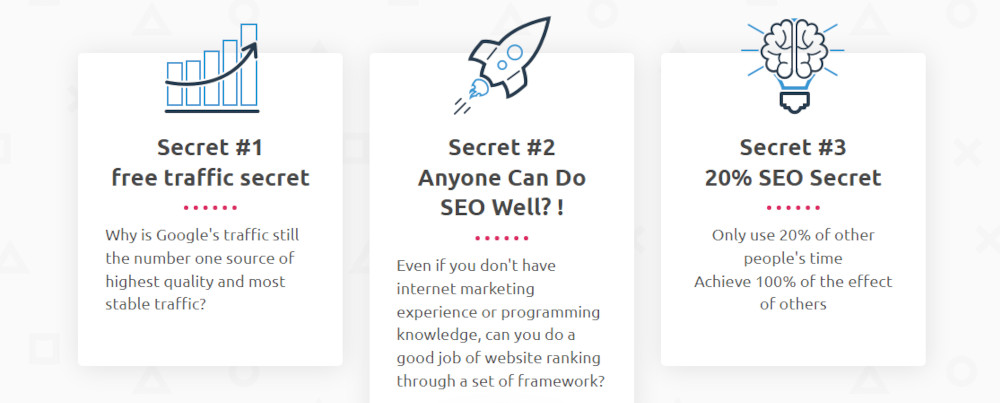 Tell us a little about the process of launching your course and getting your first sale(s).
Launching my SEO course was a rewarding experience! I had been researching and developing the course for months and was excited to finally put it out into the world. The first step I took was creating an outline for the course. I wanted to make sure it was comprehensive, so I spent a lot of time ensuring that all the topics were covered. Once I had the outline in place, I started creating the actual course material. I wrote lectures, recorded videos, and created quizzes and assignments. I also created a website and sales page for the course, so students could easily find and enroll in it.
The next step was marketing the course. I used social media and email marketing to inform people about my course. I also used SEO techniques to make it easy for people to find. Finally, I launched the course and waited for the first sale. It was a nerve-wracking experience, but after a few weeks, I sold my first course! From there, sales started to pick up, and I was able to get my message out to more people.
Do you have a lead magnet?
Yes, I have a lead magnet to help promote my online SEO course. I offer a free PDF guide to SEO basics as a lead magnet, which provides an introduction to the basics of SEO and how to optimize websites. It's been an effective way to draw in new potential students and has helped me to generate more interest in my course.
People who have already taken the free guide have been more likely to purchase the full course and have become valuable members of my online community. I'm glad I decided to offer this lead magnet as it has been a great way to get people excited about my course.
What's the traffic strategy that works best for you?
I started by focusing on SEO for my course to get traffic. I began by researching the basics of SEO, and then implemented these strategies on my course website. This included optimizing titles and descriptions, adding keywords, and creating content relevant to my course. Additionally, I set up a blog on my website and began regularly posting content related to my course. This helped to attract more organic traffic, as well as boost my course's ranking in search engines.
I also invested in a few SEO tools to better understand how my course was performing in the search engine results. This allowed me to track the progress of my SEO efforts, and to identify what was and wasn't working. I also began to research and implement backlinking strategies for my course website. This involved creating content on other websites and linking it back to my course.
What online course platform are you using?
I'm using the LearnDash platform to host my SEO course. LearnDash is a powerful online learning platform that makes it easy to create and manage my course content. It has a versatile user interface with many customization options, allowing me to tailor the course to my needs. It also offers a wide range of tools to help me deliver the best learning experience possible to my students. From quizzes and surveys to discussion forums and gamification features, LearnDash has everything I need to bring my course to life. Additionally, the platform is optimized for SEO, which helps me ensure that my course is discoverable by potential students.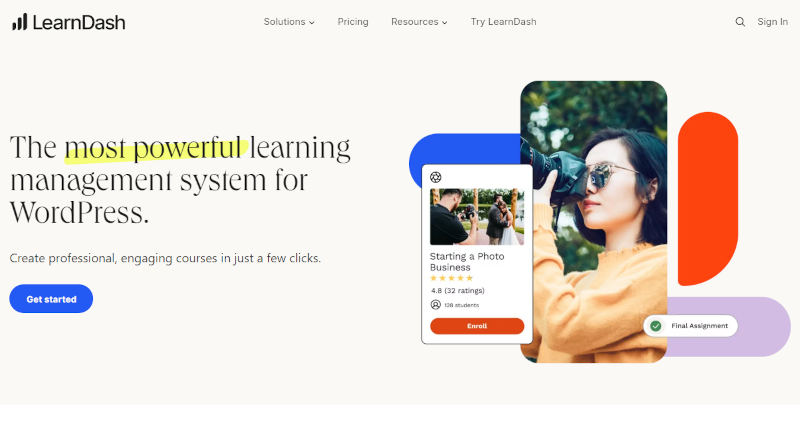 LearnDash WordPress Plugin
LearnDash is the 4th most popular online course platform used by the successful course creators we interview. 
The biggest reason why course creators choose LearnDash is that it allows for more adaptability and control over courses.
*Our content is reader supported, which means when you buy from links you click on, we may earn a commission.
Do you like it?
Yes, I love the LearnDash platform for hosting my SEO course! It's incredibly user-friendly, and the customer service team is always available to answer my questions. The platform is incredibly intuitive and makes it easy to customize my course to my needs. I'm also able to easily track my students' progress with the LearnDash reporting features. The platform integrates seamlessly with other popular tools like Zoom and Stripe. All in all, LearnDash has been an invaluable asset in helping me to create and deliver my SEO course.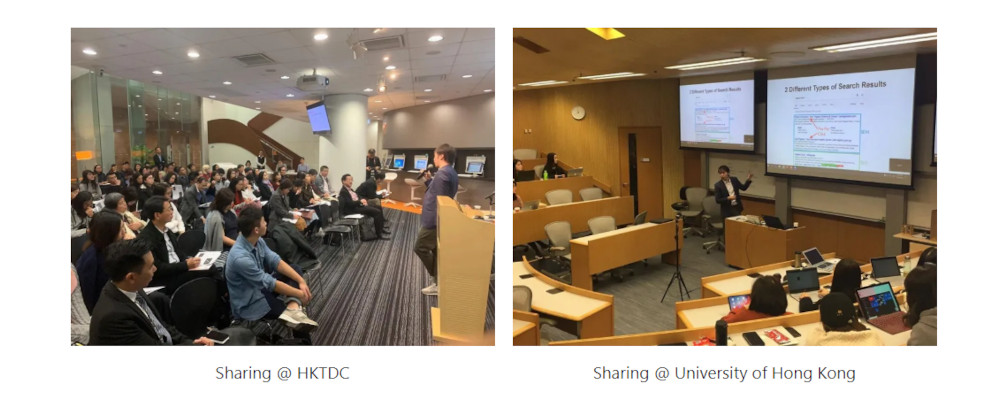 Are there any features you wish it had?
I have been using the LearnDash platform to host my SEO course for some time now and overall, I am happy with the results. However, there are a few features that could be added that I believe would make the platform even better for hosting my SEO course. For one, I think it would be beneficial to have the option to schedule lessons and quizzes in advance. This would make it much easier to plan a course and keep my students on track.
Additionally, I think it would be great to have the option to add bonus materials to the course. This could include additional reading materials, videos, or even audio recordings. Overall, I think the LearnDash platform is an excellent choice for hosting my SEO course, but I wish it had a few more features. With these added features, I believe it would be even better and make it easier to create and manage a successful SEO course.
What made you decide to use your chosen platform over others?
I chose to use the LearnDash platform for my SEO course for several reasons. Firstly, I wanted a platform that was easy to use and allowed me the control to customize my course to the specific needs of my students. LearnDash offered me a great deal of flexibility and customization, allowing me to tailor my course to my students' needs. Additionally, LearnDash had a wide range of features that were in line with what I needed for my course, such as the ability to create quizzes, assign tasks, and provide feedback. Finally, LearnDash offered excellent customer support, which was an essential factor in my decision. All in all, I chose LearnDash because it allowed me the control and flexibility I was looking for in creating my SEO course.
What other tools do you use to run your online course business?
As the owner of an online SEO course business, I rely on a variety of tools to keep things running smoothly. I use an online course platform like LearnDash to host my courses and manage my students. In addition, I utilize email marketing software like MailChimp to communicate with my students and keep them up to date with new content and opportunities. I use marketing automation software like Infusionsoft to create automated campaigns to increase sales and keep in touch with my customers. I also use analytics tools like Google Analytics to track the performance of my courses and my website. Finally, I use social media and search engine optimization (SEO) to promote my business, reach a wider audience, and get more sales. All of these tools are essential for running a successful online course business.
What books or training programs have you found useful on your journey to a successful business owner that others might find valuable too?
I have used several books and training programs to help me on my journey to becoming a successful business owner. One of the most valuable books I've read is "The 4-Hour Workweek" by Tim Ferriss. It provides useful tips on how to work smarter, rather than harder, and the strategies in the book have helped me to improve my efficiency and productivity. Another great resource is "The Lean Startup" by Eric Ries. This book has helped me to develop a successful business model and understand how to create a successful startup.
Do you have any big mistakes you've made along the way that you'd be willing to share?
Yes, I made some mistakes while creating my online SEO course. The biggest mistake I made was trying to do too much at once. I wanted to cover so much material in the course that I ended up skimping on some of the essential details. Then I realized that it was much better to provide a comprehensive overview of key concepts, with a few deeper dives, rather than trying to cover a large number of topics in a superficial way. Another mistake I made was not getting enough feedback from people interested in taking the course. I thought I knew what people wanted to learn, but I didn't get any input from potential customers until after I launched the course. That was a valuable lesson, and it's something I now take into consideration when creating my courses.
Please share some idea of revenue.
When it comes to revenue, I tend to think of sales numbers. My average monthly sales are typically around $2000.

Please tell us a little about what the money you've earned from your course has done for you.
The money I earned from my course has been a tremendous help to me financially. It has allowed me to take the necessary steps to ensure my financial security and secure my future.
In addition to revenue are there any numbers you would like to share?
I'm so proud to be able to share with you the amazing success I've had in growing my online presence in such a short amount of time.
In just three months, I was able to get 1,000 subscribers on YouTube and 100 subscribers to my email list overnight. - Ringo Li
Click To Tweet
I achieved this success by staying focused on my goals and devoting my time and energy to utilizing the right strategies. First, I started by creating high-quality content that my followers found informative and engaging. I also took the time to optimize my videos for SEO and promote them on social media platforms.
What has creating your course done for you personally?
Creating my SEO course has been an incredibly rewarding experience. It has pushed me to develop my knowledge and skills in search engine optimization, while also challenging me to think critically and think outside the box to come up with creative solutions to any problem. I have gained great confidence in my abilities and feel like I can accomplish anything I set my mind to.
I feel a sense of accomplishment knowing that I have created a course that can help others learn and grow in the same way I did.
It's incredibly rewarding to see the progress that people make after taking my course and to know that I was able to provide them with the knowledge and skills to succeed. - Ringo Li
Click To Tweet
Do you have a story of a transformation from any of your clients?
I have an incredible success story from one of my clients in my SEO course. The progress they made in such a short amount of time is truly remarkable. They started with very little knowledge on SEO and were struggling to make it work for their business. After taking my course, they were able to drastically improve their website's performance and ranking, and the results have been amazing. Seeing the transformation and success they have achieved was very rewarding for me. It made me feel proud that I was able to help them in some way, and it truly reinforced why I do what I do.
What advice do you have for people just starting out?
I have some advice I would like to share with those just starting out with course creation.
I recommend you take the time to learn the basics of SEO, such as keyword research, link building, and content optimization. This knowledge will be invaluable as you progress with your course business. It's a great way to get traffic to just about any online business.
Learn more about Ringo Li of ringoli.net: