How Rebecca Bonnington Is Growing Her Business Coaching Community Primarily Using LinkedIn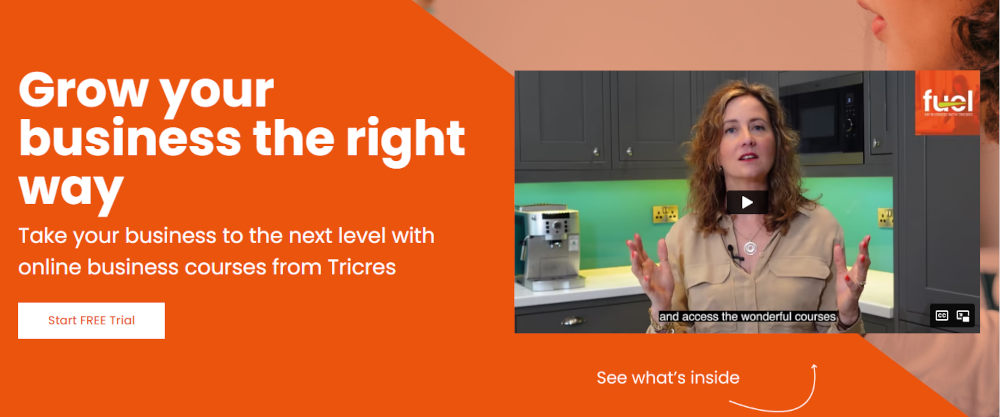 Our content is reader supported, which means when you buy from links you click on, we may earn a commission.
---
Who: Rebecca Bonnington
Website: tricres.com
Course Topic: Business Coaching
Interesting Stats: Podcast audience grown by 198% in a year
Who are you and what digital training company have you created?
I'm Rebecca Bonnington, the Founder and CEO of Tricres. We began our course creator journey in 2018 when I thought of putting all my consulting and coaching materials and models online.  I asked my older brother to join the business as he already had some professionally filmed videos of his training materials available.
Four years later, we've pivoted so often that I'm dizzy.
After many mistakes, we've created the Kick Ass Culture Coach and Consulting Training Programme, which is up and running on Kajabi and working well.
What market does your digital training serve?
We serve the community already in business coaching and consulting or would like to be.  They're a curious-minded bunch of people who are often on their second or third career.  They enjoy learning for its own sake and seek to improve themselves and their offering to their clients and to have well-structured content, materials, and workshops at their fingertips.
What's the biggest benefit of taking your online courses?
We've found our learners love the fact they can learn in their own time.  You can complete our training within 12 weeks if you wish, or you can take as long as you like, as we provide lifetime access once all payments have been completed.
We boost their learning with a monthly Supercharge session which I deliver live over zoom.  Plus, I'm always available on Linked In for any questions they might have.
Once qualified, our learners can then join Tricres as self-employed Partners.  We give them 25 cold leads a month and continue to support them with monthly Mastermind sessions.  When we get them, we also pass on warm leads to our Partners, although these are guaranteed.  To be a Partner requires a small monthly investment.

How did you get into the market?
When I started Tricres, I knew I would eventually want to sell it.  I also knew that I wanted to make it happen for every ambitious business on the planet and the only way to do that was to go online.
We initially thought our online learning content would appeal to owners of SME businesses who couldn't afford one-to-one consulting or coaching.  However, we soon learned that they did not want our content!
In the meantime, I developed a Partner Programme in 2020 and then launched that in 2021.  This was initially delivered live over zoom, and we attracted 13 Partners in a year!  We realized we had something people wanted to buy.
When the world went back to normal, we couldn't get people to sign up for weekly live zoom lessons as they were too busy, and that's when we decided to put the Partner training online and rebrand it as the Kick Ass Culture Coach and Consultant Programme.
Why did you decide to create a digital training company?
I realized my business model would never grow beyond my brother (co-founder) and me. Our time-for-money model is very hard to scale.  We had to create something that earned us money while we slept and the only way to do that in the business consulting and coaching industry was to go digital.  Plus, it met our core purpose of making it happen for every ambitious business.
Did you have any moments of doubt before you launched your training company?
Yes, we thought our content might not be good enough.  Then when we realized it was excellent, we couldn't work out why people weren't buying it in their thousands!
I've had huge doubts along the way; most have been around pricing and marketing.  We only got our marketing right in 2022, three years after our first online courses went live.
We used a different learning platform when we first began, which didn't give us the flexibility to create marketing funnels.
We then built our web app, which was a colossal failure.  It didn't work correctly, and we had a terrible customer journey experience and didn't know how to change that.
I sought external help, and they advised us to use Kajabi.  We've not looked back since.  This platform has allowed us to offer subscriptions, special offers, and other courses and be flexible in our product offerings.
Added to the training we received from Jason Squires, we're now up and running and selling our programs worldwide.
If so what made you turn it around and do it anyway?
I'm 52 and at the age of 48 felt I hadn't reached my true potential as a business owner.  I knew I needed a wholehearted shot at building and growing a global business.
This has driven me and the fact I love working with our learners and the businesses I still support on a one-to-one basis.
I love learning and getting to grips with digital marketing, something I never thought I'd need to do.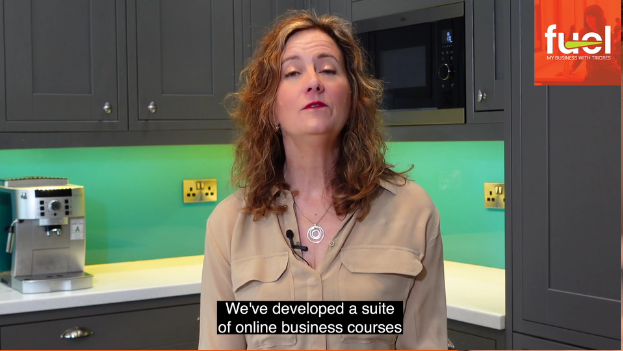 What are your online courses like?
We have videos, audio, downloadable PDFs, quizzes, PowerPoints, and workbooks.
Our videos are no longer than 4.5 minutes on the basic level courses.  These are all filmed professionally with me, Nick, my co-founder, or David (someone we asked to help us out) presenting.
Our Kick Ass Coach and Consultant program feature me presenting live on a zoom call to a real-life learner.  We wanted to create as 'true to life' experience as possible, and the only way to do that was to record live training sessions with someone asking all the questions people usually ask.
We offer a truly blended learning approach and find our learners use the materials differently.  Some listen to the videos, others go through everything in one go and then revisit sections to refresh themselves of content.
There's something for everyone on our platform.
How long does it take you or your team to create a new course?
It takes about a week in total to create a new course.  I start with an idea, Performance Management, and then draw pictures of what I want people to focus on.  I write text around that which aids understanding and then give my scribbles to our designer, who puts them into a coherent order within our brand guidelines.
We then film the content needed to aid understanding further – this doesn't take long (half a day) as our videos are short, and I'm good at doing things in one take.
Once we have the content PDFs prepared and the video edited, my teammate Allison uploads it to Kajabi using the template I've given her (I put everything into modules with headings, so she knows which bit to put where).
We check it out, make sure it makes sense, and then launch.
Funnily enough, we've perfected so much that we now offer this service to other course creators.
Tell us a little about the process of launching your first course and getting your first enrollment(s).
This was the hardest bit.
We now use LinkedIn as our primary lead generator.  We have several ways;
We make 100 connections weekly from my LI personal account and funnel people into Pippileads to cleanse the email data.
We use Lemlist to test the email addresses further and make sure they're accurate and will get through spam filters.
We then send around 20 emails daily using a standard 4-pattern sequence – this is automated.
I also put up ads on Linked In seeking Kick Ass Culture Coaches – we can do this as our program leads to a self-employed opportunity once the person qualifies.
We invite applicants and LI contacts to a live Escape the 9 to 5 workshop and send them to a high-converting landing page.  This usually results in good sign-ups, and around 10% to 20% of those sign-ups come to the workshop.
We have a time-limited special offer, and we usually convert around 16% to 25% of workshop attendees.
Once people have paid their deposit, they have immediate access to the content.  We offer an easy payment option over four months, with a no questions asked cancellation policy in the first 30 days.
Do you have a lead magnet?
Our lead magnet is the Live Escape 9 to 5 workshop.  It's working out well; see the above figures.

What's the traffic strategy that works best for you?
We started with Facebook and Instagram, which were both epic failures.  Pinterest was as well.  We finally committed to LinkedIn, which has worked out well.
We did use Google Ads for a while, but those didn't work either.
Our traffic is gained through regular posting via my page on LI and connecting to 100 people per week.
Our Entrepreneurial Podcast also helps to build traffic.
What online course platform are you using?
Do you like it?
It's fantastic; we wouldn't be where we are today without it.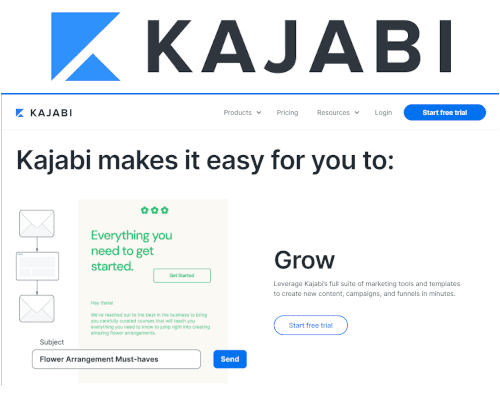 Kajabi is the All-In-One Course Platform
Kajabi is one of the top online course platforms used by successful course creators interviewed on coursemethod.com. Kajabi includes email marketing and other tools that make it easy to run your entire business from their platform.
Price Range: $149 to $399/month
Most Popular Plan: Growth Plan at $199/month
Annual Discount: Yes, take 20% off!
Free Trial: Get a 14-day free trial (credit card required)
*Our content is reader supported, which means when you buy from links you click on, we may earn a commission.
Are there any features you wish it had?
Yes, we'd like it to have a fixed-time subscription.
Our offer is a $99 deposit and three payments of $479, which doesn't allow for that.
What made you decide to use your chosen platform over others?
We'd spent so much money on another platform and the web app we needed something tried and tested.  Kajabi was recommended to us by the people we'd asked to evaluate our web app.  They said to drop the web app and use Kajabi! So we did.
What other tools do you use to run your digital training business?
I use the following tools:
Pippi leads
Linked In
Active Campaign
Lemlist
Canva
Hubspot
What books or training programs have you found useful on your journey to a successful business owner that others might find valuable too?
In 2017 I did the Bob Proctor training, which set me up to succeed.
I did the James Wedmore training in 2020, which helped me understand digital marketing funnels.
We completed the Jason Squires training in 2022, and that helped us finally crack digital marketing funnels using Linked In.
I've also read The Lean Start-Up, which helped me understand that testing and failing is the way forward until you get it right!

Do you have any big mistakes you've made along the way that you'd be willing to share?
Yes, don't build your web app. It's a complete waste of time and money, and you'll never get anything as good as the products already on the market.  Plus, you'll spend all your time dealing with software developers instead of focusing on your business.
Please share some idea of revenue for your digital training company.
We're only three months into this, so sales are currently sitting at an average of $2500 per month.
Please tell us a little about what the money you've earned from running your digital training company has done for you.
Not yet!
However, we are finally earning money in our sleep. It's not massive, but we now have a scalable, repeatable product to demonstrate real growth. - Rebecca Bonnington
Click To Tweet
This is exciting when it comes to exiting the business in the future.
In addition to revenue are there any numbers you would like to share?
We've focused on building our audience on Linked In, our podcast audience, and our email list.
In 12 months, we've gone from 5,500 followers for my profile on LinkedIn to 6889 today.
We've gone from 1000 followers for our company page on LI to 3399 followers in a year.
Our email list has grown from 1400 to 2848 in 12 months.
Our podcast audience has grown by 198% in a year.
None of these figures are imposing; combined, they show how our audience is growing steadily across several platforms.
What has creating your digital training business done for you personally?
I finally feel like I'm fulfilling my potential.  We have truly global reach, which I've dreamed of.  Our definition of success is to have someone on the side of a hill in Nepal using our content to grow their business.  We're on our way to achieving that.
What advice do you have for people just starting out?
Start with one course!  We started with 19 courses, which was way too many as we didn't know how to market them. Beginning with one course and marketing will teach you many valuable lessons.
Secure a solid ten-year vision that engages you and you connect them emotionally. - Rebecca Bonnington
Click To Tweet
Know how you want to exit eventually.  This will help you make the right decisions to get where you want to be.
Learn more about Rebecca Bonnington of tricres.com: