13 Tips for Promoting a Webinar So It Makes the Most Impact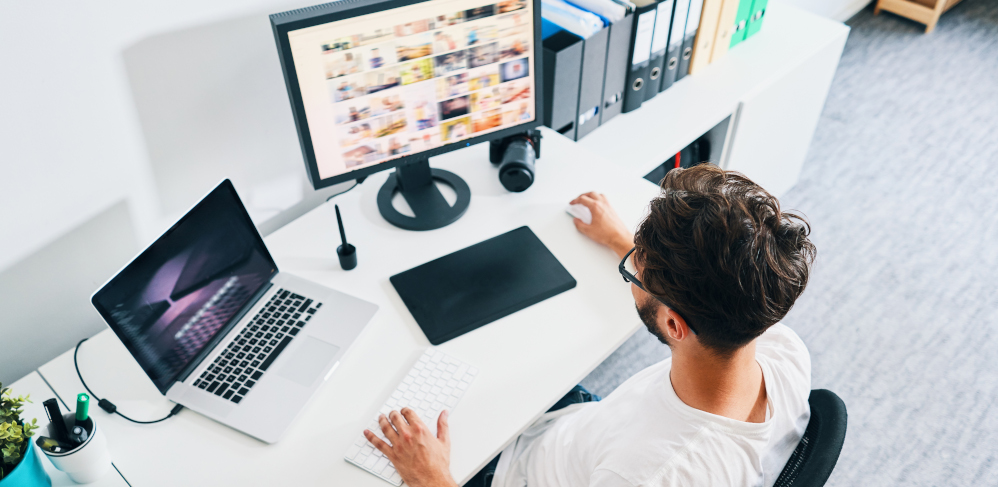 Our content is reader supported, which means when you buy from links you click on, we may earn a commission.
---
Did you know that according to Zippia, the global webinar market size reached $1.57 billion? Webinars have set the marketing world abuzz, but planning and executing one may be more challenging. If you want help promoting your webinar, you've come to the right place.
You might have a lot to say, and most of it might be riveting and essential, but without a proper strategy, you might be demoralized by low attendance. However, worry not. The world is going remote, and webinars are gaining popularity in sharing information. This means that your webinars are 24% more likely to have an 87% attendance than three years ago.
Here are a few tips to make your webinar the talk of the town.
1. Optimize Your Webinar's Landing Page
You've done the work by creating a curated webinar. You deserve to sit down and watch your work make an impact. However, before you do that, you need to promote your webinar. It only makes sense to utilize your resources before outsourcing a marketing strategy, and the first tool in your arsenal is your landing page.
The landing page provides a steady supply of interested people. Funneling them to register for the webinar is as easy as presenting them with the option. Optimizing the landing page includes creating clickable banner advertisements which lead to your webinar registration page.
Furthermore, creating an interactive avatar might give your visitors the extra nudge they need to set them on their way to registering for the webinar.
In addition to avatars and advertisement banners, here are more ways to optimize your website to make use of your online traffic:
Carry out some research and know your target audience
Use a minimalist approach when approaching the landing page design
Entice your visitors to share their contact information by giving them incentives
Add a clear and concise call to action
Invest in some good copy to highlight the benefits you are offering in exchange for their contact information
Once your webinar's landing page is fully optimized, the leads should come streaming in.
2. Optimize Your Registration Page
Secondary to your webinar's landing page, the registration page is the second most important tool in your resource pool. Getting people to your registration page is hard enough, so it would be a shame to lose them before they register for the webinar. To make sure you can stand to benefit from all your hard-earned leads, you should:
Captivate Your Visitors
Attention is fickle, especially when you have no incentive to maintain it. To keep your visitor's eyes on the prize, you should provide content that wows them. An excellent way to achieve this, for example, is by using an interactive bold and simple background for your registration page.
Create Custom Copy for Your Visitors
How did you feel when you got a congratulatory message on your birthday? We all like to feel special, which is even more valid for visitors to your registration page. Creating a tailor-made copy on the registration page gives you the power to pique your visitor's interest while they provide their contact details and complete the registration process.
Avoid blocks of text and clutter on the registration page, as this may effectively deter your leads from signing up.
3. Get your Promotion Timing Right
For obvious reasons, holding a webinar on the weekend is not a good idea. You will probably have a record-low attendance if you try this. With this in mind, when are the best days to launch your webinar? These are the best practices when it comes to getting the timing right.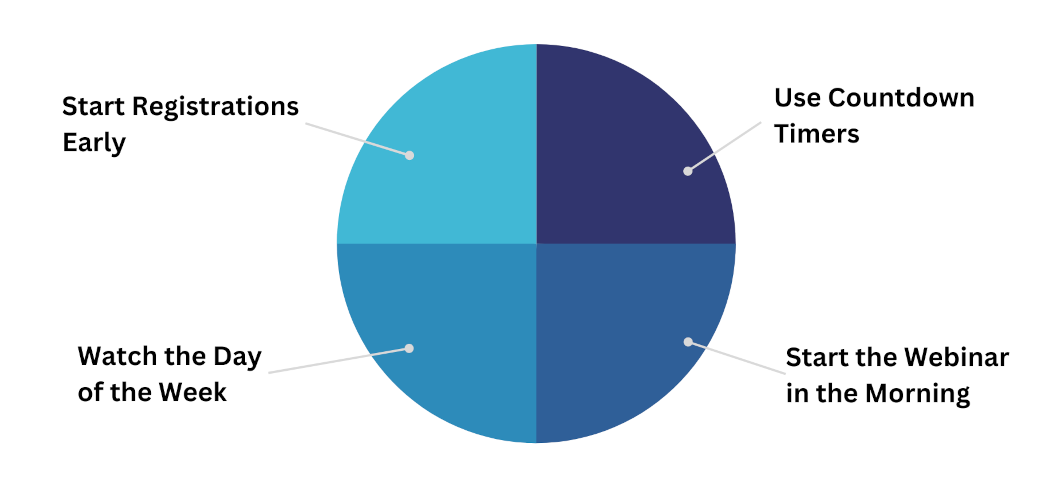 Use Countdown Timers
Countdowns are a great tool to nail the timing of your webinar launch. Think of it like this, knowing the milk in your refrigerator is about to go bad gives you more incentive to consume it. Webinars are very much the same, albeit without the foul smell of milk gone bad.
Countdown timers give users the extra nudge to register for your webinar since they know that time is of the essence. Without them, even the most productive people tend to dig deep into their comfort zones.
Start the Webinar in the Morning
Arise and shine! Morning hours are when your body and mind are rejuvenated and well-acted. Furthermore, people tend to have more consistency in getting things done than they would as the clock approaches dusk.
Consequently, planning your webinar to take full advantage of these precious hours is good practice to raise attendance levels and ensure that your listeners stick with you all through.
Start your webinar between 8:30 am and 11:30 am for the best results.
Watch the Day of the Week
As mentioned earlier, there are better days to launch a webinar than weekends. The same can be said for Monday and Friday. The sweet spot for the perfect day to host a webinar is between Tuesday and Thursday. Webinars launched on Tuesdays enjoy a higher success rate than those launched earlier or later days of the week.
Start Registrations Early
Some people like to plan early. Others love to make last-minute decisions. Luckily for you, your webinar can accommodate both people with the right promotion strategy. Ideally, it would help if you began registrations about a week or two before the actual date of the webinar. The intensity of the webinar's promotion should increase as the launch date draws closer.
When you couple early registrations with countdowns and an intensive promotion strategy, your webinar is set to hit the ground running.
4. Exit Intent Popup
Are you sad that your website visitors leave without signing up for the webinar? Then give them a reason to stay. An exit intent pop-up appears when a user completes a pre-determined action, such as exchanging tabs or pressing the back button. In this case, a pop-up prompts them to stay on the website.
Including a call to action in the exit intent pop-up that encourages visitors to register for the webinar generates leads that may translate to registered people.
5. Hello Bar
The hello bar on your website can do much more than welcome people to your website. Currently, the average person spends under a minute on a website. This prompts website owners to become creative with their data collection methods. You can use the hello bar to collect contact information, followed by lead generation techniques.
6. Write a Blog Post
Sometimes your visitors look for more information about your webinar and your website before they sign up for anything. A good blog post will help you accomplish this. Within the blog post, you can provide interesting information about your webinar and why the visitors cannot afford to miss it.
Furthermore, with good search engine optimization, the blog post is also a tool for generating additional leads.
7. Add a CTA to your Blog/Sidebar/Bottom
With a call to action, your visitors may know where to go to sign up for your webinar. A good call to action must be clear, concise, and displayed throughout your website. The call to action may be embedded in an informative blog post before the user completes reading it.
In addition to the blog, the sidebar is an excellent site to have a call to action, as it will be available to your traffic throughout their experience with the website.
8. Your Homepage
Internet traffic on your homepage is often higher than on most other pages. On the homepage, you can have short information, or you might have buttons leading to other pages within your website. It will help if you promote your webinar on the homepage with numerous banners, calls to action, and buttons leading to your registration page.
9. Thank You Pages
Suppose you already have loyal visitors to your website. Having a thank you page can help them feel appreciated and also might work towards generating new leads for your webinar registration. You can promote the webinar on the thank you page as much as you would on your homepage (after a few grateful words, of course).
10. Send Emails to your Email List
Emails are your ace in the hole when it comes to webinar registration. For most marketers, emails generate an impressive 76% or higher of the total number of registered people for a webinar. An email list is a powerful tool, as almost all of your subscribers are interested in what you offer.
Send information about the webinar through the email list with links to the registration page.
Design an Email Sequence for Your Webinar
As mentioned, emails are the most critical aspect of webinar promotion. An email sequence for a winning webinar promotion will consist of the following key steps:
Registration follow-ups
Reminders of the webinar date
Thank you message for registering and attending the webinar
Future events and webinars
11. Social Media Channels
Social media channels are powerful tools for webinar promotion. You can cast a wider net for your target audience on social media by utilizing the tools provided by marketing campaign managers on social media. Additionally, you may receive invaluable information about your clients through promoting your webinar on social media.
12. Communities and Groups
There are multiple communities available on social platforms all over the internet. You must identify communities and groups that predominantly represent your target audience and post your ad on the platform. An advantage of this form of webinar promotion is that it is relatively cheap. An excellent place to start looking would be the Facebook and Reddit communities.
13. Create Online Ads, Including Retargeting Ads
Online ads use tools such as Google Ads to display promotional content to your targeted audience. Search engines can generate leads by targeting clients when they make inquiries with specific keywords. Online ads work by generating additional leads for your website. On the other hand, retargeting ads target clients that made it to your website but still need to complete a form, fill out a survey or complete an action.
Start getting registrations for your next webinar with these tips!