How Nick Saporito Earns a Full-Time Living Teaching Others How to Use Design Software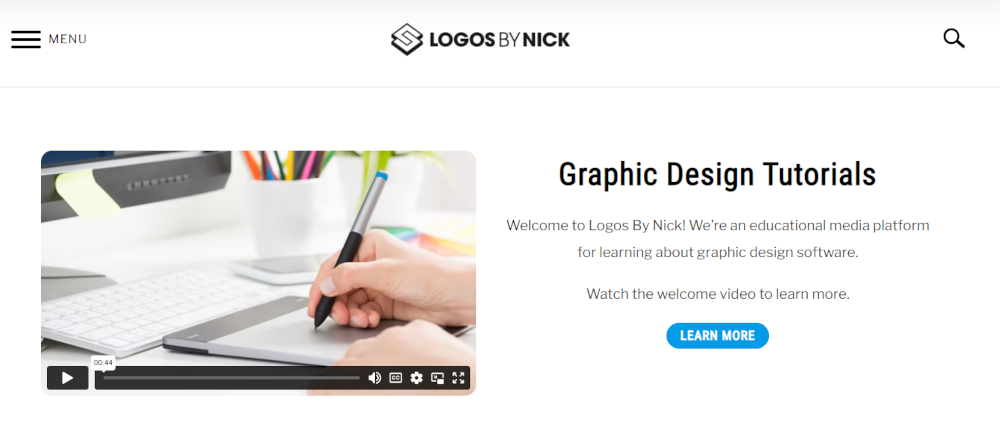 Our content is reader supported, which means when you buy from links you click on, we may earn a commission.
---
Who: Nick Saporito
Website: logosbynick.com
Course Topic: Graphic Design
Interesting Stats: Website brings in roughly 2.5 million visitors/year from search engines
Who are you and what course have you created?
I am a graphic designer of over ten years who now creates courses where I teach others how to use design software.
My best-selling course is the Affinity Designer Master Class– a video series where I go through every tool and feature in the software and explain how it works with example demonstrations.
What market does your online course serve?
My courses serve those who want to learn how to use design software to create things like logos, t-shirts, illustrations, and more.
What's the biggest benefit of taking your course?
The biggest benefit of taking my course is that it serves as a user manual that you can reference any time you want, but it's in video format, and you can ask questions when you need help with something.
By the end of taking my courses, you will know everything that there is to know about a given design application.

How did you get into the market?
The idea actually came from my YouTube subscribers. I create graphic design tutorials on YouTube where I demonstrate how to design logos, icons, and various other graphics.
Some of my subscribers started suggesting that I put together some kind of course where I go through all of the tools one by one and explain what they are.
After procrastinating about it for a while (it's a daunting task!) I finally decided to do it.
Why did you decide to create an online course in the first place?
Because my subscribers requested it, it seemed like a great way to provide value while generating additional income for myself.
Did you have any moments of doubt before you created/launched it?
Absolutely! First of all, it's a lot of work. You're taking a big risk just by building your course because you don't know for sure if people are going to want it. And if they don't, then it's a monumental waste of time.
And, of course, there's the occasional doubt that creeps in and causes you to question if what you create is worth paying for.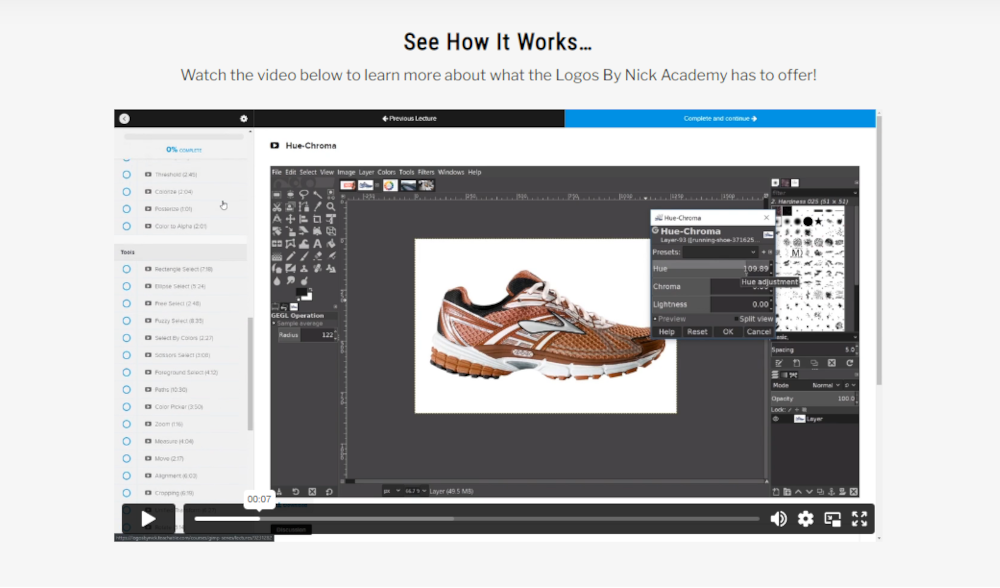 If so what made you turn it around and do it anyway?
There's just too much to gain if it works out. A course that people are willing to pay for is a digital asset that pays in perpetuity.
What's your online course like?
My course consists of a series of video lessons where I record my screen as I demonstrate how a given tool or feature in the software works.
There's a video for each tool and feature. The videos are categorized into modules and have optional multiple-choice questions at the end of each.
There is a comments section under each lesson where you can ask questions if you need help. I sign in every morning to answer questions.
How long did it take you to create your course?
It took me several months to create my course because I had to record and edit over 60 videos. And I was doing this on top of working full-time as a freelance designer.
When I create courses now, I can dedicate all of my working time to them, so it only takes a couple of weeks.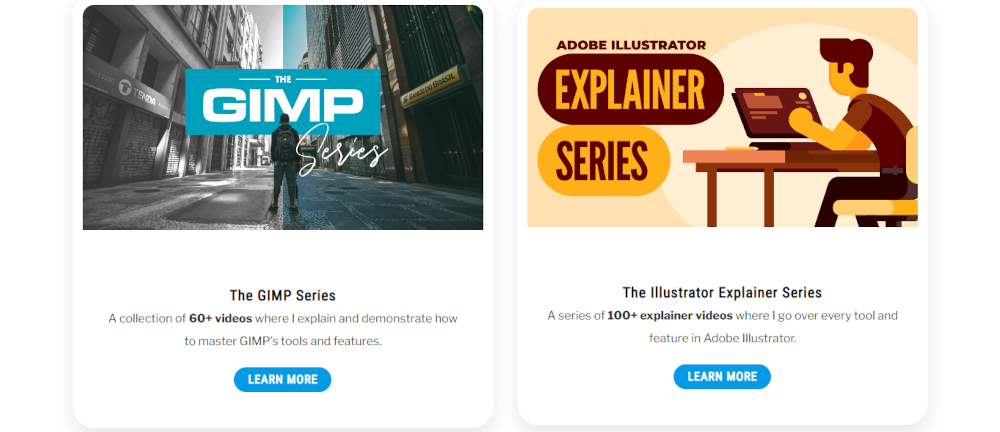 Tell us a little about the process of launching your course and getting your first sale(s).
I launched my course by announcing it to my followers on my Facebook page and sending an email to my mailing list.
The sales trickled in at first, but they really didn't pick up until I started advertising it in my YouTube videos.
Do you have a lead magnet?
The lead magnet I use for my mailing list is a free bundle of design templates. It has done very well in helping me build my list, which eventually translates to course enrollments through a series of follow-up emails.
What's the traffic strategy that works best for you?
In my experience, courses sell really well on YouTube because the users there are familiar with you and feel more of a personal connection. - Nick Saporito
Click To Tweet
Blog traffic doesn't do very well with selling courses– especially if it's from search engines. Search users are often new to your brand and don't know you enough to buy a course from you just yet.
What online course platform are you using?
I host my courses on Teachable.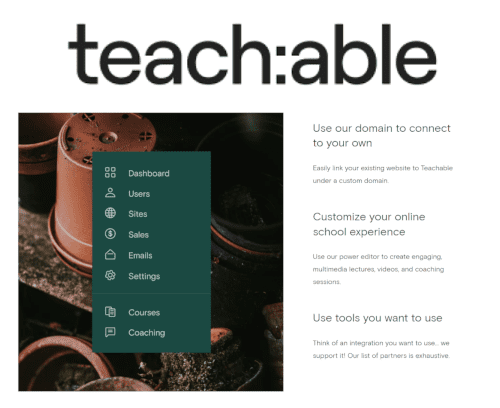 Check Out Teachable
Teachable is one of the top online course platforms used by successful course creators interviewed on coursemethod.com. It is easy to set up and build your site pages, and the course area looks great. 
Price Range: $0 (+ transaction fees) to $299/month
Most Popular Plan: Pro Plan at $119/month
Annual Discount: Yes, take 17% off!
Free Trial: Try out Teachable's core features for free
*Our content is reader supported, which means when you buy from links you click on, we may earn a commission.
Do you like it?
Yes, they offer lots of great features, like upsells, coupon codes, integration with my email marketing software, etc. And they're always adding features and experimenting with new things.
Are there any features you wish it had?
Not that I can think of. I've been able to do everything I want to do with Teachable.
What made you decide to use your chosen platform over others?
I felt they had the best features and the fairest pricing model of any of the other options at the time.
What other tools do you use to run your online course business?
I use ConvertKit to capture leads, enroll new users, and follow up with discounted upsells. I use WordPress to host my website, where I generate traffic and host the sales page for each course.
What books or training programs have you found useful on your journey to a successful business owner that others might find valuable too?
I haven't used any. I just watched random YouTube videos from various people.
Do you have any big mistakes you've made along the way that you'd be willing to share?
Not having a clear and concise refund policy in place. It can create confusion and conflict.
Please share some idea of revenue.
Without giving specific numbers, I launched my academy a little more than three years ago, and it has generated multiple six figures of revenue in that time. - Nick Saporito
Click To Tweet
Please tell us a little about what the money you've earned from your course has done for you.
It allowed me to quit working as a freelancer. I don't have to sell my time anymore; I can reinvest it back into this digital asset instead.

In addition to revenue are there any numbers you would like to share?
At the moment, I currently have 2 YouTube channels– one with 440k subscribers and another with 140k subscribers. My website brings in roughly 2.5 million visitors per year from search engines.
What has creating your course done for you personally?
Personally, it has shown me that what I create is valuable. If people are willing to pay for it with their hard-earned money, then I must be doing something right.
Do you have a story of a transformation from any of your clients?
Yes, I've received Tweets from teachers showing me what their students were able to make by following my lessons. It really helped humanize my work.
So much of what I do is on a screen with one-way interactions and text communications so it can feel impersonal at times. Seeing the tangible impact, it has in the real world makes it feel so much more special.
What advice do you have for people just starting out?
The best advice I can offer is to under-promise and over-deliver. People will only part with their money if you've created something special.
Learn more about Nick Saporito of logosbynick.com: