Nathan Chan of Foundr Turned Down 'Get Rich Quick' and Gravitated Toward Sharing Trusted Strategies for Entrepreneurs
Our content is reader supported, which means when you buy from links you click on, we may earn a commission.
---
Who: Nathan Chan
Website: foundr.com
Course Topic: Business
Interesting Stats: 175K YouTube subscribers
Who are you and what digital training company have you created?
Hi, my name is Nathan Chan and I'm the CEO of Foundr.
Foundr is a global media and education company that is the all-in-one community for entrepreneurship training and development. Foundr offers proven courses, content, and community that empower entrepreneurs to start and scale their businesses.
Millions of people consume Foundr's content every month, and we've interviewed the most successful business leaders on the planet including, Daymond John, Arianna Huffington, Mark Cuban, and many more.
What market does your digital training serve?
Our digital training serves entrepreneurs, business owners, or anyone looking to learn a new business skill. Our audience is on the journey of considering a new business, starting, building, or exiting (and probably starting again).
The consistent element across our audience is attitudinal: a mindset of the self-starting, hard-working, and "hungry" for the right tools and information.
What's the biggest benefit of taking your online courses?
We offer courses that are exclusive and foolproof. Our courses are taught by instructors who are proven practitioners in their areas of expertise. We offer lessons from how to start and scale an eCommerce business to how to grow your Instagram account and everything in between.
How did you get into the market?
Sadly the educational market for entrepreneurs had become oversaturated with "gurus" and people who value squeezing a buck out of you more than they help you build something that matters.
I wanted to start a platform that offered practical advice from the business founders who've been there.
In 2013, Richard Branson agreed to do an interview with me where I asked him about his strategies for success that I knew could help young founders. That interview kicked Foundr off with a running start.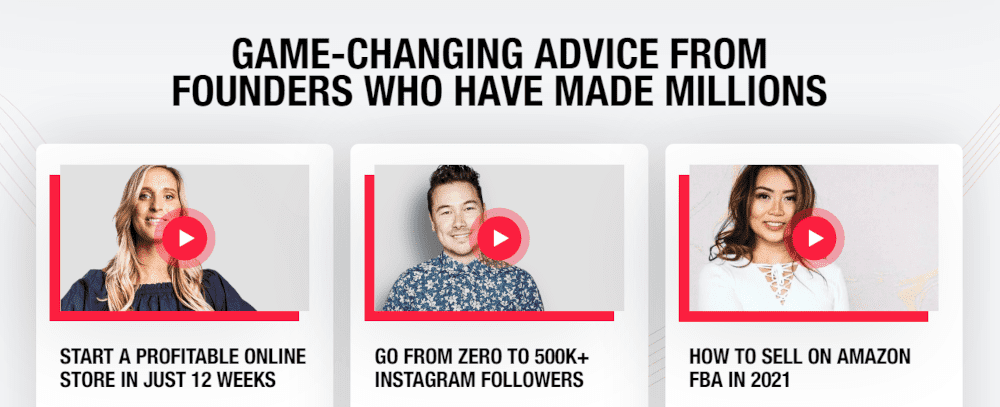 Why did you decide to create a digital training company?
Foundr started as a magazine and website, but quickly we realized that there was a demand for further education on starting and scaling a business.
Over the last 8 years, we've expanded our channels to include video, podcasts, articles, and social media. Through this growth, we've created a catalog of robust free and premium courses that offer practical strategies from entrepreneurs who've been there.
Did you have any moments of doubt before you launched your training company?
We knew it would be a challenge shifting our business focus to include online courses. But from a training perspective, it was natural for us to adapt all these incredible lessons we were learning from our interviews into a course format.
I knew the course mode was necessary because we had a hungry audience looking for trusted strategies for building their business. What gave me complete confidence was the incredible partnerships built with our instructors that were graciously sharing their proven advice with our audience.
If so what made you turn it around and do it anyway?
Fortunately for us, we've learned from interviewing the most successful business leaders in the world that if you have an idea or new offering, don't wait to perfect it—launch it. - Nathan Chan
Click To Tweet
There's always room for improvement, but you won't understand how to grow unless you get your training (product, business idea) in front of an audience.
What are your online courses like?
Our courses are designed to meet the needs of our students. We offer online video courses with broken-down lessons so viewers can complete them at their own pace. We also offer transcriptions of the course, a workbook, and additional downloadable resources customized to the topic.
Plus, if you sign up for a course, you are automatically entered into a collaborative course community where you can discuss best practices and ask questions with fellow students and the instructor.
Our course length depends on the topic and ranges from 5 to 8 modules.

How long does it take you or your team to create a new course?
Once we select an instructor, our course production moves pretty quickly. We go from selecting an instructor to a live product within 2 months. Every course we create goes through a high level of research and development to produce the best course possible.
We have a team specialized wholly focused on our instructors and course content. Because there are "get rich" schemes in the entrepreneur space, we rigorously vet our instructors so our audience is getting practical and proven strategies that can impact their businesses immediately.
We identify our course topics by listening to our community and addressing their needs to be successful.
Tell us a little about the process of launching your first course and getting your first enrollment(s).
We've been asked about this so much by our community that we created a course specifically on courses. It's called Rapid Course Formula, and I go through the fundamentals of building an online business, validating your course idea, and everything you need to launch and be successful. I also share stories on how we launch our courses.
Do you have a lead magnet?
Our most valuable lead magnet is our offering of free trainings. Our free trainings are specific strategies pulled and packaged from the premium courses. This provides value to our audience immediately while allowing them to research whether it's worth investing in the complete course.
What's the traffic strategy that works best for you?
Our social media, both paid and organic, has been a critical traffic source for us over the past 5 years. It's been so successful that we've created multiple courses around the topic.
But we know that paid ads aren't the end all be all channel to reach potential students. That's why we've expanded our content strategy to include articles, videos, email newsletters, and podcasts to provide first-hand value from our brand that will lead to the audience exploring and engaging with the courses.

What online course platform are you using?
We use WordPress with a plugin called LearnDash LMS.
Do you like it?
Yes, it's been great.
Are there any features you wish it had?
Not at the moment.
What made you decide to use your chosen platform over others?
We went with WordPress because it allowed for more adaptability and control on how our courses were presented. Because of the ever-changing world of eCommerce, social media, and digital marketing, we needed to be able to quickly adapt our courses if necessary to better suit the topic and our students.
What other tools do you use to run your digital training business?
We use a wide variety of tools and are constantly testing and learning. Since we're a global company with team members across different time zones, tools like Slack and Loom help us better communicate and collaborate.
What books or training programs have you found useful on your journey to a successful business owner that others might find valuable too?
As an entrepreneur, I think it's always important to be learning. There are plenty of inspiring stories of successful people out there, which can be helpful, but you also need to find content that can practically help your business grow.
At Foundr, we have the privilege to interview successful entrepreneurs and business experts in a wide range of industries. Since I conduct most of the interviews, I'm constantly learning from our guests. I'm also a sucker for a business book or biography, so my reading list is usually long.
Do you have any big mistakes you've made along the way that you'd be willing to share?
Like all entrepreneurs and founders, I've made mistakes along the way. Part of the entrepreneurial journey is learning from your mistakes and responding to challenges.
One of the worst days in my business life started with a FedEx package. We documented the full story on our YouTube channel here.
The lesson is to secure your legal branding, trademarks, and copyright info early on in your business. It may seem like an unnecessary additional cost, but it will save you time, money, and sleepless nights.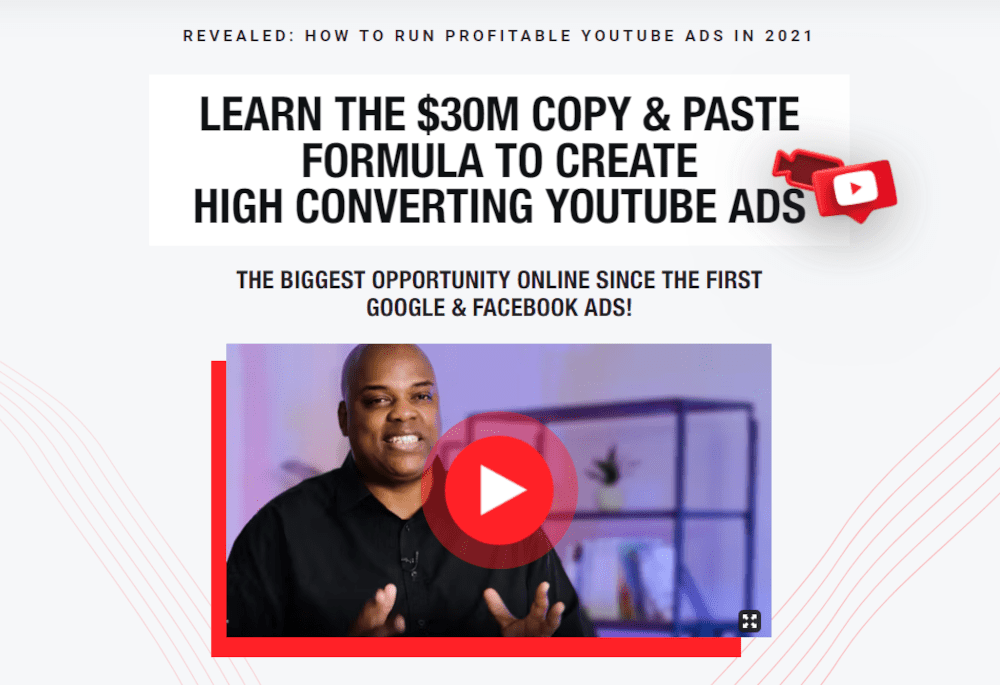 Please tell us a little about what the money you've earned from running your digital training company has done for you.
I've always struggled to find a profession that gave me purpose and fulfillment. Foundr changed everything for me and sent me down a path I could have never imagined for myself 10 to 15 years ago.
Financially, I've been able to build a global team, a headquarters in Melbourne, and do this job full-time. But to wake up every morning and be excited about the work I'm doing (even in the difficult times) is the greatest reward.
In addition to revenue are there any numbers you would like to share?
We're really proud of the organic growth we've generated across our social platforms. This didn't happen overnight and took an incredible amount of work from our team.
YouTube: 175K subscribers
Instagram: 3.4 million followers
What has creating your digital training business done for you personally?
I'll go back to my thoughts on fulfillment. Although there have been "high highs" and "low lows" starting an education business from scratch, I know that my life is more fulfilled than it ever could be in a traditional career. Foundr has also helped me personally by building some incredible relationships with our team, guests, instructors, and community that will last a lifetime.
What advice do you have for people just starting out?
I love this question because it goes back to the reason I started Foundr. There are so many voices out there telling you what to do and how to become successful, but the most important thing is you.
Know yourself, take care of yourself, and believe in yourself. We've seen again and again at Foundr that who you are as a person can make all the difference in creating a course, starting a business, and sharing a new idea. - Nathan…
Click To Tweet
It's not about becoming this world-famous business person or making your idea perfect before launching. Take a leap of faith in yourself, and don't be afraid to fail along the way.
Learn more about Nathan Chan of foundr.com: