How Mike Kunkle's Online Courses are Transforming Sales Training and Enabling Sales Success

Our content is reader supported, which means when you buy from links you click on, we may earn a commission.
---
Who: Mike Kunkle
Website: mikekunkle.com
Course Topic: Sales Training
Interesting Stats: 30,000 subscribers in about 3 months
Who are you and what course have you created?
I've spent over 30 years in a blend of the sales and training professions and eventually become an internationally recognized expert in sales performance improvement. In 2021, I published a book about my methods, called The Building Blocks of Sales Enablement, which is available on Amazon.
Along the way, I founded Transforming Sales Results, LLC and currently work as the Vice President of Sales Effectiveness Services for SPARXiQ, where I design sales training, deliver workshops, and help clients improve sales results through a variety of sales effectiveness services.
At SPARXiQ:
Then, in 2022, I partnered with fellow sales enablement expert, Felix Krueger of FFWD, to launch The Building Blocks of Sales Enablement Learning Experience, based on my best-selling book.
What market does your online course serve?
It varies a bit by course:
Modern Sales Foundations
Modern Sales Foundations, or MSF for short, is a full-cycle sales methodology and training program. The methodology is buyer-centric, consultative, value focused and outcome oriented. Most of the content was derived from over 16 years of top-performer analysis and was modernized to work with today's B2B buyers. There are several key differentiators:
It's a high-quality video production, filmed in a studio with professional talent. There are four major sections of 26 modules total, with 2 videos per module, each running approximately 15-18 minutes. The first video contains a studio show with two cohosts and an episodic storyline, where you watch the fictional AirCo Solutions sales team learn MSF right along with you. I laughingly call it "Seinfeld for Sales."
The second video is an After Show, where a host interviews Doug and me, as the co-creators, along with occasional special guest stars.
It's supported by content summaries and worksheets, and managers receive a manager support guide to help them reinforce and coach their reps on what's taught in the program. Clients are free to implement however they want, but we have various options for implementation support, to guide clients to achieve the highest levels of adoption of mastery. We believe in bite-sized learning using spaced repetition and application support, because that's how people learn.
MSF is designed to be adaptive, so it can be used in SMB companies, middle market firms, or enterprise sales forces. It is meant for B2B, and leans toward consultative selling and what's referred to as "the complex sale," meaning with multiple decision makers. We've implemented in various types of companies, from a SaaS software company with 2 salespeople to a $6B industrial distributor with thousands of sellers. It's now also available for purchase by individual salespeople who want to invest in themselves.
Client results with MSF have been excellent.
Sales Coaching Excellence
SCE is similar in design to MSF with some key differences. First, it's designed for front-line sales managers who manage sellers. There are 8 video modules for this program, with a workbook, homework assignments, and 4 live, virtual workshops that are 2 hours each and very interactive. SCE is a complete coaching framework with a coaching process and several models. It teaches managers how to use sales analytics to diagnose where to spend their time, how to develop the right solution, and teaches models for field training, sales coaching, and how to lead individual coaching sessions. It helps companies foster a coaching culture and get into a cadence of continuous improvement.
SCE can be used by any front-line sales manager that manages a team of salespeople and wants to help them achieve their best possible results.
The Building Blocks of Sales Enablement Learning Experience
This course is designed for sales and revenue enablement leaders or those who manage them. It can be purchased individually, or in packs of 5-seat licenses for enterprise teams. It includes high-quality bite-sized video lessons, support content such as templates, quizzes, and cheat sheets, weekly virtual group coaching calls for personalized advice and content reinforcement tailored to the learner's individual situation, as well as access to an online community. In this course there are 5 sections with 30 total lessons, covering everything in the book, and more.
As of May 2023, there are approximately 13,000 users of LinkedIn with "sales enablement" in their title. This is a somewhat limited Total Available Market (TAM), compared to the courses for B2B salespeople and front-line sales managers, but the course has done well so far, given that, and feedback from participants has been gratifying. That said, for other budding course creators who are reading this, factors like your TAM, and what percentage of the market you might realistically penetrate, is something to consider.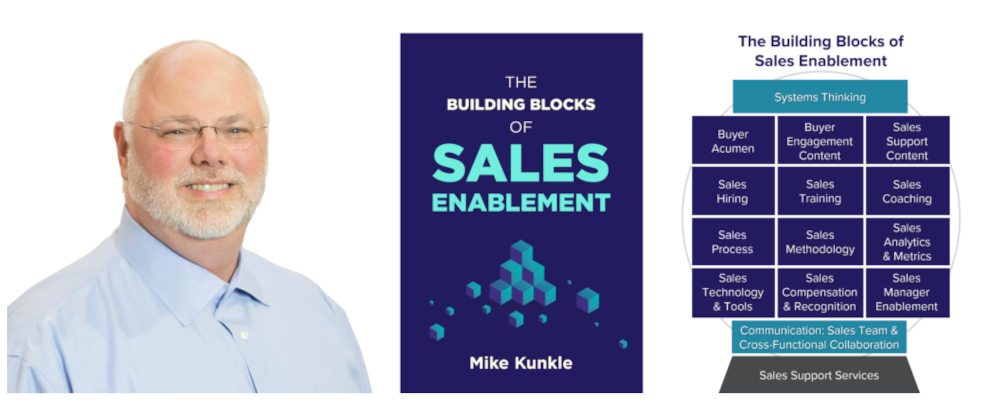 What's the biggest benefit of taking your course?
For Modern Sales Foundations
It's a modern approach to B2B professional selling that is very buyer centric. It challenges the old ways of thinking about selling and teaches what elite sellers do to truly differentiate themselves. In the end, this leads to generating and winning more opportunities, and driving more account growth.
For Sales Coaching Excellence 
Managers are the performance lever for change in any sales force, and a force multiplier. When they know how to diagnose, train, and coach effectively, they can deliver repeatable, replicable, scalable, and predictable growth. They also tend to have more engaged employees with less turnover.
For The Building Blocks of Sales Enablement Learning Experience
Sales enablement can be a function that delivers nice-to-haves, and that is the first to be downsized in troubled times.  Or, it can be an essential business function that supports increased sales productivity, and fosters higher win-rates, revenue plan attainment, and quota attainment. Graduates of the program are better poised to make an impact with enablement at their employers and maximize their career potential.
How did you get into the market?
Modern Sales Foundations
I have used much of the content in MSF for years. It was an outgrowth of the work I've done for employers and with clients, and the culmination of many years of top-performer analysis. I had dabbled with the idea of building a full curriculum for years, but an intense schedule and the costs of production (to do it the way I wanted) were barriers. When I met David Bauders, the CEO of SPARXiQ, and Doug Wyatt, they had the idea to create a course, and I had a lot of IP. One thing led to another, and we joined forces. Doug had spent 10 years supporting a 300-FTE sales force, and I had my IP and was a trained instructional designer from my past, so we put our heads together and created the program.
Sales Coaching Excellence
I already had a program that I called Sales Coaching Excellence, but it wasn't in the high-quality, bingeworthy, episodic video format that SPARXiQ produces.  So, the next natural evolution after launching MSF, was to create the coaching program. Now, many of our savviest clients train their managers on coaching first, and then implement Modern Sales Foundations. It's not a prerequisite, but they dovetail very nicely.
The Building Blocks of Sales Enablement Learning Experience
In late Q2 of 2022, after appearing on Felix Krueger's sales enablement podcast for the second time, he mentioned that he was considering building a course. Once again, one thing led to another, and I found myself seeking permission from SPARXiQ to support Felix in developing the course, based on my IP. Felix designed the flow, created the videos, and built the course materials, based on the content in my book. My contributions were made after-hours and on weekends, as I answered questions, offered feedback, shared deeper examples, and approved or massaged the content, based on my work. We launched on Black Friday that year.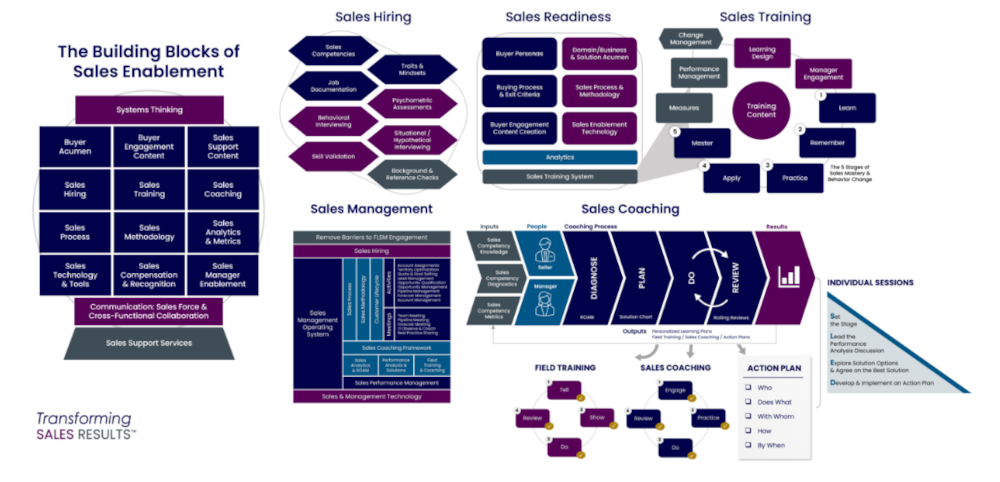 Did you have any moments of doubt before you created/launched it?
Yes and no. For each of the three courses, I knew the content was good and would get results for students and their companies. I also had faith in my instructional design knowledge and capabilities, after many years in the sales training industry.
But that said, for each, it was a daunting task. I often wondered, "Am I missing something? Am I explaining it well enough? Will people really buy this, with all the other training on the market?"
I think it's natural to have doubts, but you can't let that stop you. And while each of the courses was somewhat different, it was a lot of work, in all cases. - Mike Kunkle
Click To Tweet
With MSF, I was also collaborating with another creator, for the first time. It doesn't seem it, until you get to know me, but I am very much an introvert. In addition, if I'm putting my name on something and my reputation at risk, I need to know it will work for those who buy it. Fortunately, it turned out that Doug and I had some very similar experiences. We ended up working very well together, and became friends through the process. In the end, the program turned out better because of our collaboration.
If so what made you turn it around and do it anyway?
Some combination of sheer will power, the commitments I had made, and in general, a strong achievement drive.
What's your online course like?
Each is a bit different, but all contain:
Bite-sized video lessons
Supporting content/materials
Worksheets or job-aids
Live support for learners or their managers
MSF uses television-inspired entertainment formats. There's a Studio Show with co-hosts, Netflix-like Episodes with professional actors, and an After Show format with a host, the co-creators, and some special guest stars.
SCE is less intense than MSF, but still follows the entertainment format. It includes videos of a show host and me (as the creator), with episodes with a manager and his employees.
The BB of SE course contains videos of Felix presenting the content with a few appearances from me, and some images, slides, and motion graphics interspersed.
How long did it take you to create your course?
For the SPARXiQ courses, we had an entire production team – authors/co-creators, a director, writers, actors, studio time, editing. MSF took well over a year, but some of the delays at the end was due to COVID and filming restrictions. SCE was smaller and took about 6 months or so. We're a Microsoft shop and used Microsoft Office and Teams to collaborate, and store videos on Vimeo.
For the building blocks course, Felix drafted lessons and scripts, I reviewed and edited, and he filmed and formalized materials, for my review. Felix and I used Google Workspace, since that's what he used for his business, FFWD.com. He created the course on Teachable.
Tell us a little about the process of launching your course and getting your first sale(s).
For MSF and SCE, our first sales came through existing relationships with current clients. SPARXiQ has a rich history delivering strategic pricing services to wholesale distributors, and the training business (which eventually expanded to include other sales effectiveness offerings) was a new venture.
For the building blocks learning experience, we ran a promotion for Black Friday to launch the course and advertised primarily through LinkedIn and a weekly LinkedIn newsletter, which we grew to over 30K subscribers while we were…
Click To Tweet
Our first handful of sales came from that launch promotion.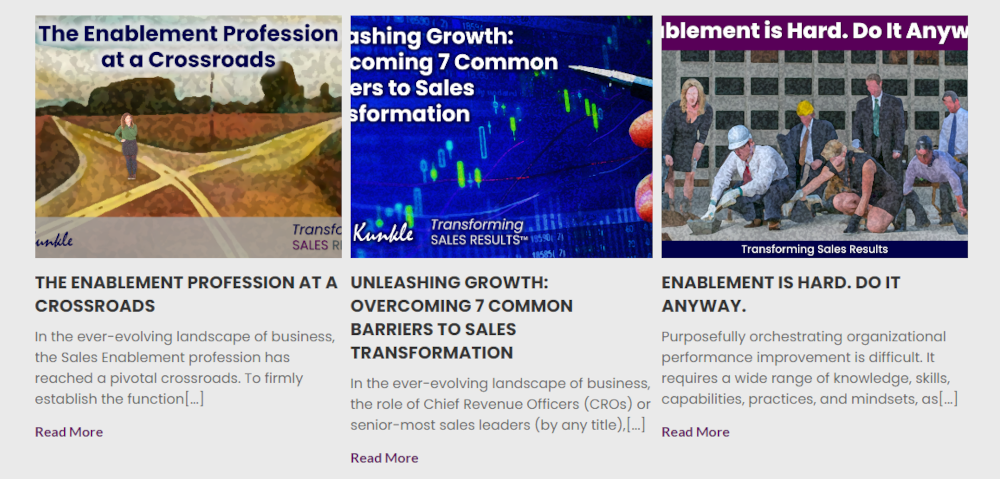 Do you have a lead magnet?
For MSF and SCE, we do offer a VIP Preview, which is a private website (actually a Digital Solution Room through Allego, which we use internally), where buyers can test drive a few modules and preview the materials. We also do content marketing through our blog with articles and various other "lead magnet" free downloads. In addition, we host webinars, nurturing, do lead scoring in Pardot, and manage other typical demand generation activities. We also have a sales team who does outbound prospecting.
For the building blocks course, it's more of the typical course creator approach. We've done some social ads, but mostly do LinkedIn marketing with posts and the newsletter. We've also marketing to both our lists subscribers, using MailChimp. I do some other social marketing for all courses on Twitter, Instagram, TikTok, and YouTube. We run an ongoing 50% coupon promotion for anyone who is verifiably unemployed, and periodically run other campaigns.
What's the traffic strategy that works best for you?
Modern Sales Foundations and Sales Coaching Excellence 
LinkedIn marketing, the VIP Previews I mentioned, a company newsletter, the blog and related content marketing (publishing thought leadership) all seem to perform. I think it's a culmination of "getting the word out" through various channels. It's taken some time as a new entrant to the sales training space to build awareness, interest, and relationship with the market. Trade shows seem to work surprisingly well in our core vertical (industrial/wholesale distribution), but not as much with the general market. I occasionally blog and do webinars for other respected companies in our space, who have a large following. Those tend to generate great awareness and leads, as well. We tend to do well with attracting interest with thought leadership, getting an email with a free asset download, and using a sequence/funnel from there, with content created for each stage of the buyer's exploration.
The Building Blocks of Sales Enablement Learning Experience
So far, it's been direct promotion on LinkedIn that's worked the best, and through the feedback our students have shared about our course quality. We're just beginning to experiment now with more personalized curriculum structures based on buyer personas (considering the role and level, and length of time in the profession/experience level). When ready, we'll be able to target different marketing campaigns based on the various audiences.
What online course platform are you using?
Modern Sales Foundations and Sales Coaching Excellence 
MSF and SCE videos are house on Vimeo and are delivered through Allego (our sales enablement software partner) when clients want the additional functionality they provide for implementations, through Docebo (a well-known corporate Learning Management System) at our site, Training.SPARXiQ.com, through Content Controller (when the client wants to use their own SCORM-based LMS), and through LearnDash for individual purchases (versus organizational implementations).
The Building Blocks of Sales Enablement Learning Experience
Felix delivers this course through Teachable. Potential students can gain access to 5 sample videos right from the website. We also use Sales Reach to set up Digital Solutions Rooms to share a demo with prospective students.
Do you like it?
Yes. All of the platforms have pros and cons, offering good customer experiences, with reporting being one of the elements that I believe needs the most improvement in the market, as a whole. But the ones we're using all work well. For SPARXiQ it was important to have a mix of options to support however the buying company wants to implement the course. For the building blocks course, Teachable was a great choice.
Are there any features you wish it had?
Most commercial LMS systems could use an upgrade in reporting and dashboard design, in my opinion, especially when companies are implementing, versus individual buyers. It often takes far too much effort to produce what ought to take a few clicks.
What made you decide to use your chosen platform over others?
For the individual course purchase platform at SPARXiQ, the decision to use LearnDash was based on already using WordPress and wanting to have more control over the system and customer experience. We already had a partnership with Allego, which is a leading sales enablement software vendor, and Docebo was a good choice for the basic LMS, because we had people on staff who had used it before, and Docebo allows us to manage multiple instances (for each separate client). Some LMS that are designed for internal vs. commercial programs, do not.
For Felix and the building blocks course, he compared the multiple platforms and Teachable had the right mix of course creation, marketing, customer experience, and administrative ease.
What other tools do you use to run your online course business?
SPARXiQ is a multimillion-dollar SMB with over 35 employees, so we employ the types of software you'd expect – Salesforce, Pardot, LinkedIn Sales Navigator, Allego, Microsoft 365, Zoom, the full Adobe Creative Cloud suite, WordPress, the ones mentioned above, and a few other apps. I use BigVU, VEED, Camtasia, SnagIt, and Loom, along with PowerPoint, for video and presentation work for social marketing.
Felix uses Google Workplace and the software mentioned previously.
What books or training programs have you found useful on your journey to a successful business owner that others might find valuable too?
I've taken some training on high-ticket affiliate marketing that has been helpful in understanding lead magnets, offers, funnels, and sales copywriting. Legendary Marketer has some good nuts-and-bolts training on that, at various levels, starting very inexpensively. Keep in mind that I'm not in marketing at SPARXiQ, and they run a professional marketing operation, but the training has been more helpful for structuring funnels and offers for the Building Blocks course.
Do you have any big mistakes you've made along the way that you'd be willing to share?
Our courses are high-ticket offerings (between $500 to $1,695 per person), so marketing the "jump right in" method at the list price is not as effective as it might be for a $29.95 course on opening an Etsy shop or a $99 course on YouTube SEO. This is where lead magnets, nurturing, buyer engagement content, and lead scoring and outbound selling come into play. Especially for the building blocks course, this was an early lesson.
Please share some idea of revenue.
Well, I'm probably in a somewhat different position than the average creator who is creating, marketing, and selling a course as a freelancer. At SPARXiQ, we sell entire organizations from $500 per person to $1,200 per person, plus add-on services. We have clients with a few salespeople, and others with hundreds or thousands.
For the building blocks course, sales come in spurts, perhaps averaging 2-3 a month. Since most enablers work in the tech industry, especially in SaaS, and since SaaS has experienced a lot of turmoil and downsizing, it's been slower lately than at the start. This trend will reverse over time. Patience and consistency of marketing are your friends.
Please tell us a little about what the money you've earned from your course has done for you.
My fiancé and I bought a house to take care of her ill mother, we were married in a beautiful destination location, and we have everything that many wish for. I can't say that all of it is because of the courses we're discussing, it's a culmination of many years of effort in the field and a lot of work to become a recognized expert. But my book and courses have added significantly in recent years, and I'm grateful for what we've all accomplished, so far.
In addition to revenue are there any numbers you would like to share?
By sharing thought leadership and by marketing through LinkedIn with a weekly LinkedIn newsletter, I built a newsletter following of over 30,000 subscribers in about 3 months, while we were recording the Building Blocks course. Each week, I shared thought leadership about sales enablement, based on my book, and Felix shared course development progress and asked the subscribers questions about the developing course, to check preferences with our audience. This is what I contribute to a successful launch of the program.
At SPARXiQ, our implementation approach is part of the customer experience, and we shower our clients with care and go the extra mile to ensure their success. I guess it's a strategy, but honestly, we do it because we truly care and want to see our clients succeed. Once they complete a program, most of our customers purchase other programs, or expand their rollout of the current program. We're doing some evaluation work now, with a handful of clients, that is showing significant results from their training implementations, and this has been very gratifying to see.
What has creating your course done for you personally?
Well, it certainly has been very reaffirming. I already knew the content worked in my previous employers and in former clients, when I was consulting. But I'd liken it to writing a piece of music, getting to record it, and then hearing it on the radio. I could never have personally produced what SPARXiQ did with my training content. Every now and then, I look at it, and am still amazed. And to see it working, feels even better.
The building blocks course is not the same kind of production, but the glowing reviews from very intelligent, capable students in the profession, just feels great. Many years ago, I heard Zig Ziglar say that you can get what you want in life, if you'll just help enough other people get what they want. It's a wonderful way to live your life, and I wouldn't trade a minute of my time spent in the sales performance improvement profession.
Do you have a story of a transformation from any of your clients?
I do have a client at SPARXiQ who has taken 3 of our courses (we offer others, besides the ones with my IP), and literally taken every piece of advice I have offered them. They contemplate, make decisions, and take action. It's a lot of fun to see. At the end of 2022, they reported their best year ever, and performed far ahead of their competitive set. They kindly credit us with helping them get here, but I credit their ability to decide and act. In either case, it's a wonderful success story. We've had two other stories recently of a huge success, when a student followed our advice in the course and generated multiple opportunities because of it, or a significantly large opportunity, in a customer they were struggling to break into. All of these stories are very gratifying to hear.
What advice do you have for people just starting out?
I wish I had started sooner on course creation. I've done a lot of this work for employers, and for consulting clients, but I've not created courseware for the general market until 2019. Sometimes I wonder what I could have accomplished if I had started earlier, made the time, pushed myself. I can't change that now, and don't dwell on it negatively, but I have thought about it.
If you've got something inside of you that can help others – if you have a solution to a problem, or have delivered good outcomes in a particular situation – don't hide your light. Share it. - Mike Kunkle
Click To Tweet
We are living in a creator economy. It might take a few efforts. You might make mistakes and learn. But like Nike says, just do it.
Learn more about Mike Kunkle of mikekunkle.com: