How Mike Gardener Created a Course in Udemy to Promote His Flexible Office Space Platform

Our content is reader supported, which means when you buy from links you click on, we may earn a commission.
---
Who: Mike Gardener
Website: theofficeproviders.com
Course Topic: Flexible Office Space
Interesting Stats: 600 sign-ups in the first 3 months
Who are you and what course have you created?
I am a chartered commercial property surveyor and flexible office space agent. I'm also the founder and managing director of The Office Providers.
The Office Providers is a free-to-use online flexible office space finding platform. It is underpinned with offline expert commercial property advice.
The company assists businesses of all sizes. They range from freelancers to multinational corporations. Any that want to acquire flexible office spaces and workspaces. These may come in the forms of private serviced offices, managed office space, coworking space solutions, and various forms of flexibly leased office space to rent.
Post-pandemic, the company has been increasingly focused on assisting businesses in formulating hybrid workplace models. These facilitate flexible remote working and hybrid working.
The Office Providers is globally regulated by the Royal Institution of Chartered Surveyors (RICS).
I presented A Guide to Flexible Office Space which is a free online course that was created by The Office Providers.
The course provides an overview of the flexible office space market and explains what workspace options are available to a business.
It discusses the fundamental differences between traditional office space for rent and flexible office space options.
The course defines various forms of flexible workspace, explains how flexible office space is priced, and outlines the acquisition processes for different forms of business space.
It also provides an overview of hybrid workplace models and outlines how businesses can use flexible workspaces and office space to create efficient and harmonious hybrid working models that incorporate flexible working practices.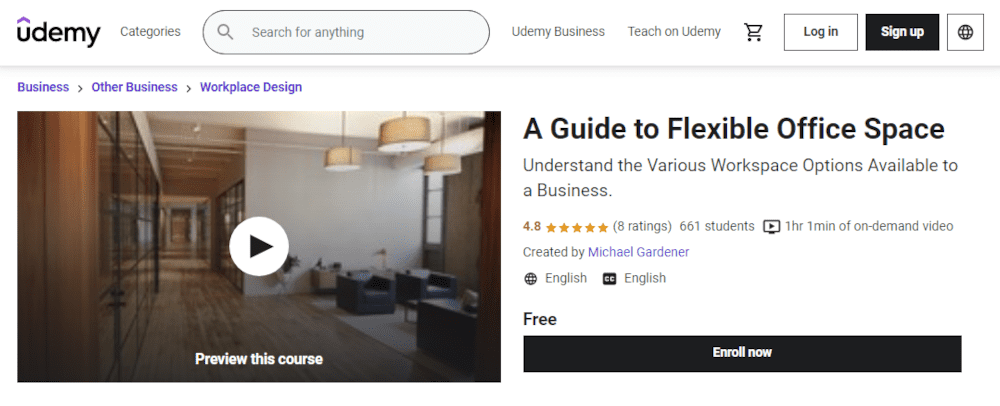 What market does your online course serve?
The course serves anyone that is interested in flexible office space as well as the flexible working and hybrid working practices that flexible spaces can help to facilitate.
It is primarily aimed at businesses ranging from freelancers, consultants, and start-ups to multinational corporations, government organizations, and non-profit entities.
In the course overview, we categorize the audience in the following way:
Business owners and individuals seeking office space.
Entrepreneurs, freelancers, and start-ups looking for business space options.
Office managers, PAs, EAs, and those tasked with understanding available workspace options.
Those responsible for sourcing office space for a business.
Those interested in learning about the differences between leased offices and flexible offices.
Those interested in learning about the various forms of flexible workspace.
Commercial real estate students.
Since launching the course, we have discovered that it has also been useful for employees. Especially those that are currently office-based and are interested to learn about the workplace options and strategies that are available to employers.
What's the biggest benefit of taking your course?
The course provides a free and impartial overview of the flexible office space market and compares flex space options with conventionally rented workplace options. The content is produced by commercial real estate experts with focused in-depth knowledge of the flexible office sector.
During our initial market research, we found that it was difficult to find detailed information about flexible office space in one place. Nor in a place where information wasn't attached to some form of a sales funnel.
It was therefore important for us to share our knowledge openly with 'no strings attached and it is also the reason that the course is free of charge for all.
How did you get into the market?
We have been operating as a flexible office space brokerage since 2009, launching during The Great Recession.
We have been helping businesses find flexible workplace solutions since then and the market has continued to grow as the general appetite for flexibility has increased.
When the pandemic hit and the subsequent recession arrived, we could see familiar patterns, however, this recession had its own unique characteristics.
During the last recession, many businesses downsized their office space footprints and made a move away from rented office space towards future-proof agile offices on flexible leases or licenses.
This time was different, the office was ditched completely due to lockdowns.
This led to headlines that declared that the office was dead and that we would all work from home forever.
A lot of this was clickbait, of course, but the events of 2020 triggered a valid, important, and global conversation about the future of the office. I truly cannot remember a time when the office space market received so much press attention.
Something significant was happening.
The enforced homeworking experiment accelerated moves to remote working that were already in transition, and it also caused many businesses to reverse decisions to be completely office-based, that had been made in the past.
There was a global discussion surrounding the future of work and how it would look. Somewhat niche terms such as 'hybrid working' and 'hub and spoke models' became widely used and previously office-based employees wondered how they would work in the future.
We decided to adjust a large element of our marketing strategy and created a directory of office providers on our website.
This moved us in a direction away from other online office space brokers that focused on listing spaces. It put the flexible workspace companies including office providers, operators, and flexible office landlords at front and center.
This allowed us to help increase exposure for these flexible workspace companies. At that time, they were receiving little to no external support during extremely arduous market conditions.
And, it also provided us with a vehicle to produce new content that spoke with authority about the flexible workspace options available to businesses that would create efficient post-pandemic workplaces that facilitated hybrid working and remote working, or simply provided additional flexibility and insurance against future unforeseen circumstances.
With the same goals in mind, we produced books about the project. We launched our podcast series entitled 'Spotlight on Office Providers'. The podcast discusses the available options created by various providers.
Producing the course was an extension of this project.
Why did you decide to create an online course in the first place?
We'd decided to create an online course to complement the aforementioned project.
We felt it was an extremely efficient way of providing information about flexible offices and workspace in a clear, concise and easily digestible way.
We had produced books about the same topic. However, with a course, we could provide the information in a new format. We can easily break down the information into individually downloadable sections.
A course also allowed us to easily signpost other resources where learners can find out more information about the topic.
Because of the large reach of the platform that we used, it also allowed us to address new audiences.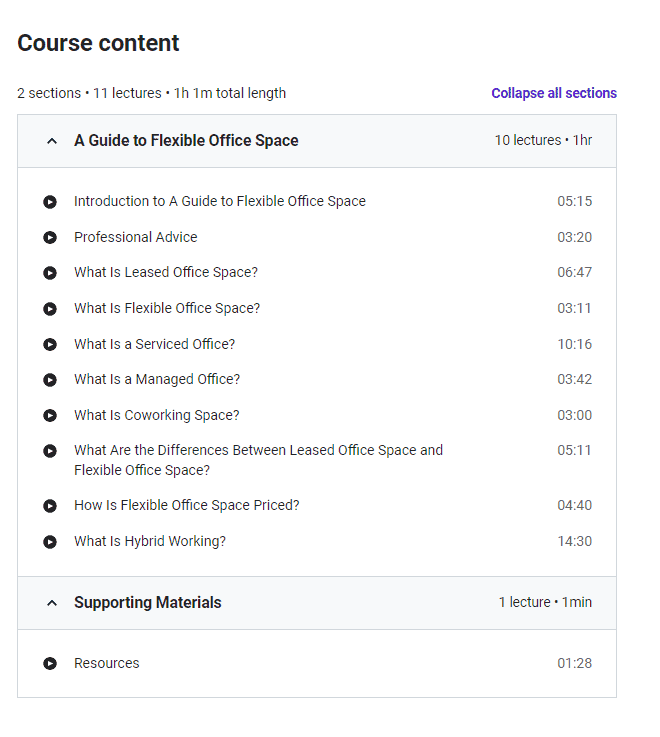 Did you have any moments of doubt before you created/launched it?
The course was something that we decided to do as we were planning the office space providers directory project. This was very early during the pandemic.
Yet, we hadn't worked out how we were going to schedule it.
As the pandemic took hold, we had other projects that we were focusing on. This includes the creation of the aforementioned directories. We were launching a podcast and we were producing books to increase awareness about the project.
There were, of course, external factors brought on by the pandemic. These impacted the team at the same time, too.
We knew from our initial research that there would be quite a lot of work involved in the writing, editing, presenting, recording, processing, and then the promotion of the course.
For those reasons, it was postponed until we had a clear 2 months to focus on it.
If so what made you turn it around and do it anyway?
The flexible workspace market evolved during the pandemic by creating new products such as daily and weekly office rentals, on-demand collaboration hubs, satellite offsite team workspaces, and many other solutions.
It increased in both size and nuance and, concurrently, the number of discussions around flexible working, flexible workspaces, and the future of work continued to increase.
Because of this, we knew that there was a growing demand for knowledge of the sector.
Although it had already been scheduled, the research and feedback in the 18 months before launching the course further validated its production.
What's your online course like?
It is an hour-long in total and consists of 10 presentations ranging from 3 minutes to 15 minutes. It includes a resource section that signposts other places of learning and materials about flexible office space.
We built the course on PowerPoint. Then we used various software applications to add audio, edit, optimize and then convert to a video format that was acceptable to the platform.
How long did it take you to create your course?
It was approximately 2 months in total in terms of research and creation. However, it is a product of a culmination of over 15 years of experience and research into the flex space market.
Once we had worked out the structure, many drafts of each presentation were produced. Once we were happy with the content, we set about producing the presentations and recording audio.
Each stage of the production of a course took more time than we had anticipated and we found that it was important to seek technical advice from the likes of producers and sound engineers.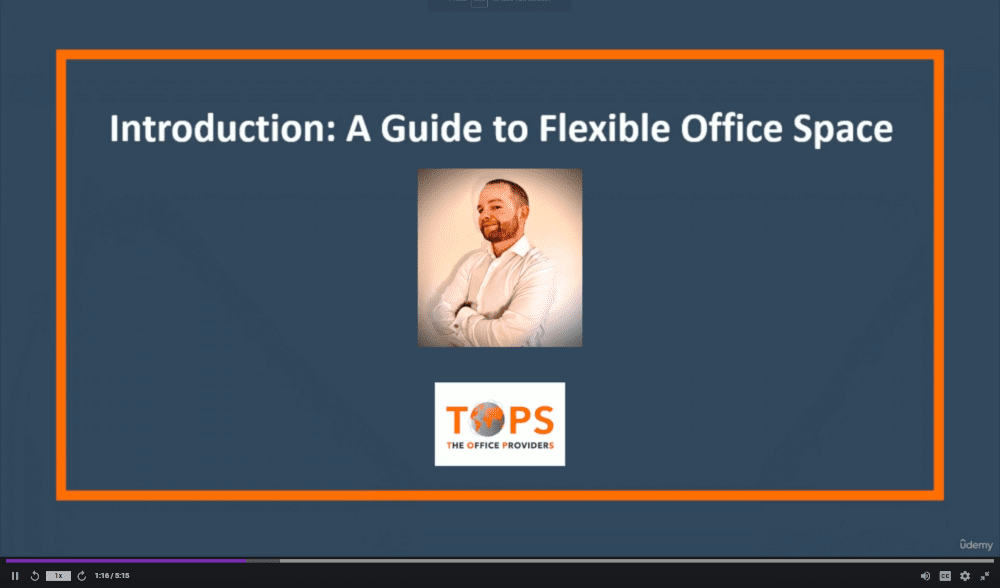 Tell us a little about the process of launching your course and getting your first sale(s).
Once the first draft is completed, it is submitted to the platform for review. There is then a process of feedback and editing. Once this process is complete, it is ready to launch.
The platform took care of publishing the course and it was then up to us to promote it.
I don't believe there's a 'silver bullet' when it comes to promoting anything, rather lots of regular bullets. -Mike Gardener
Click To Tweet
So, we promoted the course by including a link to it on many of the profiles and platforms that we have a presence on around the web, we promoted it on our podcast, on blog posts and articles on our site, and others, and we also produced a YouTube video that also linked to the course.
Do you have a lead magnet?
As we wanted it to reach as many individuals and businesses as possible, we made the course free of charge.
Direct sales were not important, as such, so we didn't use a lead magnet but the aforementioned multi-channel promotion strategy.
What's the traffic strategy that works best for you?
Firstly, it is important to create something that there is a high level of demand for. Ideally, it should not be within a saturated market.
I would also say that it is important to spend a decent amount of time creating the overview, introduction, and instructor profile and to include keywords that are important to you in those.
It is important to choose your category well and, if possible, include the course in multiple categories.
It is also important to choose the platform that has the right built-in audience for your course.
What online course platform are you using?
We used Udemy for this course.
Do you like it?
Yes, it is efficient to use. There is an instructor community that is extremely helpful. Udemy provides many useful instructor resources, too.
The editing process is efficient. They provide lots of clear notes and recommendations advising you on how best to edit.
Are there any features you wish it had?
This was our first course and we don't have experience with others. If we use another platform in the future, we may discover features that could have been useful on the Udemy platform.
What made you decide to use your chosen platform over others?
We are a Udemy for Business user so we were already familiar with the platform and how efficient it is to use for the learner.
Also, Udemy has a large audience of over 35 million users so we knew it had a broad reach.
And, importantly for us as we are a b2b company, there are over 6,000 Udemy for Business users that use the platform such as Eventbrite, Nasdaq, and VW so the built-in audience was ideal.
What books or training programs have you found useful on your journey to a successful business owner that others might find valuable too?
There are too many to mention individually, and the list is continuously growing.
We are a Udemy for Business user. That grants access to thousands of courses and programs that the team uses for tutorials in areas ranging from Excel to wellness in the workplace.
I also feel that whilst social media can be criticized for many reasons, it does present an opportunity to create an environment of constant learning.
By following an author, podcaster, course instructor, business leader, or other person or entity that has had a positive impact on you or your business, you can curate feeds that are rich in resources and that open up other accounts to follow and their respective resources.
Do you have any big mistakes you've made along the way that you'd be willing to share?
I'm not sure who to correctly attribute the original quote to as it has been rehashed many times but I do believe in the adage that, if you are not growing you are dying. I agree that, in business, if you are not moving forward, you are losing ground.
And to grow is to adapt and evolve so there are always adjustments to be made within the business model canvas ranging from minor tweaks to full pivots. -Mike Gardener
Click To Tweet
Those responsible for a business can study other businesses but case studies are always about events and situations that have already happened.
There is no live playbook that applies to your sector, current market environment, your business's internal and external conditions, or its goals, culture, and mission.
Therefore, many mistakes get made along the way. But as long as the effects of those can be measured to allow for their management, and the business can learn from those mistakes, then these mistakes can be extremely useful.
So, no, no significantly 'big mistake', as such, but processes of trials, errors, and learning. And an ongoing mission to make the wins outnumber the mistakes, in order to continuously improve.
Please share some idea of revenue.
In the first 3 months, we had over 600 signups. So if we had charged the minimum amount of £9.99 we would have seen £6,000 in gross revenue before the platform took its commission.
That being said, if we had charged for the course, we may not have had as many signups.
In addition to revenue are there any numbers you would like to share?
It falls into the marketing mix for our brand. It has had a positive effect on awareness and general traffic levels to our various platforms directly and indirectly.
What has creating your course done for you personally?
This was a team effort so we are all very proud of what we have achieved.
To our knowledge, this is the first time a commercial real estate advisory firm has created a free course. Especially one that provides an overview of the flexible office space market in this way.
We felt that it was an important thing to do, and the number of signups appears to validate the project.
Do you have a story of a transformation from any of your clients?
We don't have any stories of any transformations created by the course. However, the high number of signups and the positive reviews made it a worthwhile project for us.
What advice do you have for people just starting out?
Like any task, preparation is key. Someone famously once said if you are given 6 hours to chop down a tree, you should spend the first 5 hours sharpening the ax. - Mike Gardener
Click To Tweet
I try and remember this whenever we are taking on a new project.
When creating a course, a decent amount of time should be allocated to market research, researching and creating materials and content, organizing the structure, and analyzing the tools and methods to be used.
This makes the creation of the course and other processes a lot more efficient.
Time should also be spent in advance working out the promotional strategy so that it is ready to deploy as soon as you publish, or even before and during if you choose to use teaser promotions.
Learn more about Mike Gardener of theofficeproviders.com: