How Melissa Esplin of Calligraphy.org Turned Her Love of Calligraphy into a Profitable Business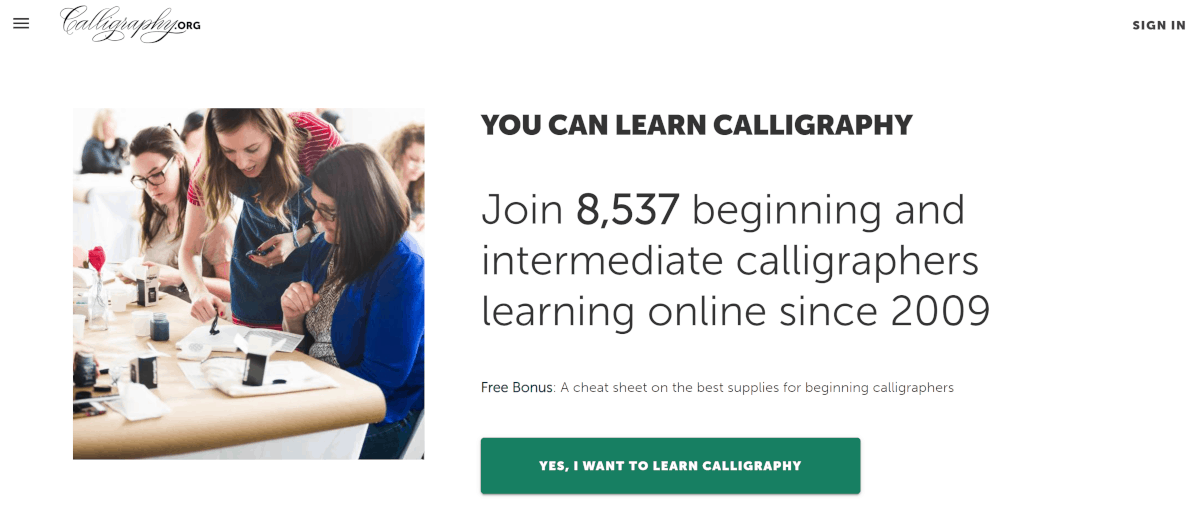 Our content is reader supported, which means when you buy from links you click on, we may earn a commission.
---
Who are you and what courses have you created?
I've created a hand-lettering foundations course, a modern calligraphy course, and a brush lettering course. You can find all my courses at calligraphy.org.
What market do your online courses serve?
I teach calligraphy online! I teach a variety of people from chronic hobbyists, to entrepreneurs starting their own calligraphy businesses to those needing more creativity in their day.
What's the biggest benefit of taking your courses?
My courses are all analog artforms. It's not easy learning an analog technique online. Each class includes images, videos, text and… personal, one-on-one feedback. The feedback I give each student tells them what they're doing right, why, and how they can improve. I love working individually with people to help them meet their calligraphic goals.
How did you get into the market?
I was a pretty avid blogger back in 2010 when I started learning calligraphy. My following kept asking me how to learn. This was back before learning platforms are what they are today. I started working on e-course content when my husband was unexpectedly fired from his job. He built the first platform of calligraphy.org while he was unemployed and my first online class was born!
Why did you decide to create an online course in the first place?
At the time I was pouring much of my time into blogging without much monetization. I realized I had a skill set that people would pay to learn. I also realized that my particular audience would much rather spend money on learning how to do/make something than pay for a handmade good. Knowing this, it seemed like an obvious step to take.
I knew how to teach. I took a few education classes in college (I was initially an art education major before switching to painting & drawing) and I taught continuing education classes in bookbinding and watercolor when my husband and I lived in California.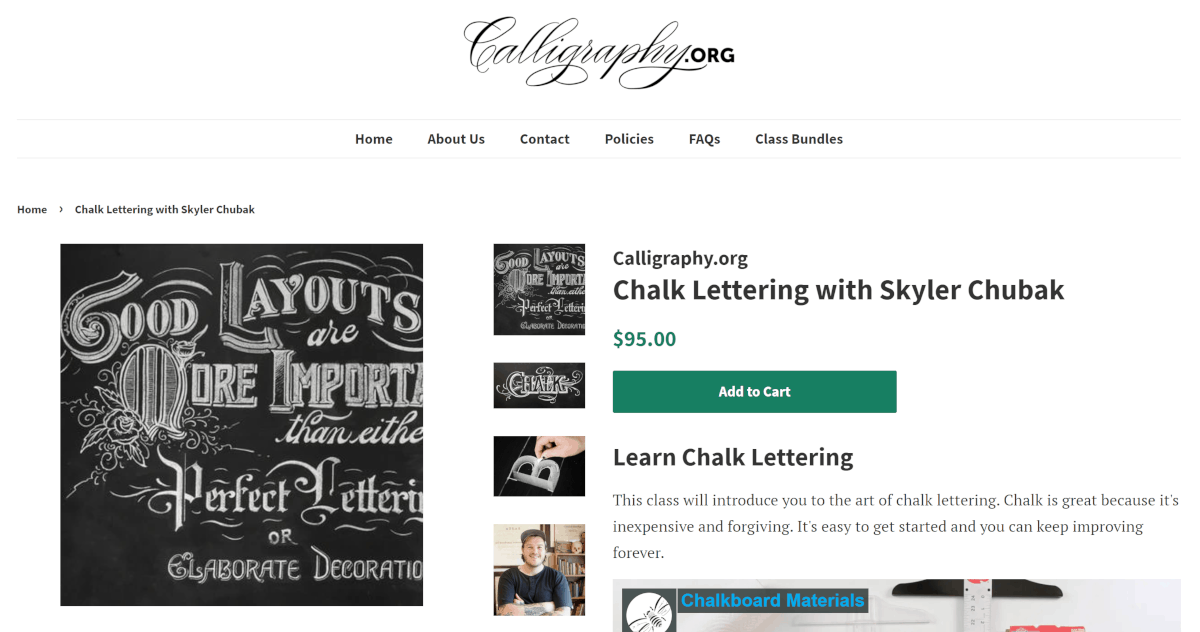 Did you have any moments of doubt before you created/launched it?
YES!! STILL DO! I think, honestly, I had less doubt than I do now. The saying, "The more you know the more you know what you don't know." It is 100% true. I still had a fair amount of doubt.
If so what made you turn it around and do it anyway?
What I have to rely on is the fact that I am consistently learning new things and getting better. I am adding that to my feedback within my course.
A really ah-ha moment that happened very early on was when a calligrapher who I looked up to took my course. I asked her outright why she was taking a class from me when she was clearly more advanced than I was and her reply was so wonderful and encouraging. She effectively told me that she wanted to learn from everyone! She pointed out a few things that I had taught her that she didn't know before and it encouraged me to keep going.
What are your online courses like?
My courses are a blend of images, text, and video. All the content is pre-recorded.
I repeat my content in the text, in the images, and in the video. Not everyone wants to learn by watching videos. -Melissa Esplin
Click To Tweet
And sometimes you want to circle back to something, but scrubbing through 15 minutes of video to find it is rather annoying. I find that with my particular craft, repetition of key principles is necessary.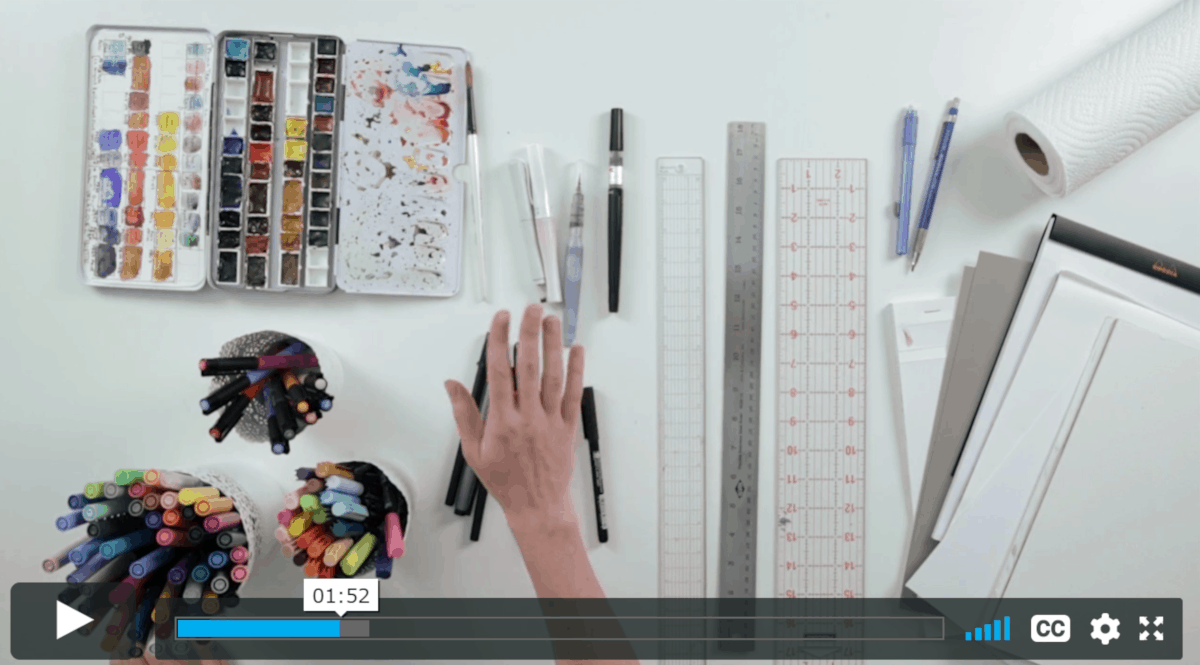 How long did it take you to create your first course?
It took about 6 months to create the course initially. Since launching in 2012, I've iterated and added to the coursework. So I'd say it's probably now up to about a year's worth of work.
I started with the objectives that I wanted each person to learn and fleshed out the content from there.
I created shortlists for both video and images so I could batch content creation for consistent lighting and styling. -Melissa Esplin
Click To Tweet
Outlines are your BFF when creating a course! I can create and edit my own video, but I chose to work with videographers to help create the video portions of my coursework.
Tell us a little about the process of launching your course and getting your first sale(s).
I had a rather interesting following on my blog, so I put up a newsletter subscription page that people could opt-in to for notifications on the course. I've relied mostly on word of mouth and the email list to help with sales. Educational tools aren't typically impulse-type purchases, so word of mouth helps so, so much!
When I launched my course I had over 1000 email subscribers. I was shocked to have such a large number of people interested in my course. My husband thought the course launch would be like a flash-in-the-pan where we got a ton of sales all at once, then nothing.
Turns out, it became a very slow burn. I got our first sale about 3 days after I sent the email announcing the class launch. I think the first month we were live I made about 10 sales.
Do you have a lead magnet?
I have a free supply guide for people. Buying the right tools is a large part of the battle when learning calligraphy! It's helpful. I don't focus as much on the numbers these days (I've realized that those numbers are triggering for my anxiety), but I do see a difference.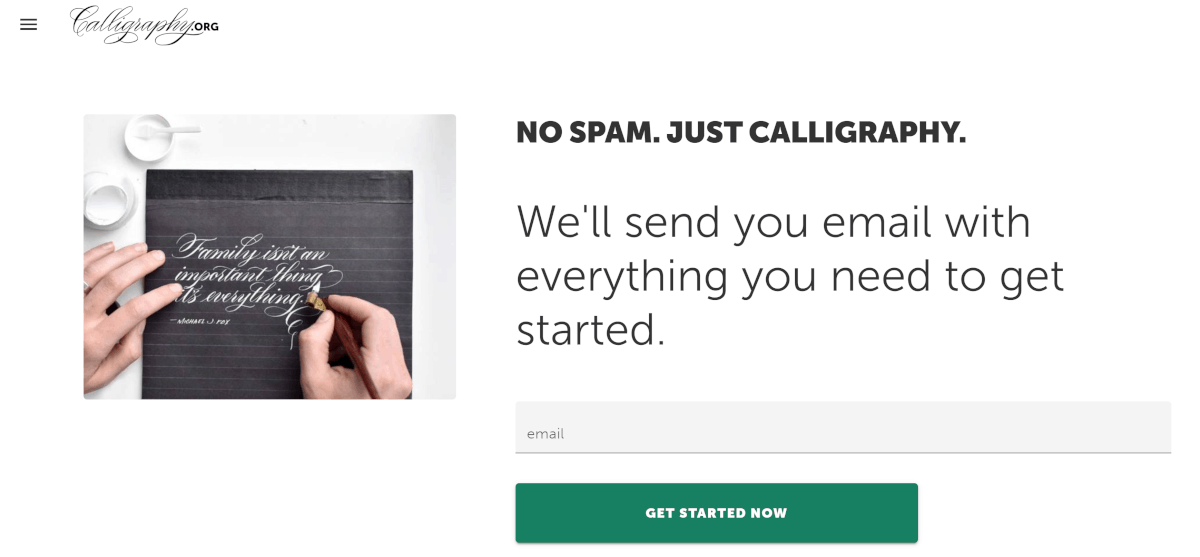 What's the traffic strategy that works best for you?
I've really stepped back from the marketing side of the class in the last year or so. I'm working on getting back to it while managing my stress levels and health. Creating an online class and developing your own passive income is a lot of work! It's very rewarding, too. In the last two years, I've been focusing on a more balanced lifestyle than a marketing strategy, which has pulled me out of the game a little bit.
What online course platform are you using?
I'm using a platform that my husband developed for me. We've iterated a few times since 2012. If I need a feature, he can build it. I really like the platform!
Are there any features you wish it had?
I'm super biased about the features on the website my husband built for me, so I really don't know.

What made you decide to use your chosen platform over others?
I'm married to my developer, so he basically builds me whatever I want. LOL. At the time I was looking into possible platforms, there weren't options like Kajabi, Teachable, Thinkific, etc. I liked the idea of WordPress, simply because that's the platform that I was already using for my blog content.
What other tools do you use to run your online course business?
I use Instagram, Facebook groups, YouTube (for private videos for students who need a little more hand-holding or are killing it with the class and want to do more advanced techniques), and Fogo (an images library my husband built for me for giving feedback).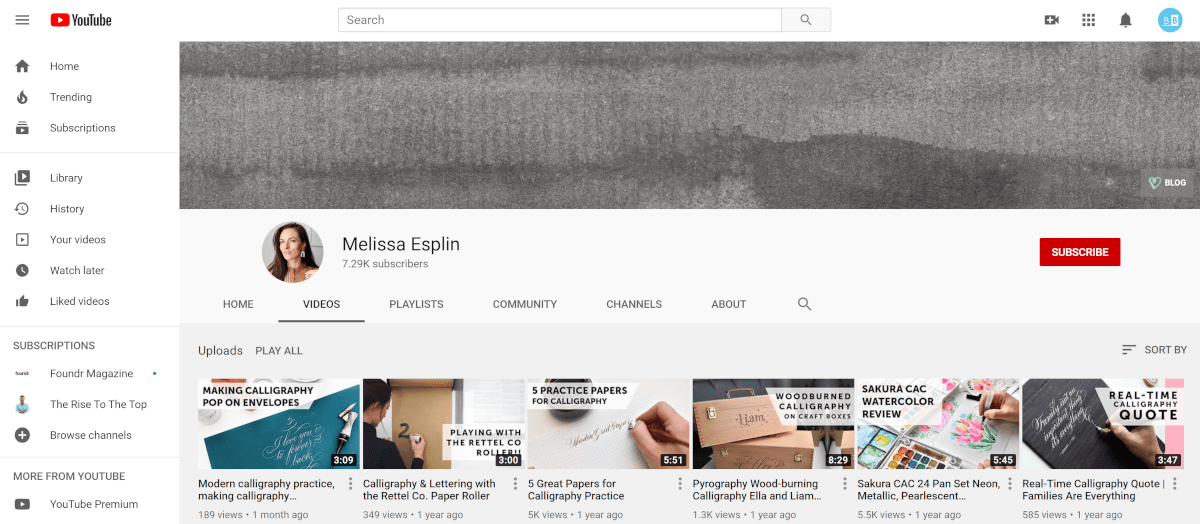 What books or training programs have you found useful on your journey to a successful business owner that others might find valuable too?
I'm not sure they're publishing any podcasts anymore, but the Married2Business podcast was very insightful for me. For a long time, I viewed my business as a side hustle rather than a business. The podcast really helped me see myself as a business owner and understand our business core values. That has, in turn, helped guide me with my decision making.
Do you have any big mistakes you've made along the way that you'd be willing to share?
I had no idea what I was doing when I started. My calligraphy sucked, and I had no idea about traditional foundations when I started teaching online. I quickly course-corrected. Teaching really pushed me to learn more and get better at my craft.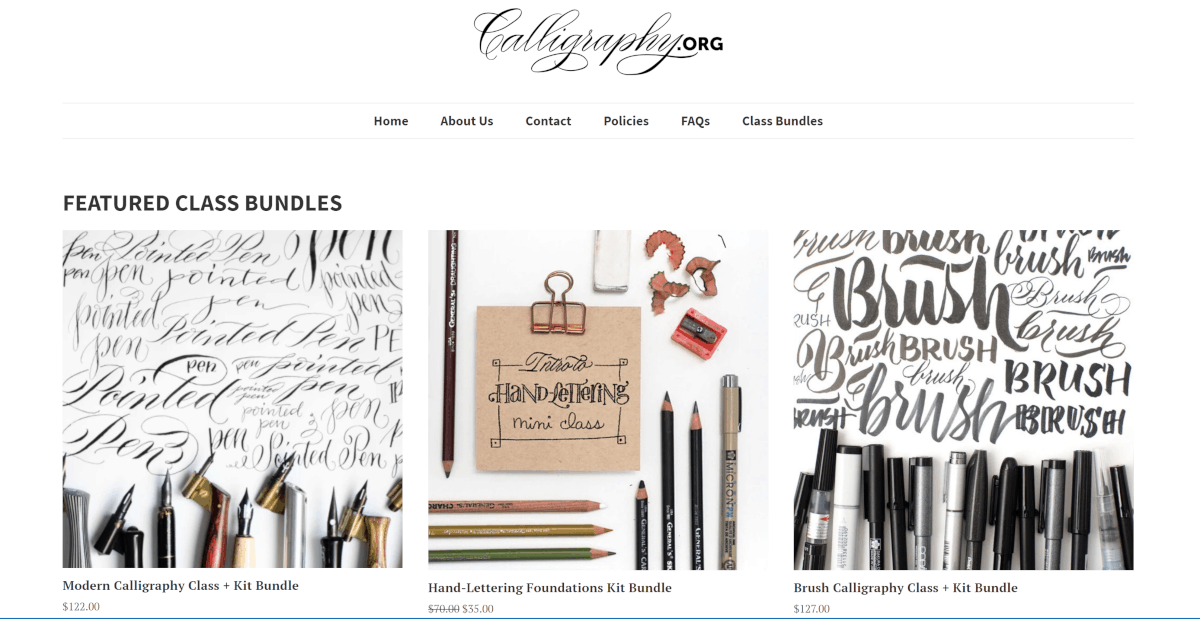 Please tell us a little about what the money you've earned from your course has done for you.
When looking at launching my course, we looked at a couple of different options. One of which was hosting on someone else's platform. It was a beautiful platform, but a little exclusive as it was really only available for Mac users. As I talked to the site-owner, the person offered me a very small percentage if I hosted the class there. The person also gave me the option of a full buyout. The buyout number was enticing at first, but ultimately it didn't feel right.
My husband wasn't sure about how much I wanted to charge ($95 for the course) and we talked at length about pricing. Ultimately we went with my pricing and we self-hosted instead of going with the other website. Over the course of the first year, I made 3x the buyout offer. And I've been running the class for the last 8 years.
Moral of the story: don't undervalue yourself.
What has creating your course done for you personally?
Creating a course has helped me with my confidence, I've learned so much, and I've created long-lasting partnerships with brands and manufacturers that have come to bat for me. It's been financially a blessing to our family for sure! My husband was able to quit his job for a time and help me with our son who has special needs when he was the most physically demanding.
Do you have a story of a transformation from any of your clients?
I've had a handful of students take my class because they needed something creative in their lives. Working a 9-5 can be creatively soul-sucking at times!
We offer a shoe-box hobby (one that *can* fit in a shoebox, but inevitably ends up taking over) for people like that. And we've had a handful of students quit their jobs and start businesses! It makes me so happy to have a front-row seat to that transformation. Among those students are ashbush.com and thescriptshopcalligraphy.com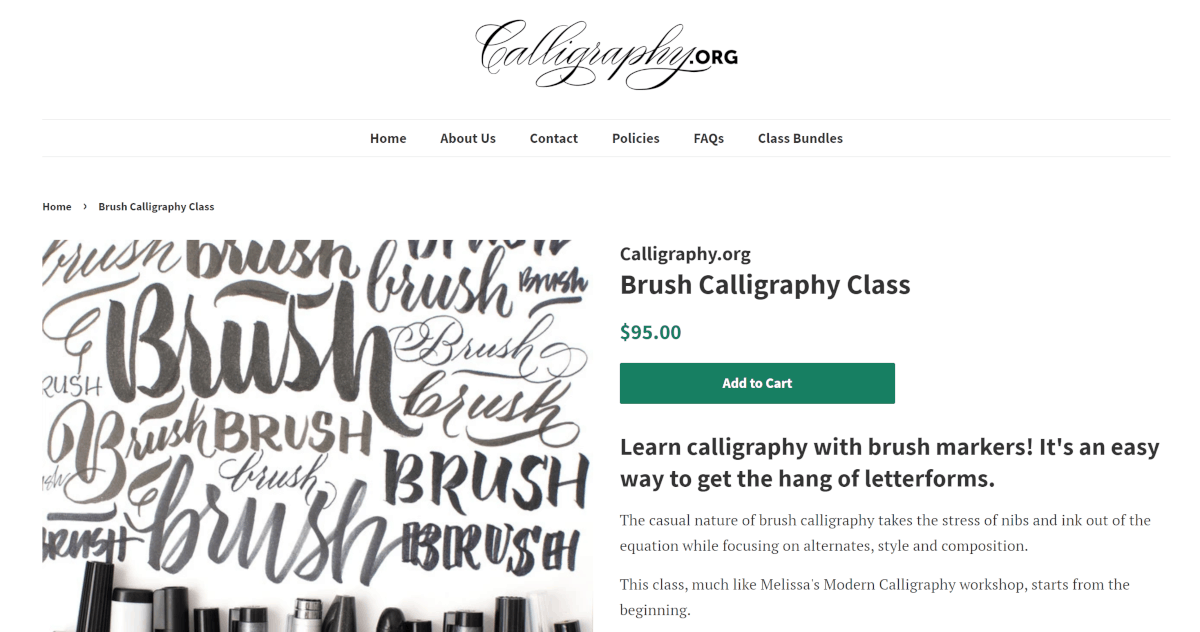 What advice do you have for people just starting out?
Make the content. Don't feel like it has to be perfect right away. DONE IS BETTER THAN PERFECT. You can always iterate, add-to and improve.
Learn more about Melissa Esplin and Calligraphy.org: