How Maya McNulty Created Her Covid Wellness Clinic and Self-Guided Long Covid Program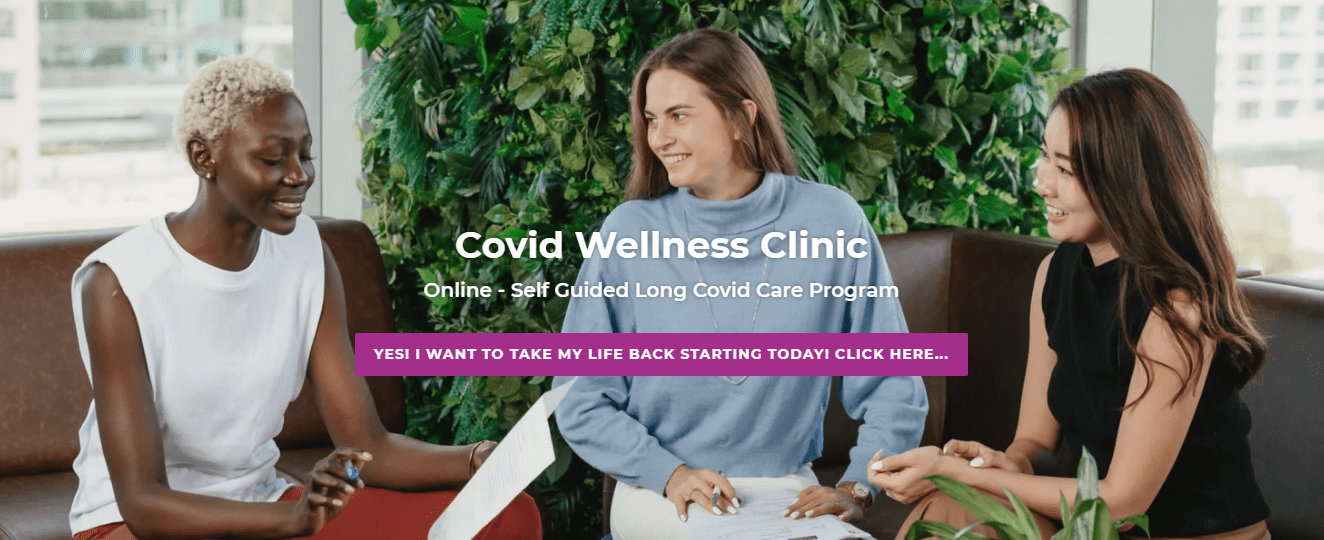 Our content is reader supported, which means when you buy from links you click on, we may earn a commission.
---
Who: Maya McNulty
Website: covidwellnessclinic.com
Course Topic: Covid Wellness
Interesting Stats: $15K-$19K in monthly sales
Who are you and what course have you created?
Maya McNulty, CEO, Covid Wellness, LLC. Patient Led Researcher, CEO, UpTheBiz Marketing, PR & Branding, three times Best -Selling Author, International Speaker & Podcaster.
Maya battled Coronavirus in March 2020 one of the first young females infected and was hospitalized for 69 days, in a 30-day medically induced coma, and ventilator for 6 weeks. Maya was clinically diagnosed as a Covid long hauler in September 2020. She had to re-learn how to walk, talk and eat normally. She lost her hair, and voice and is still recovering steadily.
What market does your online course serve?
Maya started Covid Wellness Clinic Online Self-Guided Long Covid Care Program to helpCovid Long Haulers from the comfort of their homes. The three pillars of recovery include Cognitive Recovery, Pulmonary Care, and Physical Strength.
Maya also formed Walking Warrior, LLC. The Foundation helps to support Covid-19 survivors and their families with recovery support and guidance.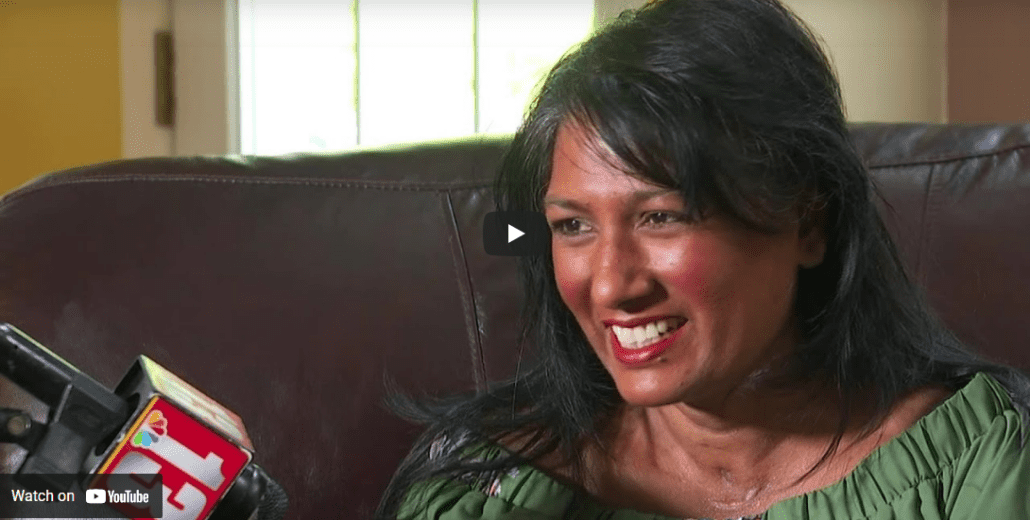 What's the biggest benefit of taking your course?
The biggest benefit of the Covid Wellness Clinic Online Self-Guided Long Covid Care Program is you can recover safely from the comfort of your own home and cost less than an emergency room visit.
How did you get into the market?
I was under in-home medical care for 8 weeks after surviving a 30-day medical coma and 69 days of hospitalization. I quickly graduated from home care and then endured 27 weeks of outpatient physical therapy learning to talk, walk normally, and rebuild muscle strength.
This was very new and raw territory for me to explore. I didn't have any prior medical conditions.
Why did you decide to create an online course in the first place?
I created a safe self-guided and paced long Covid care online program because I was frustrated.  There wasn't any additional care available from the hospitals for Long Covid. Patients eventually phased out of medical care, maxed out the number of visits allotment, no insurance, or the lack of funds to seek medical care. My program is the perfect solution for the Shadow Pandemic Long Covid and aging seniors.  We can help thousands of Long haulers of all ages, gender, and countries without leaving their homes or struggling with copays.
Did you have any moments of doubt before you created/launched it?
So many wild thoughts ran through my mind. I kept thinking of what was next… Am I going to continue to heal? Will I recover from the PTSD? Will I be able to walk and talk normally again?  Will I be able to drive again?  How was I going to pay for ongoing medical care?
I wanted to give up several times and throw in the towel. Is LC-19 a life sentence?  I didn't want this life as a vegetable. I asked God to bring me home to heaven.  After being hospitalized for 69 days I lost my memory and ability to read and write. I worried about my grammar, spelling, memory process, and judgment from others because I'm not a medical professional.
If so, what made you turn it around and do it anyway?
I actually never worked in a hospital but it's God's plans that led me to help this new breed of survivors, Long Haulers'.
Just to find out Hospital Long Covid Clinics were all making things WAY too difficult for Long Covid patients appointments and over-complicated process for seeing doctors because the in-take process was mentally and physically draining and because if normal people like you and I learned how to take care of ourselves at home, they would no longer have a job!
I finally took things into my own hands…
Now I feel in control of my health, I improved my post-Covid-19 recovery time year after year…
This means:
I no longer have to rely on shady doctors who gaslight,
My long Covid recovery isn't progressively worsening by just sitting idle waiting to be seen medically and while losing longevity,
I'm not relying on the government to take care of me,
And I'm not relying on my spouse or family members to take care of me (even though I'm super busy helping science and researchers, and NOT a medical professional),
I'm in control of my health no matter what life throws at me…
This has given me my life back, a huge sense of pride and confidence.
What's your online course like?
Our comprehensive self-guided Long Covid Online Care Program comprises a mix of Covid Apps, Strength Training Exercises, 30 Day Challenge, Memory Boost Recovery Framework, Videos, MP3s, PDF downloads, 100's of hours of long Covid replays support calls from doctors, patients, and patient-led researchers. The bonus section features dozens of published articles to help navigate and support the healing journey.

How long did it take you to create your course?
Initially, the copyright and framework took a year. However, with technology, science and medicines constantly evolving so does our online care program. My team helps to update weekly with support calls and articles to stay current.
Tell us a little about the process of launching your course and getting your first sale(s).
When I launched the Self Guided Long Covid Online Care Program I was nervous because I am not a medical professional. In fact, many non-believers of Covid, dear friends, and family members didn't think I was qualified to speak on this subject.
I felt insecure and started to question my knowledge and expertise. I stayed committed and trusted my gut. - Maya McNulty
Click To Tweet
At that point, I became obsessed with learning about science, Long Covid, and Long Covid Advocacy. That's when I became a patient-led researcher, studied medical journals, and hosted weekly Long Covid support calls with doctors and patients.
I received TV interviews and was quoted in health magazines. Then I reached out to Covid Wellness Clinic Facebook Support Group and started to document their stories to share when I would speak to elected officials in New York and Washington, DC.
I got my first sale in early January 2021 and instantly knew that I was the hope and beacon of light Long Covid patients were desperately seeking. I felt like I was fulfilling God's promise when he told me while I was in heaven that " this is happening for you, not to you."
Do you have a lead magnet?
Video lead magnets have been helpful with telling our backstory and connecting with other patients struggling with long Covid. We've utilized platforms such as LinkedIn, Tik Tok, Twitter, and Facebook to reach our audience.
What's the traffic strategy that works best for you?
Long Covid is a new breed of survivors. The cold traffic strategy has been difficult to navigate. Long Covid is not a one size fits all diagnosis. We've struggled with getting our message of hope out to the masses due to social media guidelines. I've been in Facebook jail on multiple occasions. Word of mouth has been our best and the most strategic partnership. Also, Facebook groups, doctor's referrals, and medical insurance.
What online course platform are you using?
I use Thinkific as my online course platform.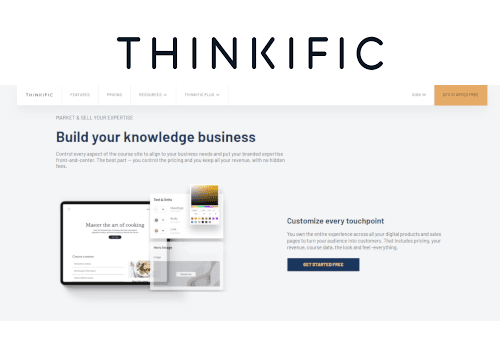 Take a Look at Thinkific!
Thinkific is the most popular online course platform used by successful course creators interviewed on coursemethod.com. It's a complete solution for creating sales pages, uploading all course content, taking payments, and more.
Price Range: Free to $499/month 
Most Popular Plan: Pro Plan at $99/month
Annual Discount: Yes, take 20% off!
Free Trial: Try out Thinkific's core features for free.
*Our content is reader supported, which means when you buy from links you click on, we may earn a commission.
Do you like it?
Thinkific is user-friendly. For a new course creator, I'd encourage checking the platform out.
Are there any features you wish it had?
I'm satisfied with the platform.
I'm still in the explorer phase of using Thinkific. So far, so good. It's a very user-friendly platform.
What made you decide to use your chosen platform over others?
I heard great things about Thinkific from friends and my mentor. I think it's advantageous to diversify your platforms and revenue streams.
What other tools do you use to run your online course business?
Shopify
What books or training programs have you found useful on your journey to a successful business owner that others might find valuable too?
When I contracted Covid March, 2020 I lost my ability to read, write and talk normally.  I retrained my brain on how to taste, smell, eat, walk, talk, read and spell. That's why Covid Wellness Clinic Online Self Guided Online Care Program is extremely powerful. I referenced the books that I wrote for inspiration and jumped back into training modules from mentors and workshops.
I earned a Bachelor's Degree in Marketing and held over 20 years of marketing training programs that I spent loads of money to learn from and executed. My favorite is Clickfunnels 2CCX Mastermind. The cost was a hefty $25K annually. I learned how to build sales funnels that convert, traffic hacks, automation, webinars, the importance of Hook, Story and Offer, and so much more. I'd recommend the books Traffic Secrets and Expert Secrets to getting started on your course creation journey. I would also caution that not all courses are created equally. I've created a few duds in prior years. I basically scrapped them because they didn't move my business needle for whatever reasons.

Do you have any big mistakes you've made along the way that you'd be willing to share?
During my healing process, I've made loads of mistakes. I think that we tend not to recognize ourselves when faced head-on with sickness, loss, or even death. I tried to correct my mindset and attitude by remaining calm by journaling. Finding a silver lining and climbing out of a victim mentality. I had to stop feeling sorry for myself,  pointing fingers, and blaming others. Once I started to retrain my mindset to become a fighter. I slowly began to heal by empowering myself and others to do the same.
Three big mistakes that I made along the way were not having a solid marketing plan. Second, give the program a chance. That 10 thousand-hour rule.  I also didn't create a platform for my audience. Such as a podcast, Facebook lives, or groups to build and nurture relationships. Lastly, picking up the phone. Your phone is a cash register. Pick up the phone, call your people, return messages, automate emails, over-deliver, and follow up.
Please share some idea of revenue.
Covid Wellness Clinic has several profitable revenue streams:
DIY Online Course
1:1 Consultant
Insurance Company Partnerships
Sales vary monthly:  $15K-$19.
We also invest back into our company with training, education, and science.
Please tell us a little about what the money you've earned from your course has done for you.
I've learned that doubt kills more dreams than fear ever will. When you believe in yourself, your product, or service and you 1000% commit no matter what obstacle or challenge faces you head on. You're able to live a life only a creator can dream of. I found healing through turning my pain into my potential. I'm inspired by Long Covid patient stories to help educate and eradicate the stigma surrounding long covid mental health, and support families struggling with medical financial hardship. Being a course creator gave me the tools to make a difference in humanity, and build a life that I'm proud of. I am just a vessel who was destined to serve my community.
In addition to revenue are there any numbers you would like to share?
I'm never in celebration of the number of Long Covid patients who find our program and are struggling with the over 200 Long Covid symptoms. Until they found us, they were losing hope. I marveled that somehow, somewhere, deep within my soul, my will to live and strength to serve as a vessel in creating this life-saving program for the over 24+ million survivors of Covid.
What has created your course done for you personally?
I created Covid Wellness Clinic Online Self-Guided Long Covid Care Program out of pure frustration. I was under in-home medical care for 8 weeks and quickly graduated out of home care. Then I spent 27 weeks of outpatient physical therapy learning to talk, walk normally and rebuild muscle strength.
I began to phase out of medical care, I knew I needed more care. That's when I started experiencing droves of long covid symptoms that medical professionals were not familiar with.
I created my own post-covid recovery strategy out of frustration. That's because I figured if I was having these strange and mysterious after effects others suffering from long Covid might as well. I discovered a new path of independence and courage as I began to roadmap my own post-Covid recovery.
Now I celebrate every win and shared it with my Covid Wellness Clinic Facebook group. I'm super proud of the community I built because when friends, family, and even doctors were gaslighting me, telling me it's in my head.  I turned to my community of survivors who made me feel seen, heard, supported, and loved.
Do you have a story of a transformation from any of your clients?
There are many transformation stories that I can share. One, in particular, is Nicole. She contracted Covid in early March of 2020 and was one of the first clinically diagnosed Long haulers in Europe. She had lost all hope. Her symptoms were getting worse and Long Covid Clinics' physical locations had not become a need as yet.
She discovered Covid Wellness Clinic Online Care Program. She's a raving fan. She's regaining her strength and winning her life back 29 months post covid. She was on the brink of suicide.
Our program is literally saving hundreds of people's lives. Not just adults but kids too. It is God's love and direction that renews my strength and guides me to do this work.  Daily this program I created from my hospital bed in my living room, while undergoing care of an in-home nurse, physical therapist, and occupational therapist. I am proud of myself, my level of commitment, and my willpower to fight. I never knew how strong I was until I was thrown into the pit.
What advice do you have for people just starting out?
My number one advice would be to find a mentor. Don't hire a mentor. Mentors are everywhere. You just have to ask. - Maya McNulty
Click To Tweet
I'm honored to have a leadership mentor, a product design mentor, an SEO mentor, a branding mentor, a course creation mentor, and a medical mentor.  I'm raising better Long Covid-19 awareness and my mentors align with my values.
Mentors are Free! I don't pay them a dime. I just asked. "Would you be my mentor?"
Many people are afraid to ask for help. At the beginning of my entrepreneurship journey, I was afraid to ask for help. I quickly learned that I had to set my ego aside and ask and then accept the help. I learned accepting help and putting my vanity aside was a quicker path to recovery.
Learn more about Maya McNulty of covidwellnessclinic.com: