[Tool] How Mark Herschberg Created an App to Help Your Users Retain Your Course Material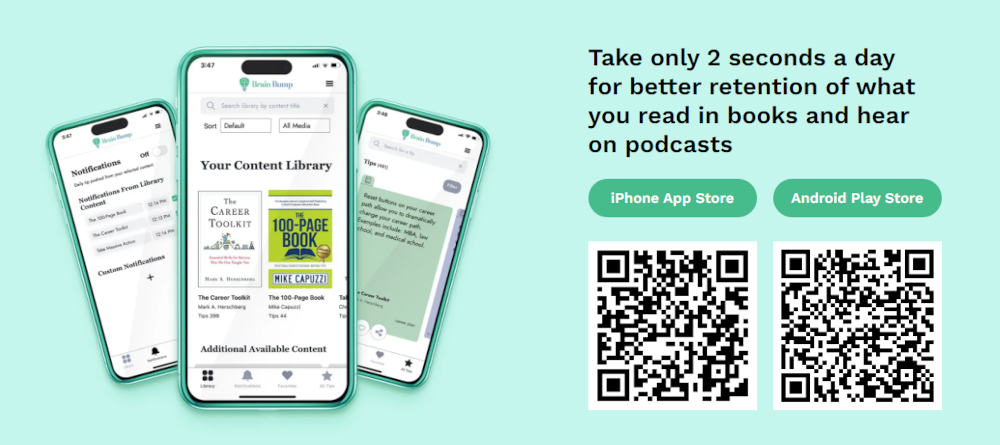 Our content is reader supported, which means when you buy from links you click on, we may earn a commission.
---
Who: Mark Herschberg
Website: brainbumpapp.com
Course Topic: Content Retention
Interesting Stats: 1000's of users in the first few months
Who are you and what course have you created?
Brain Bump is a free tool. It's used by content creators (e.g., course instructors, speakers, authors, podcasters, bloggers) and content consumers, the people who listen to or read their content.
What's the biggest benefit of taking your course?
There are challenges for both course instructors and their students, or more generally content creators and content consumers.
Course Takers
Let's start with course takers. How often have you taken a course which was full of great information, but then, a month or two later, most of what you learned has faded from memory? There's an unfortunate disconnect that where you read information isn't where you need information. Whether the learning is written, audio, or video, the chances that you'll have retained the detailed knowledge when and where you need it decreases over time. This means most of the time and money you invest in an online course is lost.
Brain Bump addresses this in two ways. First, it uses the scientifically proven technique of spaced repetition. In school we could actively review the course materials and use flashcards to help use retain the learning for the test. As adults, we don't have the test to focus us, and so are less likely to engage in spaced repetition.
What if you could automatically get that benefit with no effort?
Brain Bump gives you a tip of the day from content you selected, at a time you choose. Suppose you're on module two of a course this week; each day of the week, the app will send a push notification to your phone with information from module two.
You don't even need to open the app! It takes only two seconds a day but helps you retain what you learn. You choose how often and at what time you get the content. If it's a business class, you might set it for 9:00am as you go into the office. If the course is on reducing stress, you might set it for 2:30pm when you tend to feel most stressed out. For a course on building a successful marriage, you could choose to get the tip at 6pm, right as you walk in the door at home.
The point is you get the right content when it's relevant to you. (And the app never sends other notifications that you didn't request.) - Mark Herschberg
Click To Tweet
Even then you might not recall everything.
Imagine you took a course on networking. Then two months later you're about to walk into a conference. In theory you can save notes on your phone, but then you have to find the notes, pull them up, and the ones most relevant. Brain Bump has all the tips tagged by topic, as well as favorite lists and search. You can open the app, pull up all networking tips and in mere second have the relevant tips right when you need them, just before you walk into the conference. It might seem like a difference of a few seconds versus tens of seconds, and it is, but most people will give up or not try something that takes tens of seconds. Convivence is key for information access; this is true for the app as well as for any course content you give your students.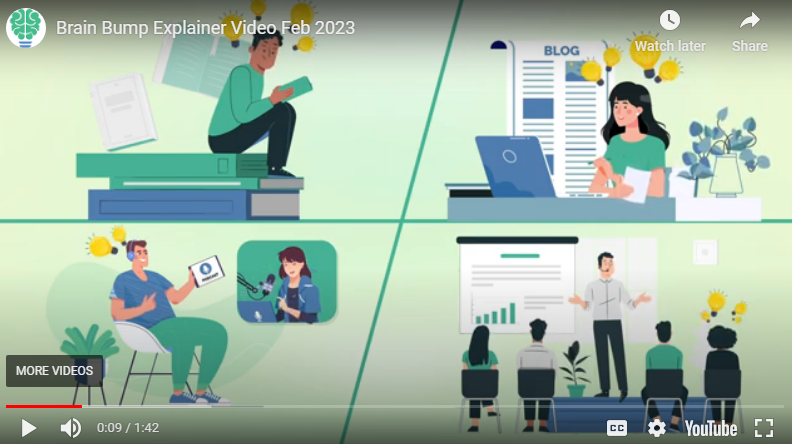 Content Creators
For content creators you face a mirror set of challenges. Certainly, you want your students to remember your content so they can benefit.
But there's another need as well: word of mouth marketing doesn't work when your students (or readers for authors) forget your content! Brain Bump helps your content and your brand stay top of mind. - Mark Herschberg
Click To Tweet
How often will people recommend a class they vague remember for a year ago, versus a class whose value they are reminded of every day?
Another benefit is the ability to get the most of out of evergreen content.
Course creators often post tips on social media or to their email list. The problem is those are noisy channels people don't always pay attention to. Even if they see your post or email, is it relevant at that time? If you have leadership course, you might post a leadership tip today. But imagine a social media follower who sees it and says, "that's great, but right now I need to hire more staff." Six months from now, when they have staff and now need to lead, they are not going to search through your old posts to find your old tips. Even though your advice is evergreen, most of it isn't seen. This causes you to need to repost over and over again.
With Brain Bump content is surfaced based on topic, not time. It means like your online course, it's one and done; the content automatically gets resurfaced to the right audience. - Mark Herschberg
Click To Tweet
For example, for podcasters who include advice from their episodes, the app user is just as like to see a tip from three years ago as three weeks ago. It's based on relevant topic, not time it was added. Best of all, it's hyperlinked to the episode or blog post so it can drive traffic to a back catalog of content.
Brain Bump is great for selling a high-priced course or service.
No one buys something expensive when they first hear of you. You need multiple touch points. The daily reminder of relevant content, that is always shown with your brand name and logo, helps move them through the know, like, trust journey.
How did you get into the market?
I've taught students in person for years. At the end of the course, I could practically see the information fall out of their heads. When I wrote my book, I knew I'd have a similar problem with readers, and that would also hurt the word of mouth for the book. I created an early version of the app just for the content of my book to test it out. It was a success and other authors asked about it. I soon realized it's not just for books, but any type of content, including courses, podcasts, blogs, talks, and more.
Did you have any moments of doubt before you created/launched it?
The trial version designed just for my book. There were certainly bumps when created it, but it did prove out the value of the concept. I'd recommend course creators run a pilot first to get feedback on the content.
We did have to do significant usability testing.
What's your online course like?
Brain Bump is a cross between a flashcard app and a daily affirmation app. People can get that push notification like a daily or weekly reminder, or they can pull up the tips and flip through the relevant ones for just-in-time access. Every tip shows your name and brand logo to keep it top of mind.

How long did it take you to create your course?
The whole app took over a year. We first created the prototype. Once we created Brain Bump, which had a lot more functionality, we needed to do extensive usability testing. Ease of access to information is key and one of our design principles is to make everything easily accessible.
Tell us a little about the process of launching your course and getting your first sale(s).
Brain Bump grows in two ways. We do direct marketing to get new app users. We also grow when content creators put their content on their and market it to their audience. When a content creator brings their audience to the app, their audience will download the creator's content but then go on to download other content. It's a 1 + 1 = 3 growth because each audience member typically adds from more than one creator. Likewise, creators benefit by gaining access to the audience of other creators.
Do you have a lead magnet?
Brain Bump *is* a lead magnet. People are getting hesitant to sign up for an email list these days. Brain Bump lets you stay top of mind even without the email. It can be used for the course itself, or as part of a giveaway.
Suppose you teach an online marketing course and have a lead magnet of 25 marketing tips; you can put those tips into Brain Bump and people will be seeing your tips—and your brand—every day. - Mark Herschberg
Click To Tweet
Of course, we let app users give course creators their email when they sign up for calls or the email list provided by the course creator.
The tips in the app can be shared online. We know people love to share quotes online, but when they do, rarely do they attribute you, the source. With Brain Bump when they share your tip, it comes with your name and logo attached to the image. It will also automatically tag you in the social media post so you can engage with your fans and their friends, creating better reach and engagement.
What's the traffic strategy that works best for you?
Brain Bump uses an innovative approach. Each class (or other content, e.g., a book) has a unique URL and QR code. These can be shared on websites, social media or in emails. People often put their QR into their books or in talk slides. They tell the audience or reader to snap the QR code. The first click gets the free Brain Bump app. Clicking the QR code or link again, instantly adds the content tips, starting that daily tip reminder, which defaults to the time the content was added. When they see my talk, I have the audience engaged for follow-ups before I leave the stage.
Do you have any big mistakes you've made along the way that you'd be willing to share?
If you're thinking of creating an app for your course, just know it's not as easy as you think. In addition to the cost of creating the app, you need to promote it to users and get them to install it. We looked at having unique apps for each course or book but soon realized the single app that has content for all was the right way to do it. It's similar to how each book used to be an app in 2007 but then Kindle and other e-book readers were a better way to do e-books so users don't need to download dozens of book apps.
Please share some idea of revenue.
The app is free for everyone, and we don't sell data. I can say we quickly got thousands of users in the first few months with not a single dollar spent on marketing. With our big 2.0 release later summer 2023 we expect growth to accelerate.
(The in-person course I've taught at MIT is included with tuition, so I can speak to revenue, but I can say thousands of people have taken it.)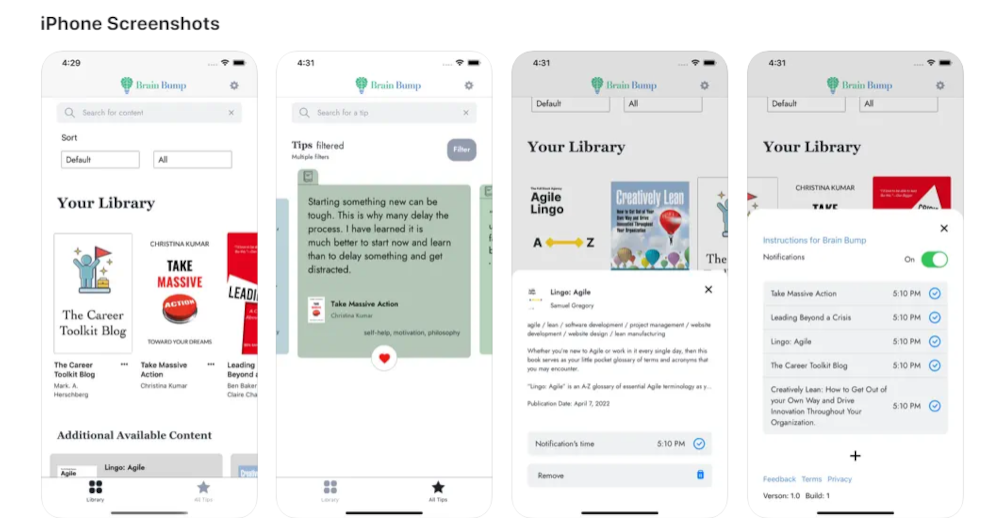 What has creating your course done for you personally?
I've taught thousand of students at MIT for years. I wanted to reach a larger audience which is why I wrote the book. Even so, a book, or a course, has some cost in terms of money and time. Brain Bump let's me greatly expand my reach and have more impact in the world. It's also helped my book sales.
Do you have a story of a transformation from any of your clients?
We've been out less than a year and only recently out of beta, so I haven't yet gotten this type of feedback from the content creators. I have had app users tell me that they love the daily reminder and use it consistently.
What advice do you have for people just starting out?
How difficult the app stores can be to work with—and I'm a CTO who has been building software for decades. If you're thinking of an app for your course, proceed with caution.
Learn more about Mark Herschberg of brainbumpapp.com: