How Mariah Althoff Earns Between $3K and $12K per Month Teaching Graphic Design Online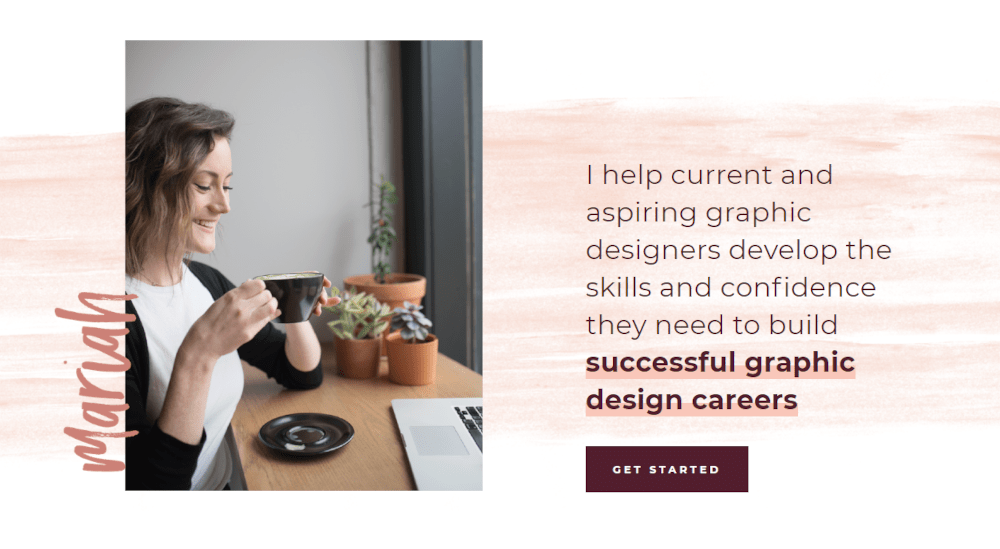 Our content is reader supported, which means when you buy from links you click on, we may earn a commission.
---
Who: Mariah Althoff
Website: mariahalthoff.com
Course Topic: Graphic Design
Interesting Stats: 20k followers on TikTok in 6 months
Who are you and what course have you created?
I'm a design school reject turned 6-figure self-taught freelancer who now teaches graphic design online to other creatives and makes it their career. My signature program is called Ditch the Degree Design School where I've taught hundreds of students, many of which are now designing full time!
What market does your online course serve?
It serves aspiring graphic designers and creatives who want to make graphic design their full-time career. Many of my students got started in Canva but are ready to uplevel their skills and pursue learning the field professionally.
What's the biggest benefit of taking your course?
Students who take Ditch the Degree Design School are able to utilize their newfound knowledge and skillset to turn graphic design into their full-time career. They learn graphic design psychology, Adobe Illustrator, and how to set up, design, and save the most common client projects.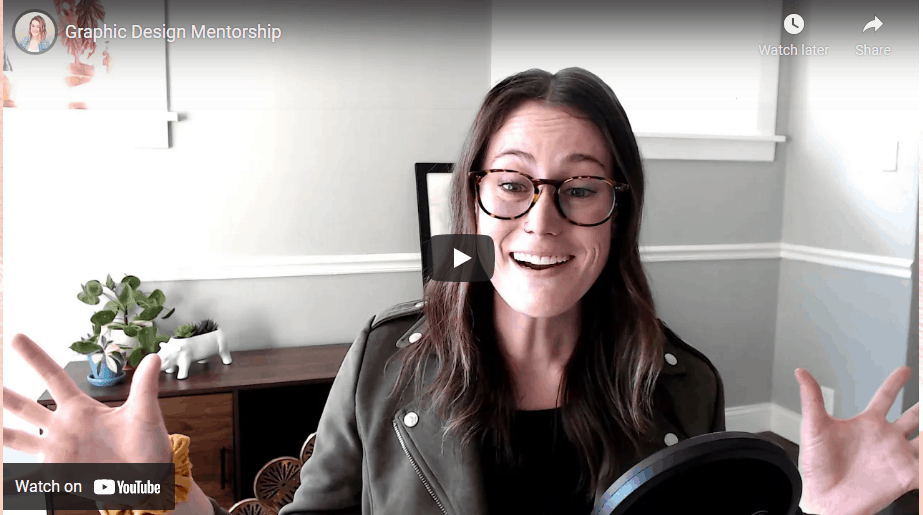 How did you get into the market?
I started my course when I was still freelancing because I had unintentionally grown an audience who wanted to learn from me and do what I did. I started creating online courses for that audience and now teach full-time because they've been so popular!
Why did you decide to create an online course in the first place?
I created a course because I had an audience asking to learn from me and I wanted a new way to diversify and scale my business revenue. Online courses have been a great way to serve my community and make a direct impact on their lives and career paths.
Did you have any moments of doubt before you created/launched it?
All the time! I find imposter syndrome creeps in during all phases of my business though, so launching an online course was no different. The one thing I always tell my coaching clients is that the key to success in business is to find what puts you outside of your comfort zone and do that thing until it no longer feels uncomfortable. Then find the next thing and do it all over again. So even though it feels scary, the whole game is working through that fear and doing it anyway.
What's your online course like?
It's pre-recorded videos (⅓ of them are slides and the rest are guided tutorials), PDF downloads and worksheets, practice projects, a FB community for support, and occasional pop-up Q&A calls.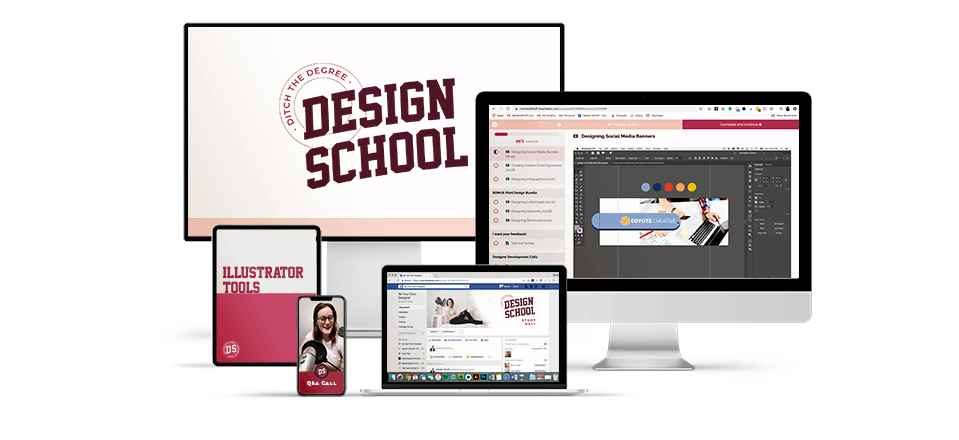 How long did it take you to create your course?
It took a few months to create but a few years to grow, refine, and market effectively.
Tell us a little about the process of launching your course and getting your first sale(s).
The first time I launched the course, it was WAY underpriced and I was so attached to the outcome of the launch. I sold around 13 spots and didn't hit my sales goals. I used a webinar to launch it but I wasn't clear in my messaging or marketing and didn't have a solid grasp of who I was helping.
Do you have a lead magnet?
Yes, I have a free workshop that leads people into the program. The workshop is called 3 Simple Shifts to Upgrade from Canva to Adobe (without crying your way through Youtube tutorials).
What's the traffic strategy that works best for you?
Pinterest, Google, and TikTok are by far my biggest traffic drivers. Pinterest and Google bring in traffic to my blog posts where people can sign up for my free workshop and I use TikTok to create short-form content that often pitches my free opt-in.
What online course platform are you using?
Teachable and it's great!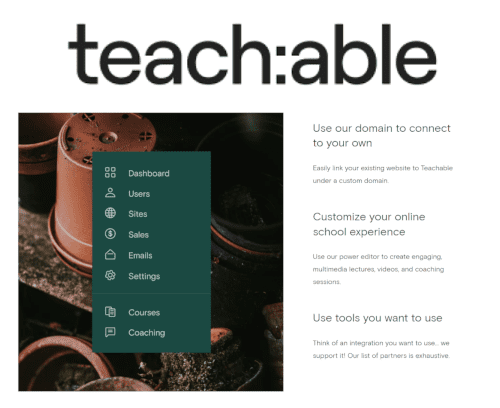 Check Out Teachable
Teachable is one of the top online course platforms used by successful course creators interviewed on coursemethod.com. It is easy to set up and build your site pages, and the course area looks great. 
Price Range: $0 (+ transaction fees) to $299/month
Most Popular Plan: Pro Plan at $119/month
Annual Discount: Yes, take 17% off!
Free Trial: Try out Teachable's core features for free
*Our content is reader supported, which means when you buy from links you click on, we may earn a commission.
Are there any features you wish it had?
I do love the customization of Kajabi and think the backend is prettier, but I don't need all of the features I'd be paying for with Kajabi so I've stuck with Teachable all these years.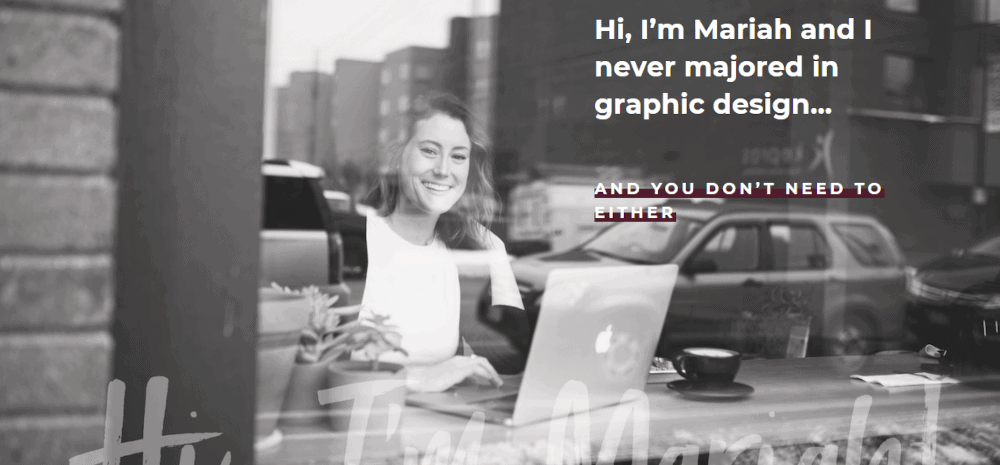 What made you decide to use your chosen platform over others?
It was recommended to me by my mentor
What other tools do you use to run your online course business?
Thrivecart, PayPal, Stripe, Gmail, Facebook Groups, Slack, Quickbooks, Deadline Funnel, Flodesk, and Adobe Creative Cloud.
What books or training programs have you found useful on your journey to a successful business owner that others might find valuable too?
I've loved the online courses from both Melyssa Griffin and Mariah Coz.
Do you have any big mistakes you've made along the way that you'd be willing to share?
Not knowing my audience or deeply understanding their pain points right from the start. I knew the content I wanted to offer. But at first, it wasn't clear who I was helping. It was really hard for me to make consistent sales until I had that nailed down.
Please share some idea of revenue.
Average monthly sales right now are anywhere between $3,000 and $12,000 depending on the month.
Please tell us a little about what the money you've earned from your course has done for you.
I've been able to let go of freelance client work and solely sell online courses which have given me even more freedom to travel and work when and where I want to!
In addition to revenue are there any numbers you would like to share?
I gained 20k followers on TikTok in 6 months which directly impacted my course sales and email list sign-ups. I did this by posting consistently (around 5 times per week), keeping my videos short, educational, and inspiring while all being super targeted and relevant to my niche. TikTok has made my leads much warmer than the ones who come from Pinterest or Google and convert higher and faster.

What has creating your course done for you personally?
It's made my journey as a designer even more fulfilling and has given me a bigger purpose.
I truly believe no one should have to work at a job they hate and that creatives should do something that fulfills them. - Mariah Althoff
Click To Tweet
Helping others achieve this for themself has been so rewarding to see!
Do you have a story of a transformation from any of your clients?
I have a student who was pretty miserable, stressed, and unfulfilled at her job in the medical field. She took my program because she realized she wanted to do something creative for her career. Within 8 months she was working full time at her local university as a graphic designer and helping other design students learn Adobe programs. Her story is exactly why I do what I do, so hearing that made me feel so inspired and fulfilled myself!
What advice do you have for people just starting out?
Launching a course is way more exhausting than you realize, so don't save everything for the last minute! Prepare in advance and you'll be so much more successful. - Mariah Althoff
Click To Tweet
Also, make sure you know who your target audience is and know them deeply. Get on market research calls, find out their exact pain points, and make sure you're speaking specifically to them and their needs.
Learn more about Mariah Althoff of mariahalthoff.com: