How Lilian Chen Co-Founded Bar None Games to Earn 7-Figures in the Online Team Building Space

Our content is reader supported, which means when you buy from links you click on, we may earn a commission.
---
Who: Lilian Chen
Website: barnonegames.com
Course Topic: Team Building Games
Interesting Stats: 60+ hosts facilitate events
Who are you and what course have you created?
I'm the co-founder and COO of Bar None Games, a company that facilitates online team-building events for remote and hybrid teams. My company has a series of five different virtual event formats, which are designed to encourage collaboration and connectivity.
What market does your online course serve?
We work with corporations of all sizes, from Fortune 500s to start-ups. The prime customer is someone who is a team manager, head of HR, or head of DEI at a company where their employees are primarily remote or hybrid. We work with these managers to figure out which of our events would be best for their team, curate the content so that it's inclusive for everyone, and then set up all of the logistics for them, so there's nothing at all that the organizer has to do.

What's the biggest benefit of taking your course?
For teams where they can't be in-person together regularly, it's really hard to feel like you know your teammates personally. Many managers of remote and hybrid teams say that employee morale is their biggest challenge.
That's where we come in. Our events are interactive, fun, and let people form new memories with their teammates – all virtually! We're proud to say that 98% of people who participate in a virtual team-building event with us say that they feel more connected to their team afterward!
How did you get into the market?
My co-founder Spencer and I met at Harvard Business School, where we worked on start-up ideas together. When the pandemic hit just before our one-year reunion, Spencer had to think on the fly about how to get 90 people to connect over Zoom and landed on an online version of the bar trivia games he used to attend with friends. Some people called the virtual trivia game he hosted the "highlight of their quarantine experience," and Bar None Games was born!
Why did you decide to create an online course in the first place?
We realized quickly that when the pandemic hit, there was a huge need for people to figure out how to authentically get together virtually. No one else seemed to have been able to figure it out, so we decided to take matters into our own hands and start it ourselves.
Did you have any moments of doubt before you created/launched it?
Yes, there were definitely moments of doubt before starting the company. Starting a business is a big undertaking and it can be scary to take that leap of faith. One of the biggest doubts I had was whether or not I had the necessary skills and experience to run a successful business. I had worked in large corporate companies before, but I had never started my own company.
To overcome these doubts, I reminded myself that starting a business is not a one-time decision, it's a continuous process. It's okay to make mistakes and learn from them, and that's how I was able to move forward and launch the company.
It's natural to have doubts and fears when starting a business, but it's important to remember that taking risks is a part of the process and that's how we learn and grow. - Lilian Chen
Click To Tweet
What's your online course like?
Our virtual events are all facilitated via Zoom or Google Meet and have a live host. It's facilitated in a team-based format, so participants are split up into smaller groups, and then they work together to answer a series of questions. These questions are all designed to be inclusive so that they can create conversation and everyone feels like they're bringing something to the table. Then, once questions are submitted, our host will score the answers, and tell teams how they did with a leaderboard, to amp up the competitive spirit throughout the duration of the event.
How long did it take you to create your course?
It took us a few weeks to develop the first version of our virtual event. First, we spent a lot of time developing the format for the first virtual team-building event, which was bar-style trivia. We tried the event out on friends and family first, to ensure that the format and timing worked. Then, we had to write multiple sets of unique trivia content.
Our content is multimedia, so that means multiple sets of pictures, music, and creative questions trivia. We needed enough where we could curate the content based on the client's preferences and interests. We also put together a scrappy back-end system to facilitate the game (we've since revamped this back-end system many times!).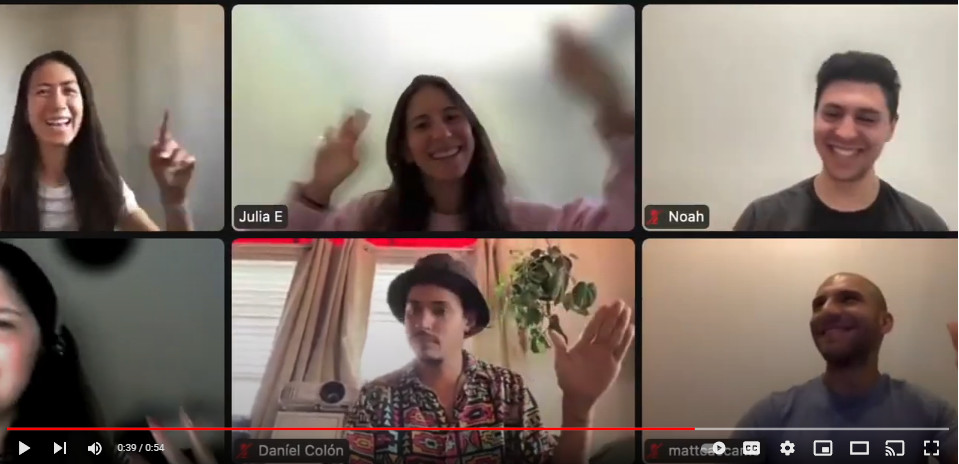 Tell us a little about the process of launching your course and getting your first sale(s).
Once we had a solid product, we started reaching out to our personal networks to tell them about our virtual trivia event and asking if our friends needed a virtual service like this for their team. We were able to secure our first sale through a referral from a friend. They put us in touch with their office manager, who was looking for a virtual team-building activity and we were able to successfully pitch our services to them.
After that, we started to see more and more interest in our virtual team-building events. We received positive feedback from our first handful of clients and they started to refer us to other companies. We also continued to network and market ourselves, which helped to grow our client base. It was definitely a lot of hard work, but it was also very rewarding to see our business take off and help so many companies bring their remote and hybrid teams together.
Do you have a lead magnet?
We have a short video on our website which gives an example of what our events are like. It's been extremely effective in giving people a quick visual of what to expect. Many people are visual learners, and to see it play out live conveys the experience in a different way than just reading text or seeing still images!
What's the traffic strategy that works best for you?
When we first started, we utilized our personal network, but we quickly realized that we had to drive sales from other channels as we began tapping out of our personal network. We tested a few different methods, but what worked best was cold emailing to engage with potential customers, and convert them to a funnel to do a demo call with us.
To get started with cold emailing, we first identified potential companies that would be a good fit for our virtual team-building services. For us, this was primarily companies with remote and hybrid teams. Then, we tried to find the right person to contact within those companies, such as the HR manager or team leader.
Once we had a list of potential customers, we crafted a succinct, but compelling and personalized email that introduced our company and services, and explained the benefits of virtual team building.
We started sending out cold emails in batches, keeping track of the open rates, reply rates, and conversions. - Lilian Chen
Click To Tweet
We also monitored the responses and made adjustments to our emails as needed.
It took some refinement, but cold emailing has become one of our largest drivers of new clients now. We've also been able to establish relationships with companies that we may not have been able to reach otherwise.

What online course platform are you using?
We primarily facilitate our live events via Zoom and Google Meet. We also use Squarespace and Stripe to facilitate the sales of our events.
Do you like it?
Yes, all of the tech platforms that we work with are extremely easy to use, and are always launching new features.
Are there any features you wish it had?
No.
What made you decide to use your chosen platform over others?
We decided to use Squarespace because it was extremely easy to figure out how to build an initial website. When we wanted to spruce up our website, we found that there was a huge community of designers who specialize in Squarespace, so that made it easy for us to stay on the platform.
What other tools do you use to run your online course business?
We use a lot of tools to help us keep track of all of our virtual events and automate some of the operations, including Airtable for our database and Zapier to help automate many otherwise manual functions.
What books or training programs have you found useful on your journey to a successful business owner that others might find valuable too?
A few books that I found really helpful: Traction by Gabriel Weinberg (all about how to figure out how to get customers), Sprint by Jake Knapp (a tutorial on how to work in short sprints to quickly test and ideate on new ideas and features), and for when inevitably times are tough, Tiny Beautiful Things by Cheryl Strayed (a reminder of the important things in life and that things will be okay, even if it feels hard in the moment).
Do you have any big mistakes you've made along the way that you'd be willing to share?
Absolutely, everyone who is starting a business will encounter mistakes along the way.
First is not seeking help at the right times. Starting a business can be a lot of work, and it's also a lot of new things all for the first time. It's important to not be afraid to ask for help. There have been many moments where I was struggling to crack a problem, and in retrospect, I wish that I tapped into my network of mentors, friends, and other business owners sooner to get their perspectives and advice.
Separately, also make sure to take care of yourself. Starting a business can be stressful and time-consuming. It's important to take care of yourself both physically and mentally to avoid burnout. The biggest mistake I see from other founders and business owners is not taking care of yourself enough.

Please share some idea of revenue.
We've now had multiple years of seven-figure sales, something that we're extremely proud of, as we are entirely bootstrapped.
Please tell us a little about what the money you've earned from your course has done for you.
Spencer and I were both able to quit our jobs a few months into running Bar None Games. We decided that when we had enough revenue to pay for rent, that would be the deciding factor, and when that moment came, we were so proud. Since then, we've also grown to a business with three other employees and we work with 60+ hosts who facilitate our events. It feels like a huge accomplishment to have built a business where we can also employ others.
In addition to revenue are there any numbers you would like to share?
In the last three years, we've worked with 1,500+ corporates and had 80,000+ people play our games.
What has creating your course done for you personally?
Creating a business of your own can be a very rewarding experience, and there are a lot of feelings of personal accomplishment. For me, it's given me ownership, purpose, and direction in a way that I've never felt before. Having a team of employees where my direct actions can impact them – both negatively and positively – is one of the greatest responsibilities I've ever had.
It's also given me a sense of community with other founders. I've gotten to meet a lot of new people through the founder community, and because we all know how hard it is, we are immensely supportive of each other. Some of my closest friends are others who are also on the entrepreneurship journey, and it's brought new depth to the relationships.
Do you have a story of a transformation from any of your clients?
We work with a lot of clients who are looking for a DEI event that's different than what they've done before. They're looking for a way to engage with their team in a way that's both fun and educational. With our DEI-themed team-building events, we're able to provide that, and we've heard from lots of DEI managers that they've seen much greater participation in DEI events. People leave our DEI-themed events with new knowledge about DEI-focused facts, while also having fun while they engage with the information.
What advice do you have for people just starting out?
Starting a new business can be a challenging and exciting process, but definitely not easy. Here are my few pieces of advice:
Be prepared for the challenges: Starting a business can be a lot of work, and it's important to be prepared for the challenges that come with it. Be ready to face setbacks and be open to change.
Network and build relationships: Networking is crucial for any business, and it's especially important when starting out on your own business. Even if the people you're meeting may not become customers, you never know when they might be helpful in another way.
Be flexible and adaptable: Starting a business requires a lot of hard work and dedication, but it's also important to be flexible and open to change.
Learn more about Lilian Chen of barnonegames.com: