How Lidiya Kesarovska Started LetsReachSuccess.com and Provides Epic Value to Visitors of Her Site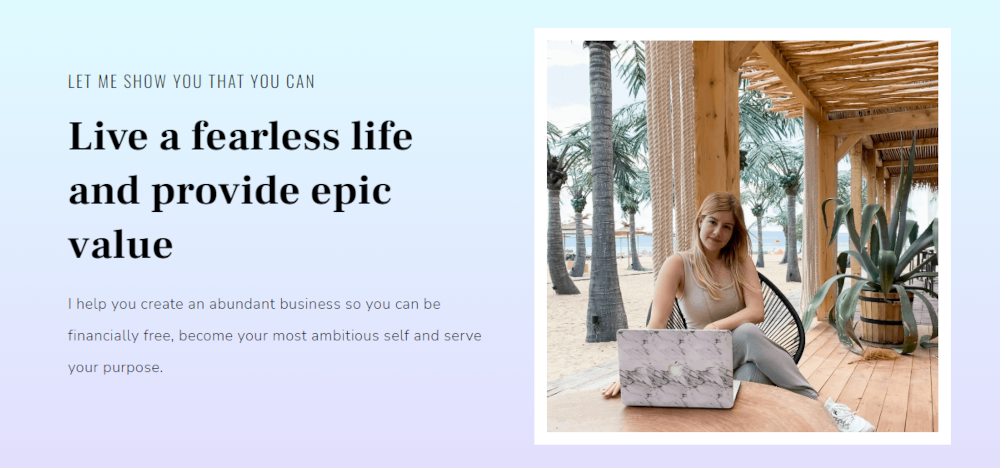 Our content is reader supported, which means when you buy from links you click on, we may earn a commission.
---
Who: Lidiya Kesarovska
Website: letsreachsuccess.com
Course Topic: Digital Marketing
Interesting Stats: 100K page views a month
Who are you and what course have you created?
I'm a blogger, course creator, and business mentor. I'm the founder of Let's Reach Success, where I teach people how to start a blogging and digital product business. Through that, they provide epic value and use that income to live their best life.
Here are my courses:
What market does your online course serve?
I'm in the business niche, and my target audience includes aspiring, intermediate, and advanced bloggers and course creators. But I also serve anyone else who is interested in starting an online business, earning passive income, creating a side project they are passionate about, and serving their purpose thanks to it.
I started in the Personal Development niche back in the days when I first created Let's Reach Success and have been a blogger ever since. But as I turned that into a full-time business, I began teaching others how to do the same. Later I entered the online course industry, and that became my new favorite business model.
Know that it's okay to change niches, business models, who you serve, what type of content you publish, and pretty much anything else. Do your business your way.
What's the biggest benefit of taking your course?
The biggest benefit of taking my two signature programs (Bold Business School and Blog to Biz System) is that you'll learn the ins and outs of a particular business model (how to be a course creator or a blogger). That then allows you to create something online that's totally yours and use your skills as a way to help others, inspire people through your content, change lives thanks to the work you do, and leave a mark in the world.
With that comes financial freedom which lets you upgrade your lifestyle in multiple ways. You get to live on your own terms, have time and freedom, live anywhere (I moved to my favorite country six years ago thanks to the income from my online business and haven't looked back), have flexible work hours (I structure my business around my life, not the other way around), and creative freedom (this is key for me – it's the ability to move from one project to another, follow inspiration and passion, ditch projects that don't excite you anymore, change direction in your business, and always stay high-vibe and love what you do).
How did you get into the market?
I was earning $5K/month (here are my detailed monthly income reports from back then) as a blogger and loved what I did, but not all months were $5K months; the passive income streams also required my time and attention, my ad revenue depended on traffic which depended on search engines and the changes in the algorithm, and a lot changed in the blogging space.
So I craved more. Specifically, more freedom and profit but also more ease and flow. I was already in the course industry back then, though, as one of the ways in which I monetized my blog was with digital products. My first online course (Blog to Biz System) existed (at least its initial version), but I wasn't actively selling it. I didn't believe in myself enough; I didn't identify as a course creator, and I was still relying on the blog income.
It was time for me to see more of the course's earning potential, so I began learning more about selling courses, launching, advanced email marketing, etc.
I started seeing examples of course creators earning big figures solely from 1 program in their business that they sell over and over again. The pandemic also made online education more accessible, and people got comfortable learning through courses. It was a great time for me to create more programs and have a whole product suite while learning all I could about this business model on the way.
Why did you decide to create an online course in the first place?
I wanted to share all people need to know about the topic (in my case, starting and growing a blogging business) in 1 place. The Blog to Biz System became the ultimate resource on that as it covers the different aspects of blogging, such as email marketing, traffic, monetization (in 4 different ways), SEO, technical things, branding, content creation, and marketing, etc.
A course is also the best way someone can learn from me. It's a deep dive into a specific topic, and I share what they need to know in a specific order so that they can get maximum results in the shortest amount of time.
Did you have any moments of doubt before you created/launched it?
Definitely. Imposter syndrome hits me with every new program I create and keeps appearing at every next stage in my business. But I know it's totally normal, and every entrepreneur is experiencing this, even self-made millionaires.
It usually happens when we do something we've never done before. We question our abilities and whether we're the right person to teach this, but we can't let this stop us.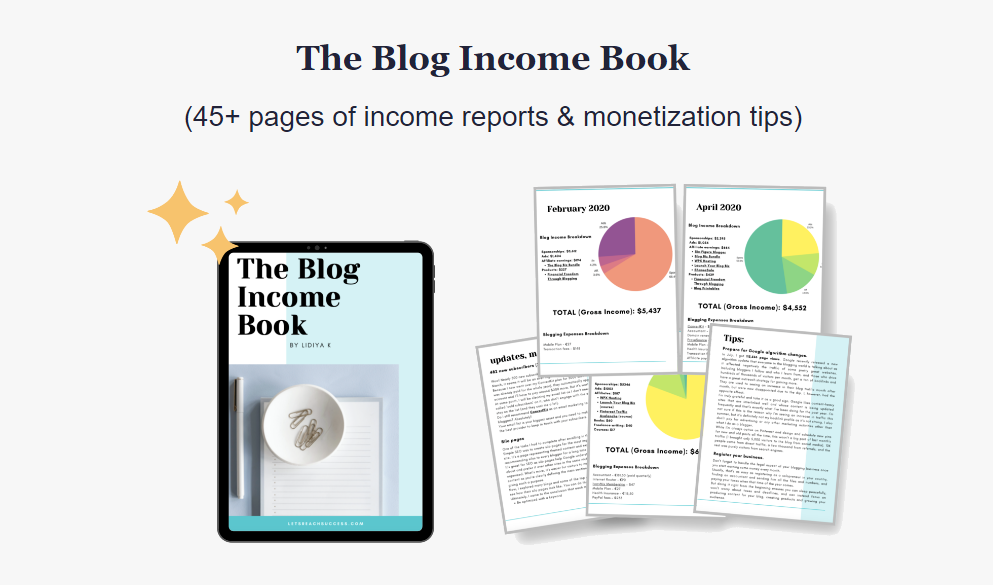 If so what made you turn it around and do it anyway?
It's important to face the fear and do it anyway.
You don't need to create the perfect program, you just need to get its initial version out there. - Lidiya Kesarovska
Click To Tweet
You can always go back and update it, add more content, or even re-record all lessons one day when you get better at this.
At the end of the day, it's about what you teach inside your program and how it can change people's lives, not how you look on video, how professional your slides are, or what bonuses you've included.
What's your online course like?
All my courses are with video lessons. I also like to include the transcript (in a PDF file). Many students have pointed out how helpful that is as they sometimes prefer to read, refer to the text later, or follow the transcript as they listen to the video.
I record my videos on my laptop using the default video player (QuickTime Player for Mac). I don't really show my face on video (but if that's your thing, definitely go for it), as that's not the best way for me to teach and show up. Instead, it's all about the content. I create beautiful slides in Canva and then record the screen while going through them and talking.
In the first years of my course business, I wanted to include all I can inside a course, add many lessons and make the videos as long as possible.
Now, it's the opposite.
My goal is to get the student from A (their current reality) to B (the desired reality) as quickly as possible, and that means giving them only the information, tips, strategies, and exercises they need and presenting them in short…
Click To Tweet
That removes the overwhelm, they can actually complete the course sooner and get to action.
I also include many workbooks, engage students in any way I can during the program, and give exercises and journal prompts. All this with the goal of making them apply what they learn as they learn it.
How long did it take you to create your course?
Because of including more than necessary and letting perfectionism get in the way, it took me way too long in the beginning (months up to a year).
Now that I follow the approach described in the previous question, things can happen in a month (unless it's a massive program).
This depends on many other factors in your life, though. For example, can you leave all other projects behind and focus solely on creating the content for that one program?
Remove distractions, devote 2-4 weeks to it, and it can be out there before you know it.
Tell us a little about the process of launching your course and getting your first sale(s).
My first-ever sale was simply because I informed my existing audience of my new course. So someone just purchased. I didn't have an official launch because I was a blogger and had no idea how to do it.
In the next years, I learned all I could about that, enrolled in business programs teaching this, watched my mentors do it, and actually practiced many different launch processes to see what works for me and what feels good (as some can be exhausting to the point where you just wanna stop the launch and give up on everything).
I monetized some programs before creating the content through a beta launch. It's a fun way to get students in (and even some profit), so you are motivated to create your best content and serve them. It can also mean you have testimonials for the official launch and can validate the idea of the course. You can execute that in many different ways, but again, make sure it's the right process for you and your audience.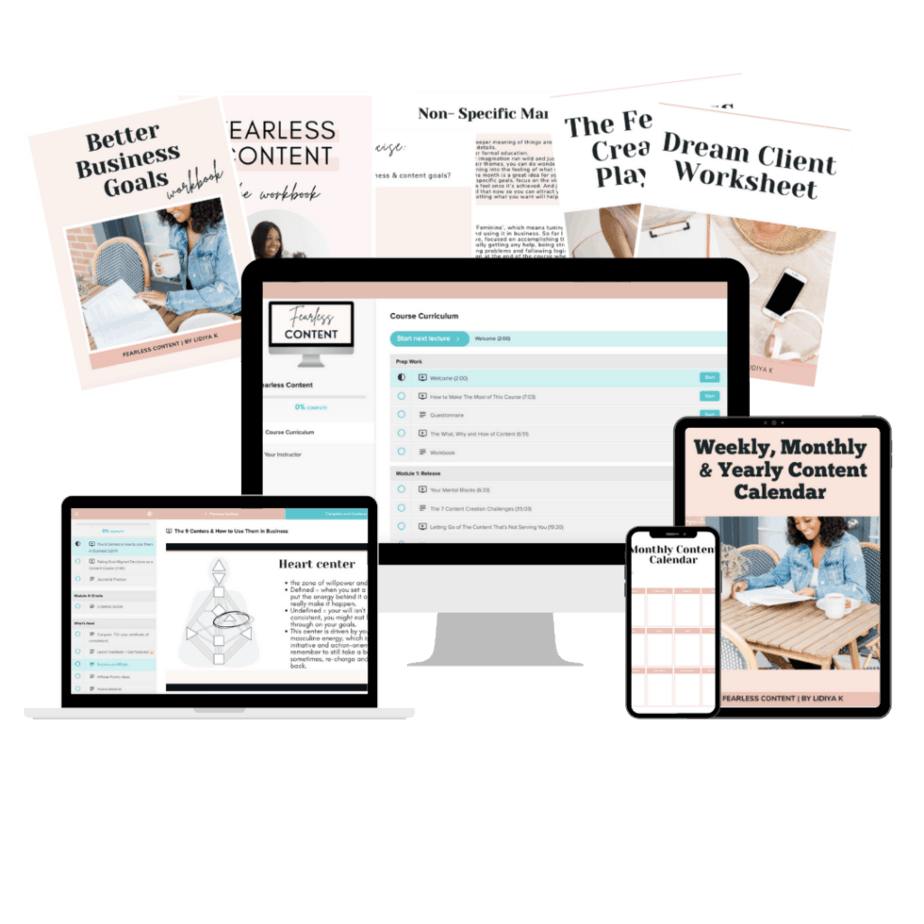 Do you have a lead magnet?
My email list is my biggest asset, and email marketing plays a key role in both my businesses – blogging and the course one. I have multiple lead magnets.
As I've been doing this for many years (7+ now), I had more freebies than necessary. That's because I was trying to speak to everyone and get as many people on my list as possible. Some freebies were more general too.
I have a lot of content on the blog (over 2,000 articles) and cover many topics (business, finance, personal growth, spirituality, etc.), so that created some chaos inside my email marketing dashboard.
When I decided to simplify everything in the last years, I got rid of some freebies (or just left them inside the resource library for those who already subscribed but stopped displaying them on the blog). It was time to only attract the subscribers that are interested in what I teach, whom I could serve best, and who might be interested in my paid programs.
The freebie is the step between your free content and your paid offer, so it has to be strategic. Create something actionable that gives a quick win and which attracts your ideal course student. Identify who that is and start speaking to them with your content.
Let me give you an example.
I have the Epic Online Course Checklist, which shares what a signature course is and the elements that go into a program and offer so good it sells itself. It's totally free, and it attracts the ideal audience for my program for course creators at Bold Business School.
The rest of my programs and products are for bloggers (as I've been teaching that for a long time now), so I have more freebies on the topic.
First is my 5-Figure Blog Biz Checklist. Then there's a guide called 7 Ways to Start Making Money from Sponsored Posts. This one attracts bloggers who want to monetize their platform by working with brands. I have a lot to teach them as that's my main income stream, and I have a course on that, The Blog Sponsorship Boss.
There's also the free Abundant Biz Journal Challenge, which is a 7-day email challenge to tune into your potential and do business from a place of love and abundance.
What's the traffic strategy that works best for you?
Organic traffic is my top traffic source on the blog. And the blog is still the foundation of my business, regardless of what changes in the way I do things and who I serve.
I get traffic from Google to articles on my site that were published years ago. That's the magic of organic traffic, and it's why I recommend it as the main way to bring visitors to your site. For that, you need solid content, though. It's about playing a long game.
To come up with the right content ideas, create the actual articles or podcast episodes or videos, optimize them and let them rank – this can take a long time. But it pays off.
I also recommend you add another traffic source, such as Pinterest. It's not a social media channel but a search engine on its own, and it's ideal for bloggers. If you have articles on your site, create beautiful Pins for them and share them on Pinterest. Optimize the images as well as your profile on Pinterest, and expect some traffic to come to your blog even if you have just started out.
This way, you can also promote your freebies, which gets more people on your list. You can then form relationships with them and eventually present your paid offer to them.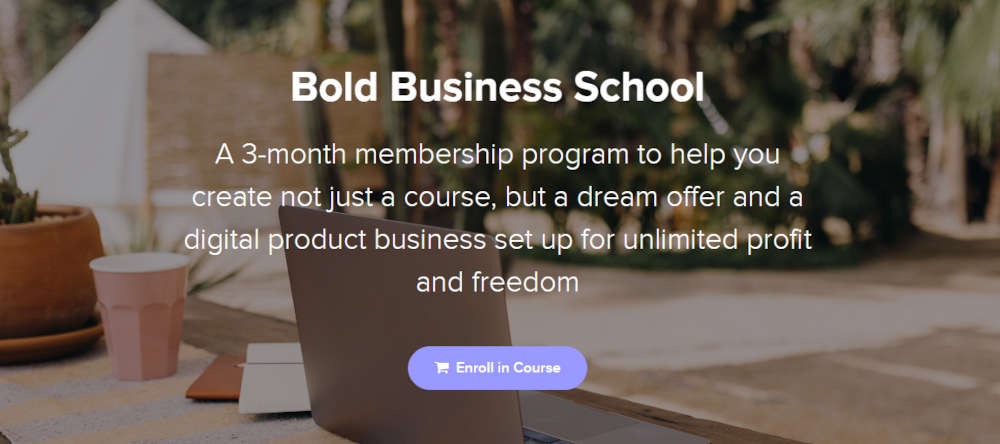 What online course platform are you using?
I've been using Teachable since day 1.
Do you like it?
Yes. I use it for all my digital products, bundles, and coaching packages, to manage my students, run an affiliate program, and so much more.
You can also have free courses and use them as a lead magnet, do upsells, run a membership, and do anything else you can imagine.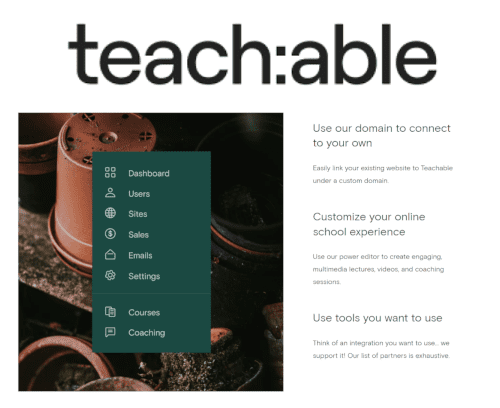 Check Out Teachable
Teachable is one of the top online course platforms used by successful course creators interviewed on coursemethod.com. It is easy to set up and build your site pages, and the course area looks great. 
Price Range: $0 (+ transaction fees) to $299/month
Most Popular Plan: Pro Plan at $119/month
Annual Discount: Yes, take 17% off!
Free Trial: Try out Teachable's core features for free
*Our content is reader supported, which means when you buy from links you click on, we may earn a commission.
Are there any features you wish it had?
The sales page builder could use some more features + flexibility. I now create some of them on my WordPress site (and use the Elementor page builder) and simply link the buttons to the checkout pages on Teachable.
What made you decide to use your chosen platform over others?
I trust Teachable; it's one of the top online course platforms. I did my research when deciding which one to go with, and this made the most sense. They keep improving and adding new features every next year; I love that.
What other tools do you use to run your online course business?
I use ConvertKit for email marketing, Canva for course presentations and graphics, and TypeForm for feedback forms that I place inside programs.
What books or training programs have you found useful on your journey to a successful business owner that others might find valuable too?
I like learning from James Wedmore. He has an awesome podcast, and you can see what he's all about from a few episodes. I'm also enrolled in his business program, Business By Design.
$100M Offers – a book by Alex Hormozi – is amazing. Check it out. I'm all about creating the best and most magnetic offer that you can. This can make or break your sales.
Do you have any big mistakes you've made along the way that you'd be willing to share?
I think if I didn't, that would be a problem. To be in business is to wake up every day and make as many mistakes as possible. Then gather the data, make some conclusions and execute things better next time.
It's all about optimization, testing new things, or at least doing one little thing differently with every next launch, for example. Then you can see how it affects everything else.
Sometimes, the difference between a failed launch and a profitable one can be one little thing we missed. - Lidiya Kesarovska
Click To Tweet
My mistakes include the following:
Not warming up my audience before an offer
Promoting cold leads
Not showing up enough or well during a launch
Not planning well for a launch
Being afraid to sell
Talking about the features of a program, not its benefits
Making it all about me, not about my audience
Creating the content, I feel like instead of the content they need
Making a course as long as possible and thus creating something overwhelming
Not asking for testimonials
And so much more.
Please share some idea of revenue.
I earn a couple of hundred dollars per launch. I'm launching often, though. My offers were also low-ticket till recently.
Now I'm focusing on the high-ticket ones. I also like offering different payment plans to make programs more accessible. This creates a small but consistent monthly income coming from digital products.
Please tell us a little about what the money you've earned from your course has done for you.
For a start, I left my home country six years ago and relocated to the Netherlands. I have been living in my favorite city ever since – Amsterdam. I traveled to Asia for a few weeks back then too. I'm able to take a mini-retirement whenever I want.
I structure my day the way I want to. I wake up whenever I want to. Any day can be a day off. This kind of freedom is key for me to be satisfied with my life.
This requires not just money but also strong boundaries, tuning into your true desires, and making them a priority.
In addition to revenue are there any numbers you would like to share?
I grew my blog Let's Reach Success to 100K page views a month a few years ago.
I made $50K as a blogger in 1 year.
I earned $128,386 from blog sponsorships alone in 4 years.
I started earning over $1000 from a sponsored collaboration with a brand.
I had $5K months.
To this day, I've earned $9,760 from online course sales.
8,320 students have joined my Teachable School (some for free courses, others in paid ones but thanks to bundles I participated in with other course creators).
What has creating your course done for you personally?
I've created my best and most transformational work thanks to my programs. I have a way people can not just work with me but actually transform their life. I've poured my heart and soul into my programs, and I'll keep doing it.
It gives me true joy to do it. It makes my day any time a student leaves a testimonial or reaches out to thank me.
I was also named one of the top course creators and experts to watch in 2021 by Yahoo! News, and that felt pretty good.
Do you have a story of a transformation from any of your clients?
The one I can immediately think of is a student of my course, The Blog Sponsorship Boss. Most students don't reach out to me, they stay behind the scenes. But she loved the course so much that she wrote a review about it on her blog. She left a testimonial, and then I invited her to do a case study on my blog.
In a nutshell, she created her media kit in a day. She stopped selling herself short, and started negotiating her rates better.
What advice do you have for people just starting out?
Everyone's business journey is unique, and you shouldn't try to replicate that of any other course creator. Have mentors, learn from them, enroll in their business programs, and test their strategies. But at the end of the day – do it your way.
Also, don't wait till you have the perfect course to actually launch it. Launch now, and get it done after that. Or just create the first version of it. Know it's only gonna get better as you learn more about the course business.
Don't give up if your first launch fails or if ten launches don't go well. It's normal. Almost everyone has these results in the beginning.
There's always a lesson in every launch, even if it leads to $0 in profit. That lesson can be applied to the next one, and you can only get better from here on. Practice makes perfect.
Learn more about Lidiya Kesarovska of letsreachsuccess.com: