How Lauren Sheu Grew Her Running Coach Business & Then Began Training Other Running Coaches on How to Grow and Market Their Businesses

Our content is reader supported, which means when you buy from links you click on, we may earn a commission.
---
Who: Lauren Sheu
Website: runningforwellness.com
Course Topic: Running Coaching
Interesting Stats: $1936 in revenue from initial launch
Who are you and what course have you created?
I am an RRCA Certified Running Coach and I own my own Run Coaching business.  I am the Owner and Founder of Running for Wellness.
Running for Wellness is a running & mental health advocacy platform created with the goal to help women improve their mental health and wellbeing through running.
The course I created is called "Growing A Successful Online Run Coaching Business".
What market does your online course serve?
My online course is for new running coaches to learn how to grow, market, and promote their online coaching business and find new coaching clients.  In my course, I show you exactly how I was able to grow my own run coaching business and the tools that you can use to grow yours too.
What's the biggest benefit of taking your course?
The biggest benefit of taking my course is getting a behind-the-scenes look at the marketing and growth strategies that have worked best for me to help me grow my business and get featured in many major publications … including Health, Prevention, Men's Health, Women's Health, Verywell Fit and more!
How did you get into the market?
After focusing on growing my business for two years, I realized there were a lot of other new running coaches out there that needed help learning how to grow and market their businesses.  This is where I had the idea to create a digital course for them to show them exactly what worked for me to grow my business.  A lot of new running coaches were reaching out to me for advice, and I identified a gap that needed to be filled!
Why did you decide to create an online course in the first place?
I knew that creating an online course would be the most efficient way for me to share this information with others.
The thing I liked the most about a course is that I can record the course once and then continue to sell it on autopilot indefinitely afterward. - Lauren Sheu
Click To Tweet
I loved the opportunity of passive income that comes from selling an online course.
Did you have any moments of doubt before you created/launched it?
Honestly, I didn't because I already knew that there was a demand for this information and an interesting market.
It did take time to record all the sessions and put the course together, but I recorded one module per week which was a good way to break it down and spread it out so that it didn't become too overwhelming.
What's your online course like?
My online course consists of 6 modules.  Each module has a video that ranges from 30-60 minutes as well as a written summary of the module.  Each module covers a different set of topics.  As part of my course, I also offer a free P&L Statement Excel template and access to an exclusive Facebook group which is only available for people who take the course.  In the group, new coaches share ideas, ask questions, and celebrate successes!
How long did it take you to create your course?
It took me about 6 weeks to create my course.  As I mentioned before, I recorded one module per week for 6 weeks.
Tell us a little about the process of launching your course and getting your first sale(s).
I launched a course with a pilot group of new run coaches.  Initially, I was sending the video modules out through email once a week to the pilot group as I created them.  I was gathering feedback from them throughout the process.
The pilot was very successful, so I decided to host the course on Teachable and expand it to a wider set of run coaches!  I liked that Teachable was really easy to use and automated the whole process.
The course has been a lot more successful than I originally expected and I am so happy to have the opportunity to help new run coaches launch and grow their businesses.
Do you have a lead magnet?
I do not have a lead magnet but I am considering making one since I know how valuable they can be.
What's the traffic strategy that works best for you?
I originally started by reaching out to my network of other running coaches who I thought might be interested in the course.  I also shared about the course on a private Facebook group for RRCA Certified Running Coaches and that is where the course has gained interest and increased traction.

What online course platform are you using?
As I mentioned before, I host the course on Teachable.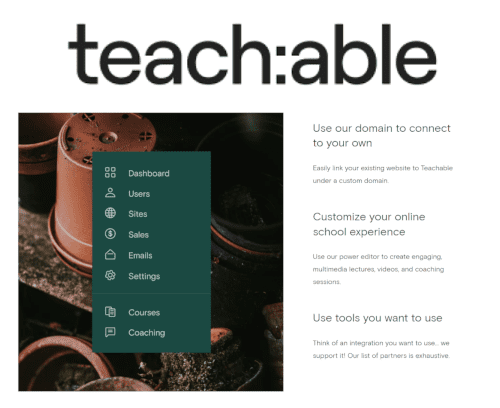 Check Out Teachable
Teachable is one of the top online course platforms used by successful course creators interviewed on coursemethod.com. It is easy to set up and build your site pages, and the course area looks great. 
Price Range: $0 (+ transaction fees) to $299/month
Most Popular Plan: Pro Plan at $119/month
Annual Discount: Yes, take 17% off!
Free Trial: Try out Teachable's core features for free
*Our content is reader supported, which means when you buy from links you click on, we may earn a commission.
Do you like it?
Yes, I really like using Teachable.  It was easy to use, and it was very intuitive to set up my Sales Page and my Course.  I love how it streamlines the entire customer life cycle process to save me time and energy.
Are there any features you wish it had?
No, I have been happy with the platform!
What made you decide to use your chosen platform over others?
Teachable offered everything that I needed to host the course and I saw that other reputable course creators were using it.  That is why I decided to use it.
What other tools do you use to run your online course business?
I use many different tools to run my online business!  To name a few:  WordPress.org to manage my website, Siteground to host my website, Canva to create and design graphics for my business, Calendly to schedule meetings with clients, Convertkit to manage my email list, and PayPal to process payments.

What books or training programs have you found useful on your journey to a successful business owner that others might find valuable too?
The most helpful training that I have taken is an online course by Create & Go called "Six Figure Course Creator".  This course teaches you how to make money as a blogger through the creation of an online course.  I used a lot of tips from their course which helped me to develop and launch my own!
Do you have any big mistakes you've made along the way that you'd be willing to share?
None that I can think of.
Please share some idea of revenue.
My initial launch of this course generated $1936 in revenue.
Please tell us a little about what the money you've earned from your course has done for you.
My business is currently my side-hustle, so it has been great to generate some extra income.  This extra income has allowed me to invest more in my business and generate extra savings.
What has creating your course done for you personally?
Creating this course has been an amazing experience that has boosted my confidence and has been an amazing way to expand my business.  I plan to use this experience to develop more courses and innovations/offerings as part of my business.

Do you have a story of a transformation from any of your clients?
Yes, a few of my customers have provided awesome feedback and have seen amazing results from taking the course.  Here are a few of the testimonials they have provided:
"Lauren's online coaching class was very informative. I would recommend this class if you are starting a brand new coaching business or have an existing business. Lauren gives you gold nuggets of information that can be a game-changer! With her down-to-earth personality, she explains the purpose of each topic, gives real-life examples and tells you how to implement it into your own business."
What advice do you have for people just starting out?
Keep going and don't give up!  Take any challenges or negative feedback as opportunities for improvement.
If you keep learning, moving forward, and taking setbacks in stride, you will be successful! - Lauren Sheu
Click To Tweet
Learn more about Lauren Sheu of runningforwellness.com: