Last Chance Email Subject Lines [40+ Examples Along with Email Templates]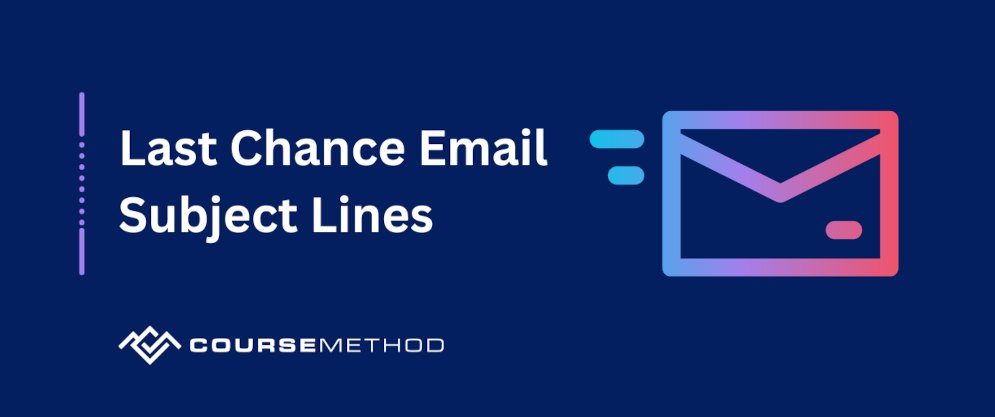 Our content is reader supported, which means when you buy from links you click on, we may earn a commission.
---
Did you know that 33% of email recipients decide to open an email if there is a catchy title? A catchy last-chance subject line is crucial for email success.
Market your online course effectively by choosing a catchy email subject line. You can bring more customers to your site with an engaging subject line, and email recipients will be more likely to buy your course.
No one likes to receive a boring email, and recipients may mark an email as spam just based on the subject line. Make your subject line clear, short, and attractive, and more people may visit your website.
Email subject lines are also an ideal opportunity for offering discounts. If you are running a sale or discount on your online course, put the information in the subject line to get more customers.
Successful email subject lines can help your business flourish. Follow our tips, and you can learn how to craft an expert email subject line that is engaging and fun. Read on to learn more about last-chance email subject lines.
How To Write a Last-Chance Subject Line
Creating the perfect last-chance email subject line can be tricky. We're here to help with a breakdown of how to make a great subject line, so follow these steps to ensure success.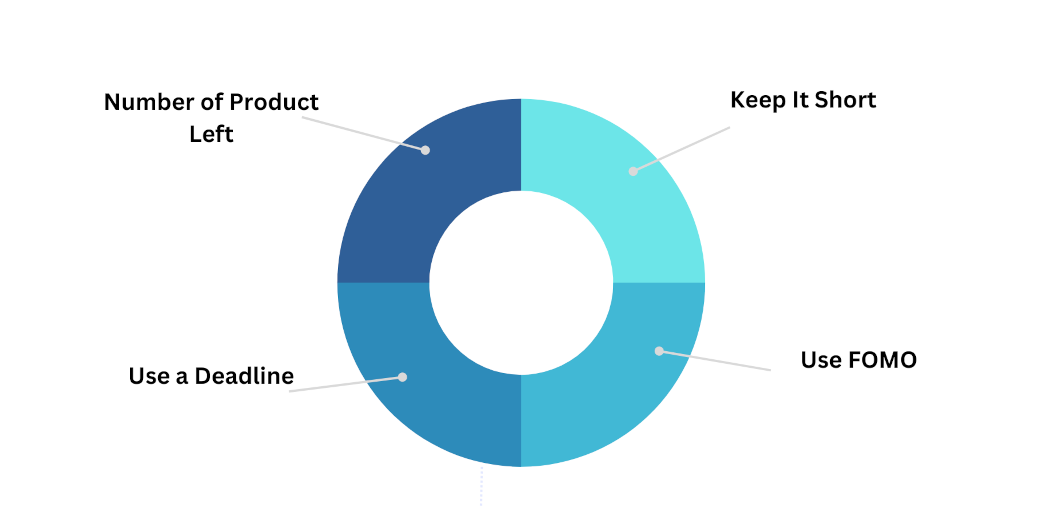 Keep It Short
Keep your last-chance email subject line brief and to the point. Long email subject lines distract and bore potential customers, and no one wants to read a long, tedious subject line.
It's crucial to cut to the chase when writing a short subject line. Focus on the subject at hand, and avoid adding any unnecessary information. Don't talk about your brand or ramble about who you are and the company's mission—instead, zero in on the essential details.
Include crucial points about the product, who needs it, and what the sale is. You may consider limiting your subject line to ten words or less, but you can keep it short and restrict your email subject line to just a few words that convey information about the last-chance sale.
Use FOMO
Using FOMO is an essential skill in marketing, and nowhere is it more needed than in last-chance email subject lines. Read on to learn how to use FOMO effectively and increase traffic to your online course.
What is FOMO? FOMO stands for 'fear of missing out,' and 31% of Americans experience it at least occasionally.
Marketers can use FOMO to make a product seem intriguing or even essential. Include a sense of FOMO in your email header and make your customers feel they are missing out if they don't purchase your online course.
Use a Deadline
Include a deadline in your email subject line for a better response rate. Potential customers may be more likely to respond to a sale if you create a sense of urgency.
Saying that the sale is the last chance is a great way to attract customers, but you need to be specific. Is this final chance for the discount or deal over in two days, or does it last all month?
You can refer to dates like 'December 1st' or 'next Sunday' in your email title or create a sense of urgency like 'Sale Ends Soon.' Including deadlines in your header helps the reader understand that the sale is pressing and urgent, and they may feel more inclined to follow your link and check out the discount.
Above all, being honest about your deadline is critical. Be accurate and realistic about your sale's deadline to create a sense of trust between you and your email recipients. For example, avoid saying a sale ends in 48 hours when it ends in two weeks.
Number of Product Left
Provide specific details about how many products you have left. Writing about products left can help get customers interested.
Products left can be a tricky technique for online courses, as you are usually not selling a physical product. To utilize this technique successfully, provide information about how many slots you have left in a given course.
Be accurate about how many products or spaces you have left. If you lie about how many products remain, customers may not trust your company in the future.
Last-Chance Email Templates
A last-chance email communicates urgency to the customer. The goal is to make readers rush to your website, excited to sign up for an online course.
Last-chance emails are one of the easiest ways to increase interest in your products and courses. Read on for templates of last-chance emails.
Last-Chance Email Template #1
Subject Line: Sign Up Fast for Lightning Deals
Dear valued customer,
Time is running out to score on our deals. There are only a few hours left in our fire sale, but you can still earn great discounts by clicking on the link below.
Don't miss out on this fantastic opportunity, and get your discount before it's too late.
We can't wait to see you,
Your online course host
Last-Chance Email Template #2
Subject Line: We'll Make You Smile With These Great Deals: But Discounts End Soon
Hey there,
Want to score a great deal? We've got a surprise below.
Click on the link to find online course deals and make your day brighter. We're selling fantastic courses you'll love at a great price, but discounts end tomorrow, so sign up fast.
See you soon,
Your friends at the company
'Discounted Price' Last-Chance Email Templates
Highlight discounted prices in your subject line and get people interested.
Whether you're taking a percentage off your usual price or offering a package deal, we'll show you how to create an email about discounted prices. Check out these templates below and craft a successful discounted price email.
Subject Line: Check Out These Discounted Prices #2
Hi Rebecca,
We're so excited to tell you about our flash sale. We're offering a discount for a limited time only.
Get in as soon as possible because these discounts won't last forever. Hurry up and save big on your favorite online courses.
Best wishes,
Your favorite company
Subject Line: Score 25% Off Today
Dear customer,
We have a gift for you. Today only, we're offering 25% off on all your favorite online courses. It's a deal of a lifetime, and you won't want to miss out.
Do yourself a favor and book your place on that course you've been eyeing. Discounts won't last long, so sign up soon.
Enjoy your discounts,
Your online course provider
FOMO Email Subject Lines
FOMO email headers communicate a sense of urgency and encourage the readers to open the message. Here are some great examples of email subject lines that use FOMO to market effectively:
Get Your Product Today: Only 50 Remain!
Lightning Sale Ends Monday
Only Ten Slots Left in the Online Course
Almost Out of Stock- Sale Ends Soon
Take Advantage of This Deal Before Time Runs Out Tomorrow
25% Off Sale Final Hours
Grab This Deal Before It's Gone
This Discount Is Too Good To Miss Out On
Purchase It or Regret It
Don't Miss This Great Sale
Don't Miss This Rare Opportunity
Time Is Running Out To Sign Up for a Course
This Offer Expires in 24 Hours
The Online Course Sale Ends at Midnight
Last Chance To Order This Product
Fun Last-Chance Email Subject Lines
Many customers love fun and engaging titles that excite them about the product.
Use light-hearted email headers that draw readers in, and increase the likelihood of customers opening your email. Here are some examples of how to add a little fun to your email subject lines:
This Email Might Be the Funniest Thing You've Ever Read
You Won't Believe the Deals We Have for You
You're Going To Laugh When You See This!
Are You Ready for a Surprise? Open This Email and Find Out
You'll Be Astonished When You See the Discounts
When Life Gives You Discounts
Since We Can't All Win the Lottery
Swipe Right on These Deals
Oops, We Got Too Excited About This Offer
Fall in Love With These Fun Deals
Boom Shakalaka! Let's Dive In
Social Proof Subject Lines
Social proof is an influencing technique. It recognizes people's desire to be like others. You can utilize social proof email subject lines and appeal to your customer's social competitiveness.
Jane Doe Just Joined Our Online Course
See What Everyone Is Talking About
We're Not the Only Ones Who Love This Course
Anthony Saved $20 With This Great Discount
Discover How Joanna Saved Big With These Sales
You Don't Have To Take Our Word for It: Hear How Coryn Saved Money Today
Discover How People Across the Country Are Getting Deals on These Online Courses
Don't Be the Last To Sign Up for This Online Course
Our Happy Customer Michael Loves This Great Discount
See the Deals All Your Friends Are Talking About
Last-chance email subject lines are a quick way to increase traffic to your website and receive more signups for your online course. Craft an effective email header by keeping it concise, fun, and engaging.