Top Keyboard for Video Editing [7 of the Best in 2023]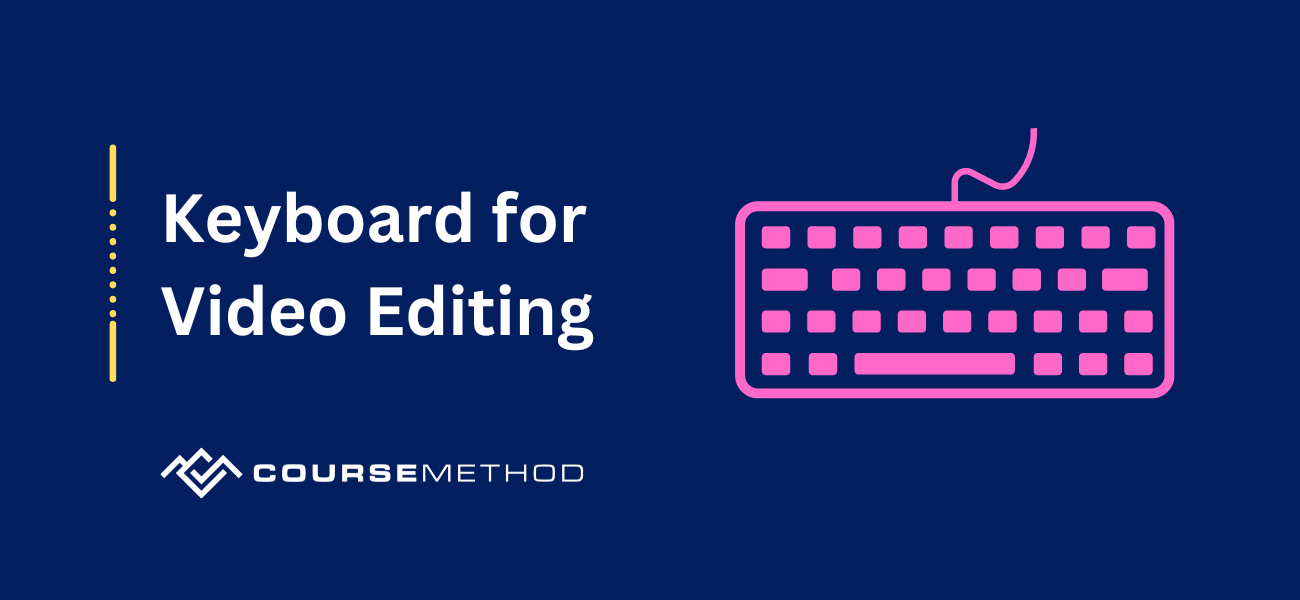 Our content is reader supported, which means when you buy from links you click on, we may earn a commission.
---
Are you an online course creator? Are you in need of the best keyboard for video editing? Then, you're in the right place! We've listed the seven best keyboards in the market for your video editing needs.
According to Research and Markets, online learning and teaching are in demand now more than ever. And as a digital course creator, getting the best video editing keyboard can help you fast-track your project.
The report further documents that between 2020 and 2026, global e-learning markets will grow annually by 11%. And the market will get to 390.6 billion US dollars by 2026.
Factors for Choosing the Best Keyboard for Video Editing
When it comes to video editing, a keyboard is an essential tool that can make or break your workflow. And it's an investment that needs careful choosing.
Ergonomics
Recognizing your ergonomic practices is vital for protecting your health for a long-term job, mainly if you usually sit at a desk in a chair for eight hours daily. With this in mind, you need a sound, ergonomically friendly keyboard to increase productivity in your course creation.
Ergonomics involves designing keyboards for people most efficiently and comfortably as possible. An ergonomic keyboard should fit you rather than adjust to fit you. The makers build it to accommodate the significant bulk of physiques instead of being stationary equipment.
Although your wrists don't presently hurt, they might become an issue from repetitive strain injury. Should they become extremely painful, surgery is typically the next step.
When looking for an ergonomic keyboard, consider the following:
Split keyboard: Its main feature is a significant split in the center, causing the two sides to angulate away to opposite sides.
Contoured keyboard: This has a wavy shape in the center with a little peak—a view from above projects it as a wavy footpath or sidewalk.
Angled keyboard: With a gradient that creates a modest inclination from the rear to the front of the keyboard.
Efficiency
A keyboard designed for video editing should have a set of dedicated keys or shortcuts that can help you navigate and control your editing software more efficiently.
So, what should a keyboard for video editing have?
Customizable keys: Some keyboards allow you to program your shortcuts and macros, enhancing your workflow and saving you lots of time.
Dedicated keys: Look for a keyboard with a shortcut or dedicated keys for everyday video editing tasks, such as pause, play, rewind, and fast forward.
Touchpad or trackball: A built-in touchpad or trackball can help control your editing software without using a separate mouse.
Costs
What do you look for in costs? Try and find a balance between quality and affordability.
When evaluating the expenses you'll incur, here's what to do:
Invest in quality: While a high-quality keyboard may be more pricey, it can be worthwhile in the long run.
Research: Look up different keyboards and compare their features, costs, and reviews.
Balance: Identify a keyboard with the features and quality you need while being affordable.
7 Best Keyboards for Video Editing
Online course creators may need to edit videos almost daily to meet the rising demand for online content. In 2021, Zenith predicted that a typical person would spend 100 minutes daily watching online videos.
Here are the best keyboards for video editing:
Key Features:
Image adjustment and fine-tuning
Use dials, buttons, and sliders to edit
Instruct and control several editing functions
Mechanical keys
Two programmable dials and 17 buttons
Improved ergonomic design and build
Skylum Aurora HDR compatibility
Adobe Lightroom and Premiere Pro compatibility
Works with Mac and Windows
Capture One compatible beta integration
Because of its ergonomic design, you can easily edit any clip. This is also aided by controlling numerous editing operations simultaneously, allowing for considerable customization.
Interestingly, its friction-free buttons have a significantly deeper journey than the original model's chiclet layout.
Pros:
More affordable than the original Loupedeck
Configuration options for efficient and precise editing
Custom mode enables the reassignment of buttons
Software support has improved
Cons:
The Loupedeck program needs occasional restarting
Lightroom may become confusing if you use it sparingly
It doesn't support the Photoshop program
Occupies a lot of desk space
Not all apps are fully customizable
For USB-C computers, a USB dongle is must have
–> Check out the Loupedeck here …
The following are LogicKeyboard for Adobe Premiere Pro features.
Key Features:
The QWERTY keyboard
Two USB ports
Windows 2000, XP, Vista, 7/8/10 compatible
108 (ANSI version) and 109 (ISO version) as the number of keys
Lighting controls
1.8-meter wire with hub and keyboard connectors separately 9/64″ key travel (3.5 mm)
F-row multichannel keys
Dimensions of 17 11/4″ x 5/8″ x 6″
The keyboard is compatible with Premiere Pro CC and works well with Windows 7-10. It also has a USB 3.0 hub for connecting peripherals such as a phone, mouse, USB dongle, or contour shuttle.
Pros:
With labels, PP-CC shortcuts enhance the keyboard's workflow efficiency.
Flexible backlighting
USB hub with two ports for charging devices
Cons:
High cost
Sticking keys
Smaller keyboard
Lacks software support
–> Check out the LogicKeyboard here …
These are the details you'll want to check out.
Key Features:
Multimedia keys
Lightning port
Wireless
Bluetooth
The exciting part is that the Apple Magic Keyboard delivers an enjoyable and accurate user experience. And this is because of its robust scissor operation under each key, low profile, and improved vital travel!
Pros:
It is well-made and durable
The design is simple and minimalist
Typing is a quiet activity
Excellent typing efficiency that is responsive and light
Cons:
Compatibility with Windows and Linux isn't a guarantee
There are no inclination adjustments or wrist rests
–> Check out the Apple Magic Keyboard …
Should you need to have a multi-use keyboard, here it is.
Key Features:
Weighs 936 grams
Measures 14 x 5.2753 x 1.29 inches
Backlight is white
Wired to USB-A cable with removable 4.9-foot Mini USB
N-key rollover
1,000Hz polling
Multiple switch options
The Varmilo VA87M is great for anyone who expects to use their mechanical keyboard for typing, gaming, coding, editing, and programming.
And in reality, it's suitable for all applications except RGB gaming, number entering, and macros.
Pros:
Backlight is white
A variety of colors is available
Stabilizers that are pre-lubricated and exceptionally stable
Dye-sub PBT keycaps that are ergonomic
Excellent construction quality
Cherry MX switches are available in a variety of configurations
Cons:
Lack of compatible software
The cost varies
Removable mini-USB cord
For competitive players, latency may be prohibitively high
Some keys have reduced-contrast legends
There are no macro-programmable keys
–> Check out the Varmilo VA87M keyboard …
Key Features:
RGB backlighting
Bluetooth connectivity
It has a total of 104 keys
Compatible with the gaming console
PBT double-shot keycaps
The Corsair K70 RGB PRO is available in full-size and comes in black. But you can get the keyboard with Red, Cherry MX Blue, silent switches, speed, or brown.
Pros:
Extremely low latency
Individually illuminated keys and RGB lighting that is completely configurable
The highest polling rate is 8000Hz
Customized media buttons
USB cable that is flexible and braided
The volume roller
RGB backlighting on individual keys
Cons:
Occupies a lot of desk space
Costly
Disparities in "hyper-polling" are difficult to discern.
–> Check out the Corsair K70 RGB PRO …
Are you looking for a keyboard to work on multiple devices? Take a look at this:
Key Features:
Backlit keys that automatically alter the brightness
It comes with a creative input dial
Increased key stability minimizes noise and improves responsiveness
Work on three devices at once
Works with Windows 7 and over and Mac OS 10.11 and higher
Touch, then hit, and enter your preferred applications
It's intriguing how the keyboard's backlit keys illuminate as soon as your hands near the keyboard and instantly adapt to shifting light levels.
The creative input dial transforms your working style by providing fast access to the tools you require at the precise moment you require them.
Pros:
Strong
Good quality
You can customize its extra knob
The Keyboard layout is intuitive
Cons:
Shorter battery life
Limited options to change the angle
The backlight turn is provisional
–> Check out the Logitech Craft keyboard …
The following are the details to look out for:
Key Features:
It has Bluetooth Smart, that is, Bluetooth 4.0
The keyboard is 5mm thick
Longer battery life of up to three months
Compatible with Android, iPhone, Windows Phone 8.1, and Widows
liquid-resistant construction
It is possible to couple two gadgets with a simple toggle switch
Charging is through a micro USB
Magnetic fastening
While typing emails and papers on a Surface or iPad are considerably more straightforward, the combined size and weight of a Bluetooth keyboard are generally much lower compared to a laptop.
Pros:
Exceptionally thin and light
Compatible with a variety of mobile operating technologies
Excellent construction
Simple to pair and utilize
Battery life of three months
A warranty period of three years
Cons:
The placement of the keys could be more apparent and more comfortable
Split impractically
You cannot use it on your lap
The learning curve is steep
There is no carrying bag
A little pricey
There is no stand to hold the mobile gadget upright
–> Check out the Microsoft Universal keyboard …
How To Choose the Best Keyboards for Your Needs
Which keyboard for video editing should I buy? Go through the keyboard's features, pros, and cons to make an informed decision. Again, your workflow needs, desires, and finances will determine the best video editing keyboard for you.