How Katie Grimes Has Helped Over 250,000+ People in Her Coaching Business So Far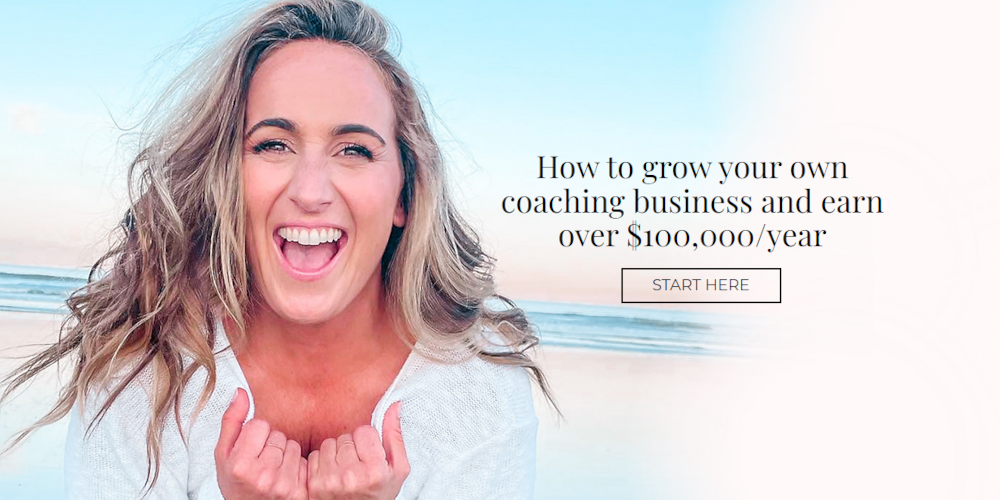 Our content is reader supported, which means when you buy from links you click on, we may earn a commission.
---
Who: Katie Grimes
Website: katiegrimes.com
Course Topic: Business Coach
Interesting Stats: Helped 170,912 people in 2022
Who are you and what course have you created?
I'm a Business Coach for new coaches who are in their first 3 years of business and are looking to make over $100,000/year. The course I have created is From Zero to $5K – teaches them the steps to starting a coaching business that makes $5,000/month, consistently. These steps can also be used for most online businesses who offer a product or service
What's the biggest benefit of taking your course?
The biggest benefit of taking Zero to $5K is that you'll learn steps to take your coaching business from Zero to $5,000/month, consistently and feel more confident knowing exactly what you need, why you need it, and how much each will cost. (Spoiler alert – to start a coaching business in the US & Canada costs less than $1500 USD).
How did you get into the market?
I worked in various industries within Corporate America and always felt so unfulfilled – I thought that something was missing so I kept chasing the next job that paid more while hiring coaches and therapists to help me understand why I was feeling so unhappy.
I grew up with alcoholism and learned it was so common to feel confused about who I was, what I wanted, and mold/shape myself to fit the career I was pursuing. With time and help from these people, I was able to figure out who I was, what I like and don't, what I'm good at naturally and from there create a coaching business. Truly, I just wanted to help other people the way that I have been and coaching felt so natural.
In 2018, I was let go from my job after having PTSD (from a terrible assault that occurred on vacation) and took that as a sign that it was time to focus on doing what made me happy and prioritized my health & wellbeing. I decided to teach others how to focus on their mental health and use their past experiences to create businesses (coaching or consulting)
Why did you decide to create an online course in the first place?
I decided to create an online course in the first place because I wanted to work with people all over the world who want to build coaching businesses  – some people are working full-time while building their business so I figured this would be a great way to teach without being live or within the same time zone.
Did you have any moments of doubt before you created/launched it?
Every day, I thought I wasn't good enough – that what I was teaching wasn't good enough. Who would buy from me? At this price – it didn't matter if it was higher or lower. I questioned everything and while I believe it's something we all face, my goal in life is to help NORMALIZE these feelings and understand where they come from so that people can move forward without distracting from them or pushing/forcing anything.
I had coaches and therapists the whole time I've been building my business, which has been so helpful – as well as other friends who are entrepreneurs. Truthfully, even hearing my clients say they feel this way – always humbles me and helps me relate more deeply to my clients, which in turn, helps them overcome their fears.
I decided to record my first course privately without going live. One person bought it, so I decided to give it as a free gift to private clients to help them build their confidence (and secretly, build up mine, too – given how much they were praising me for how the course helped them trust themselves more in all aspects of their lives!)
What's your online course like?
From Zero to $5K is a live course that includes a checklist (step-by-step guide for how to start a coaching business), includes a PowerPoint slide deck that breaks down each journal prompt and affirmation from the checklist. It also has a live Q&A with other entrepreneurs and a credit that they can use for a live course, "Get Clients Like A Coach"
How long did it take you to create your course?
It took me roughly about eight weeks to create the course. And I would say that it was a lot of, first, getting a journal, writing down, who did I hope to help, what did I want to help them with, and what were the most important things that they needed to learn in order to have a sense of accomplishment during this course, but also after this course. So there was a lot of journaling. There was a lot of going to Pinterest and looking at different colors or images that I wanted. There was also brainstorming with my coach and getting her feedback, getting my assistant's feedback as to how to write more clearly so that people were aware that this was the program for them.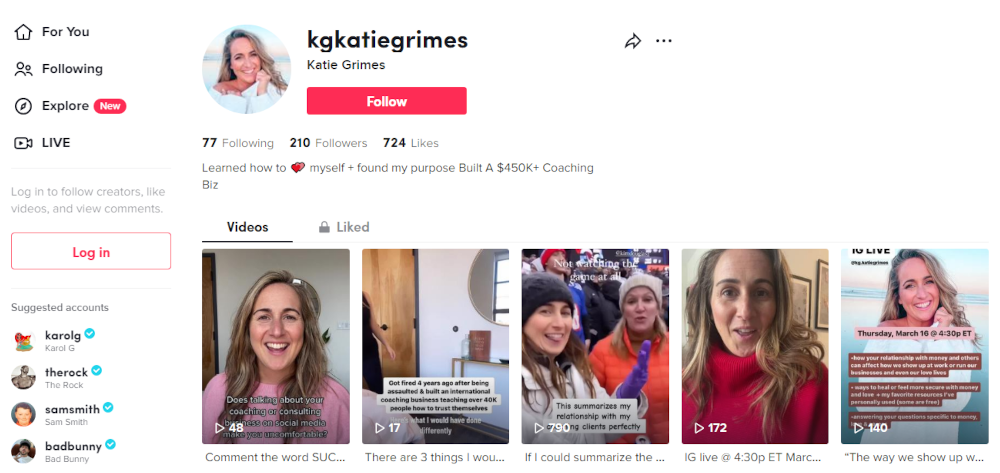 Tell us a little about the process of launching your course and getting your first sale(s).
So when it comes to the process of launching a course, I created a spreadsheet with my assistant, and we came up with the exact steps that we needed to take. - Katie Grimes
Click To Tweet
Regarding my first sale, I was preparing to create this course and figure out when I wanted the date of the course to happen and what time, etc.
I backed out about four weeks and started publicly talking about it on Instagram, where I was referring to problems that clients were having that were similar to clients who were going to be joining this program, what solutions they were seeing, what results they were seeing, and what questions they were asking. And then I was answering those on Instagram, all the while talking and mentioning this program. And then, from there, people would either go into my DMs and ask me questions, or they would go ahead and buy directly.
Do you have a lead magnet?
Yes, I had a lead magnet. It was a checklist for people who wanted to know what were the five things that they needed in order to start their business. And then, they got an email that gave them access to it. And then, a few days later, I sent them an email letting them know that if they wanted more information about how to get from not making any money to making about $5,000 a month with these particular steps, helping them pick the best business idea, as well as how to create an offer, etc. then joining the course "From Zero to $5K" would be best.
What online course platform are you using?
I'm using ThriveCart, Zapier, and FlowDesk.
Do you like it?
Yes. These programs make it easy to keep branding and messaging consistent within my sales pages and email marketing. Automation is a big part of my launch process, so the ability to create a sales page through Thrivecart and draft a series of promotional emails and workflows for when clients sign up makes things very efficient.
Are there any features you wish it had?
I wish ThriveCart had more of a variety of templates and built-in email marketing features so everything was all in one platform. I would also like for there to be a feature that allows you to track students' progress throughout each course, like which modules are completed and how long it took them to complete. For FloDesk, I wish there was a capability to export analytics rather than manually check open rates, click rates, etc.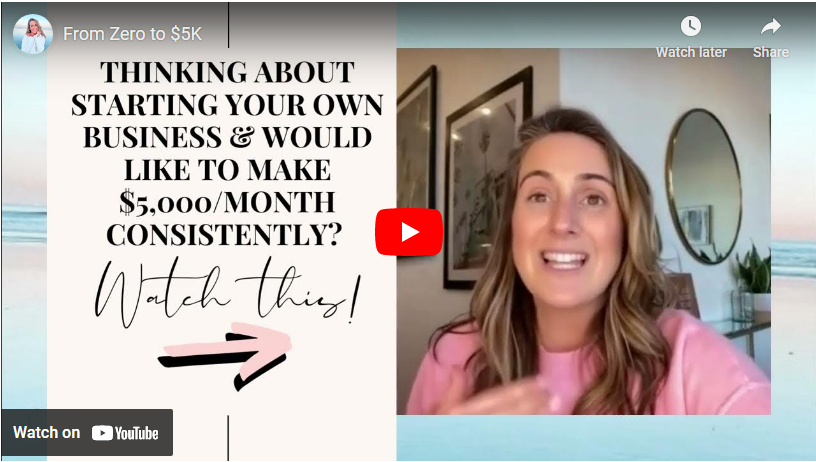 What made you decide to use your chosen platform over others?
I chose ThriveCart for my courses because of the price and convenience. The price is $497 for lifetime access. I found it easier to upload graphics and for me to edit a quick price change. I liked the fact that there were so many pricing options like one-time fees, subscriptions, discounts, etc., and it looked really beautiful so that you could figure out which one you wanted to choose, unlike Kajabi.
What other tools do you use to run your online course business?
Aside from ThriveCart, just Zapier and FloDesk.
What books or training programs have you found useful on your journey to a successful business owner that others might find valuable too?
Number one is learning from my coaching clients. What are they doing? What are they interested in? And also, 'What tools are they using'? That's been a cool way.
Number two has been hiring coaches and learning about cycle syncing from Ash McDonald. Amanda Frances and her money mentality and her book "Rich as F*ck" were also very useful.
Do you have any big mistakes you've made along the way that you'd be willing to share?
Yes, I overspent as I made really good money – $20,000 a month or more. I overspent and didn't save enough money. So during a particular season, I got sick with COVID and gut infection. I wasn't making enough money because I wasn't working as much. So I wish that I would have saved more money.
Please share some idea of revenue.
I would say that in 2021, the average that I was making was $15,000/month. Probably 15 grand In 2022, an average of $8,000/month. And now, in 2023, I'm averaging $10,000/month.
Please tell us a little about what the money you've earned from your course has done for you.
It's allowed me not to have to go back to corporate. I've been able to hire a team of two people to help support the business a virtual assistant as well as a podcast editor, and I've been able to have money that I can put in savings as well as take a vacation.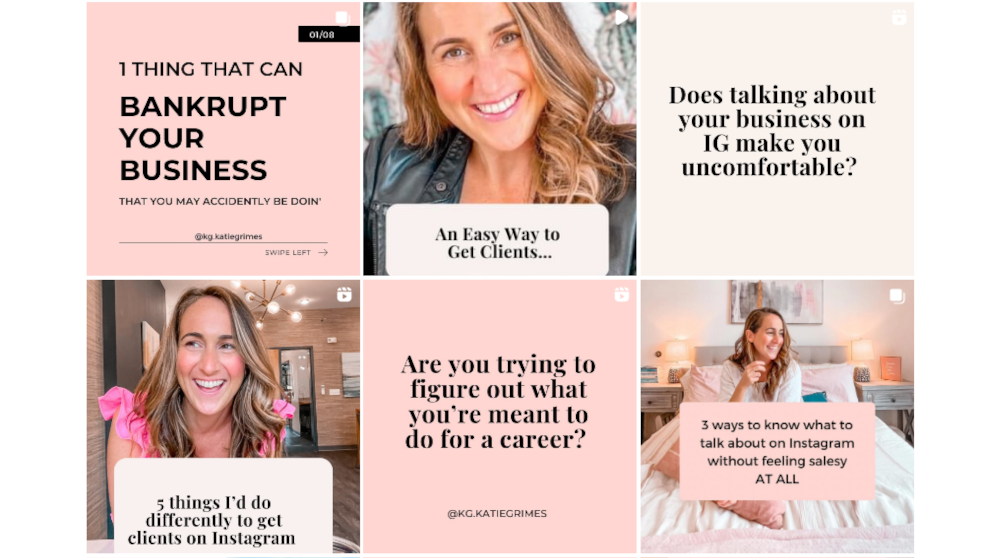 In addition to revenue are there any numbers you would like to share?
My Podcast, Anything for Love, has over 28,000 downloads – I achieve this by consistently releasing weekly episodes and promoting via social media and emails.
My Instagram following has grown 33% in the past year due to consistent posting, engaging content, and remaining active with other accounts.
Between social media reach, podcast downloads, emails + coaching, I've helped: 170,912 people in 2022 and 259,937 during my total time in business.
What has creating your course done for you personally?
I think what it's done for me is it allowed me to give back. There have been so many people whom I've bought from, learned from, free advice or advice that wasn't, and it allowed me to put it all in one place where people could learn from it and have faster growth than I did.
That's my goal. I want my clients to grow their businesses and confidence a lot faster than I did in the four years that I've been open. - Katie Grimes
Click To Tweet
Do you have a story of a transformation from any of your clients?
My client went from 12 – 46 clients in 18 months and soared her profit from $1,000/month to 7x that!
What advice do you have for people just starting out?
There will be more days where you make no money compared to when you do.
Who you write to matters. Those are the people that are going to buy from you.
Your confidence will make or break your business.
How you end a client relationship is as meaningful as how you start it.
Charge more and put more money in savings than you think you need.
Learn more about Katie Grimes of katiegrimes.com: