How Building a Digital Course Helped Katie Gootenberg Increase Clients to Her Service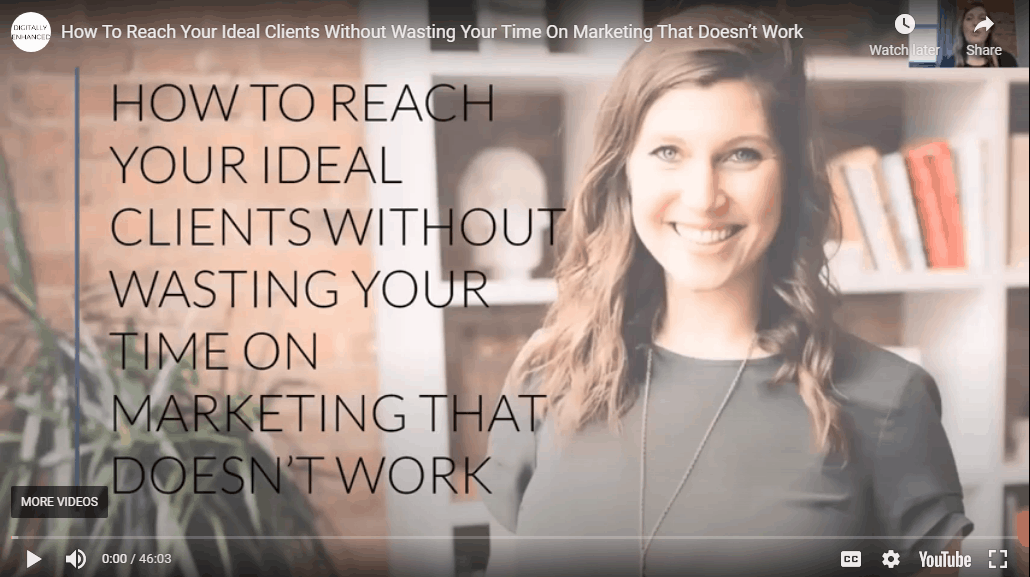 Our content is reader supported, which means when you buy from links you click on, we may earn a commission.
---
Who: Katie Gootenberg
Website: digitallyenhanced.co
Course Topic: Client Attraction
Interesting Stats: Increasing her one-on-one clients through the course
Who are you and what course have you created?
I'm Katie Gootenberg, the founder of Digitally Enhanced Marketing, a cross-channel digital marketing agency that's grounded in helping our clients achieve their results by focusing on the one channel that will get them to their goals fastest.
As the pandemic started to disrupt our lives and uncertainty became our constant, I realized that it wasn't feasible for many companies to invest in our concierge service so we created our digital course, Client Connection Formula. It's for service-based entrepreneurs tired of the hustle. They're ready to consistently book dream clients without marketing that makes them feel gross.
Students learn our proven methodology for about a tenth of the price. Plus it includes bi-weekly group coaching with me. That way students still get that personalized touch.

What market does your online course serve?
We focus on service-based entrepreneurs, meaning that if you're a coach, consultant, designer, etc … you're in the right place!
We've heard from so many entrepreneurs that confusion and discomfort come when trying to sell something intangible. So knew we needed to create something to help!
Through our approach, we take the icky selling out of your day-to-day. We help you cut down on the marketing things you "have" to do. The whole point is to help you attract your ideal clients, build a relationship with them and make it so they can't wait to work with you!
What's the biggest benefit of taking your course?
Students in the Client Connection Formula get the benefit of a personalized plan tailored to your business, your needs, and your clients. They also get hands-on support throughout the course without the traditional price tag of us doing this for you.
Client Connection Formula helps you consistently book your dream clients without wasting your time on marketing that feels gross.
How did you get into the market?
We got really good at helping our clients find their dream clients in a way that felt easy and good to them.
And the best part? We were able to streamline the number of channels on, cut down the time spent creating marketing materials, and increased our clients' enjoyment when it came to their marketing. Mainly because we took out the "shoulds" and got them the results they wanted!
This philosophy and methodology is the basis of every single marketing program we create…and teach our students how to create 😉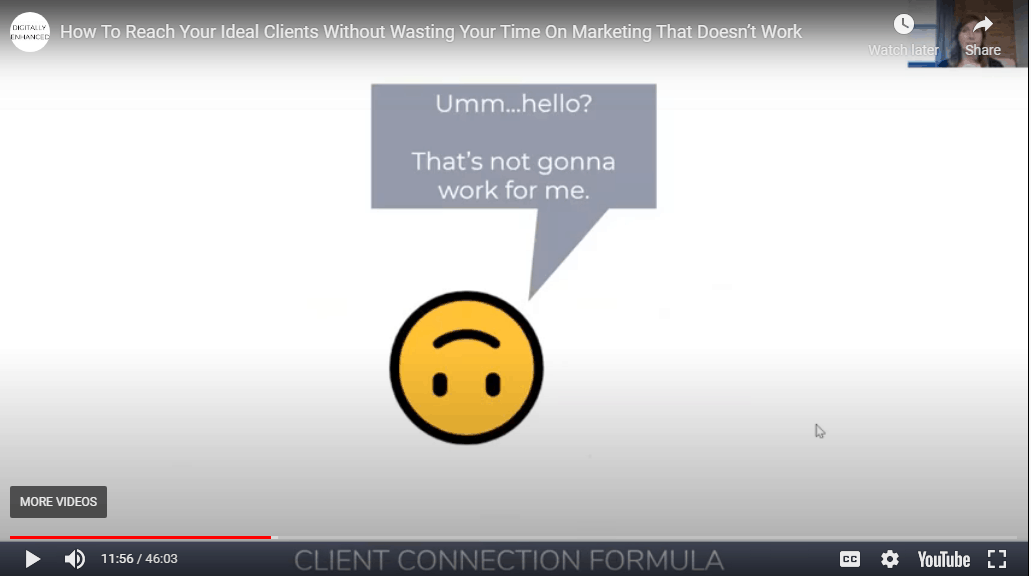 Why did you decide to create an online course in the first place?
Client Connection Formula was a direct response to the pandemic. As the world moved fully online, businesses needed to ensure that they're clear on which marketing channel to invest their time, energy, and money into.
We wanted to make this accessible so we made sure to price it that way and pride ourselves on helping our students stop driving themselves crazy by doing all the marketing things, but not seeing any results.
Did you have any moments of doubt before you created/launched it?
Absolutely! We wouldn't be human if we didn't have any doubts.
Every doubtful thought crossed our mind from "can they really see the same results if we're not doing the work" to "will people even want this?"
One of the biggest things that helped was to create this course in a beta program. Meaning, we put the idea out there, asked if people were even interested, opened it up to a small group at a discounted price, and then created it with them to ensure we were delivering what people needed and they were getting the results.
Doing it this way led to so much more confidence because when we officially launched, we already had testimonials, success stories, and people who could vouch for getting value out of it.
What's your online course like?
Like any other course, Client Connection Formula is broken up into big chapters and then sub-lessons within them. Each lesson starts with a video overview of me explaining the topic, followed by a written accompaniment and the actual work for the student to do (completed via worksheets).
We intentionally created this course so people could jump in whenever they wanted and access the full materials. In addition to the course materials, we supplement it with bi-weekly live calls that I host to really dig into people's questions and challenges.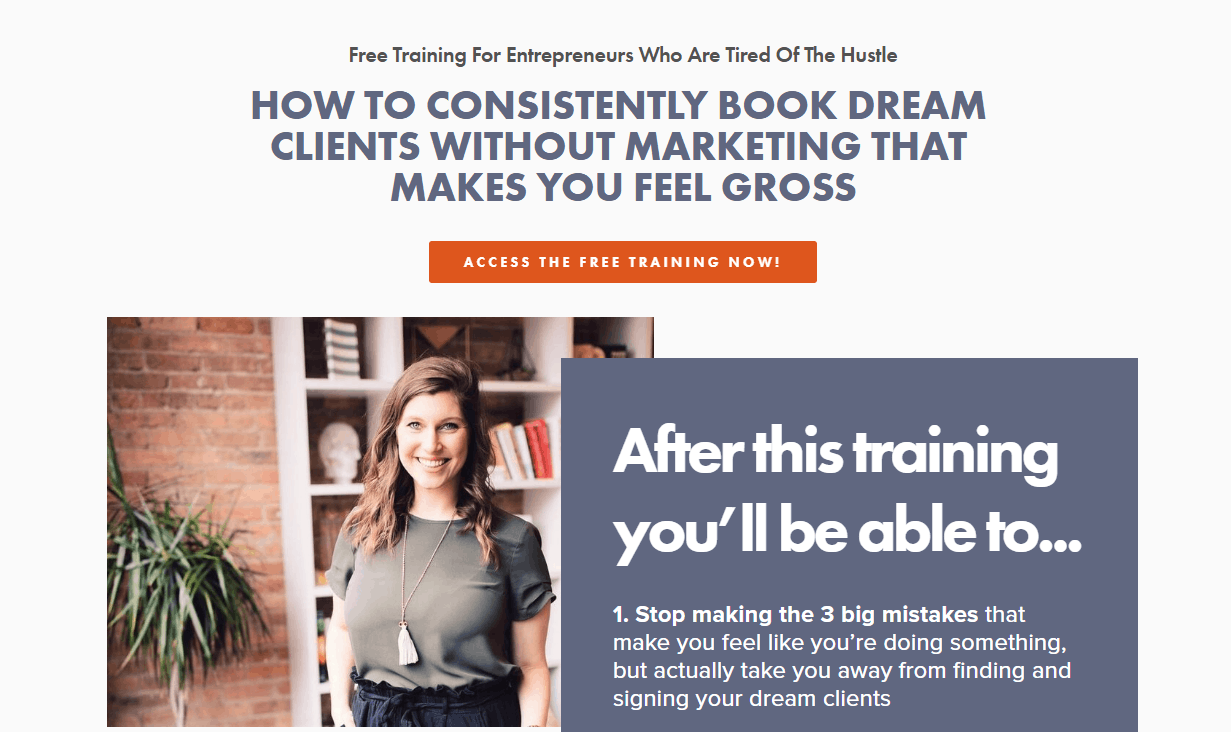 How long did it take you to create your course?
We invested in a coach who crushed it with her course so we had a proven roadmap to work from. Thanks to her playbook and support we were able to get our course up and running in about a month. I'm all for DIYing it, but honestly, when you have the means to do so, I always recommend learning from someone who's a few steps ahead of you and going in the direction you want to go.
Tell us a little about the process of launching your course and getting your first sale(s).
Our course started with the beta program that I mentioned earlier. Then, we did one live launch to kick it off. That's where we offered free training that helps break people's most common marketing mistakes. That one live training turned into our evergreen funnel. This is where leads can either purchase the course from the training or fall into our nurture program where they have opportunities to enroll.
Do you have a lead magnet?
Our training is our magnet. It's How to Consistently Book Dream Clients Without Marketing That Makes You Feel Gross and helps viewers:
Stop making the 3 big mistakes that make you feel like you're doing something, but actually, take you away from finding and signing your dream clients.
Attract your dream clients in a few hours a week without creating another free opt-in to your site, writing more emails, or adding anything else to your to-do list.
Book out your services with a proven formula tailored to YOU (aka Client Connection Formula) instead of doing everything random "experts" told you to do.
It's designed to really speak to prospective students and shifts people's mindsets to truly see the path towards doing less marketing things while building genuine connections with prospective clients (who turn into clients 😉).
What's the traffic strategy that works best for you?
Ads are the most effective for us, but we make sure to have every single placement possible leading to our free course so that anyone who stumbles across us has a clear place to go.
What online course platform are you using?
We use and love Podia.
Do you like it?
We're big fans over here and have even gotten clients to use it themselves. We love the price point, all the tools you get for it, and that it seamlessly integrates with our Squarespace site. (We host all the pre-sign-up pieces on Squarespace and pull in Podia's checkout widget so that we get the SEO value and so that site visitors have access to the training as well.)
Are there any features you wish it had?
We use it just to host the course itself so we are really happy with it.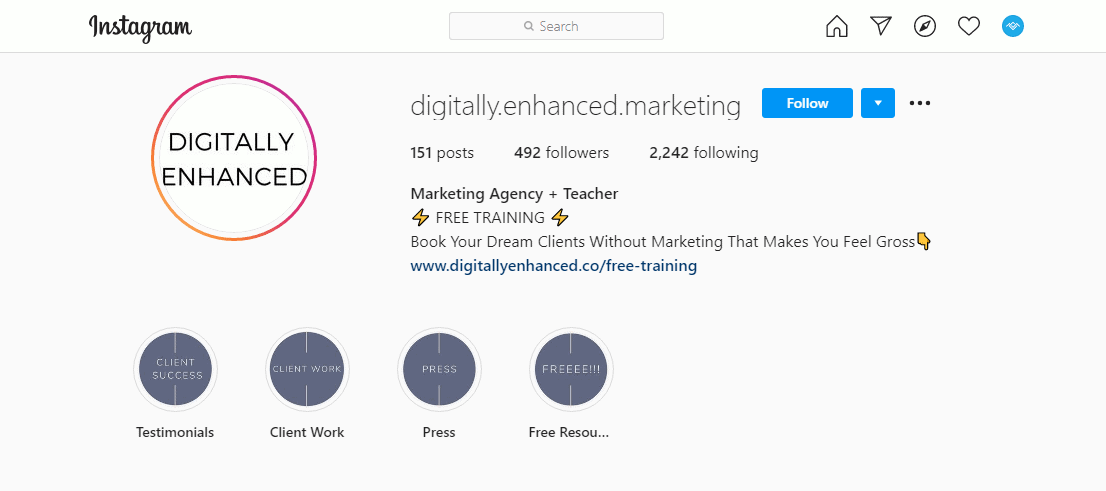 What made you decide to use your chosen platform over others?
We loved everything we could scale with Podia. Everything's included and there's just one price regardless of how many students enroll, how many emails we send, etc.
What other tools do you use to run your online course business?
Going through the funnel our tools are Planoly to schedule our social content, Squarespace for the site, Zoom Webinar to get the recording of the live launch, YouTube to host the training, and Flodesk for our nurture emails.
What books or training programs have you found useful on your journey to a successful business owner that others might find valuable too?
We worked with Haley Burkhead to build our course out and it saved us a lot of time and effort.
Do you have any big mistakes you've made along the way that you'd be willing to share?
Nine out of 10 times when I trip up I can attribute it to mindset and limiting beliefs, which is definitely annoying, but at least I'm in full control to get things in order on that front.
Please tell us a little about what the money you've earned from your course has done for you.
Every business owner knows that when it comes to revenue, "the more the merrier" is absolutely the motto. For us, it's more than just the money that this course brings in. The most exciting part of the Client Connection Formula is that we put in the effort to build this one time, we're able to automate 99% of it (at this point, the only pieces we have to worry about are the live calls), and we're able to grow without taking on more individual clients.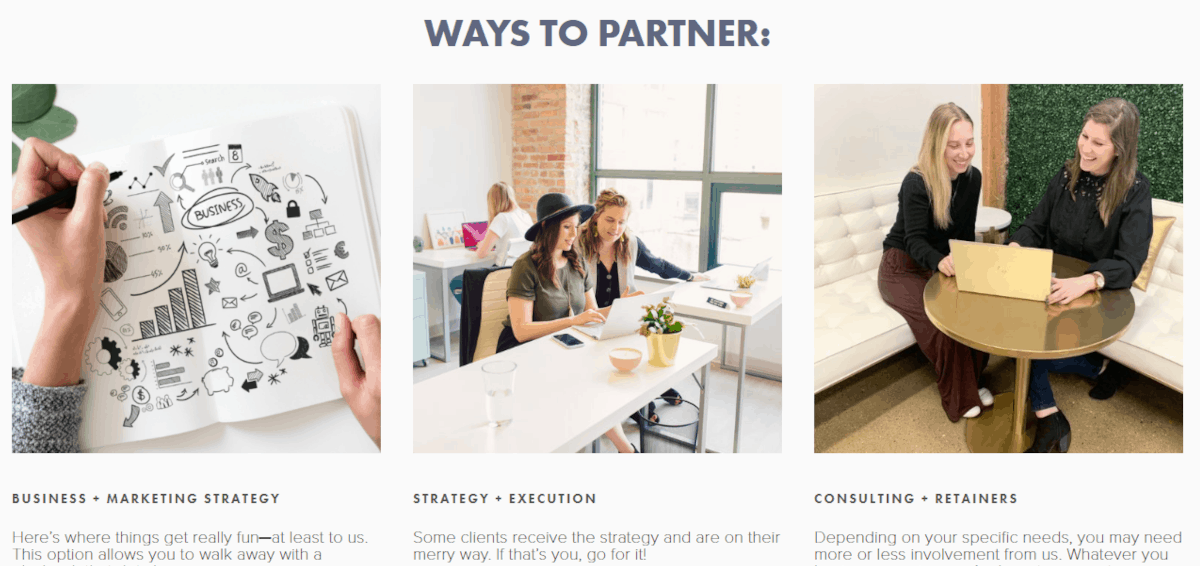 In addition to revenue are there any numbers you would like to share?
Ironically, with the launch of the course, we've had an influx to the digital agency itself.
We even stopped running ads to the course for a few months because we quickly became swamped with people seeing the free training, loving the methodology we share in it, and deciding they want one-on-one service instead (which costs…
Click To Tweet
We've even had people setup consultation calls for our concierge service after being referred by people who simply watched the training. It's wild, but we're insanely appreciative of it!
What has creating your course done for you personally?
One-on-one service is A LOT! You're constantly switching gears and dealing with a ton of individual needs so we're beyond excited that we have a path to scaling the business while preserving our energy and sanity.
Do you have a story of a transformation from any of your clients?
Yes! Let's talk about one of our SUPERSTAR students!
We have a student who's an intuitive healer. That's something that's not too easy to explain to a prospective client. After going through our course and workshopping some pieces of her process and offer, she got smarter with her social content. She began to organically build her following of people who are completely aligned. She put out a question to see if people would be interested in signing up for her course and was able to SELL OUT the launch of her course at $1,000/student.
For context, her previous course was priced at $125!
What advice do you have for people just starting out?
When you do this you're going to watch people who immediately crush it, rake in thousands of dollars and scale their course insanely quickly. If that's you, incredible! But if it's not, that's totally OK too.
You're in control of your journey so just try to relax, work smart and enjoy it, regardless of the pace. - Katie Gootenberg
Click To Tweet
Learn more about Katie Gootenberg of digitallyenhanced.co: