Kartra Vs ClickFunnels: Which Platform is Right for You?

Our content is reader supported, which means when you buy from links you click on, we may earn a commission.
---
ClickFunnels and Kartra are both online marketing software, each with its own set of pros and cons. Both platforms offer powerful email marketing tools as well as other features, including business management tools. However, you need to consider the features of both tools to figure out which one is right for your business.
Here, we present a Kartra Vs ClickFunnels review where we list the strengths and weaknesses of each as well a highlight the benefits different users can obtain from the platforms.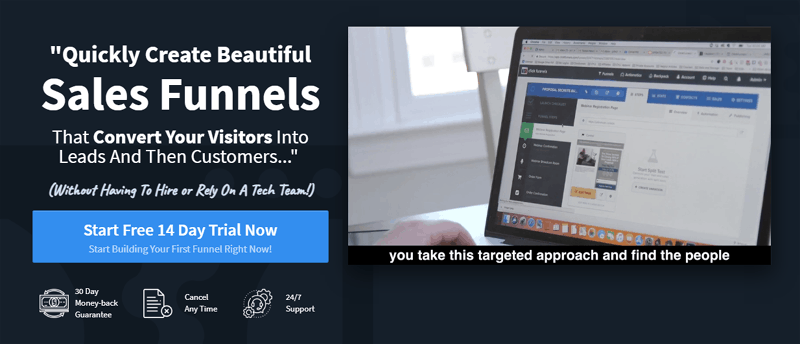 Why Use Marketing Software?
At this point, you may be wondering why do you even need online marketing software like Kartra and Clickfunnels? So, before we dive into the reviews, here are some statistics, facts, and figures to help you get an idea of why and how this software has become so popular.
The stats and facts mentioned above give a clear idea of how important marketing is for the success of a business. Marketing is what helps small businesses turn into brands by attracting customers, giving your business a personality and voice, and communicating that voice to your target market.
Main Benefits
With tools like Kartra and Clickfunnels you no longer have to find a separate email marketer, content marketer, create customer mailing lists, send out replies, handle queries, and more.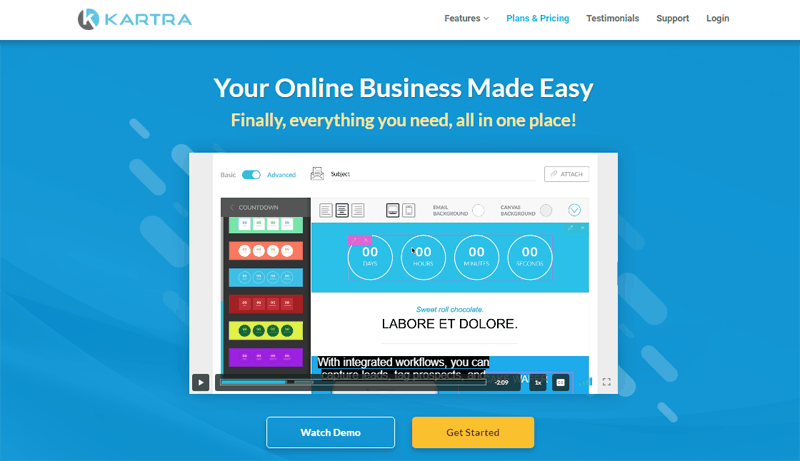 Digital marketing software like Kartra and ClickFunnels can help you manage all these operations efficiently so you can wield the benefits of digital marketing. With either marketing software, you will have the tools to create targeted marketing and sales funnels that will help you increase your customer mailing list and more.
Sales and marketing funnels are absolutely essential for businesses, especially if you want to create a loyal customer base. A typical sales funnel will visualize and target each stage of the buyer's journey which include:
Awareness
Consideration
Decision Made
However, the sales funnel will not just have these three steps. It will look something like this:
Visit
Lead
MQL
SQL
Opportunity
Conversion
Not every visit turns into a lead, and not every lead turns into a conversion or sale. There is an art to attracting customers and convincing them to stay, and marketing software like Karta and ClickFunnels can help you master that art.
Currently, ClickFunnels serves over 492,000 websites. Nearly 75% of all marketers use at least one type of marketing automation tool, like ClickFunnels and Kartra. Though ClickFunnels has been around for a while, and Kartra is relatively new, the two might just be each other's top competitors.
Kartra Vs Clickfunnels
Before we dive into a head-to-head comparison between Kartra and Clickfunnels, it is worth mentioning that while the two are competitors and do offer similar features and functionality, they both also offer some other tools and features exclusive to each platform.
Here's a brief overview of the two:
Kartra – Ideal for Those on a Budget
14-day trial for $1.
All-in-one marketing platform with a wide range of marketing tools.
You get access to several funnel templates, all of which are created by renowned marketers.
You can also build membership sites.
The software also comes with a unique help desk feature.
ClickFunnels – Ideal for Marketers and for Boosting Sales
Free 14-day trial.
Quite a popular funnel creator.
Widely used and a tried and tested name in the industry.
You can effortlessly integrate the funnels complete with email marketing and links to your payment system.
You can accurately test your funnel before publishing it on your website.
Kartra – Detailed Review
Kartra is relatively new in the market. The legendary marketers, Andy Jenkins and Mike Filsaime, launched the platform back in 2018. Since then, it has grown steadily. It is known to provide excellent functionality at very low costs and is thus a very popular platform among marketers and business owners.
Kartra is an all-in-one marketing platform where you can not only create sales and marketing funnels but also create webpages, focus on lead generation strategies, and optimize your pages for the search engines. Kartra also includes built-in email marketing, video marketing, content marketing, lead collection, and the ability to create membership sites.
Kartra Ease of Use
Kartra is designed for novices and is thus very easy to use. It features a very simplified web page creation, funnel, and marketing campaign creation system. If you want to create a website, you don't even need to consult a web developer, and you can effortlessly create a stellar website using one of the many templates available online.
All you have to do is choose a template and start editing the template to suit your requirements. You can customize each column using the drag and drop feature, add boxes, change text, and even upload testimonials and more to ensure the result is as you have always wanted your website to be.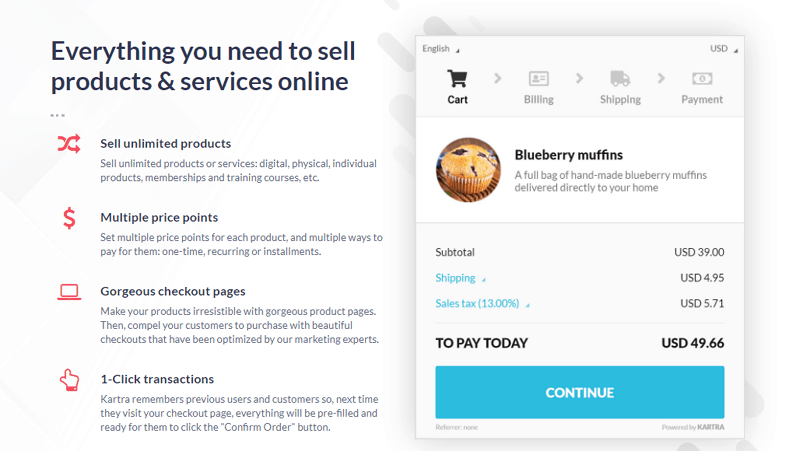 Kartra Price
As mentioned earlier, Kartra is ideal for those on a budget. The all-in-one marketing platform has much to offer its users and customers, and at pretty affordable rates. Their basic package starts at $99 per month. You can even get a 14-day trial for $1.
The Kartra Basic package includes:
2500 leads
1 custom domain
Email marketing – 15,000 mails
Up to 100 pages
Host up to 50 videos
Conduct up to 20 sales per month.
Create membership sites – up to 2
Get access to 1 helpdesk
You can also get the Kartra Silver Package at $199 per month.
Unlimited emails, products, sales, pages, videos, membership sites, helpdesks, bandwidth, and team members.
3 custom domains
Up to 12,500 leads
You also get Kartra Agency
The Kartra Gold Package is priced at $299 per month.
Unlimited emails, products, sales, pages, videos, membership sites, helpdesks, bandwidth, and team members.
5 custom domains
Up to 25,000 leads
You also get Kartra Agency.
The Kartra Platinum Package is priced at $499 per month.
You get Kartra Agency.
Unlimited emails, products, sales, pages, videos, membership sites, helpdesks, bandwidth, and team members.
10 custom domains
Around 50,000 leads
You can test out every package using the 14-day trial priced at $1. Given the number of services you get, the price is a steal. You don't have to hire a separate web developer or team members to handle daily tasks. You can even create membership sites and use all their marketing tools which is an amazing offer.
Kartra Automation
Karta is truly a powerful email marketing automation tool. It allows you to target customers efficiently and effectively, using their search intent and their buyer's journey. The automation tools are more customer-centric, which makes it easier for you to send personalized emails to your clients, bringing in more sales. The automation tool also tracks everything from the minute you send the email to when it reaches the client and the action they take with the mail.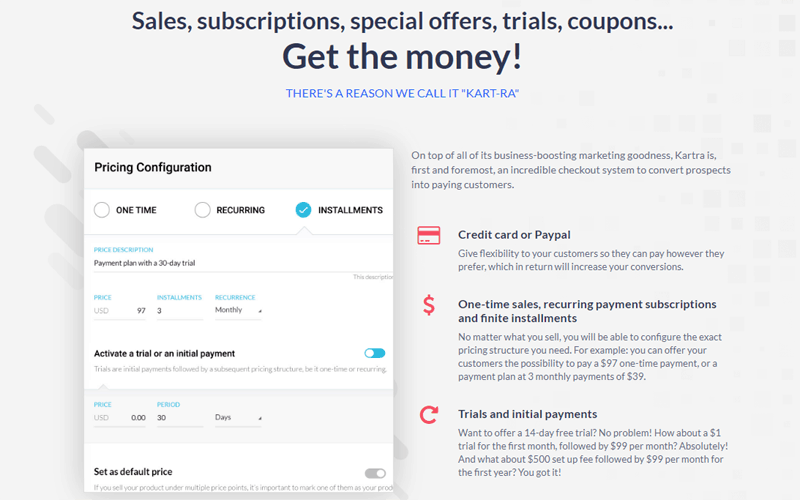 You can track the recipient's action to determine whether they open it, click on the link and become a lead or not. Doing so helps you determine the efficiency of your email marketing campaign so you can make amendments if necessary.
You even have the option to set an "if" and "then" command function that creates an efficient flow of communication between you and your customers. It also allows you to better track and analyze the performance of each and every email.
You can also automate your shopping cart if you run an online store. In fact, you can customize the page to include a tracker that can help you recover abandoned shopping carts, manage sales, payment information, coupons, discounts, and more.
Kartra Reporting
Kartra's aim is to make life easier for you. Thus, you get an automated and integrated analytics tool with every pricing package. You can keep track of how many visitors your website got, which areas generated the most engagement, which areas of the website need to be worked on, and more.
You can also get an idea of how many sales you made, and how every email, every video, every blog performed, etc. The platform also tells you which automation sequences are doing better than the others and which ones are bringing in sales.
As far as reporting is concerned, you do not need to worry about it with Kartra. The platform integrates analytics and performance reporting with all its marketing tools. You will not have to separately pay for analytics tools, which is a major relief for small business owners.
Kartra Support
Kartra offers its customers excellent customer support and has been doing so since the very first day the platform launched. You not only get access to a live chat where you can seek answers for all your queries, but you also get a free training program.
When you sign up for the platform, you can avail of the free training program, so you know how to make the most of the all-in-one marketing platform. You can also reach out to other Kartra users for help on a Facebook group.
Which Kartra Features Stand Out?
Kartra has plenty more features than ClickFunnels, such as heatmaps, a calendar function, video hosting, and customer support helpdesk. All of these features provide the user an extra level of functionality which makes the platform easier to use.
Kartra Areas for Improvement
Kartra has its fingers dipped in a little too many tools, and that may be the major setback for the platform. ClickFunnels has built a name for itself in marketing and sales funnels, and Kartra does not yet come close to taking over ClickFunnels in that field. Marketers specializing in funnel creation might still go for ClickFunnels over Kartra.
ClickFunnels – Detailed Review
ClickFunnels has been around since 2014 so it has a four-year head start over Kartra. It has a very well-established customer base and is the go-to marketing and sales funnel builder for many marketers. The platform has over 100,000 users and serves over 492,000 websites.
Clickfunnels Ease of Use
ClickFunnels is also extremely easy to use. The platform features a wide range of templates through which you can create stunning websites and funnels in no time. The drag and drop builder further simplifies the creation process, ensuring you can create your own website and sales funnels even if you don't know how to code.
With ClickFunnels, you will have to answer a few questions, such as the industry you operate in, the goal you want to achieve, and more. The platform will then provide recommendations on which templates to choose, and you can work on one that suits you and your brand.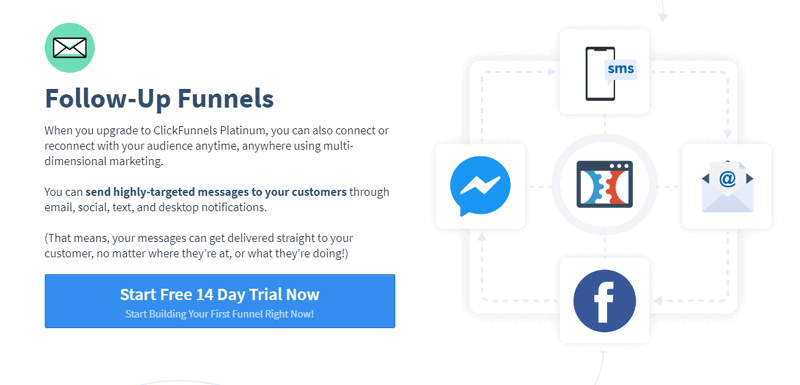 Clickfunnels Pricing
ClickFunnels only has two pricing plans to offer; the Basic and the Platinum Plan.
The basic plan is priced at $97 per month. In the basic plan:
You get to build 20 funnels
You can design a 100 pages
And you can also share your funnels.
The platinum plan is priced at $297 per month, which is quite a huge jump. In the platinum plan you can:
build unlimited funnels.
create unlimited pages.
share your funnels.
With ClickFunnels, you do not get many options when it comes to plans and pricing. However, the basic plan is priced quite low for the value it provides. Professional marketers can get the platinum plan and enjoy the ability to create unlimited funnels and web pages. They can actually derive much more value out of the unlimited platinum package.
Clickfunnels Automation
ClickFunnels uses actionetics, automation software that takes email marketing to the next level. The software tracks the person's email address to trace their social media profiles, name, address, likes/dislikes, and more.
Once you have the customer's complete social media profile, you can create personalized emails for your customers, which takes their interaction and user experience to a whole other level and helps you build better customer relations.
What makes ClickFunnels tracking and automation better is the fact that the software calculates and lets you know how much a potential customer will be worth to your business, so you know where you need to direct your marketing effort.
Clickfunnels Reporting
ClickFunnels lacks in terms of reporting and analytics. If you want to track user movement on your website, you will have to make use of third-party heat map analytics software as they do not come built-in with ClickFunnels. You will also have to rely on other software to track customer engagement and more.
However, the software is easy to use and integrate with other analytics software, so it is not a deal-breaker. You can also make use of the A/B testing tool, which helps you design pages that guarantee a certain level of surety that the funnel or webpage will attract customers. However, to track data and visitor movement, you will need to use additional software.
Clickfunnels Support
ClickFunnels has had its fair share of complaints regarding customer support in the past. The platform garnered a poor reputation in its initial days. Several customers took to online reviewing sites to complain about the lack of response or delayed response by the customer service representatives at ClickFunnels.
However, it is worth mentioning that the frequency and intensity of poor reviews have drastically reduced in recent years. There are several online tutorials that make using the platform a lot easier and simpler than it was initially. Users can also reach out to fellow Clickfunnel users on Facebook groups to sort out queries and questions.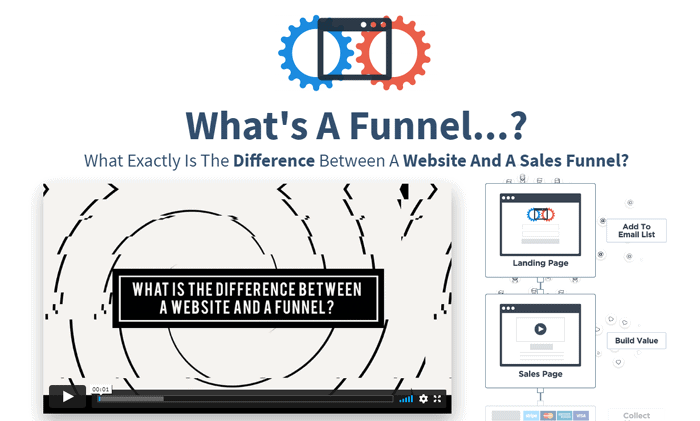 Which Clickfunnels Features Stand Out?
ClickFunnels offers several tools that ensure ease of use, such as webinar integration, etc. The webinar integration feature stands out in particular as it also allows you to pre-record the webinar and schedule and automate its release, making your life easier.
Clickfunnels Areas for Improvement
ClickFunnels could definitely add more features and enhance its functionality especially when it comes to the hosting of online courses. There are several competitors in the market that offer the same level of functionality for marketing and sales funnel creation, as well as several other benefits (like offering a better learning management system) that make them a more viable option for those on a budget.
Conclusion – Kartra Vs Clickfunnels – Which Is Better?
While Kartra and Clickfunnels are similar, they are also totally different. If you are looking for an all-in-one marketing solution, Kartra is a better option for you. For a set monthly fee, you can access a variety of tools and make the most out of the money you pay.
However, if you are looking for the best sales and marketing funnel creator, and are not in need of any other tool, ClickFunnels might be a better option for you. The platform's focus is on the creation of effective funnels, and it offers special features such as A/B testing to help you do that and more.