How Jonathan and Christian Pinedo Earned $2K His First Month Helping Digital Marketers Master Google Ads

Our content is reader supported, which means when you buy from links you click on, we may earn a commission.
---
Who: John Pinedo
Website: leadgenpreneur.com
Course Topic: Digital Marketing
Interesting Stats: Earned $2,000 in revenue in the first month
Who are you and what course have you created?
My name is John, and I'm a digital marketer that runs a digital marketing agency servicing local clients (PPC, SEO, and web design are our primary services); my blog is a review-style blog about SaaS products of the industry, and I've recently launched our e-learning company Leadgenpreneur.com with Christian who also works with me at our agency.
Our sales page for our PPC course is here.
What market does your online course serve?
Our course is targeted towards agency owners and team members, and freelancers seeking to start offering Google Ads management as a service to their clients. Sometimes there are agencies and/or freelancers who started out as an SEO, social media, or just a web design agency. Our course is for those who want to learn Google Ads lead generation for local businesses.
What's the biggest benefit of taking your course?
The biggest benefit is that our course is taught by a successful PPC specialist & agency owner (me) and our Paid Search project manager (Christian) and focuses on local lead generation for local businesses.
Our bread and butter service is PPC Google Advertising, and we lay the blueprint for cloning our success to future PPC specialists that decide to offer PPC lead gen services.
You can learn Google Ads on YouTube or on a cheap course on Udemy, but it's hard to find a Google Ads course that solely focuses on running campaigns for local lead gen only. Free or other low-ticket training we've come across usually teaches some local lead gen, online shopping ads, and Youtube ads.

How did you get into the market?
At first, we created the training for our internal agency training. The idea came to us after realizing that our training was different and specialized to local lead gen, and there wasn't a course in the market that teaches Google Ads the way we run PPC campaigns.
Why did you decide to create an online course in the first place?
I've personally always wanted to sell a course online that I could be proud of, but I felt all those years ago that my skills were not up to par yet (maybe imposter syndrome kicked in back then). But now, after about 5 plus years of being in the trenches working at an agency and then starting my own, practicing my paid advertising skills, Christian and I have a combined set of skills that we feel can genuinely help people with their agency/freelancer service.
Did you have any moments of doubt before you created/launched it?
Thankfully, no doubts. We saw some other Google Ads courses in the market that were nowhere near the quality we were producing and creating. We were going above and beyond what was already on the market by other PPC specialists and agency owners.
If so what made you turn it around and do it anyway?
If it was 5 years ago, with not as much experience with local lead generation client services, I might have thought, "We're not good enough for this."
What's your online course like?
Our online course is primarily video, but there are a handful of quick-text lessons. The video lessons at the introduction of modules are PowerPoint slides to explain the theory but then transition into over-the-shoulder training.

How long did it take you to create your course?
It took roughly 2-3 months to complete with our busy schedules. We worked on it during the weekends when we had time outside of agency work hours.
We divided the course into parts. It went a little like this: "I'll do modules 1-4, and you do 5-11… once the course is done, I'll do the sales page, and you take care of the email automation and integrations…"
Tell us a little about the process of launching your course and getting your first sale(s).
We didn't have a pre-existing email list for this course. I knew it would work because I'd seen the quality of courses on the market being promoted on YouTube and Facebook Ads. Christian was more of the "I'll believe it when we make our first sale from Facebook Ads."
So we launched our course on Facebook Ads within the first two weeks.

Do you have a lead magnet?
After sending traffic directly to our sales page and making sales, we decided to try out a lead magnet. The lead magnet is a free PDF checklist for having a high converting landing page.
We've had some paid traffic sales through our lead magnet and email sequence, but not as many sales as sending traffic direct to the sales page. The lead magnet sequence is more of a long-term play.
What's the traffic strategy that works best for you?
We got started with Facebook and Instagram Ads. Meta as a whole is still a great traffic source for online courses, so we won't be stopping that anytime soon.
But we're not putting all of our eggs in one basket. We're diversifying away from paid ads and moving over to organic traffic on YouTube. The effectiveness of YouTube is to be determined as we recently just launched our YouTube channel. We still need to put up more content on a regular basis.
What online course platform are you using?
At first, we were using Kajabi, but then we learned more about SamCart and how they offer great checkout and funnel capabilities alongside their new in-built online course platform.
Do you like it?
It was a no-brainer for us, and we switched to SamCart for our online course and checkout platform. We love SamCart because they're always a step ahead of the competition and their checkout page templates are beautiful when compared to the out-of-the-box checkout pages the traditional Teachable, Kajabi, and Thinkific platforms provide.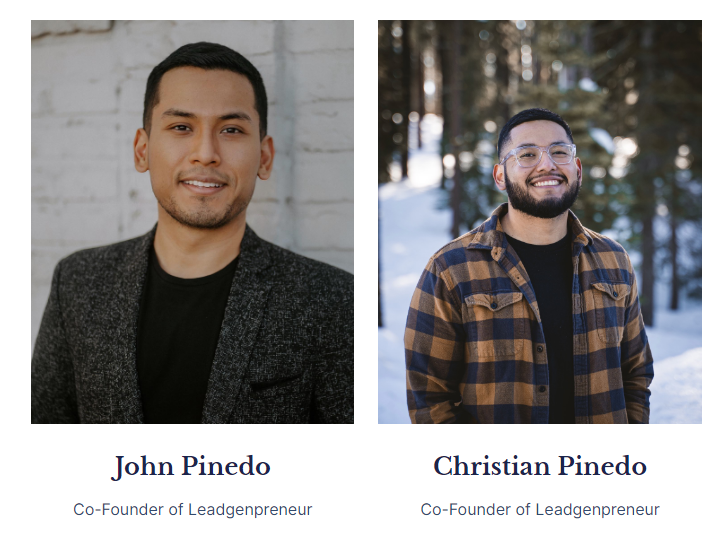 Are there any features you wish it had?
We wish it had more specific student learning statistics so we can see more details on video watch statistics, which video lesson gets watched the most, etc. Instead, it currently only shows the % of the course that was completed and up to what lesson the students got to.
What made you decide to use your chosen platform over others?
One of the big driving factors for choosing SamCart to sell courses was offering multiple bump offers at checkout. Traditional online course platforms only let you have 1 bump offer at checkout (if they even offer bump offers at all as a feature) only.
What other tools do you use to run your online course business?
We use GetResponse for our email list and LeadPages to test different opt-in pages for our lead magnets.
What books or training programs have you found useful on your journey to a successful business owner that others might find valuable too?
For this course project, there wasn't one training that helped. Instead, it was the accumulation of experience, seeing offers and checkout pages throughout the years, books on digital marketing, launching small courses in the past, and modeling after the success of others that helped us on this journey thus far.
Do you have any big mistakes you've made along the way that you'd be willing to share?
I can't think of one except, looking back, we could've finished the course quicker.
Please share some idea of revenue.
In the first month, with a small budget of $5-10/day sending traffic to the course sales page, at our early bird pricing, we generated over $2,000 in revenue. - John Pinedo
Click To Tweet
This couldn't have happened with just the course. The multiple bump offers that SamCart lets us put on the sales page helped.
Please tell us a little about what the money you've earned from your course has done for you.
This course is still in the side-project state for Christian and me, so the earnings are not life-changing – yet. We will scale the ad budget soon and continue creating organic YouTube content.
In addition to revenue are there any numbers you would like to share?
Running Facebook ads to a lead magnet offer is a great way to build your email list. If your offer is good, and you have split testing capabilities with your landing page software, you can get your cost per lead as low as $5 or less.
What has creating your course done for you personally?
Creating the course has made us feel accomplished and confident that we can create other courses in the future, but first, we need to create a good brand foundation by getting YouTube subscribers.
Do you have a story of a transformation from any of your clients?
I gave free access to our course to a colleague I had met at an SEO conference a few years back. He's a long-time internet marketer, and this is what he said:
"This is really good, well thought out, well-engineered, well put together there… Another thing that really fit my brain that I liked is like…. I like that you started with a 10,000-foot-high view of everything, and then you slowly started zooming down into getting into the weeds…"
What advice do you have for people just starting out?
Don't be afraid to test out your ideas with paid traffic - such as Facebook Ads. We didn't think sending traffic directly to our sales page would produce sales, but we were surprised. - John Pinedo
Click To Tweet
Split-test your ads and sales/checkout pages if possible. And if you don't know how to run ads, definitely get a course on how to run them before you start.
Learn more about John Pinedo of leadgenpreneur.com: