How Jeanne Kelly Started and Now Grows Her Credit Management Courses

Our content is reader supported, which means when you buy from links you click on, we may earn a commission.
---
Who are you and what course have you created?
I'm Jeanne Kelly, and my main website is JeanneKelly.net. My latest course is Credit Lifestyle to help people manage their credit.
What market does your online course serve?
We all use credit, but no one has ever taught us. Usually, we do not think about our credit until we need it or are declined for a loan. I want to be the leader in credit education so we can know how to build and use credit healthily.
What's the biggest benefit of taking your course?
Learn how to use credit, understand your credit scores and build healthy credit.
How did you get into the market?
I was a single mom who realized how bad my credit was when I needed to move. Once I learned I could not get an apartment with the credit I had, I knew I needed to put a plan together. This was over twenty years ago, and we did not have so much credit information at our fingertips – so I had to work hard on learning more about credit.
In some ways, it was good because everything you may research about credit doesn't mean it is correct and might not be put into easy steps for you, and that is what I needed to figure out for myself. Once I rebuilt my credit – I knew I wanted to share that information with others.

Why did you decide to create an online course in the first place?
I started selling my courses online in 2017 after being asked more questions since writing my book.  The classes work so great when you have a solution to share with others to solve a problem; it is an easy way to build a community and share information. You can also edit along the way. I teach about building better credit – things can change in my industry, so it is nice that you can change your course when needed.
Did you have any moments of doubt before you created/ launched it?
I was camera shy, but I knew I needed to connect with my students and have them understand me and my style/vibe, so I had to overcome the fear of being filmed.
If so what made you turn it around and do it anyway?
My mission to share healthy credit helped me get over sitting in front of a camera. I love connecting with others and chatting about credit all day long – I just had to learn to do this in front of a camera.
What's your online course like?
Video with text and attachments of templates they can use to help them rebuild their credit.
How long did it take you to create your course?
Once I started making the videos for the course, they came together quickly.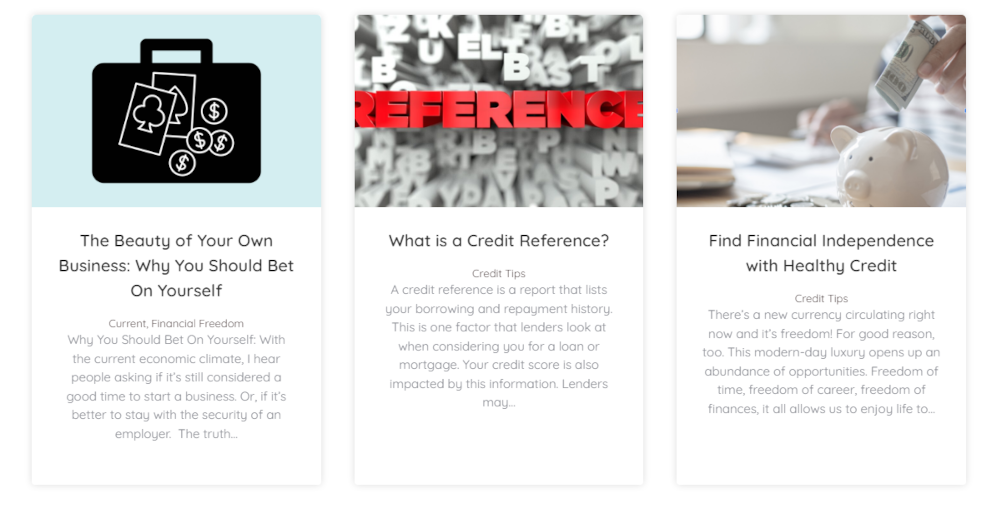 Tell us a little about the process of launching your course and getting your first sale(s).
After I built the course – I was asked to be interviewed on The Breakfast Club. I was able to share my course on air. If I did not build the course and had it ready to go, I would have missed out on the opportunity. It was a grateful moment for me.
Do you have a lead magnet?
I do offer my free ebook to capture emails.
What's the traffic strategy that works best for you?
I use my social media community and email list to continue to grow.
What online course platform are you using?
Do you like it?
I love it – it is simple, easy to use for non-tech people, and super helpful when connecting with them.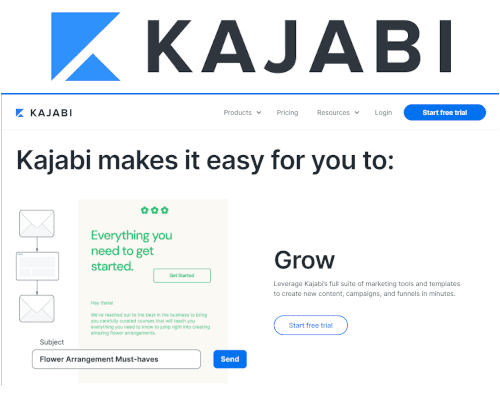 Kajabi is the All-In-One Course Platform
Kajabi is one of the top online course platforms used by successful course creators interviewed on coursemethod.com. Kajabi includes email marketing and other tools that make it easy to run your entire business from their platform.
Price Range: $149 to $399/month
Most Popular Plan: Growth Plan at $199/month
Annual Discount: Yes, take 20% off!
Free Trial: Get a 14-day free trial (credit card required)
*Our content is reader supported, which means when you buy from links you click on, we may earn a commission.
Are there any features you wish it had?
No.
What made you decide to use your chosen platform over others?
I took a course, MIA, by Charlene Johnson. She shared with us in her course that she was using Kajabi. Since I liked the course flow as a paying customer, I also knew it was what I wanted to use.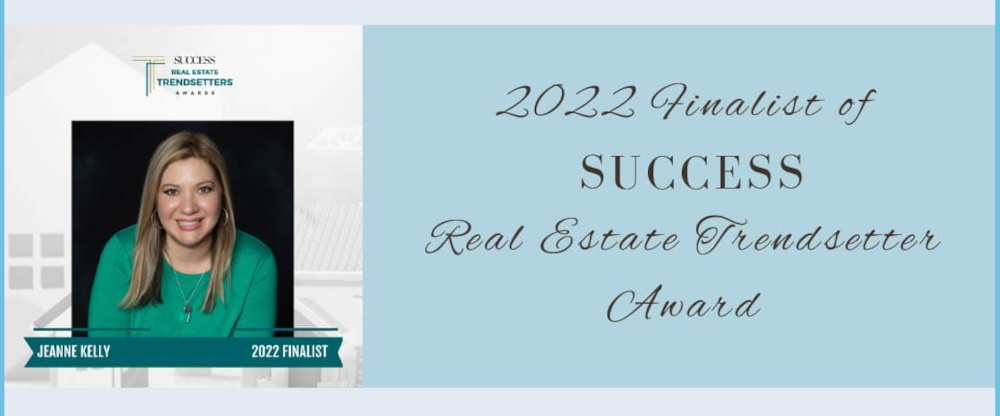 What other tools do you use to run your online course business?
I use zoom to help with Virtual Live Group Settings – If someone does not want to share their full name because they might be embarrassed about their credit, you can just put in your first name when logging in.
We also have a private Facebook group. This is where we post encouraging images and texts to keep the Healthy Credit conversation going outside the course.
What books or training programs have you found useful on your journey to a successful business owner that others might find valuable too?
I have many books that I am a big fan of, but my top 3 are, The  Secret, The Power of Broke & The Go-Giver.
Do you have any big mistakes you've made along the way that you'd be willing to share?
Not starting sooner. I had to take a course to learn how to build a course, and I just kept putting it off. One day I saw Charlene Johnson in a sponsored ad and was so hooked that I hit the purchase button and never looked back.
Please share some idea of revenue.
I received two 50K Kajabi Hero pins when I first started – so two of my courses reached that when they were open, which was back in 2017.

Please tell us a little about what the money you've earned from your course has done for you.
Having more than one stream of income is something I learned about after the financial crash in 2008. - Jeanne Kelly
Click To Tweet
I only had one business and only focused on that one income.  After that and having business mentors – I learned the most successful people have many avenues of income. I am so grateful I learned this to prepare for what happened during the pandemic and now.
In addition to revenue are there any numbers you would like to share?
As you grow your course, you must grow your social media community with YouTube and podcasts. These offer even more ways to share your voice and vibe.
What has creating your course done for you personally?
I love that it helps me know that others do not need to learn the hard way as I did about credit.  I always talk about being in the red with lousy credit – sleepless nights, phone calls with bill collectors, and past-due notices in the mail. It was a cycle I wanted to get out of, and once I learned what steps to take, I wanted to share that with others, so they did not need to feel the same pain and embarrassment I did. I love hearing from the health credit community and seeing photos of a new home purchase – I am the biggest cheerleader in the group.
What advice do you have for people just starting out?
Start! Seriously, I hear from many people who have fabulous business ideas but keep talking about starting but delaying it because they want it to be perfect. - Jeanne Kelly
Click To Tweet
When you own a business, you will constantly be changing it. You listen to your customers and edit what is needed, so you have to start with what you got and build on it.
Learn more about Jeanne Kelly of jeannekelly.net: