The Story of How Jay Lee Started uAcademy.co.uk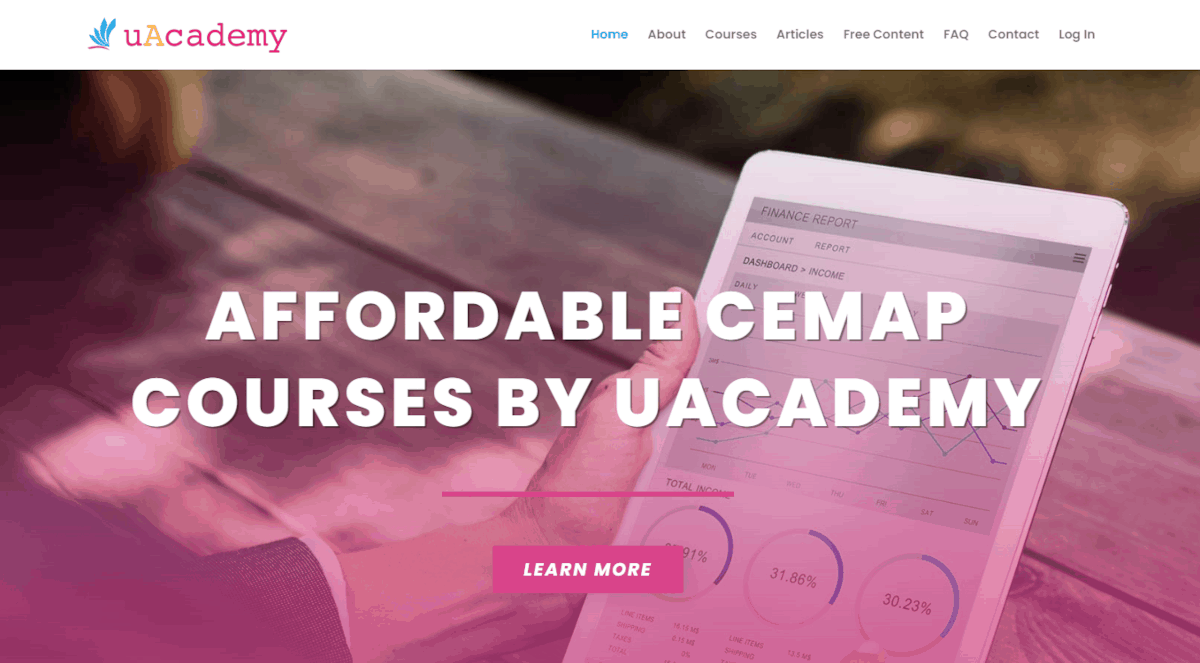 Our content is reader supported, which means when you buy from links you click on, we may earn a commission.
---
Who: Jay Lee
Website: uAcademy.co.uk
Course Topic: Mortgage Advisor Courses
Interesting Stats: Revenue growing 18% every month
Who are you and what digital training company have you created?
My name is Jay and I was previously working as a mortgage advisor for a large bank in the UK. I was employed by the bank for several years and progressing in my career. Earlier this year the pandemic started to make the news. By January 2020 my team and I were reassured that our jobs were safe. The UK announced a national lockdown in March. A few weeks into this national lockdown my team was informed that we were all being made redundant. This was an emotional and worrying time for us. We had lost our income and our chances of finding another job during a lockdown were nil.
I decided to use my experience and qualifications and I created my Academy site. The website was created so that I can provide affordable mortgage advisor courses to students. The mortgage industry is highly regulated with governmental bodies monitoring new firms that start offering courses and also lenders. This has made the course very expensive as it requires ongoing fees to be paid. I decided to offer these courses with a very low-profit margin. The aim of the website was not to make it into a business but just to learn how to make websites, coding, and online courses.
The website picked up momentum after I was featured in several articles due to my story. Since then the website has been growing at a steady pace and we've also hired a few customer service advisors to help with the additional workload.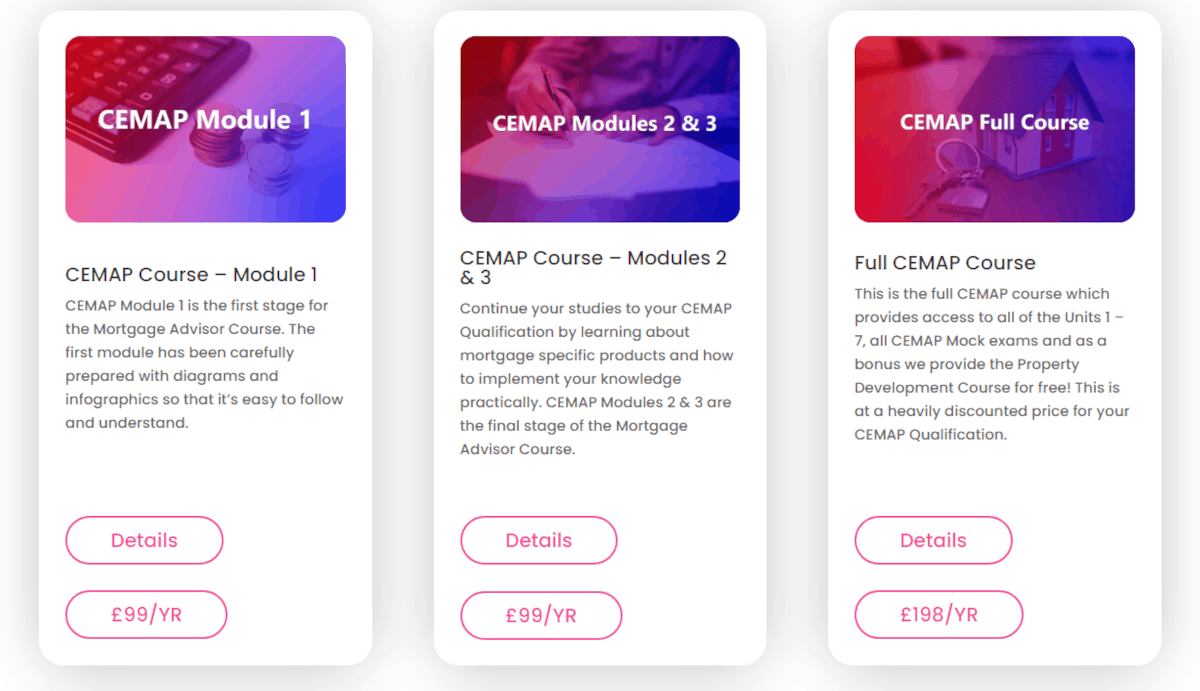 What market does your digital training serve?
The training courses we provide are for UK mortgage advisors. So we provide courses that help students become new mortgage advisors. We also provide continued personal development for existing mortgage advisors. We've teamed up with various institutions and governmental bodies that helped us provide a route into the industry for new advisors. We're also looking to introduce new courses in the new year related to the mortgage industry.
What's the biggest benefit of taking your online courses?
The mortgage industry is constantly changing with new government regulations, tax allowances, and new rules such as inheritance tax, etc. This means that studying from a book can be tricky due to the constant changes in regulations.
The traditional method of study requires the student to pro-actively check for any changes (law, taxes, etc) as the physical book may be inaccurate as it's a physically printed product.
Our online platform allows us to update the course in real-time and all students will instantly receive the latest update. - Jay Lee
Click To Tweet
We're also able to send automated emails out to students if there has been a change to the course. This ensures that the student has the most up to date information at all times.
We also pride ourselves on our prices. Our courses are 4 – 5 times cheaper than our competitors. We can offer these great prices as we're online. This helps keeps costs low and we have a fixed small profit margin in order to be competitive.
The main benefit of our courses is our staff. We have fully trained mortgage advisors working for us and they're ready to answer any questions students may have and also update the course to ensure that it's accurate and relevant. The mortgage industry is heavily regulated and having qualified mortgage advisors working helps us to stay ahead of our competition and also meet regulatory requirements.
How did you get into the market?
I came up with the idea after I had been made redundant. First, I decided to teach myself new skills during the lockdown. I followed several YouTube tutorials to learn how to make a website. From there the tutorials kind of directed me to build online courses. I then started to learn the platforms, plugins, etc. This eventually lead me to try to create a small course at first. Then I went all in and created the first module for the mortgage advisor course. This took a long time as the first module alone is over 550 pages!
Why did you decide to create a digital training company?
Creating a training company was more of an experiment rather than a planned decision. I would love to say that I planned for it, but in all honesty, it was formed due to my personal situation and my wanting to learn new skills. Oh yeah, and A LOT of luck!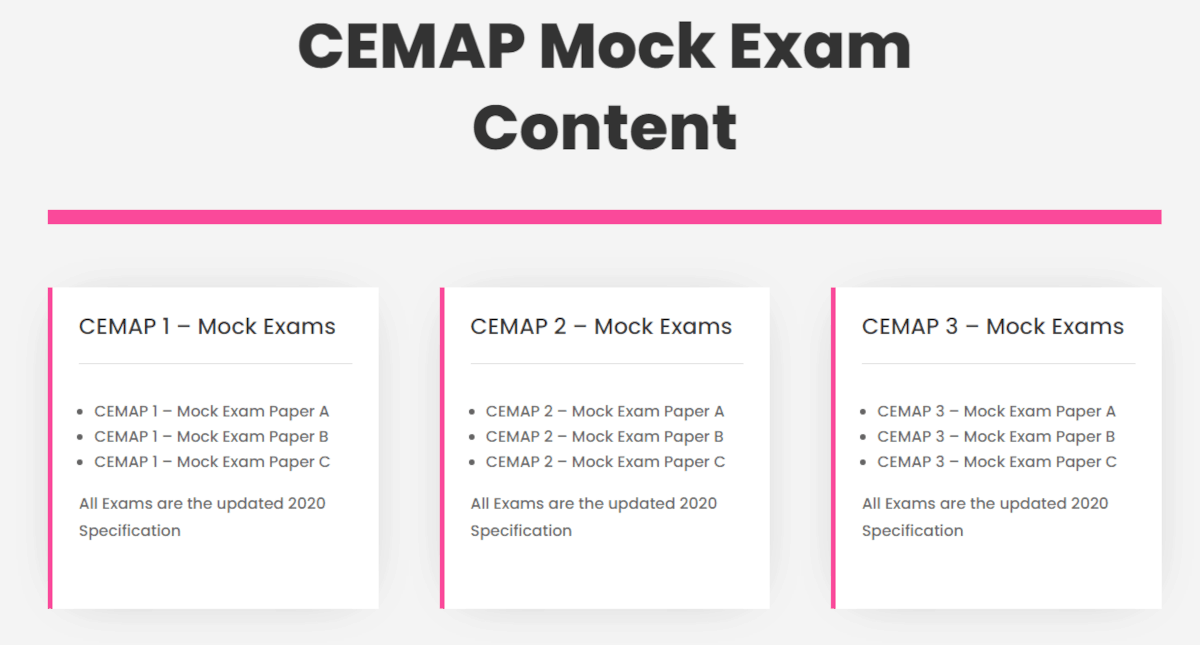 Did you have any moments of doubt before you launched your training company?
I think it's only natural to have doubts about your own business during the startup phase. Due to my circumstances, I didn't really see it as a business but more of me just learning a new skill (making a website). At that point, I didn't doubt it as a business because I didn't see it as one.
Now it's a different story, I look at the website in detail every day to see how I can improve it and how my competitors are better than me. I did question the business and the industry after a few months but I've been working hard on the course and the website which has helped it stand out. We're ranking very well on search engines and beating some of the big companies out there. Any doubt has now been squashed and I believe that next year if we could do half as well as this year then we'll be number 1.
I struggled to put the course together as it's a very very in-depth course with financial regulations and government guidelines/laws. My background in the industry was essential as I wouldn't have been able to get it going without my previous skill set. As I was working on the course from home my biggest issue was motivation.
It's difficult to be motivated when there is a level of uncertainty. It's a lot easier to be motivated when you can see the business is performing well. - Jay Lee
Click To Tweet
If so what made you turn it around and do it anyway?
I knew the potential of online courses already. That's because one of my cousins started an online learning platform several years ago called learndojo.org. The website provides free resources for 16-19 years olds. Having seen the potential of the website made me determined to continue.
What are your online courses like?
The courses are mainly text and infographic based as they are based on government rules, taxes, etc. We're also introducing live video classes/workshops in the new year with the aim of covering each topic/module. The live video lessons will also allow students to ask any questions they may have. We anticipate the classes will be 1 hour in length (for each topic) so it will be staggered weekly per topic.
How long does it take you or your team to create a new course?
The courses that we offer are heavily regulated and monitored. Due to this the courses now take a significant amount of time to create. We initially started by creating a plan of the course based on the awarding body's approved structure.
We then work on the content which is the most time-consuming part. The content is then thoroughly checked by advisors that are qualified (existing mortgage advisors etc.). Then we work on graphics to make the learning experience easier. The course is then uploaded and is then checked by governmental bodies to ensure that it's accurate and then subsequently approved.
We have employees for the course content and we outsource some work such as graphics etc. The process for a new course can take anywhere between 1 month to 6 months but on average it takes about 3-4 months.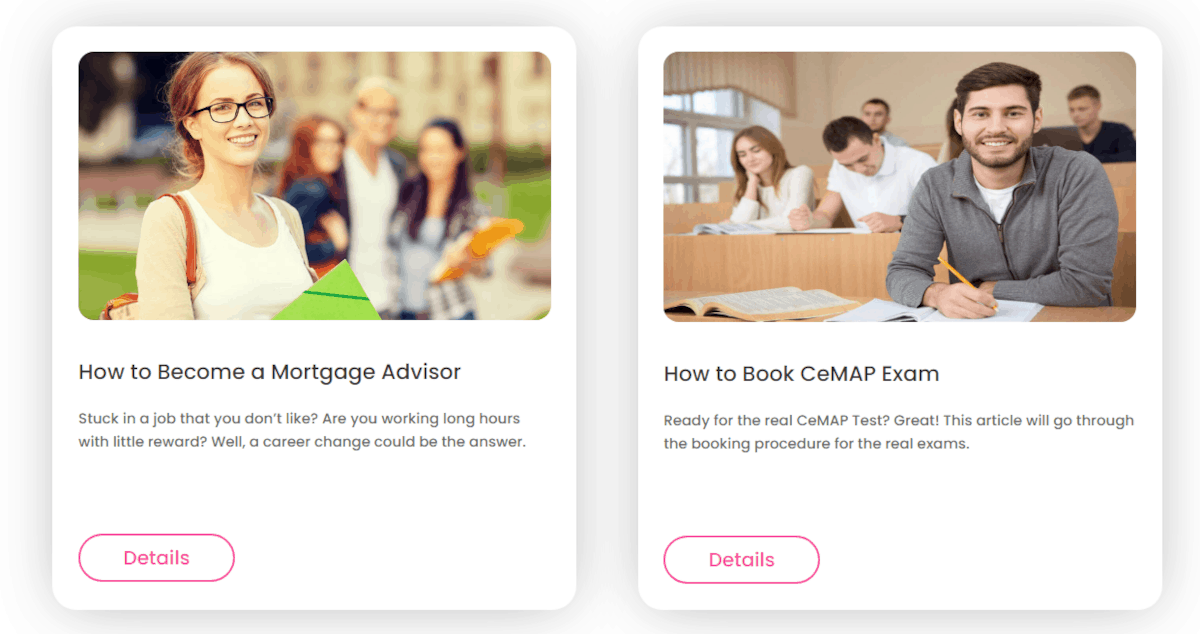 Tell us a little about the process of launching your first course and getting your first enrollment(s).
My first course wasn't so much launched but just created live on the website. Then eventually, I added a purchase option. There weren't any mass email campaigns or PR as it was just a way of learning a new skill for me. It took a week or two for my first enrollment and I was honestly shocked and also thrilled. I constantly checked the website and the account to ensure everything was OK. After the sign-up, I messaged them personally thanking them for choosing my website. It was a great feeling and I think that's when I decided to go all-in with the business.
Do you have a lead magnet?
We don't really use lead magnets such as PDF's but we do offer all customers access to a few lessons in the course. That way they get a feeling of how the course is structured. This instills confidence in the students too.
What's the traffic strategy that works best for you?
We focus on organic rankings in search engines. This helps us grow our brand and also it provides steady traffic to the website. Search engine optimization is a very tough strategy as it's ongoing. We invest a considerable amount of money towards it. We work with several SEO agencies that help us grow the brand and we think this is the best strategy for us at the moment.
What online course platform are you using?
We use LearnDash.
Do you like it?
Learndash is a solid platform but it does have its own issues. It's quite difficult to customize to how we would like it to look and work but we've found some exceptionally talented LearnDash developers that are helping us.
Are there any features you wish it had?
The platform is full of features and I think that anyone that uses it will be happy. There are some features lacking such as gamification, but overall it's great.
What made you decide to use your chosen platform over others?
I read several reviews before deciding to go with LearnDash. It's the industry leader and has been used by thousands of companies so it's good enough for us!

What other tools do you use to run your digital training business?
We use several tools and plugins for our website such as Membership Plugins, Payment gateways, Caching plugins like WP-Rocket, and RankMath for SEO. There are quite a few!
What books or training programs have you found useful on your journey to a successful business owner that others might find valuable too?
I personally think there are so many free resources out there that can help all business owners. I've found YouTube my number 1 resource when learning about websites, creating courses, etc. It's completely free and there are some exceptionally talented content creators that can help you get on the right track.
My second resource would be Facebook Groups. There is a group for almost anything and if you join the right groups such as search engine optimization, website creation, LearnDash group then you'll have access to a tremendous amount of resources.
Do you have any big mistakes you've made along the way that you'd be willing to share?
My biggest mistake was not learning about technical SEO. The structure of the website is extremely important and I should have researched this beforehand. Since then I've had to change URLs, set up redirections, and a lot more just to make sure that the website can be crawled (by bots) and that there are no issues.
Please share some idea of revenue for your digital training company.
When I first launched the website it was generating on average £400-600 per month for several months. Since then the website has grown so much. To give you an idea we currently have 3 qualified mortgage advisors working for us. We also have 2 customer service agents and we spend thousands on website development.
Please tell us a little about what the money you've earned from running your digital training company has done for you.
To be completely honest I've been using a very small proportion of the money to pay for groceries, bills, etc. I also use a percent of the profits to help my local community by donating to food banks. The rest of the money is reinvested in the website to increase growth and to add more content. I've not gone on vacation, purchased a new car, or anything like that. I truly believe I can make this into a long-term business. So I've reinvested 90% of profits back into the business and I'll continue to do so.
In addition to revenue are there any numbers you would like to share?
The business has been growing at an average rate of 18% every month for the last 3 months.
It's very likely that by the end of this year we will have over 2,000 students (in both the free and paid course).

What has creating your digital training business done for you personally?
The business has made me believe in myself a lot more. I really didn't think I could start let alone run a successful business. The business itself has also helped me learn new skills and meet new people.  I also feel that I can give back to students and my local community.
Online courses can be expensive but I've received many emails thanking me for offering courses that people can afford. I also use this as a way of giving back to my local community by donating to food banks and other charities. This year has been one of the worst years in history. Everyone is struggling, financially, mentally, and of course physically. I'm in a good position to help others. I don't think I would be able to say that if I was still working for my old employer.
What advice do you have for people just starting out?
It's important to take your time and thoroughly research the industry before diving in. There are hundreds of free resources available and I would advise utilizing free resources first. When you're starting out try to keep your expenses low. Do as much of the work that you can do yourself.
YouTube is your friend! You could easily follow a 2-hour video on youtube on creating a website. This could save you hundreds if not thousands of dollars/pounds. Plus then you won't be reliant on a website developer and you can manage the website yourself.
Regardless if you outsource or do work in-house, it's imperative that you know how the business/website/plugin, etc works.
Learn more about Jay Lee of uAcademy.co.uk: