How Jason Wong Helps Create 100's of Courses for MoxieLearning.com
Our content is reader supported, which means when you buy from links you click on, we may earn a commission.
---
Who: Jason Wong
Website: moxielearning.com
Course Topic: Safety Training in the Workforce
Interesting Stats: 300 courses on MoxieLearning.com
Who are you and what courses have you created?
I am the Director of Interactive Media Development at Moxie Media, Inc. In other words, I am the lead course designer for our company.
I earned my bachelor's degree in communications from the University of New Orleans in 2002. After gaining experience working in graphics and animation, I joined Moxie Media as a Media Designer. I have been working at Moxie creating courses for the past 7 years.
Over the years, we have established an impressive course library with more than 300 courses and counting. We cover a range of topics and industries, such as maritime, oil and gas, OSHA, emergency response, hazardous materials, hospitality, health and wellness, human resources, and more.
This has given me an opportunity to work on a wide variety of courses, from something as highly technical and specific as our Hydrogen Sulfide (H2S) Maritime Training to something as general and widely relevant as our Sexual Harassment Training Videos for the Workplace.

What market do Moxie Learning's online courses serve?
Although we provide training to any and all industries, we specialize in the offshore oil and maritime industries. A few of our top courses in these categories include:
As you can see, this training tends to address very specific safety issues for this workforce. Most jobs outside these industries don't often encounter hydrogen sulfide or confined spaces in the workplace, for example. However, these are serious issues for maritime and oil and gas workers.
There are also more general safety and human resources topics that are relevant to most industries but still require specialized training for maritime and offshore oil and gas. For instance, we have a general fire safety course, Step Back for Safety: Workplace Fire Training and Prevention. But we also offer a separate course specific to the maritime industry, Marine Fire Training: Prevention and Response.
Maritime crews may have to deal with a fire aboard their vessel while they are offshore, putting them in a different environment than most workplaces. They have specialized equipment that may require specific maintenance to help prevent fires, and their evacuation plan will be substantially different on open water.
Given the various hazards these industries face, it is even more important to provide training to address these safety issues. There are also legal requirements to train these workers in compliance with specific laws, making our training even more valuable.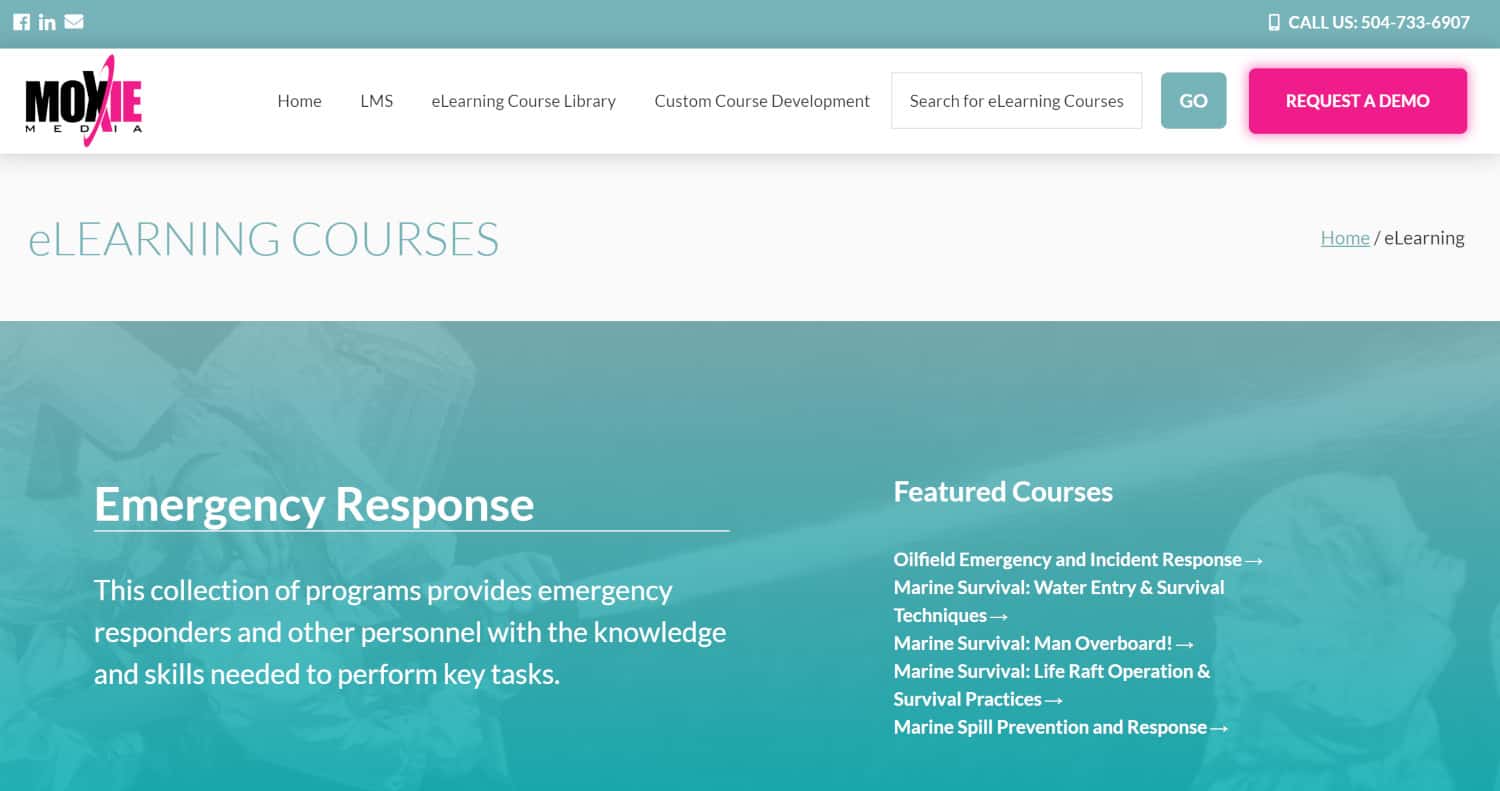 What's the biggest benefit of taking these courses?
Our courses focus on improving the safety, health, wellness, and efficiency of employees, no matter the industry or topic at hand. Naturally, it benefits workers to be happier and healthier at work. But this also benefits companies by reducing employee turnover, improving job satisfaction, and increasing productivity.
One way we differ from other training companies is that our courses use high-quality videos shot on location. – Jason Wong
Click To Tweet
This allows us to show employees our training in action in a relevant, familiar environment. Not only does this make it easier to learn and understand the material, but also it keeps workers engaged and shows them why this training matters to them.
In addition, our courses cover specialized procedures and regulations for various jobs within the maritime, offshore oil, and other industries. Employers may be legally required to provide training on specific topics that fulfill certain obligations. We keep compliance in mind for the different industries we serve, making Moxie a one-stop-shop to meet their training requirements.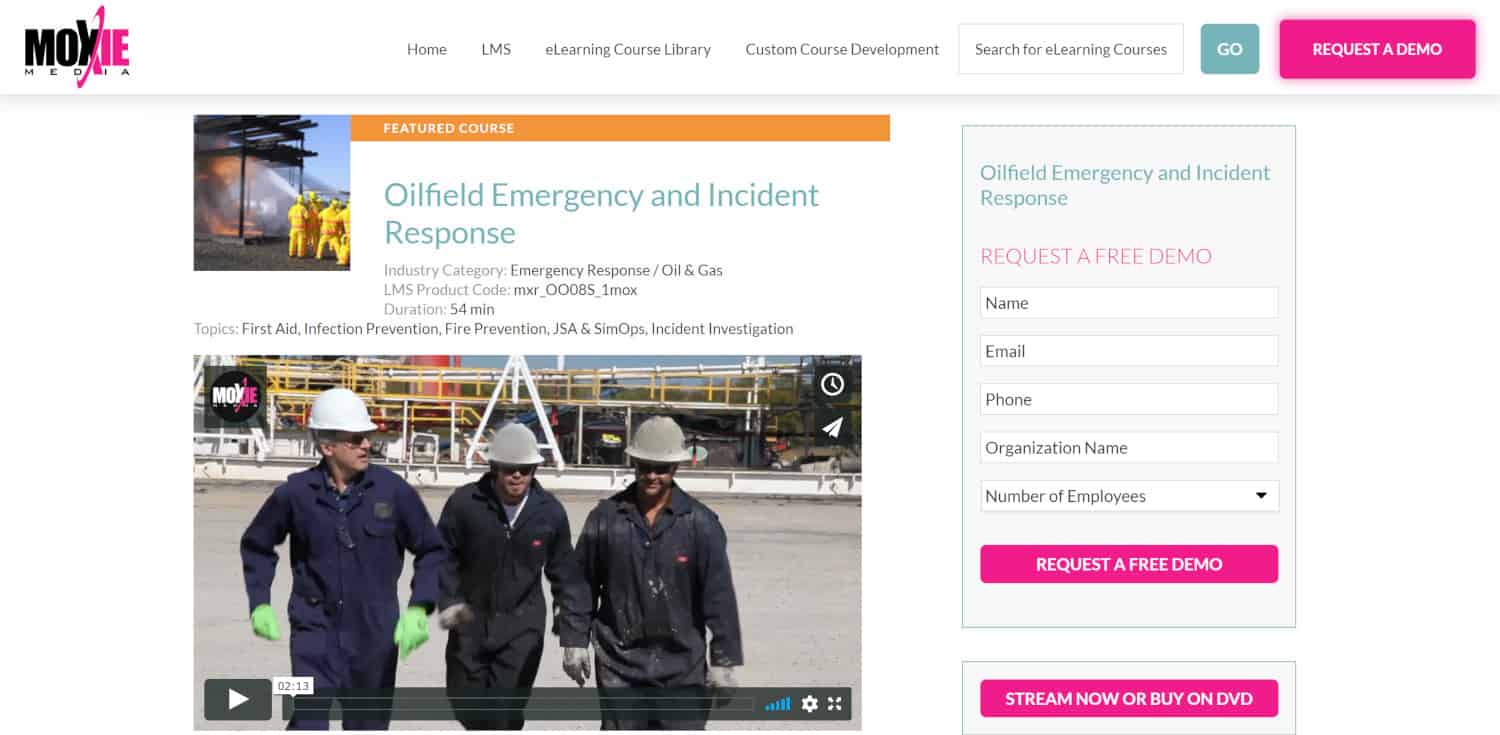 Why did Moxie Learning decide to create online courses in the first place?
As we spend more and more time working, playing, and living online, our company recognized the need not only for online training courses but for a learning management system (LMS) to help manage employee training.
We decided to create online courses so workers could conveniently access training, and management could leverage the power of our LMS. By using our LMS, companies can simplify audits, take advantage of powerful tracking and reporting tools, and keep training organized in a single place.
What are the online courses like?
Our courses deliver information in a variety of ways to reach different learning styles. Courses predominantly use live-action video, which allows us to show as well as tell the information.
While we also incorporate text into our videos, the majority of the video is shot on location. This means we can show our training in action as workers are likely to experience it themselves. - Jason Wong
Click To Tweet
In addition, we include downloadable text resources in most of our courses. We also have quizzes for each module. By using quizzes, we can easily test information comprehension and retention.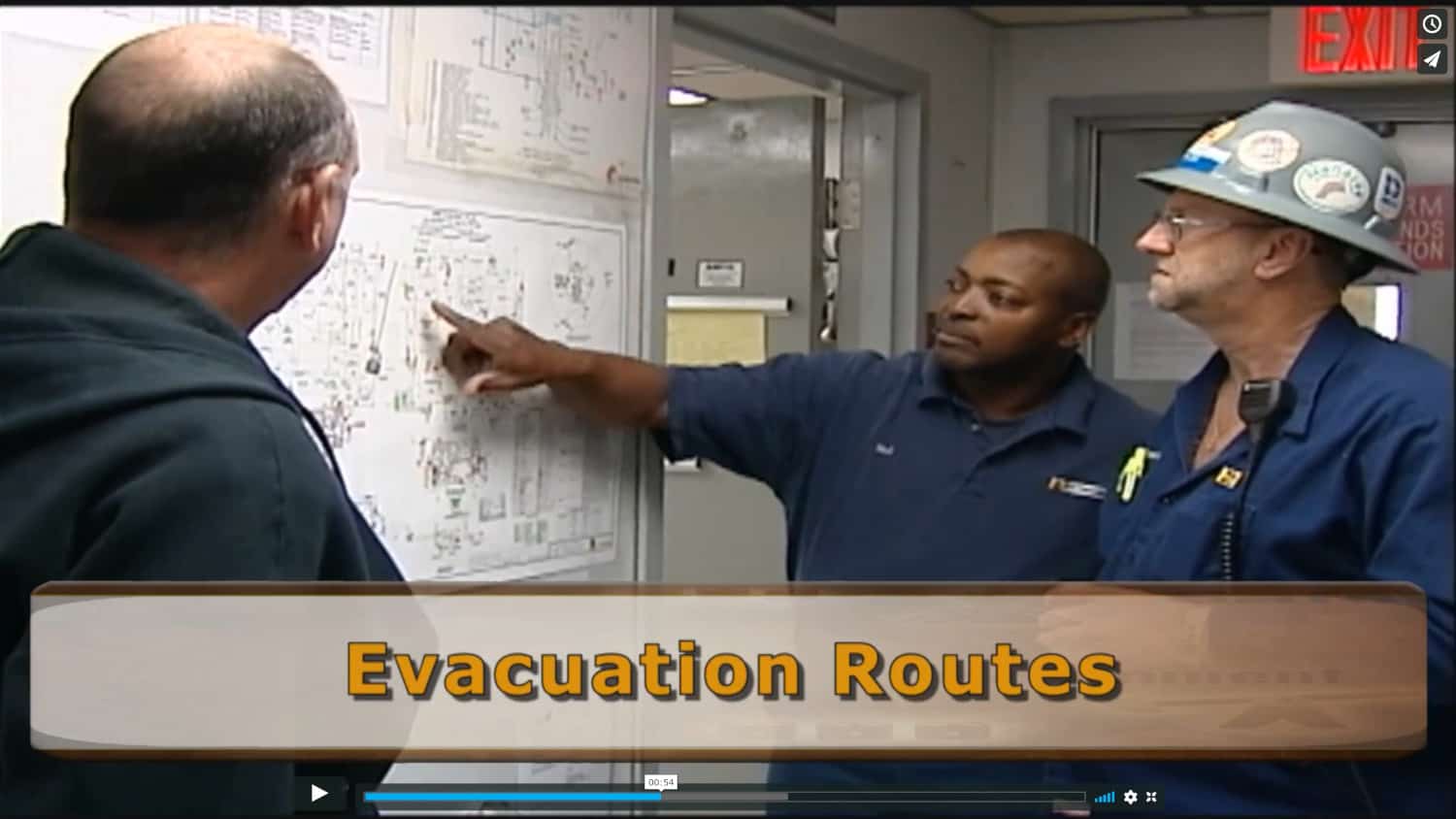 How long does it take to create a course?
Our master template is constantly evolving to add new features and take advantage of the latest technologies. With over 300 courses and counting, there is a lot that we have learned over the years, and perfecting a master template is a great way to continually use and develop that knowledge.
As such, our master template has been years in the making. Using the template, an average course can be completed in a matter of days.
Does Moxie Learning have a lead magnet?
At Moxie Media, we recognize that employee training is a big investment. That's why we offer free demos for all of our courses. We have found that it is extremely beneficial to allow companies to try before they buy. In fact, customers rarely purchase training without taking a look at a demo first. We are confident in our training, and this allows prospective customers to be, too.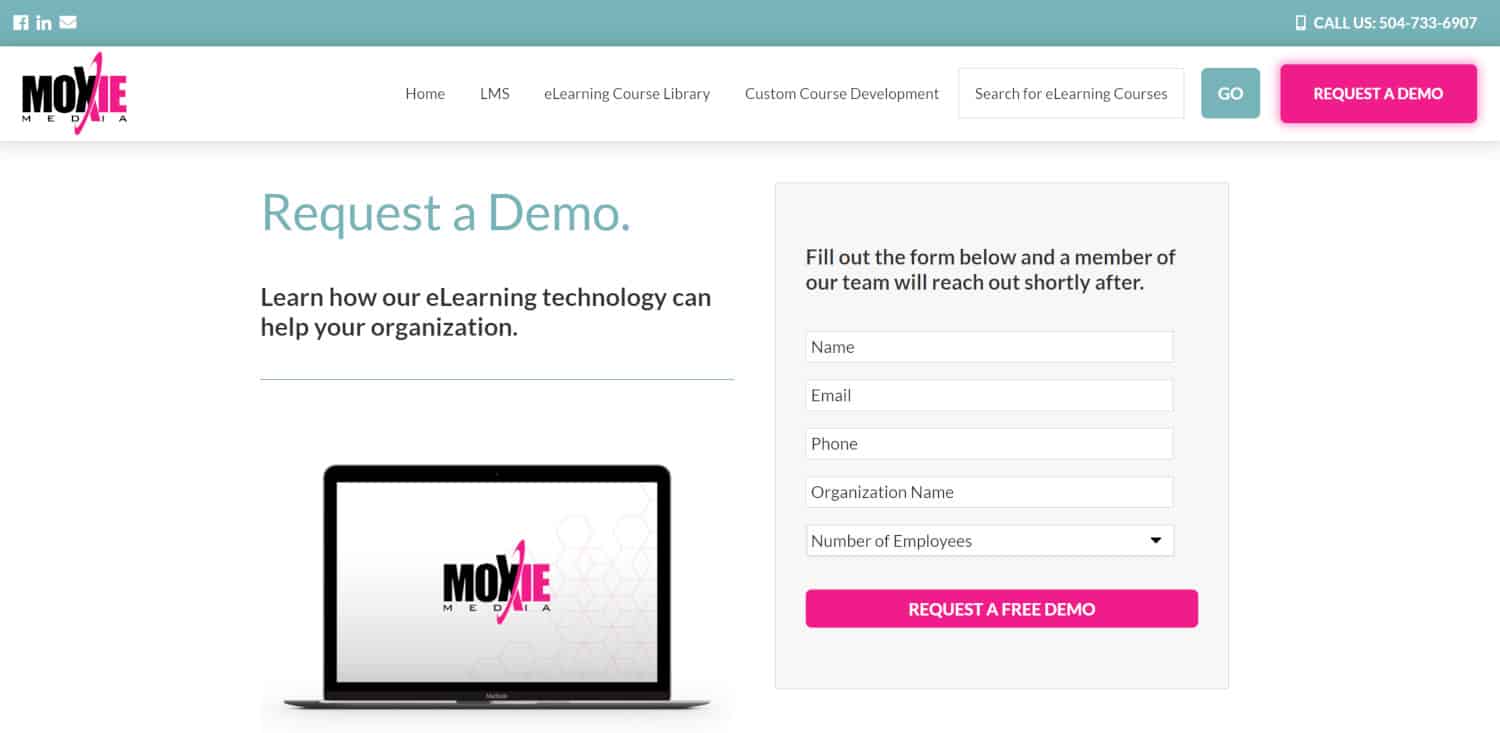 What online course platform does Moxie Learning use?
Our primary eLearning platform (LMS) is called Coursemill, created by Trivantis.
What other tools does Moxie Learning use?
Our courses are created in an authoring software called Lectora Online, also by Trivantis.
Are there any big mistakes Moxie Learning has made along the way that you'd be willing to share?
Our biggest challenge has been adding support for mobile devices. Not only are people spending more time online, but they are spending more time on phones as well.
To meet this growing need, we knew we wanted to provide mobile support for our training. This allows workers to train on the go and easily refer to training materials from the palms of their hands. Similarly, employers and managers can access a worker's training history, check a training report, or use any other feature of our LMS from their phones.
We definitely had a few false starts along the way before finding our current path with mobile. The addition of responsive templates to our authoring software finally got us on the right track. Now we are pleased to offer mobile-friendly training.
Please tell us a little about what the money from courses has done for Moxie Learning.
The revenue from our online courses and LMS has been substantial for growing and supporting our company. In addition to online training courses, we also sell training DVDs and safety signs. But online training is a significant part of our business. It has opened a new chapter for our 30-year business, allowing us to offer more comprehensive training options for our customers and increase our staff.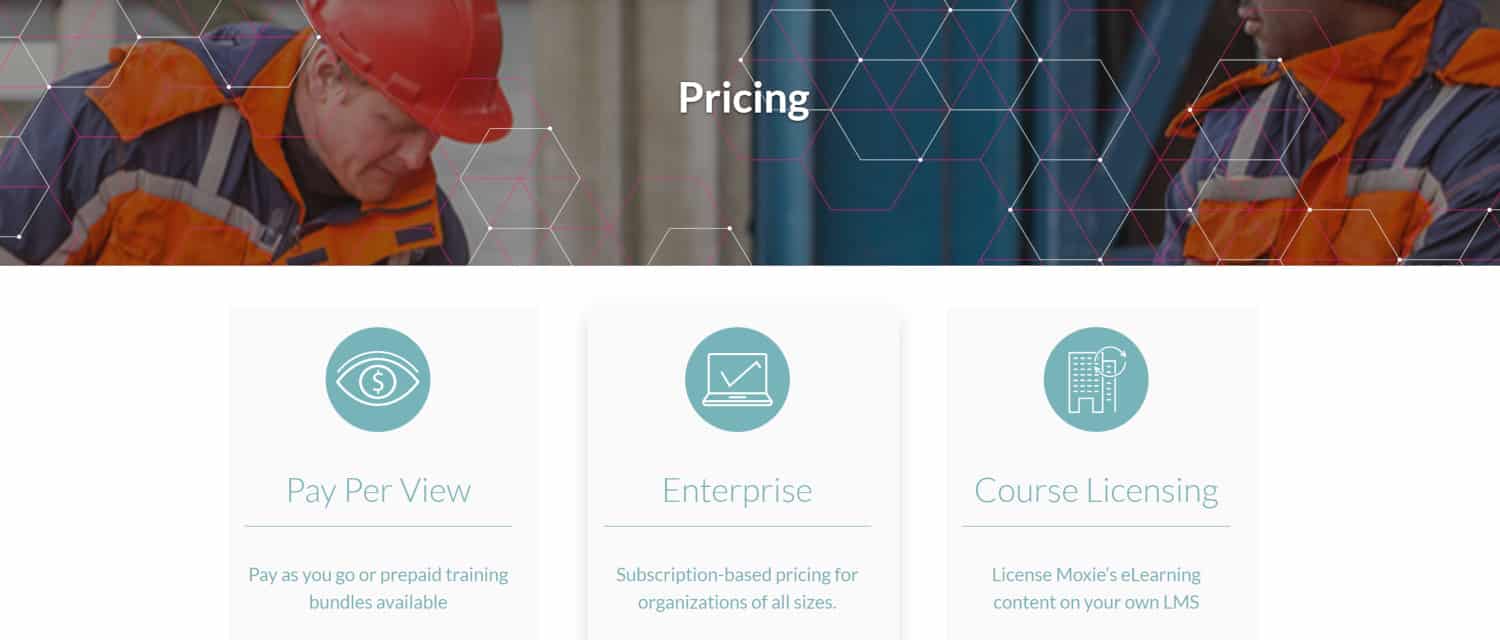 Are there any numbers you would like to share?
Our master template has been a critical factor in expanding our company's online course creation. As you begin creating more and more courses, having a master template allows you to save time and work efficiently. It also facilitates innovation as you work to continuously improve the template with new ideas, features, and technologies.
At Moxie Media, our master template leads to an over 50% reduction in time spent creating courses. - Jason Wong
Click To Tweet
It used to take us about a week on average to make a new course, and now the same work can be completed in just one or two days. Not only does this drastically increase your potential output, but also it frees up time and energy to focus on finding new ways to improve your entire course library.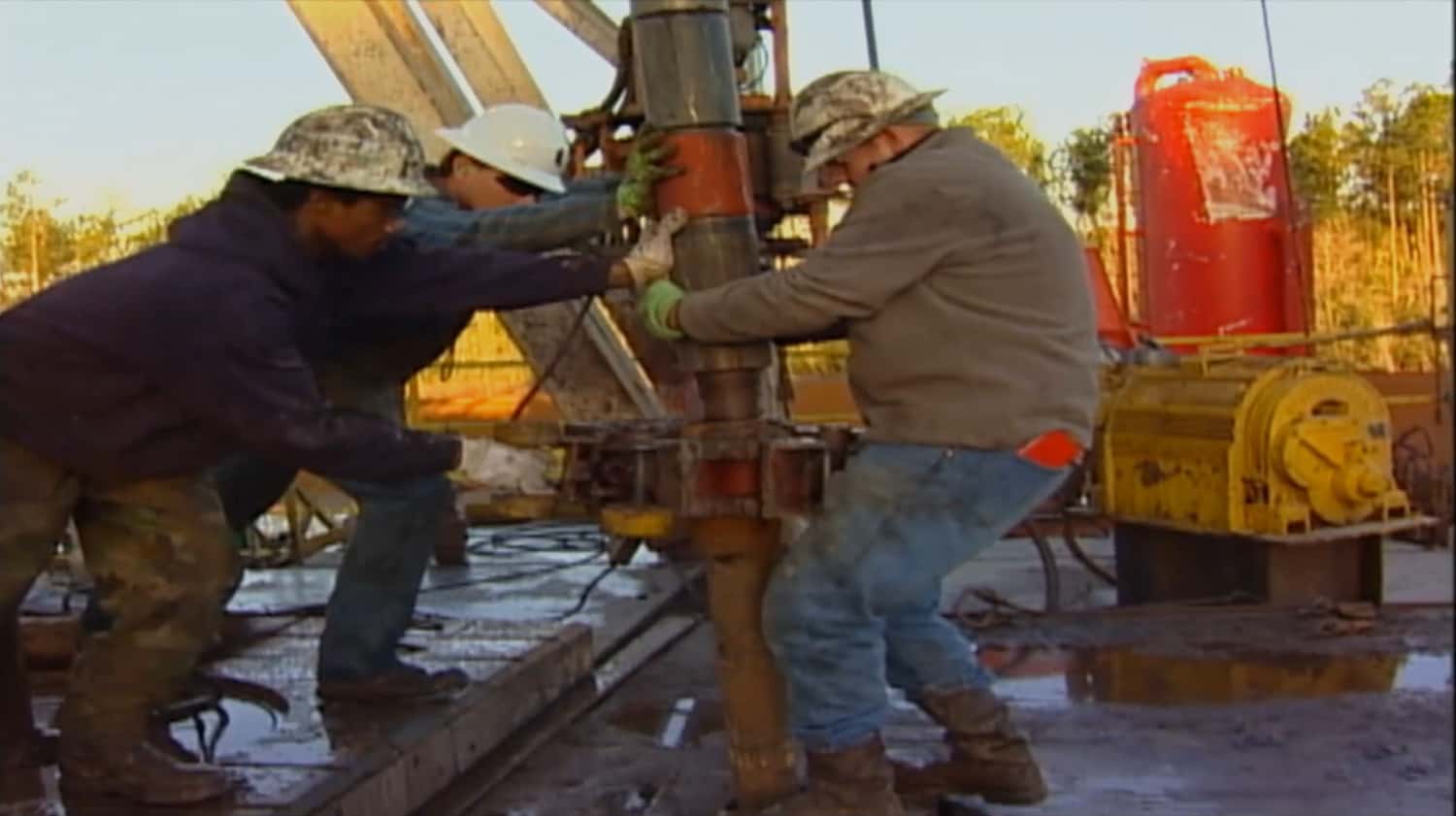 What has creating your courses done for you personally?
Designing our master template has been a great challenge. It's like a puzzle with constantly moving pieces, due to the speed at which the technology changes. It really keeps me on my toes.
What advice do you have for people just starting out?
When I'm designing our master template, I'm always thinking about ease of use and workflow efficiency for our course authors. Spend some time building the right tools for the job, and you'll save yourself a lot of time and labor.
Learn more about Moxie Learning: