How Jason Lee Started OptionsSwing.com & Grew it to $1.2 Million in Yearly Recurring Revenue in Just One Year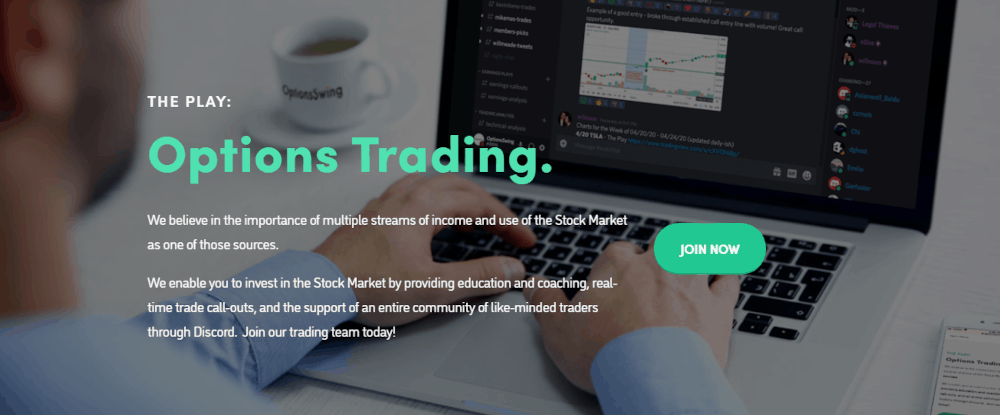 Our content is reader supported, which means when you buy from links you click on, we may earn a commission.
---
Who: Jason Lee
Website: optionsswing.com
Course Topic: Trading education
Interesting Stats: 93k Followers on Instagram
Who are you and what course have you created?
I'm Jason, Founder, and CEO of OptionsSwing Inc. We are an Educational Trading Community, based on a monthly online subscription service that allows individuals of all levels of experience to engage with each other in a private Discord community.  Our services include online trading educational courses, coaching/mentorship, real-time trade reviews, and the support of an entire community of like-minded traders.
What market does your online course serve?
The rise in popularity of personal finance, the concept of multiple streams of income, and options trading grew through websites like Reddit's r/wallstreetbets and Instagram.  People became more aware of how incredibly lucrative options trading is with screenshots of people profiting $200k overnight on their investments.
Combine being able to do it from your mobile phone while most people stayed home during quarantine created the perfect storm for the desire to learn how to trade and invest in the Stock Market.
What's the biggest benefit of taking your course?
We really pride ourselves on our focus on education. We love seeing our members 'graduate' as profitable traders with an understanding of both the technical and fundamental sides of the market. Outside of the actual trading, there's an overwhelming sense of community and togetherness that's hard to find elsewhere. With 1750+ members we get people from all over the world from all walks of life and there's a lot of networking that goes on.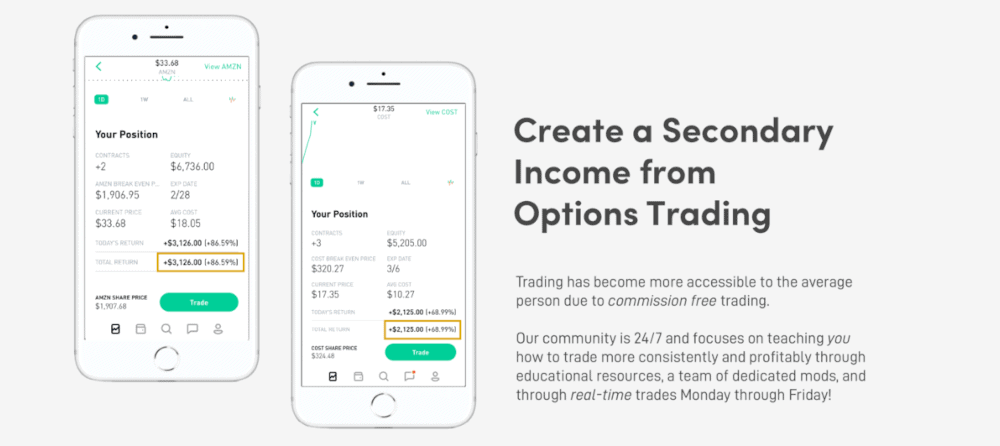 How did you get into the market?
I first learned about trading through a previous mentor of mine at my first company out of school.  He taught me the importance of managing your own money and that with the right amount of knowledge, most can learn to grow their accounts over time (and almost always at a higher % rate than leaving it in savings).
A little over a year ago, I was texting several friends on a daily basis answering questions regarding the markets and I decided that enough was enough. I needed to streamline a way to spread information faster and to a wider audience. That is when I decided to create the Instagram channel which eventually evolved to our private educational Discord server.
Why did you decide to create an online course in the first place?
The first thing was a personal experience.
During the course of my best trading year, I had made over $400k+ in trading profits due to proper research, due diligence on what I was trading, and patience to swing trade positions during a volatile market.
Throughout that experience, I learned an incredible amount of things. As a person that naturally gravitates towards helping others, I wanted to help fellow traders who were struggling due to a lack of knowledge and experience.
Did you have any moments of doubt before you created/launched it?
There was always a sense of confidence in knowing what I wanted to ultimately achieve which was an educational community with a focus on culture and encouragement.  From there, I worked backward to find and attract the right audience through Instagram and the content I produced.  Having an extremely competent business partner also gave me the confidence to build.
What's your online course like?
A bit of both. It's mostly text since Discord is more of an online chatroom than anything. Everyday Growth Advisors, one of our exclusive educational partnerships hosts a Livestream on YouTube every single day for free where he answers questions and reviews different companies from both technical as well as fundamental perspectives. In addition to that, we offer an online-based classroom experience for 5 Days for both a Beginners Trading Course and an Intermediate Trading Course.
How long did it take you to create your course?
Though we do offer online courses, our main product is our monthly membership to our private server where over 1,750 active members renew each month.  We launched back in November 2019 and have grown to our current size in 10 months.
Tell us a little about the process of launching your course and getting your first sale(s).
When we launched our community, we were aiming to have 20 people sign up for the first opening weekend.  Through Instagram DMs, I knew there was definitely growing interest in our new service offering but I had no idea to what extent.  By the end of our second day, we had over 60 members subscribed!
Do you have a lead magnet?
A vast majority of our sales have come from Instagram alone.
We do what we can to provide a lot of value for free on Instagram and that sells itself (we think so anyway!). - Jason Lee
Click To Tweet
We do offer sales here and there too + our members all have their own unique 25% off referral coupon codes.
What's the traffic strategy that works best for you?
Up until about a month ago, we've only done Instagram ads to increase our reach which was always more than enough to keep us growing at an exponential rate month-over-month. Recently, we've begun incorporating Facebook ads and Google ads and those have been converting purchases as well (we average 10-20 new sign-ups per day).
Due to our recent successes, we are also working with other publishing media including Forbes, Entrepreneur, and various podcast shows as a guest speaker.
What online course platform are you using?
We use Instagram, Discord, Zoom, and YouTube and I love it!
Are there any features you wish it had?
The ability to auto block Instagram spambots in comments.
What made you decide to use your chosen platform over others?
Discord is unique in that it's easy enough to set up and allows members to interact with each other. Being a private server, we can easily set up permissions to create a role-based hierarchy.  We can also set up our bots and automation tools and all members have 24/7 access on any desktop, laptop, or mobile platform.

What other tools do you use to run your online course business?
We use our website, Instagram, Google Adwords, and Facebook Ads to help increase audience reach.
What books or training programs have you found useful on your journey to a successful business owner that others might find valuable too?
I found Investopedia.com as a free and amazing resource to learn everything about trading and YouTube to watch and learn as I am more of a visual learner.
Do you have any big mistakes you've made along the way that you'd be willing to share?
There were never any "big mistakes" but learning lessons from difficult situations that occurred.  We have had on numerous occasions upset members vent their frustrations about trading.  The culture that we created from the start had other members engaging and helping these frustrated members work through the issue.
Some of the testimonials we have received outline incredible success stories of people being very red on their trading accounts before joining our community to getting better and the incredible amount of progress, both financially and with gained knowledge!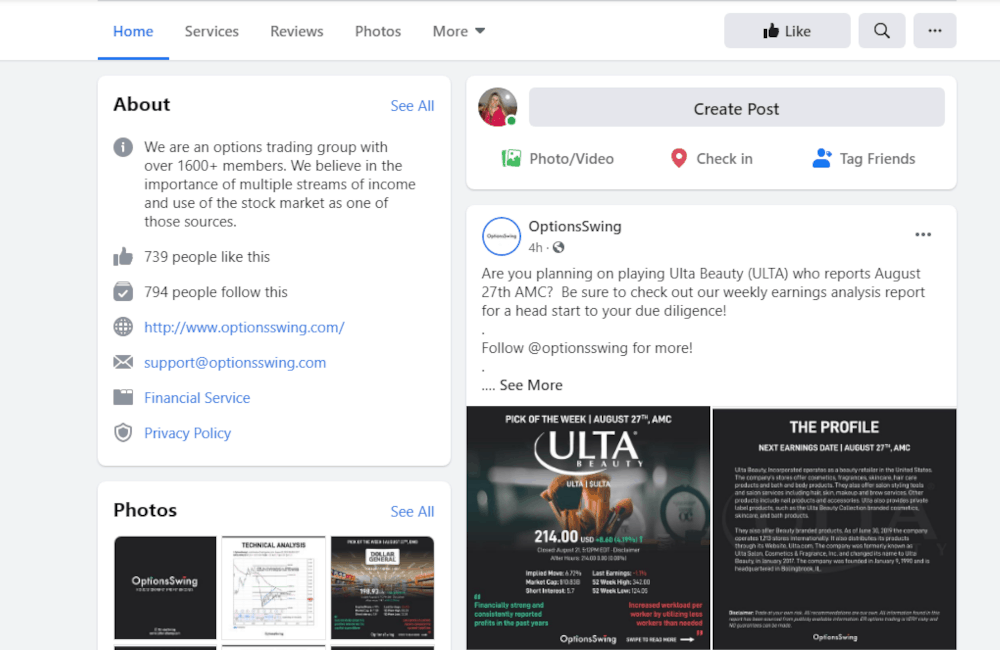 Please share some idea of revenue.
When starting this business, I specifically chose a membership/subscription model as I am a big fan of monthly recurring revenue (MRR).  Our memberships at the time of writing this cost $120/mo and it was $80/mo previously ($50/mo when we first started).
We also have yearly memberships that contribute to our yearly recurring revenue (YRR) but with rough estimates in mind, we can figure that 70% of members are on monthly memberships paying somewhere in between 80 and 120/mo (let's say the average is $90/mo * (1750*0.7) = $110,250/MRR).  We hit +$1m/YRR on our 10th month of business and at our 1 year anniversary, we are over +$1.2m/YRR.
Please tell us a little about what the money you've earned from your course has done for you.
The most incredible thing to come out of this company was the fact that we could create and provide jobs to 15 amazing employees.  We opened up our headquarters in Miami, Fl. We continue to reinvest our profits back into our employees, our members, and the community.
Currently, we support 6 full-time employees and 9 part-time employees. We continue to bring more of our part-time employees to full-time as our revenue continues to increase.
We also hold monthly raffles for our members. Previous prizes included an entire home office outfitting (our most recent Yearly Member won an XL standing desk, ergonomic chair, and two monitors for their new trading station), Apple products, trading tools/subscriptions, and more.
Our Instagram community also has monthly raffles to encourage followers to tag and share with their network.

In addition to revenue are there any numbers you would like to share?
Originally founded August 7, 2019
Over 93k Followers on Instagram
Over 1,750 active and paying members in our community
Created 15 jobs (so far! 8/7/2020) in the worst job market since the Great Depression (we have 15 employees on payroll)
Took only 10 months to achieve $1m Yearly Reoccuring Revenue and at our 1 year (8/7/2020), we are over $1.3m/YRR
What has creating your course done for you personally?
The sense of responsibility in leading a company of 15 employees and providing them with an environment to grow while pursuing their passions is the greatest personal achievement I have felt in my entire life. - Jason Lee
Click To Tweet
I take care of every single one of my employees as if they were my own family.
Do you have a story of a transformation from any of your clients?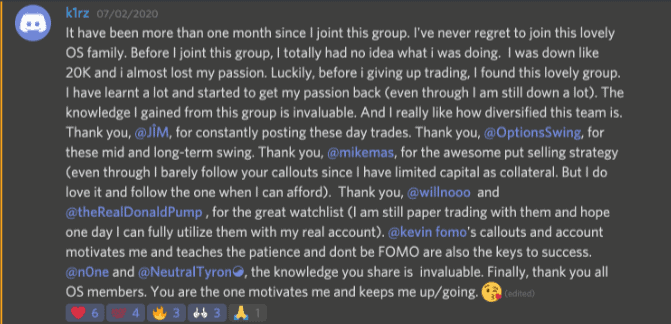 These are the kind of messages I live for.
What advice do you have for people just starting out?
Actively trading in this market is incredibly difficult. The most important things are position sizing, don't fight the trend, and cutting losing positions early. If you have an account with TD Ameritrade, you can do live trading with fake money (also known as paper trading) through the ThinkorSwim platform.  It's an excellent and FREE way to get some practice in without risking your own capital!
Learn more about Jason Lee of OptionsSwing.com: