How Jamie Palmer Serves Entrepreneurs Who Want to Simplify Growing Their Business Online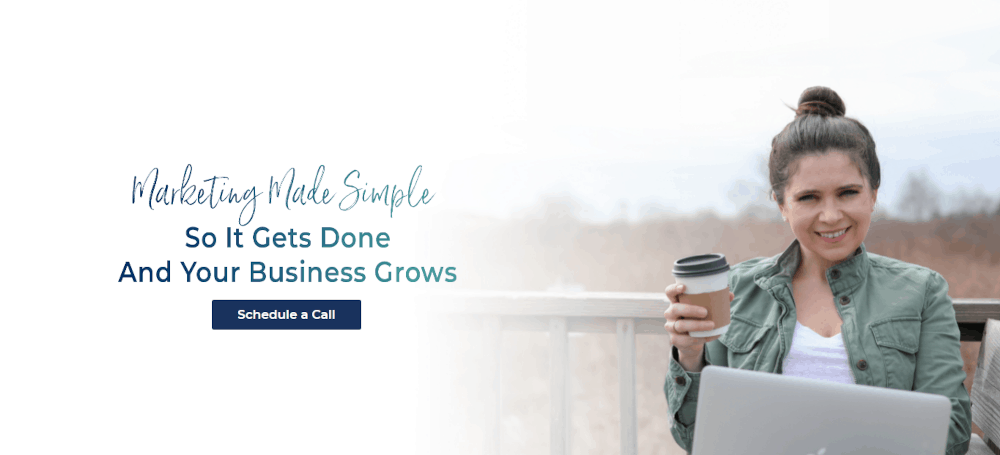 Our content is reader supported, which means when you buy from links you click on, we may earn a commission.
---
Who are you and what course have you created?
I'm a business strategist and coach for driven entrepreneurs, service providers, and coaches who want to grow and scale their business online with a signature program. I created the Business Ecosystem Builders program that helps entrepreneurs build their online businesses simply while creating more freedom, impact, and income.
Other programs I created include:
Social Made Simple teaches entrepreneurs how to take the overwhelm out of their social media marketing efforts by turning macro content into micro and nano content.
Productize for Profit, a course that helps service providers map out their offer suite so they never have to write another proposal again.
What market does your online course serve?
My courses serve entrepreneurs, course creators, and service providers who want to simplify growing their business online.
My Productize To Profit course is geared toward service providers, and coaches who want to simplify their offerings and never write another proposal again.
What's the biggest benefit of taking your course?
Save hours of time because you no longer have to write proposal after proposal in your business.
How did you get into the market?
I started out as a website design company and I would write proposal, after proposal, after proposal. It would drive me bananas. I spent the majority of my time writing proposals and giving away my ideas for free.
Every proposal I wrote was essentially the same as the last with the exception of how it related to the client. Why was I spending so much time writing proposal after proposal?
Then one day it dawned on me. Every proposal I wrote was essentially the same as the last with the exception of how it related to the client. Why was I spending so much time writing and writing to customize each proposal for each client and freely giving away all my ideas? When in fact each proposal was similar, especially the basic structure of what is included. Can you relate?
Over the years as my business grew and I started working with more and more types of businesses I saw more and more entrepreneurs struggle with this. They would spend hours writing proposals, jotting down all their ideas and giving them away for free, and making it hard for prospects to buy. Too many entrepreneurs struggled to sell their services because they were trying to be everything to everyone. They made it hard for prospects to buy and at the end of the day, people love to buy but hate being sold.
Think about the last time you had something you wanted to buy and it wasn't easy. It's frustrating. It's our job as serviced-based entrepreneurs to make it easy for our prospects to buy from us.
Coaches, social media managers, web designers, content creators, writers, lawyers, financial service providers, bookkeepers, IT pros, the list goes on and on.
So I decided to share the process I used to productize your business.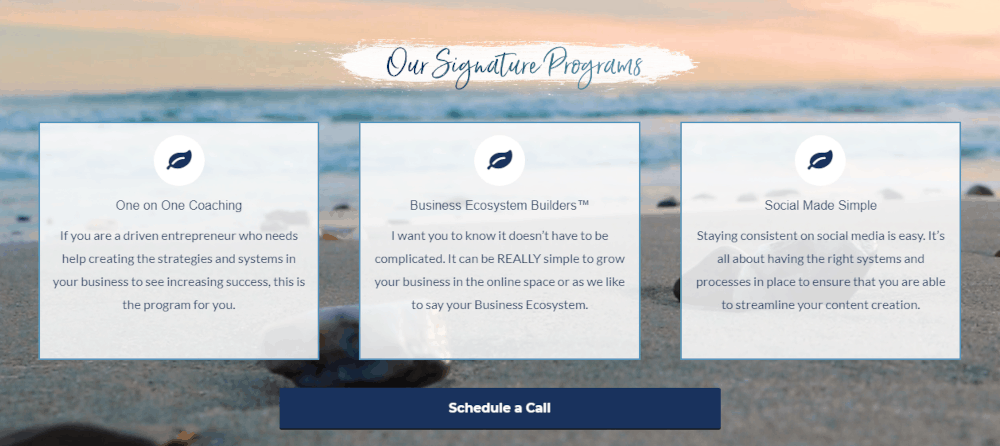 Why did you decide to create an online course in the first place?
I wanted to be able to serve more clients and give them the opportunity to save time, money, and aggravation from having to write proposals and give their time away for free.
Did you have any moments of doubt before you created/launched it?
For certain I had doubt but I knew I wasn't alone in feeling frustrating about wasting so much time on proposals.
I pushed through my self-doubt and head-trash and moved forward anyway. - Jamie Palmer
Click To Tweet
What's your online course like?
My course is part video, part template, part workbook, and part live Q & A.
How long did it take you to create your course?
It took me about 6 months of honing. First I mapped out an outline, then I launched it to a beta group to make sure it would work. Then I made another round of revisions to the workbook and content. Finally, I recorded it all and launched.
Tell us a little about the process of launching your course and getting your first sale(s).
For me, this course is about bringing paying clients onto my list. I decided to leverage this course as an SLO funnel or a self-liquidating offer. Intentionally, I priced it low even though it is high-value. I got my first sale almost immediately after launching it on my list which was very exciting.
Then, I launched it as a formal launch for Black Friday of 2020. We got nearly two dozen people to enroll during that time. Currently, we are working on optimizing paid ads to sell them on auto-pilot.
Do you have a lead magnet?
I do not have a lead magnet specifically for this course. I do for my social media made simple program and it converts well.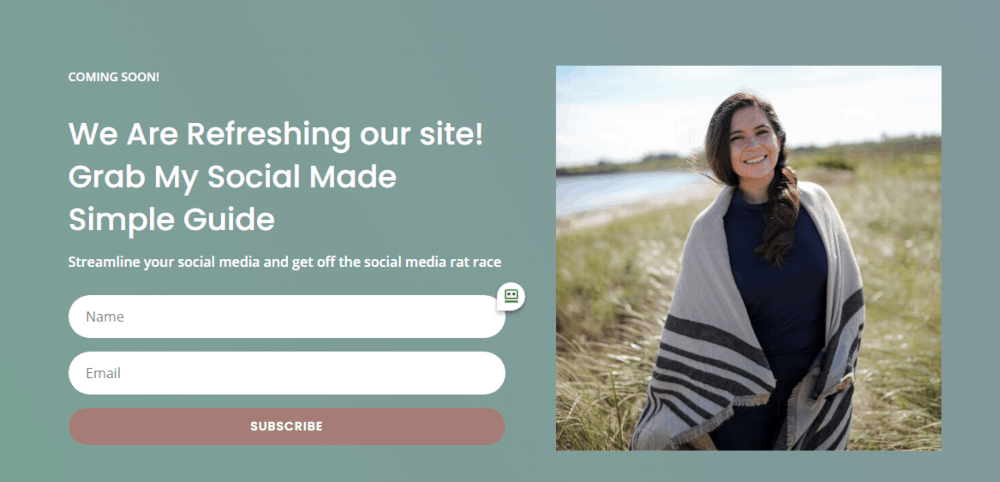 What's the traffic strategy that works best for you?
For us, we drive organic traffic, paid traffic, and earned traffic to this course. Our highest conversions are definitely organic, followed by earned and then paid. My goal is to transition the traffic strategy solely to paid once the funnel is optimized.
What online course platform are you using?
I use Thinkific.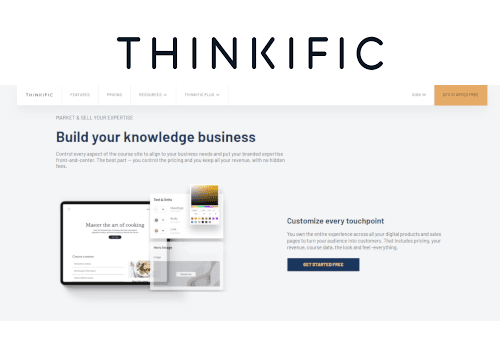 Take a Look at Thinkific!
Thinkific is the most popular online course platform used by successful course creators interviewed on coursemethod.com. It's a complete solution for creating sales pages, uploading all course content, taking payments, and more.
Price Range: Free to $499/month 
Most Popular Plan: Pro Plan at $99/month
Annual Discount: Yes, take 20% off!
Free Trial: Try out Thinkific's core features for free.
*Our content is reader supported, which means when you buy from links you click on, we may earn a commission.
Do you like it?
Yes, I love it! It gives me lots of flexibility to deliver content and it allows me to track client progress over time! It is also super simple to use which is one of my top requirements for software.
Are there any features you wish it had?
I wish it had an audio feed or podcast feature to give clients access to their content on the go.
What made you decide to use your chosen platform over others?
I actually used WordPress with MemberPress for several years but there was a LOT of upkeep. We would come online some days and find that WordPress had done an update and my students couldn't log on. I found that it was easier to have the software (Thinkific) do the upkeep than my team so we made the switch.
What other tools do you use to run your online course business?
I use Hello Audio to create private podcast feeds for my clients.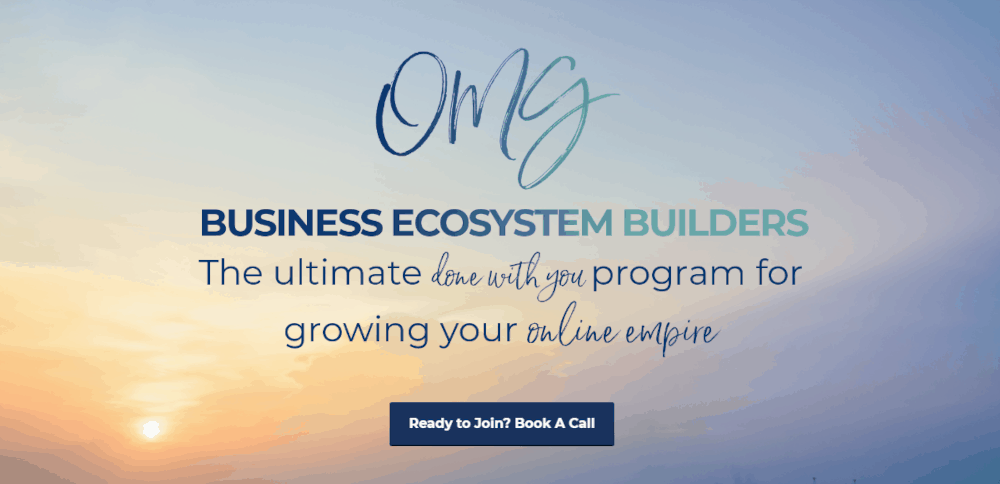 What books or training programs have you found useful on your journey to a successful business owner that others might find valuable too?
Amanda Bond's Strategy program was instrumental for me in terms of learning a paid ad strategy and how to implement it.
Do you have any big mistakes you've made along the way that you'd be willing to share?
Yes, investing too much in too many programs and not trusting my gut. I think we entrepreneurs, myself included, struggle with glittery object syndrome.
We want to accelerate our success so we jump on new trends or try different things but in reality, we should stay focused on implementing one strategy, one avatar, and one program. - Jamie Palmer
Click To Tweet
I wish I had listened to my gut and stayed focused on optimizing instead of trying to do all the things like many coaches advised me!
Please share some idea of revenue.
Currently, my business brings in around $400,000 per year with my 1-1 coaching, my courses, and group program.
Please tell us a little about what the money you've earned from your course has done for you.
It has allowed me to have more freedom and begin saving for our forever home which I am super excited about. Oh and a Goldendoodle!
In addition to revenue are there any numbers you would like to share?
Currently, we are at a 50% upsell from our Productize to Profit course into one of our higher-end programs which is ultimately the long-term goal for me. It has been amazing to get paid while also getting clients into higher-level support programs.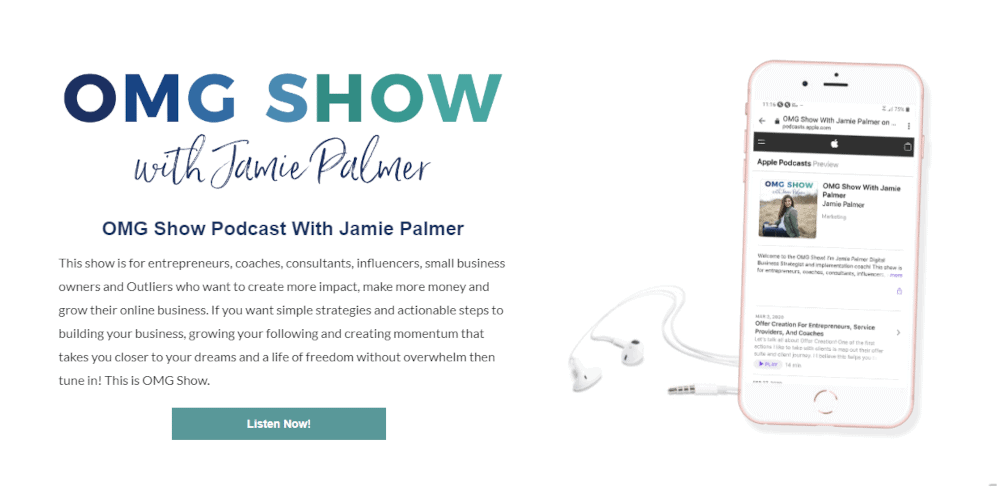 What has creating your course done for you personally?
It was great to finish this! My idea for this course began back in 2015 and then I found this unfinished course in my dropbox 4.5 years later. I had completely forgotten about it. I spent about six months once I found it to finish it and finally got it out into the world. I'm not even kidding. The entire thing was written, outlined, and ready to record.
Do you have a story of a transformation from any of your clients?
Yes, I have one client in particular who has simplified her service-based business down to one product and has blown up. I'm talking multi-seven figures. She was trying to be everything to everyone and with this program, she simplified, honed her ideal client, and created one amazing client.
What advice do you have for people just starting out?
Trust your gut and start building your email list, even if you don't feel ready.
People love to buy but hate to be sold to so make it easy for them to buy from you!
Learn more about Jamie Palmer of jamielpalmer.com: