7 Ways to Fix the "iMovie Not Enough Disk Space" Error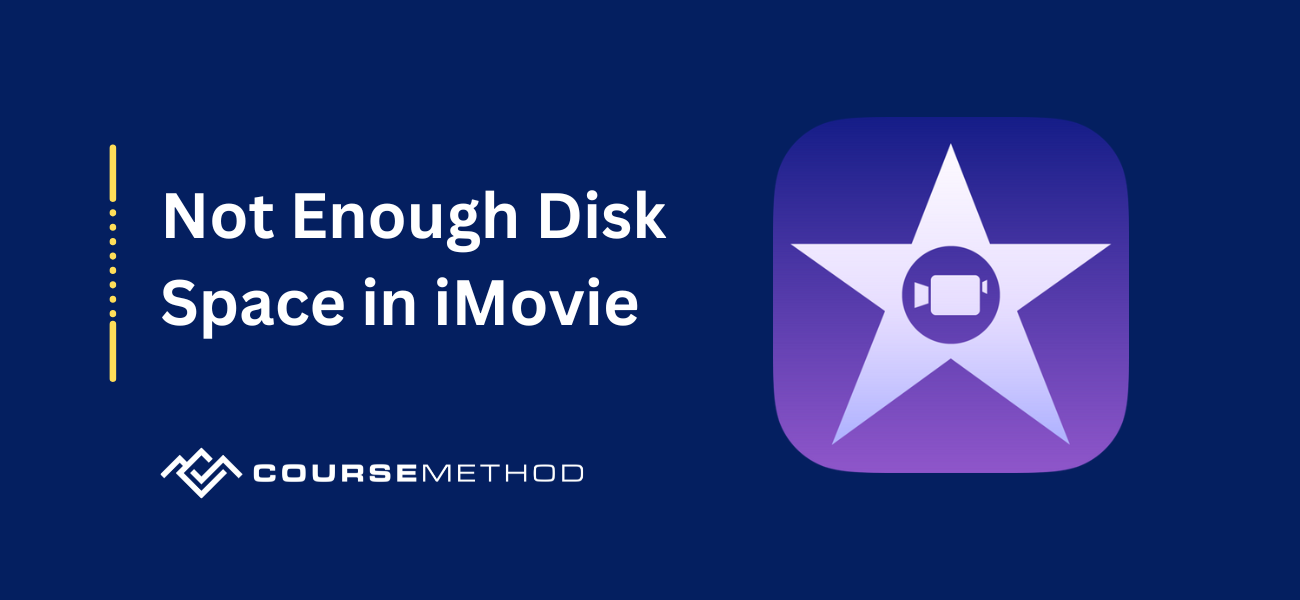 Our content is reader supported, which means when you buy from links you click on, we may earn a commission.
---
iMovie is a powerful video editing software already installed on computers using macOS. It is popular among video makers because it does many of the things paid software does but for free. As with most software, there are issues that users run into occasionally.
Many people who start making videos for sites like YouTube still use free software like iMovie. However, users have complained that they sometimes encounter an error message when using iMovie that claims they have insufficient disk space.
If you have seen it, you will find several things you can do to clear up space on your machine so iMovie can run without any problems.
Reasons Why You Don't Have Enough Disk Space in iMovie
iMovie is not a large program, but it can use a lot of space when running. You need to have at least 25GB of available space for it to run smoothly. Anything less will cause you to get the error message that you have insufficient disk space.
The reason you need so much room is for the temporary files iMovie creates while you are editing. These cache files can crowd your computer after a while and must be cleaned out. Other reasons you may be getting this message include the following:
You may have too many old video files on your drive
There could be updates for iMovie to install
You may have render files from old projects
Doing some routine maintenance in your iMovie library by deleting files or moving them to another drive can help to keep this from happening. However, if it is a problem with the software, you may not be able to solve it without getting the latest updates or reinstalling it.
How To Clear iMovie Disk Space
When you get this error message, don't get upset. It can be an easy fix. Here are some things you can do to clear out disk space and help iMovie run properly.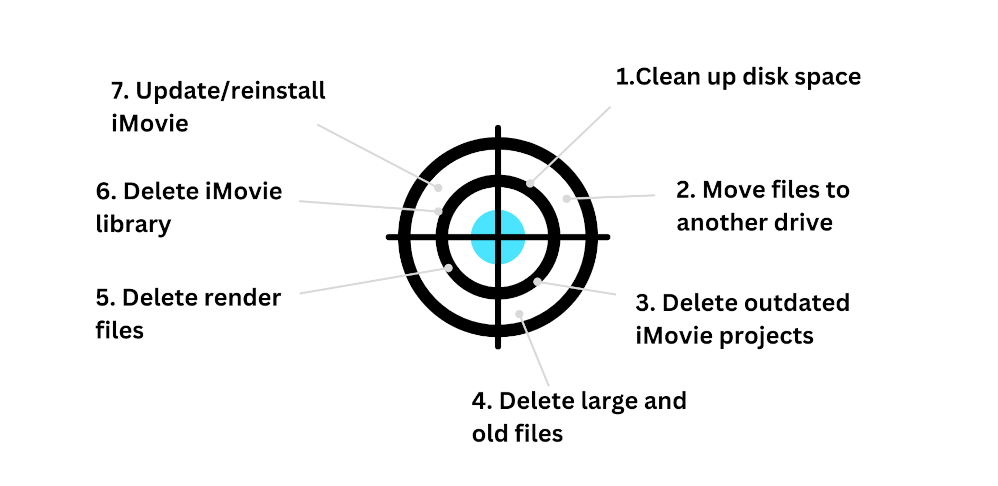 1. Clean Up Your Disk Space
If your computer is out of free space, it is likely caused by a buildup of junk files. You collect a lot of caches from the various applications you use and your browser. There are also duplicate files and things you put in your trash folder when not emptied. Getting rid of that will free up a lot of space which could make all of your programs run better.
Going into your computer's files and deleting everything you don't need is too tedious. You would do better downloading a program to scrub your Mac of junk files. There are a lot available at different price points.
2. Move Your Files Into Another Drive
Maybe you don't want to delete your files because you're afraid you may want to use them again for another project. You don't have to completely eliminate the files to create more space on your drive. You can always move the files to another drive.
An external hard drive is a good investment and an easy way to keep the files you want even if you don't need access to them often. Most external drives plug directly into your Mac and can have files moved between them easily.
You can locate the library folder iMovie uses and change the default to your external drive. Doing this may take a little longer to render files, but it will save space on your machine.
3. Delete Outdated iMovie Projects
When you create a project in iMovie, it is easy to neglect the project file. You may want to hang on to it for a time in case you find a problem later you can fix easily. Or you may move on to promoting the video and forget the project file is there. Either way, these files take up a lot of space on your computer.
Delete the old project files now. Make a habit of deleting these files after a week or so if your video doesn't need further edits. Keeping these files from building up could help keep iMovie running smoothly.
4. Delete Large and Old Files
It is easy to forget about old files when you finish using them. Large video files, audiobooks, music, and folders full of images can take over after a while. There are files that you either haven't looked at in a long time or have forgotten about completely. Look through your files and determine what to delete to make some room.
5. Delete Render Files
When you render a video in iMovie, it creates temporary files on your computer. These files affect how the video plays in the software but do not affect the video itself. If you get an insufficient space error message, you can try deleting them in your iMovie preferences. The video may not play as smoothly until it makes new render files, but it could help clear the error.
6. Delete iMovie Library
If you do a lot of video editing, you have probably imported many videos into iMovie over time. It can get full of video clips, photos, artwork, and other things you used in old projects but do not need anymore.
If you haven't deleted any of them, your library file could have become cumbersome. If you have a lot of videos in your library, they could be taking up valuable space on your Mac.
Take a look at your iMovie library and determine if there is anything there you can't live without. If there are a few files you need, copy them or move them somewhere else. Then you can try deleting your entire iMovie library. That will clear up a lot of space for iMovie to work correctly, but you won't have access to any of those files any longer. Empty the trash when you are done.
7. Update/Reinstall iMovie
Software glitches and bugs often happen, which is why companies send out regular updates and patches. If your iMovie hasn't been updated recently, you could be working with a version that had a bug. You only have to update the program or reinstall it to fix it.
Updating iMovie is easy enough to do. Go to Apple Store and check for iMovie updates. If there is one there or you are unsure of what version you're using, click the Update button.
If you have tried everything, another way to get the latest version of iMovie is to uninstall it and get the newest one.
Go into Finder and move the iMovie icon and the library folder to the trash. Empty the trash to uninstall the program from your Mac. Then go to the Apple Store and install the latest version of the software.
Creating Disk Space in iMovie
iMovie is a powerful program that many video makers like using to edit their work. It is easy to use, doesn't take a lot of time to learn, and is free.
If you buy a Mac, it comes installed already and can be used right away. However, if you get an error message that you do not have enough disk space for it to run, it can be frustrating.
Clearing out space on your hard drive by deleting files or moving them to an external drive can help make all your programs run faster. Downloading a file scrubbing program can help you keep your junk and cache folders to a manageable level so everything on your Mac can run as smoothly as possible.