How Henry Washington Jr. Grew His Course Sales to $4K/Month in 4 Months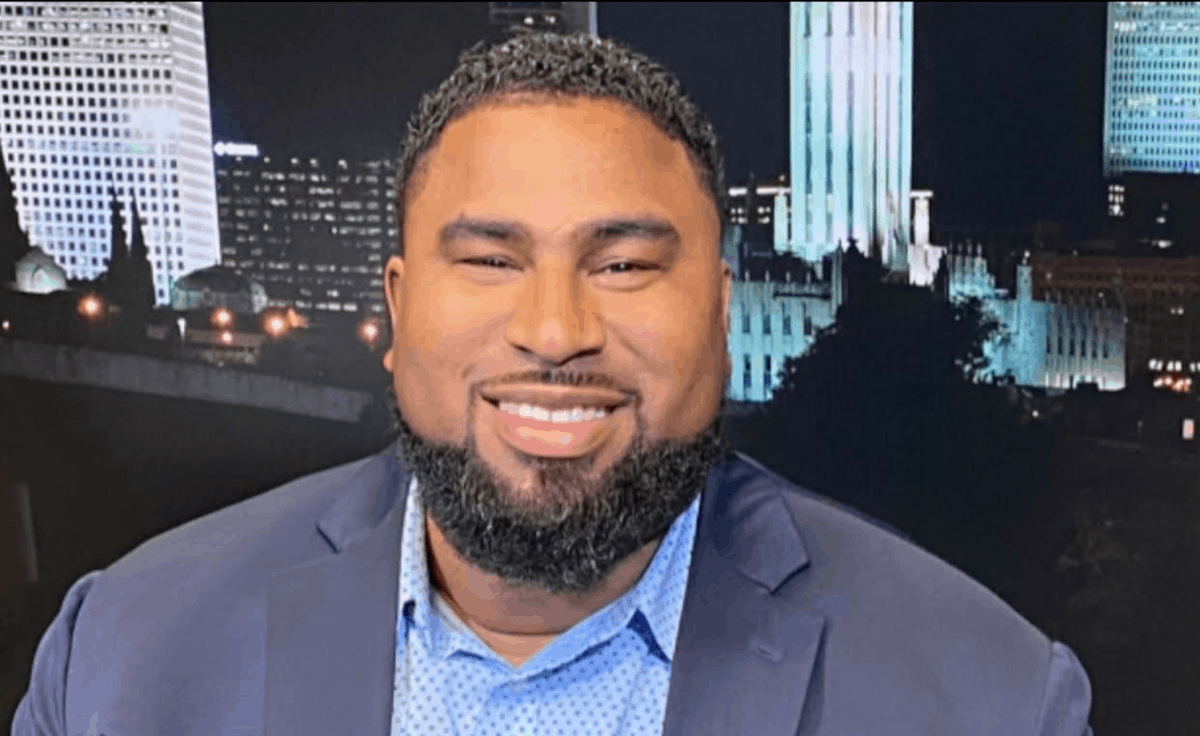 Our content is reader supported, which means when you buy from links you click on, we may earn a commission.
---
Who: Henry Washington Jr.
Website: gumroad.com/henrywashington
Course Topic: Real Estate Investing
Interesting Stats: 50K followers on social media
Who are you and what course have you created?
I'm a real estate investor.  I built a 5 Million Dollar real estate portfolio in just 3 years, and I started with only $1000 in my savings account.  I created 2 courses to help people start investing in real estate:
"A Beginners Guide to Finding Great Real Estate Deals" – This course shows people how I find great real estate deals to purchase
"How to Finance Deals with Little to No Money Out Of Pocket Utilizing Small Banks" – This course teaches people how they can leverage small local banks to fund their real estate deals with little to none of their own money.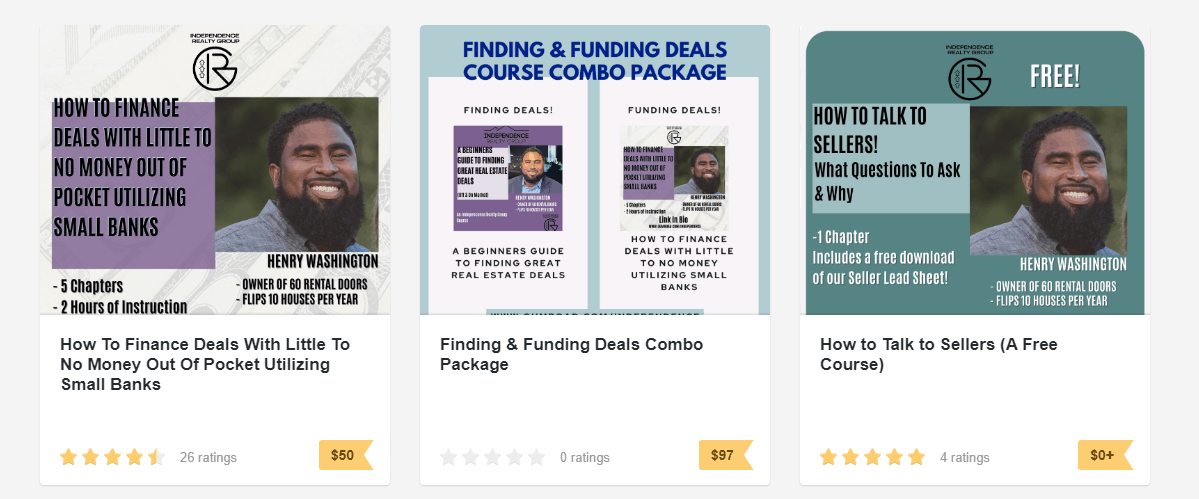 What market does your online course serve?
The United States Real Estate Investor Market.
What's the biggest benefit of taking your course?
The methods I teach are the actual methods that I am still using today to grow and scale my real estate portfolio.  I don't teach anything that I don't or have not done.  This allows me to vouch for the effectiveness of the methods.
How did you get into the market?
My business was born from panic in the middle of the night! I married my wife Jessica after only knowing her for exactly 1 year! So, I went from a single man to a married one quickly. Not long after being married, my wife and I were having conversations about our future home, and future kids and frankly that scared me to death because at that time I knew I had no way of funding the kind of future I felt like my wife deserved.
That night I literally woke up in a panic and started googling "Ways to generate additional income". Through my searching I kept coming across articles about "being a landlord" and "property investment" and I (almost immediately) thought to myself "Oh ok…. I'll just do that", and I went back to sleep!
The next morning, I reached out to a friend who was a commercial real estate agent and shared my epiphany. She immediately gave me a box of real estate books and said "Pick one". I picked up Rich Dad Poor Dad and started reading. After that, I was hooked! I started my LLC and began my journey as a real estate investor!
Why did you decide to create an online course in the first place?
Once I grew and scaled my business, I felt a responsibility to bring as many people along with me.  So I decided to start doing consultation calls to help others get started.  The main questions I would receive during these calls were "How do you find all the deals you are buying?" and "How do you finance all of the deals you are buying?"  So it was in an effort to keep from having to keep answering the same questions over and over.
My business model has been to provide these courses at super affordable prices because my goal isn't to get rich selling courses.  My goal is to provide people with the education to change their lives at a price point that they shouldn't even have to think twice about.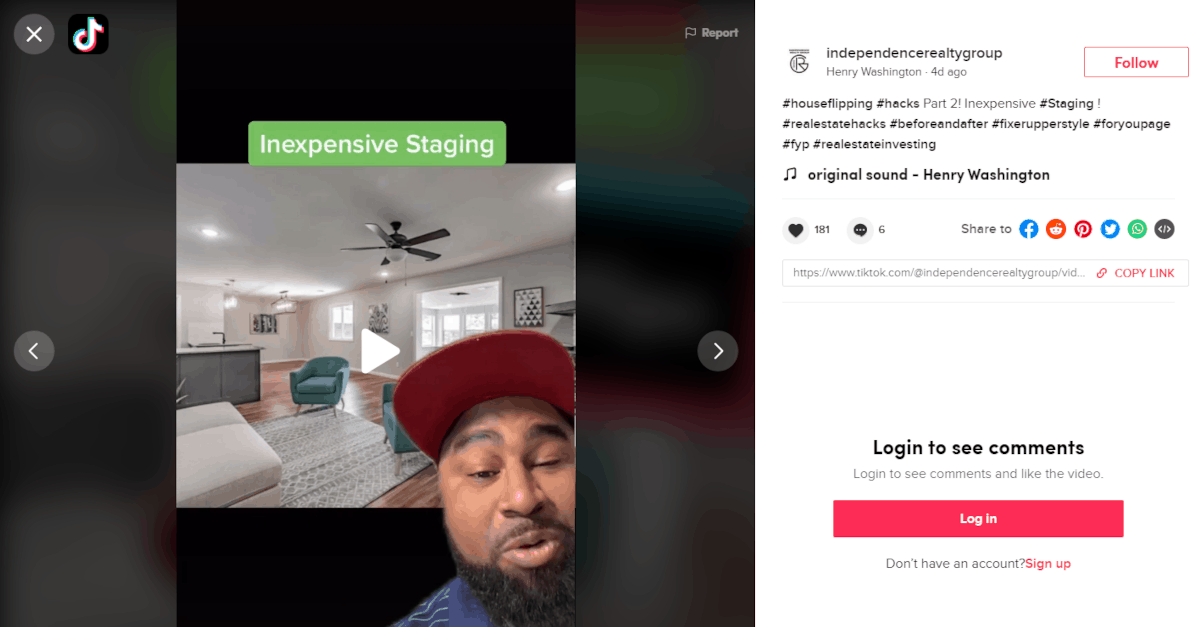 Did you have any moments of doubt before you created/launched it?
YES!  Every time I'm creating a course, I start off feeling great, and somewhere around the halfway point, I lose momentum because self-doubt creeps in.  "Is this content really valuable to people?", "Why would someone pay for this?", "No one wants to hear what you have to say." "You are just some guy, what makes you so special?"
If so what made you turn it around and do it anyway?
This is when I must remind myself, THAT is exactly why I need to put this course out.
BECAUSE I'm just a guy… I'm just some regular guy who got tired of being broke and did something about it. And if I can do it, I know so many others can. - Henry Washington Jr.
Click To Tweet
What's your online course like?
My courses are videos broken out into chapters.  I created slides that people can use to follow along with what I'm saying.  Then I also provide tons of free templates and downloads with my courses.  I shoot to overdeliver with every class.  That's because I want to provide an education AND provide you with the tools I use as well!
How long did it take you to create your course?
My process starts with me outlining ideas that I want to cover in the course in a word doc.  That starts to take shape over time and I can then take that and break it out into the chapters I want to cover.
I then create the PowerPoint template and start flushing out the detail in each chapter.   Once I am comfortable that I have covered every topic in detail, I start the recording process.  I use zoom to record my courses and I just record straight through. If I make a mistake, I just keep going.  I feel like people want authenticity, more than some super-polished highly edited course.  I think it adds to the "every person can do this" aspect that I'm going for.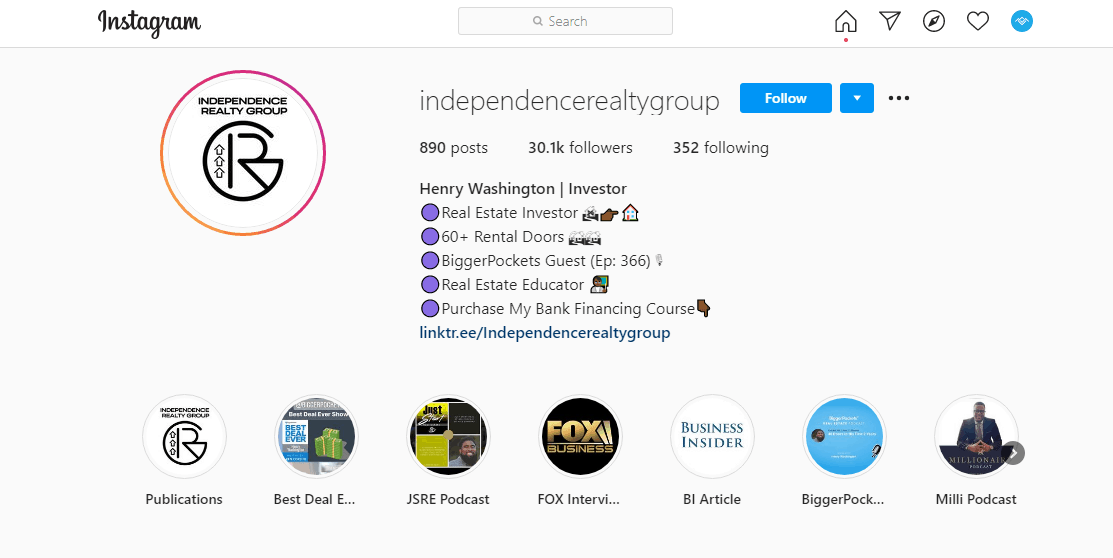 Tell us a little about the process of launching your course and getting your first sale(s).
I used the pre-sale method to launch my course and build sales along the way.  Once I'm about 50% of the way through creating a course I set a "launch date" and I create a Pre-Sale on Gumroad (the platform I use to sell my course).
This does 3 things.
It allows me to build anticipation among my audience.
It helps me start to see if the demand is there for the class.
Setting a date and starting to collect pre-sales forces me to have the class completed by that date.  So when the doubt sets in, I can't give in to it, because I told my audience that the course will be ready by (x – date) and I will not let them down.
I offer the presale at a discount to what the regular price of the course will be once it's officially out.  People want to feel special.  They want to feel like they are getting a deal.  So rewarding people who are willing to spend money with you before your content is even ready is a great way to build trust.
Do you have a lead magnet?
I do provide a free course.  My free course is just a chapter from one of my paid courses.  I chose a chapter that is substantial enough to stand on its own, and I also provide one free download template which is a compliment to that chapter.
This method builds trust because the free course on its own is valuable.  You don't need to buy any of my paid content to make the free content make sense. If you never spend a dime with me, but you download my free course, you gain value and knowledge.
Offering a free course also allows me to capture the email address of the customers who downloaded it.  I can then use those emails to build an email marketing campaign and I can now offer anyone who downloaded the free course, a discount on any of our paid courses.

What's the traffic strategy that works best for you?
Almost all of my traffic is from my Instagram & TikTok Following.  My method is to post free valuable content to my social media. People follow me because I'm providing them great value for free.  That builds trust among my audience, and that trust leads them to purchase my paid content.
Content I post:
Short videos explaining deals I've done.
Inspirational quotes that motivate me
Tips & Tricks to being successful.
Video tours of actual properties I own.
Special promotions or deals on my paid courses.
What online course platform are you using?
Gumroad.com
Do you like it?
It's great.  The best benefit is the ability to easily build workflows for email marketing.
Are there any features you wish it had?
The ability to send profits to multiple accounts, for situations where I have a partner who helps create a course.
What made you decide to use your chosen platform over others?
Other influencers I follow were using this tool, so I used it because I saw others being successful with it.
What other tools do you use to run your online course business?
Linktree
Instagram
TikTok
What books or training programs have you found useful on your journey to a successful business owner that others might find valuable too?
I love mindset books.  The Alchemist is a favorite, and The Millionaire Next Door.
Do you have any big mistakes you've made along the way that you'd be willing to share?
I allowed doubt to keep me from getting started for way too long.  People need to hear what you have to say.
Start wherever you are with whatever you have. People will respect authenticity. - Henry Washington Jr.
Click To Tweet
Please share some idea of revenue.
We have been selling courses for 4 and a half months and, as of 02/10/2021, we average $4,577 in sales per month. This number is trending up because my social media following has grown from around 8000 followers in Dec 2020 to around 50,000 followers across 2 platforms as of today.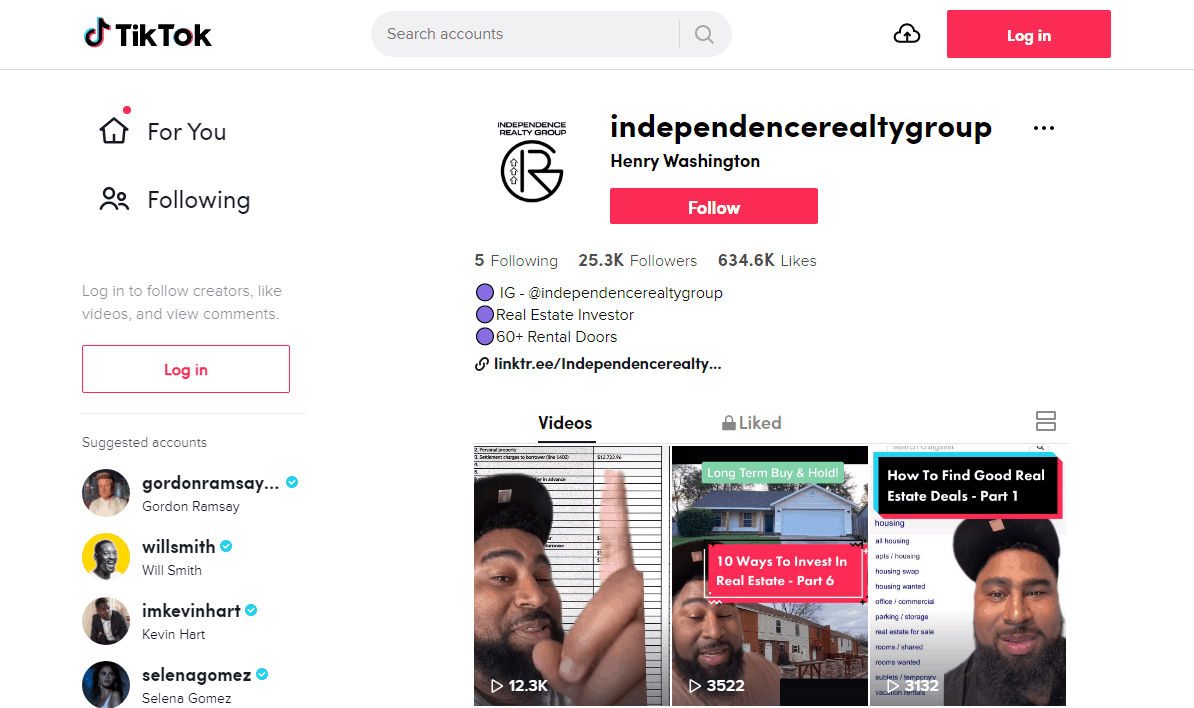 Please tell us a little about what the money you've earned from your course has done for you.
I don't do anything super sexy with the profits.  Remember, I started this whole journey when I only had $1000 in savings.  I never want to be in that boat again.  I have the luxury of still having a day job that pays my bills.  So, I take 100% of my course sales profits and I invest it into long-term buy and hold stocks.  My goal is to create multiple streams of income, then use the income I make to buy more income.  Thus, helping me build generational wealth.
What has creating your course done for you personally?
Creating the course has shown me that in this technological age, it is literally possible to take money that you create in your mind, and deposit it into your bank account!  Working from the neck up is a cheat code to life.
In my day job, my income is limited, meaning they will only pay me the salary we agreed on.  If I want more money, I must get a promotion, raise, or bonus.  But with courses and education, my income is unlimited.  I can literally create an unlimited number of courses and have an unlimited number of customers & sales.
Do you have a story of a transformation from any of your clients?
I have had several customers who were able to leverage my bank financing course methods to find institutions that have financed 100% of their real estate deals.  I have also had several customers tell me they were able to use the methods in my course on finding deals to put their first deal under contract!
What advice do you have for people just starting out?
You don't have to have a huge following on social media to get started.  If you have ideas that you feel are valuable to people, just get started putting those ideas into a course, and start where you are.  As you build trust, you will grow sales.
Learn more about Henry Washington Jr.: