How Harry Bingham Created the 6-Figure/Year 'Ultimate Novel Writing Course'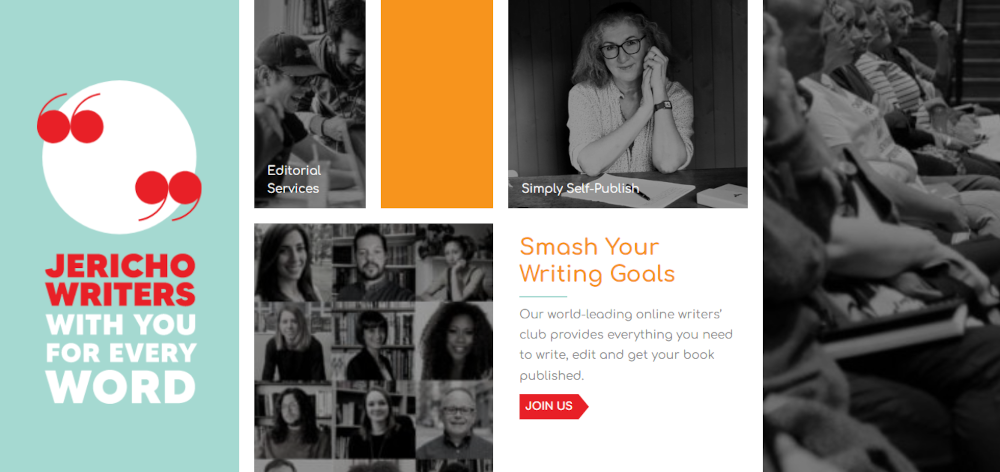 Our content is reader supported, which means when you buy from links you click on, we may earn a commission.
---
Who: Harry Bingham
Website: jerichowriters.com
Course Topic: Writing
Interesting Stats: 200,000 users on the website each month
Who are you and what course have you created?
I've been a professional author for more than 20 years. I've been published by all of the world's top 3 publishers. Fortunately, I've had plenty of critical acclaim. My work has been adapted for TV. And I've written across a number of different genres and styles.
I've always loved teaching and helping less experienced writers has long been a passion of mine. To start with, my company, Jericho Writers, helped people with editorial advice: basically, people came to us with the book they'd written and we helped show them how they could improve it.
Creative writing courses were a natural next step and we experimented with various face-to-face events, as well as a number of shorter online writing courses. In the end, though, we had the confidence to create what we've called (very modestly) the Ultimate Novel Writing Course. We didn't start from a price point and figure out what we could deliver. We started with an ambition – to be the best – then figured the rest out. Now we offer various different courses, but the UNWC is, no question, the jewel of our collection.
What market does your online course serve?
Our market is a strange one: it ranges across both genders, all ages, every income level, and every professional background – and it's global too because the English language is properly global now. The one that unites our users is that, when they get home from work, or once they've got the baby to sleep, they creep over to their laptops and start to set down the story they've always wanted to tell. For the most part, our users write fiction, but we also handle plenty of non-fiction.
But the path from aspiring writer to published author is hard. Perhaps only 1 in 1000 ever completes that journey. So our course is here to help those people. It's not right for absolute beginners, but if people bring a serious idea for a story and know how to string a sentence together, we can help with everything else.
Mostly, that means helping them tell a better story, but it also means helping them understand how to edit their work, how to present it to literary agents, how to help market it once it's published, and so on.

What's the biggest benefit of taking your course?
Writing is hard! A typical novel is 100,000 words long and those words need to be laid onto the page with extreme care. Detail really matters.
So the first thing we put in place is serious mentoring. We want to create a one-to-one relationship between student and mentor that means the student feels supported in what they do.
We also want to make sure that our course is genuinely complete. So university writing courses, for example, very seldom take the business of editing, pitching, publishing and marketing seriously. But those are essential skills for modern writers, so we need to address those as part of our course.
Additionally, academic writing courses tend to be snooty about genre fiction – crime, romance, and the other stuff that shifts large volumes of books. I write crime fiction myself, and we're deadly serious about helping writers of more commercial fiction just as much as their literary cousins.
In short, we want serious writers to build a complete set of skills and to do so in the context of a novel that could go on to sell. We've had a lot of success so far, and are looking forward to loads more.
How did you get into the market?
In a way, we've always been in the market: we started with editorial work, then live events, before getting into the course business. But because we're so close to our users – we work with them all the time and are all just fellow-writers anyway – we've tended to respond to users' requests. For example, we got even more questions about self-publishing, so we realized we needed to build a self-pub course. A lot of our ideas start in that way.
Why did you decide to create an online course in the first place?
We're UK-based, but we've long served a global audience. During the first year of the pandemic, we launched an online Festival of Writing which sold tickets to users in 35+ countries worldwide. Although we've had really great experiences working face-to-face, we wanted to reach that massive chunk of the market that was never going to be able to trek over to London or Oxford. For that reason, taking our creative writing courses online was the natural answer.
Did you have any moments of doubt before you created/launched it?
We knew we had the know-how in terms of writing wisdom – we'd been playing that particular game for ages already. But were there enough people willing to spend £5,000 / $7,000 on a year-long writing course that came with no academic accreditation? We didn't know. But we knew there was only one way to find out …

What's your online course like?
We have a massive stock of recorded webinars and the like, plus some PowerPoint-driven video too. But we also use text, live Zoom calls, 1-to-1 mentoring, and whatever works. We're also massively keen on encouraging interaction amongst the students. We think that a massive chunk of the learning happens there, so we try hard to foster a great sense of community.
How long did it take you to create your course?
Honestly? It's never-ending. Our first course launched about 6-9 months from inception, but we immediately saw things we wanted to change and improve. That process hasn't stopped. We're still tweaking things now, and I would say that the course has probably improved with every iteration. For us, developing the course material was relatively easy – we know that stuff intimately – but figuring out the tech and the right delivery approach has taken a lot of time.
Tell us a little about the process of launching your course and getting your first sale(s).
By the time we got serious about creative writing courses, we already had maybe 100,000 users a month through the website. (It's double that now.) - Harry Bingham
Click To Tweet
We also had a strong and growing email list.
That said, we'd never offered nearly such an expensive service before – a typical manuscript assessment might run to $1000, for example – so we just didn't know how users would respond.
We also wanted to prioritize quality over quantity, so people can't just click to buy the course: there's a genuine application process, which does result in being turned away. - Harry Bingham
Click To Tweet
That was definitely the right decision, and we've maintained that emphasis on quality ever since.
Do you have a lead magnet?
You bet. We have a number of different magnets (mostly free PDFs). They get people onto our mailing list, and from there, we hope to make course sales. But our list is very non-salesy. We're really happy to put out emails that don't have a single "sell" anywhere at all. We want people to trust our authority and approachability. If we achieve that, then, when those people are ready to buy a writing-related service, we're confident they'll think of us.
What's the traffic strategy that works best for you?
We have a carefully SEO-driven blog that generates a ton of traffic for us. There are only three golden rules:
Make sure the basic tech platform is working right. If your site is slow or your internal linking structure is all messed up, nothing else will work
Ensure that every post you publish has a clear keyword target that makes sense to your audience and your business. We essentially never post on our blog just for the fun of it. There's always a keyword rationale behind it.
Make sure the on-page optimization is right. There's no point in writing a great blog about topic X, if you don't use the right keyword in the page title, the main page heading, and elsewhere too.
If you follow those golden rules and just keep at it, you'll get there in the end. A bit of manual (owner-led) link-building doesn't hurt, either.

What online course platform are you using?
We use Teachable and also a proprietary Moodle-based system. We probably prefer the latter, but really the platform is just there not to get in the way of the actual teaching. The best platform is one that neither students nor staff talk about all that much.
Do you like it?
The Moodle-based system is powerful and looks like a million dollars. It's also highly customizable which works well for our very bespoke-style course.
Are there any features you wish it had?
The main issue we have with the current issue of software is that course content is annoyingly hard to edit. We're promised an upgrade there soon.
What made you decide to use your chosen platform over others?
If you're vain enough to call your writing course the "Ultimate Novel Writing Course", you must follow through on that boast. Because the course is intensive, long and uses multiple different teaching avenues, then a relatively simple system like Teachable just imposed too many constraints. We have as much control over the Moodle-type software as we need.
What other tools do you use to run your online course business?
We use Zoom, Infusionsoft, and Webinarjam. Everything we use has its glitches, inevitably, but we've found those tools to be largely dependable.
What books or training programs have you found useful on your journey to a successful business owner that others might find valuable too?
Honestly?
It's embarrassing, but I feel like I walked backward into entrepreneurship – as though I sat on a molehill and watched it grow into a mountain. So I didn't train myself for the journey: I never really knew I intended to make it. -…
Click To Tweet
The one area where I really have upskilled myself is SEO, and I've found Brian Dean, the Ahrefs blog, and Matthew Woodward very helpful over the years. For any content-led business, I think SEO is a CEO-level priority. It's not something you can just chuck at an agency and forget about.

Do you have any big mistakes you've made along the way that you'd be willing to share?
Erm …? Trusting my bookkeeper. He stole a lot of money before we caught him. I'd tell you more, except the cops are involved, and I don't want to mess up a forthcoming prosecution.
Please share some idea of revenue.
For our Ultimate Novel Writing Course, we expect to sell well over 100 places this year at about £5,000 a place. You can do the math there!  Overall, writing courses account for about a third of our business revenues. They're growing fast, though, so I don't think they'll stay at one-third for long …
Please tell us a little about what the money you've earned from your course has done for you.
Right. Well. You know you asked a couple of questions back about my biggest mistake? Yes, well, I'd say that running the Ultimate Novel Writing Course has created the revenues that saved the business. Without those course revenues, the theft we experienced would have buried the business. As it is, it's thriving.
In addition to revenue are there any numbers you would like to share?
We have 200,000 users on our website each month. The trick here is a solid technical base (something problematic for us, but where we're fast improving.) Then it's just a question of building keyword-targeted content and continuing. And, of course, there's no point in creating traffic if you don't convert it, so we're also highly focused on our email list – and aim for a near 50% open rate. Email marketing is probably the single thing we do best … apart from helping writers write, of course!
What has creating your course done for you personally?
I absolutely love the sense that we're helping writers accomplish their goals. I was stopped by a stranger in a coffee shop the other day. She asked if I was Harry Bingham, and I said I was. She said she'd taken some of our courses, which had been transformative. I adore being able to do that. It's a gift way beyond money for me.

Do you have a story of a transformation from any of your clients?
Oh sure. We get people published. That's the joy. Sometimes it'll be somebody gets a small memoir published by a specialist press for next to no money. Other times, someone gets a commercial novel snapped up by a massive global player and their life pivots in an instant. But no matter what the commercial deal is, the experience of being published changes lives.
My favorite ever client? Barbara Tate who wrote West End Girls. She was well into her 80s when that memoir was published and I remember sitting in her sunny garden, as she tapped me on the knee and said, "This is the crown of my life, Harry, this is the crown of my life."
What advice do you have for people just starting out?
For new writers: the advice is just to keep at it. Be perfectionist. Build the editorial skills and the writing technique know-how to support your journey. It's a long road, but a wonderful one.
And you know, I knew damn all about writing and publishing when I started out, but I'm kind of pleased it happened like that for me. If I'd known how tough the industry was, I might have thought twice. I'm pleased I just blundered ahead. It was the right decision for me.
Learn more about Harry Bingham of jerichowriters.com: