How Grant Bartel Used Twitter to Determine His Niche was Worth Building a Course Around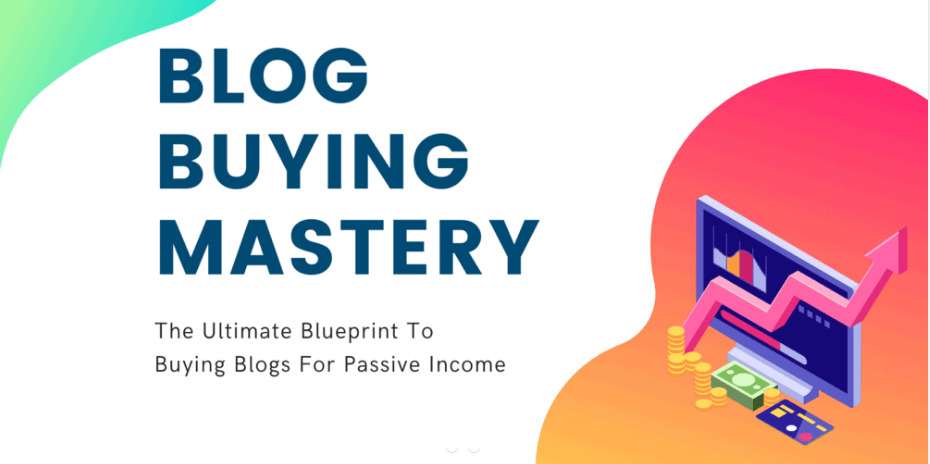 Our content is reader supported, which means when you buy from links you click on, we may earn a commission.
---
Who: Grant Bartel
Website: blogbuyingmastery.com
Course Topic: Investing in Digital Real Estate
Interesting Stats: $4K/month right away
Who are you and what course have you created?
My name is Grant Bartel and I'm the founder of Blog Buying Mastery, which is an online course and community all about investing in digital real estate. More specifically, it lays out the exact blueprint I follow to find, buy, set up, and automate blogs that pay me passive income while also providing access to a supportive community.
What market does your online course serve?
Good question! Blog Buying Mastery serves a very specific market of investors, internet entrepreneurs, and everyday folks looking for alternative passive income streams. Lots of people either don't have access or are tired of low returns from more traditional passive income investments, like bonds, dividend stocks, and physical real estate. Blog Buying Mastery solves that by teaching members about the huge opportunities available in the digital real estate market!
What's the biggest benefit of taking your course?
The biggest benefit of becoming a member of Blog Buying Mastery is having access to actionable knowledge about the unique opportunities in the digital real estate market with an extremely supportive community helping out every step of the way.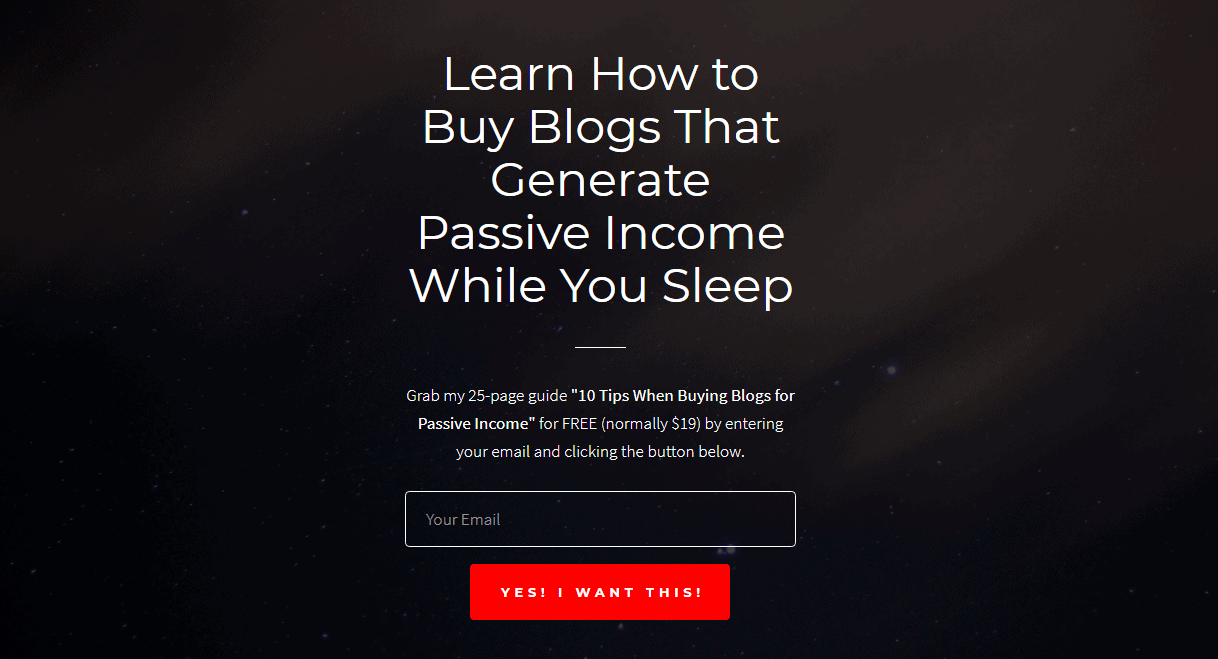 How did you get into the market?
Wow, that takes me back! I started out building blogs years ago and came to thinking "Wouldn't it be nice to just buy these instead of building them up from scratch?" I saw blogs as any other type of asset that generates passive income, but instead, it lives in the digital world. So this began my long and exciting journey of buying blogs for passive income!
Why did you decide to create an online course in the first place?
I had ZERO plans of creating a course! I've never been thrilled about recording myself or anything like that. But after I helped someone close to me go through the process of finding, buying, setting up, and automating a blog so they could get paid steady passive income, they told me: "Grant, you should make a course about this." And that was when the seed was planted to create Blog Buying Mastery.
Did you have any moments of doubt before you created/launched it?
All the time. Imposter syndrome set in a few times, even though I've been building and buying blogs for years.
It's strange how easily you can fall into the trap of doubting yourself, but it's important to realize you have a certain level of knowledge about a topic that many don't. - Grant Bartel
Click To Tweet
And many people, if you can find them, would be happy to pay to learn all about what you know.
If so what made you turn it around and do it anyway?
Well, I'm a rather stubborn person. Whether it's a book, movie, or anything else, if I start I NEED to finish it. But I procrastinated a lot at times, so I had to overcome that for sure. What helped was realizing why I started building Blog Buying Mastery in the first place, which was to help others get into the blog buying space and create a vibrant community of digital real estate investors like myself.
What's your online course like?
Blog Buying Mastery is a video course that lays out the exact end-to-end blueprint I use to find, buy, set up, and automate blogs for passive income. It's a mix of slides and screen shares that walks members through the exact process I take. It also comes with a bunch of bonus materials plus access to an awesome private community full of helpful and talented digital real estate investors and the latest and greatest digital real estate listings on the largest marketplaces in the world.
How long did it take you to create your course?
From start to finish, it took me about 1.5 months to create the first version of Blog Buying Mastery. That included course development, scriptwriting, presentation building, non-stop revisions, funnel building, email marketing, and more. The vast majority of the time has been spent either writing or recording.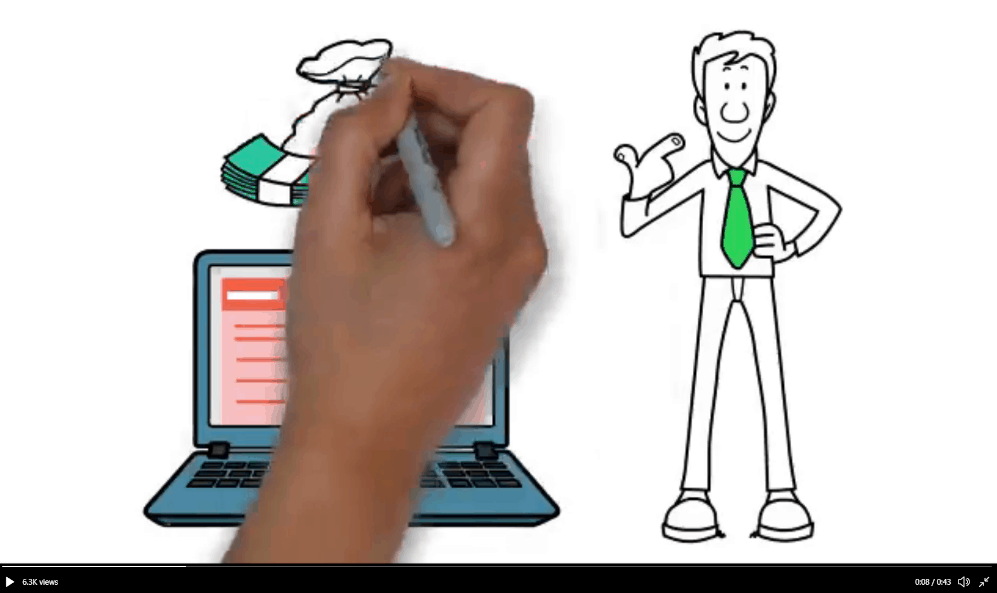 Tell us a little about the process of launching your course and getting your first sale(s).
I used to think that launching a product started out by building something then releasing it to cast a large net hoping your audience would find it. But that's the wrong approach. The right approach is to build an audience around what you know and what you're good at, finding out what itches that need scratching, and create something that scratches it.
The journey of launching Blog Buying Mastery started on Twitter with me having less than 100 followers. My goal was to target a few niches at first that I knew well and see what resonated with people the most. It just so happened that passive income from digital real estate assets like blogs resonated strongly, so I dropped the other niches and went all-in on building Blog Buying Mastery. And once I had a couple of thousand followers and networked with other accounts in my niche, I launched my course.
Do you have a lead magnet?
Yes, I have a lead magnet. I actually have a few! I offer free ebooks, checklists, and video training, but you only need one when starting out. And, yes, you need one to have a successful course launch and for sales in general. Think of your lead magnet as a proof of concept that gets customers into the door. A lead magnet, like an ebook, should be something valuable but more of an introduction to something much bigger. If you find a lead magnet that's more popular than your others, that's the course you should make. Plus you want to start building your email list as soon as possible so the day you launch you can offer everyone on your list your course. A lead magnet is essential.
What's the traffic strategy that works best for you?
Right now the best traffic strategy I use for Blog Buying Mastery is through the use of Twitter. I got started on Twitter because I knew that others were able to build a relationship with their followers and actually add value to their lives through free (tweets) and paid (course) content. I consider this my organic traffic source and it continues to pay me in terms of revenue and fun.
I'm just now dipping into paid traffic, especially using YouTube ads, so that's been exciting too.
What online course platform are you using?
I host Blog Buying Mastery on a couple of platforms, including Gumroad and ClickFunnels. It's very common for people selling courses on Twitter to sell through Gumroad, which is an amazing online course platform where creators can sell their content extremely easily. And since, as I mentioned, I'm dipping into paid advertising, I decided to use ClickFunnels' Membership feature to host my course apart from being a hosting platform.
Do you like it?
I love it! Both platforms are amazing. If you're just starting out building and selling your course, you should definitely take a look at Gumroad. This is especially ideal if you're selling your product on social media.
Are there any features you wish it had?
The Gumroad team does a great job working directly with creators to implement in-demand features. Having said that, they could do a better job making the landing page more customizable.
What made you decide to use your chosen platform over others?
The main reason for choosing Gumroad to host Blog Buying Mastery over others was the cost-effectiveness. You pay nothing to host the content of your courses and only pay a small fee when you make a sale. So they only get paid when you get paid. And if you upgrade to their monthly plan, which is $10/mo at the time of this interview, you pay even less and get a lot of useful features, like HD video streaming and much more.
What other tools do you use to run your online course business?
Apart from tools like Gumroad and Clickfunnels, which act as my landing page and course hosting platforms, I also use ActiveCampaign for my email marketing. Building out the backend of your sales funnel using an email list is essential if you want to sell your course to more people who are actually interested.
What books or training programs have you found useful on your journey to a successful business owner that others might find valuable too?
I know some might find it cliché, but reading the 4 Hour Work Week by Tim Ferriss was a major tipping point for me. It really opened my eyes to the world of online businesses and even changed the way I live my life. Another one would definitely be DotCom Secrets by Russell Brunson.
Do you have any big mistakes you've made along the way that you'd be willing to share?
The biggest mistakes I've made have always involved not having tested the waters before diving headfirst. What I mean is if you think you know what people want but you don't have an audience to prove it, you're taking a huge risk. Build your audience, get validation, and then present your offer. If you dive headfirst without knowing what's in the water, you're most likely going to hurt yourself.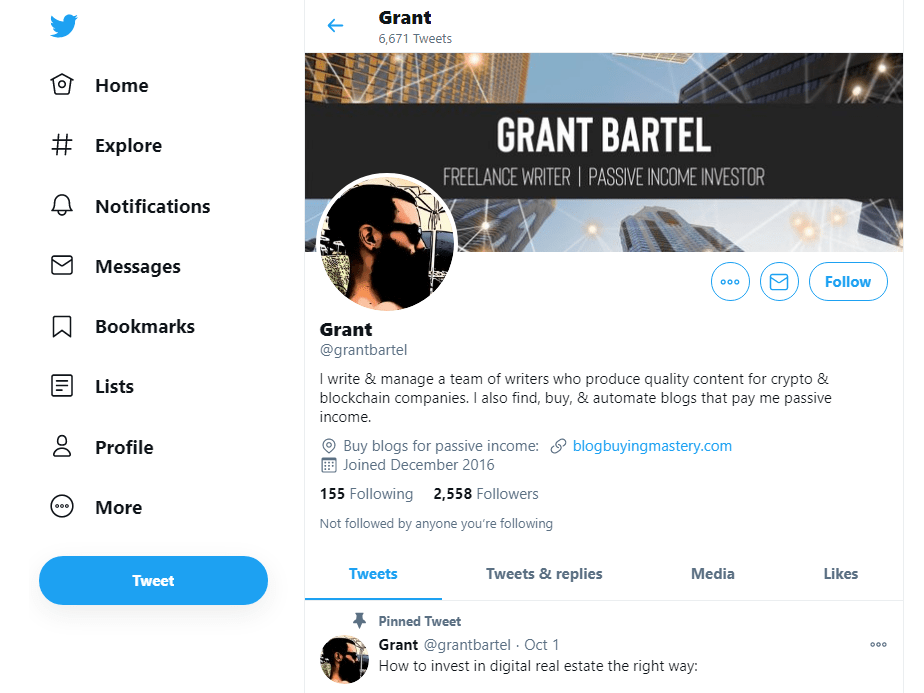 Please share some idea of revenue.
A couple of months into launching Blog Buying Mastery, I was already averaging over $4,000 a month. And I'm very happy and immensely grateful to say that this number's been growing ever since.
Please tell us a little about what the money you've earned from your course has done for you.
Launching Blog Buying Mastery has changed my life in so many ways. First, I no longer worry about having enough freelance clients every month to pay the bills. I no longer worry about not having enough time to take a vacation. Also, I have a lot more free time to spend with those I love. And I also have a lot more opportunities being presented to me in the form of business partnerships and investments.
In addition to revenue are there any numbers you would like to share?
Sure! Like I said before, my top strategy for driving traffic to Blog Buying Mastery is through the use of Twitter. With the help of some amazing coaches, I was able to grow my account from under 100 to over 2500 followers within 3 months. This took consistent effort in the form of daily tweeting and commenting under larger accounts, but it paid off and continues to pay off to this day.
What has creating your course done for you personally?
Successfully creating and launching Blog Buying Mastery has helped me realize what's truly possible in the digital age. The downsides are incredibly limited while the upsides are unlimited if you're creating any type of digital product. A whole new world has opened up to me and I'm grateful every day for having discovered it for myself and those around me.

Do you have a story of a transformation from any of your clients?
One story definitely sticks out to me a lot.
A guy I work with (let's call him "Mike") lost his job in 2020. Like a lot of us, Mike worked a 9-to-5 office job for most of his life, but, for whatever reason, wasn't able to find work after losing his job. So he started to hustle and got into freelancing as a remote worker, but couldn't shake the fear of losing work again only to be without any income. He wanted some sort of financial safety net that could pay him passive income day and night, even if he lost work.
So one day Mike DMed me on Twitter and asked me if I could coach him so he could learn how to use his freelance earnings to start buying blogs that pay him passive income. He was one of my first clients so he got a pretty big discount! But I'm happy to say Mike now owns and operates a successful blog that pays steady passive income that easily covers his essential living expenses. He's even decided to leverage his cash flows and experience to buy even more blogs!
I have no doubt he'll become a successful digital real estate investor, and I couldn't be happier for him.
What advice do you have for people just starting out?
If you're just starting out, I can't stress enough the importance of building an audience and validating your offer before launching anything. - Grant Bartel
Click To Tweet
You'll save yourself a lot of time, which is something you'll never get back.
And remember, the digital age is full of opportunities that have an unlimited amount of upside with almost zero downsides. That means you don't need to be wealthy to take advantage of the opportunities today that can seriously change your life. Just learn and adapt while you put in the consistent effort every day, and you'll get there.
Learn more about Grant Bartel of Topdigitalrealestate.com:
Website: blogsforpassiveincome.com